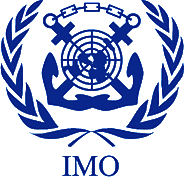 Container Ship Owner Hammered for Pollution Misdeeds - Monday, February 25, 2013

DC Federal Court plea agreement requires Singapore-based Pacific International Lines, to pay US$2.2-million.
The offenses relate to the operation of the company's container shilp M/V Southern Lily 2 in June 2012. The company previously pleaded guilty to three felony charges that it made false statements to the U.S. Coast Guard and violated the Act to Prevent Pollution from Ships by concealing illegal waste water operations and discharges in a falsified oil record book – a required log in which all overboard discharges must be recorded and operating a vessel in waters of the United States without a functioning oil water separator (a required pollution control device).

"Today's sentencing is a noteworthy success for the few federal law enforcement agencies charged with enforcing U.S. and international maritime laws protecting the oceans and natural marine resources both around the remote U.S. Pacific Islands and throughout the vast area of the South Pacific," said Joshua J. Masterson, Special Agent-in-Charge of Coast Guard Investigative Service-Pacific Region. "This case, being the third of its kind since 2011, should send a clear message to those shipping companies and mariners who willfully cut corners and violate the laws enacted to protect the oceans as well as place a much needed spotlight on this region of the South Pacific."

According to the plea agreement, including a joint factual statement, the company operated the vessel Southern Lily 2 in American Samoa. On June 22, 2012, the vessel was boarded by the U.S. Coast Guard for a routine inspection. During the inspection the Coast Guard discovered that the ship's oil water separator was not functioning. The Coast Guard learned that the device had not been functioning for several months and, at the direction of the chief and second engineer, the oily waste water had been being discharged overboard in violation of international law. The illegal discharges and the fact that the oil water separator did not function was not entered in the ship's oil record book as required by federal law.

Additionally, under the terms of the plea agreement, Pacific International Lines was placed on probation for three years, during which time it must operate under the terms of a government-approved Environmental Compliance Plan. The plan includes review by an independent auditor of any of Pacific International Lines ships—including the Southern Lily 2—that trade in the United States.

In addition to the $2 million criminal fine, the judge also ordered Pacific International Lines to pay $200,000 to support community service projects. The projects will be administered by the National Fish & Wildlife Foundation asnd the National Marine Sanctuary Foundation.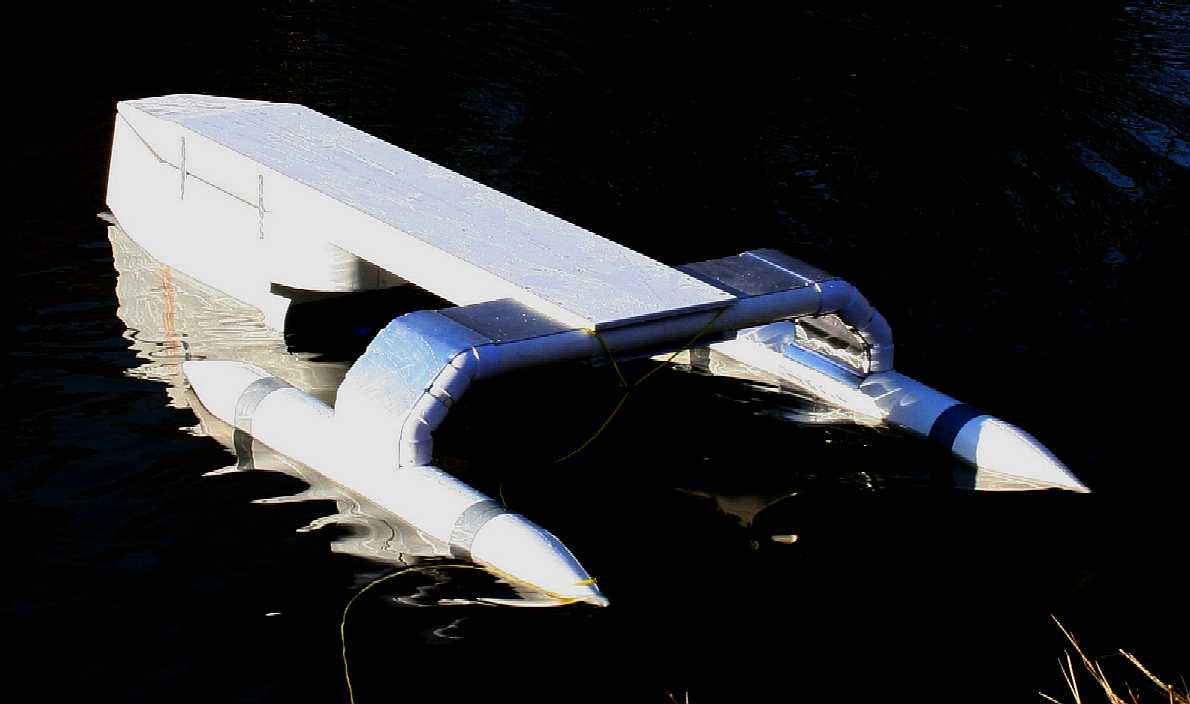 Is this the solution that we've all been looking for? SeaVax is a giant ocean going vacuum cleaner, not a Federation Star Ship. She is designed to suck up plastic waste from the 5, or is that 6, or maybe even 7 garbage gyres, if we include the newly forming Arctic gyre and take the North Pacific gyre for what it really is, two separate swirling bodies. The above is a picture of the feasibility model that was launched in March of 2015. It is shortly to be fitted with solar panels and wind turbines, making this robotic craft fully autonomous. You can help Bluebird Marine Systems to clean up the oceans by telling others about the project. Please support them if you can. This is essentially a not for profit project, without assistance from the IMO or UN as we write. ME
ECSA Supports CO2 Monitoring with Bunker Record Books - Feb , 20 2013
The European Community Shipowners' Associations (ECSA) supports a European Union initiative to monitor emissions. ECSA considers that the best way to collect the required data for monitoring compliance with exhaust gas emission regulations is by means of Bunker Delivery Notes (BDN).

The EU said last year that it will pursue a system for monitoring, reporting, and verification (MRV) of greenhouse gas emissions starting early 2013, and ECSA said any system must be accurate, simple, cost-effective and exclusively based on the vessels fuel consumption.

ECSA believes that the Bunker Delivery Notes (BDN), already available onboard all ships and the entries in the oil record book, constitutes the appropriate legal, certified and verifiable input to a MRV system. BDN and oil record book are mandatory according to the MARPOL convention and subject to verification during Flag State and Port State inspections. Furthermore, ECSA said it is of the opinion that the relevant authority for CO2 data collection should be the Flag State.
JANUARY 17 2013 BRIEFING 05 - ANTI PIRACY MEASURES
The International Maritime Organization, the International Chamber of Shipping (ICS), BIMCO, the Oil Companies International Marine Forum (OCIMF), the International Association of Independent Tanker Owners (INTERTANKO), the International Association of Dry Cargo Shipowners (INTERCARGO), the International Parcel Tankers Association (IPTA), and the International Shipping Federation (ISF), welcome the recent decrease in the number of attempted and successful attacks against ships by Somalia-based pirates operating in the Gulf of Aden and the western Indian Ocean.
This decrease may be attributed to a combination of factors, including: the presence of naval forces disrupting pirate operations; implementation of self-protection measures on board merchant ships and better situational awareness of where the threats are; coupled with more effective action ashore in Somalia by the Somali authorities and the international community.
The above-mentioned Organizations remain convinced that the only long-term solution to piracy is to establish effective government and implement the rule of law ashore in Somalia. However, until that is achieved, there can be no room for complacency. Any reduction in the level of protection of merchant ships could lead to a resurgence of pirate activities. Piracy must continue to be suppressed through the visible presence of and robust action by, the world's navies, consistent with international law.
The Organizations therefore urge shipowners, shipping companies, ship operators, masters and crews to continue to take all appropriate and recommended measures to protect their ships and those on board from pirates and armed robbers, through sustained and full implementation of the relevant IMO guidance and industry-developed Best Management Practices for protection against Somalia-based piracy (BMP 4).

IMO – the International Maritime Organization – is the United Nations specialized agency with responsibility for the safety and security of shipping and the prevention of marine pollution by ships.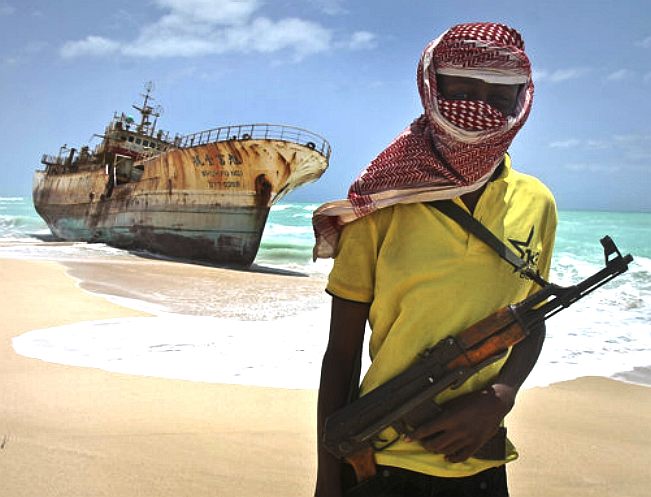 DECEMBER 12 2012
HISTORY of the IMO
It has always been recognized that the best way of improving safety at sea is by developing international regulations that are followed by all shipping nations and from the mid-19th century onwards a number of such treaties were adopted. Several countries proposed that a permanent international body should be established to promote maritime safety more effectively, but it was not until the establishment of the United Nations itself that these hopes were realized. In 1948 an international conference in Geneva adopted a convention formally establishing IMO (the original name was the Inter-Governmental Maritime Consultative Organization, or IMCO, but the name was changed in 1982 to IMO).

The IMO Convention entered into force in 1958 and the new Organization met for the first time the following year.

The purposes of the Organization, as summarized by Article 1(a) of the Convention, are "to provide machinery for cooperation among Governments in the field of governmental regulation and practices relating to technical matters of all kinds affecting shipping engaged in international trade; to encourage and facilitate the general adoption of the highest practicable standards in matters concerning maritime safety, efficiency of navigation and prevention and control of marine pollution from ships". The Organization is also empowered to deal with administrative and legal matters related to these purposes.

IMO's first task was to adopt a new version of the International Convention for the Safety of Life at Sea (SOLAS), the most important of all treaties dealing with maritime safety. This was achieved in 1960 and IMO then turned its attention to such matters as the facilitation of international maritime traffic, load lines and the carriage of dangerous goods, while the system of measuring the tonnage of ships was revised.

But although safety was and remains IMO's most important responsibility, a new problem began to emerge - pollution. The growth in the amount of oil being transported by sea and in the size of oil tankers was of particular concern and the Torrey Canyon disaster of 1967, in which 120,000 tonnes of oil was spilled, demonstrated the scale of the problem.

During the next few years IMO introduced a series of measures designed to prevent tanker accidents and to minimize their consequences. It also tackled the environmental threat caused by routine operations such as the cleaning of oil cargo tanks and the disposal of engine room wastes - in tonnage terms a bigger menace than accidental pollution.

The most important of all these measures was the International Convention for the Prevention of Pollution from Ships, 1973, as modified by the Protocol of 1978 relating thereto (MARPOL 73/78). It covers not only accidental and operational oil pollution but also pollution by chemicals, goods in packaged form, sewage, garbage and air pollution.

IMO was also given the task of establishing a system for providing compensation to those who had suffered financially as a result of pollution. Two treaties were adopted, in 1969 and 1971, which enabled victims of oil pollution to obtain compensation much more simply and quickly than had been possible before. Both treaties were amended in 1992, and again in 2000, to increase the limits of compensation payable to victims of pollution. A number of other legal conventions have been developed since, most of which concern liability and compensation issues.

Also in the 1970s a global search and rescue system was initiated, with the establishment of the International Mobile Satellite Organization (IMSO), which has greatly improved the provision of radio and other messages to ships.

The Global Maritime Distress and Safety System (GMDSS) was adopted in 1988 and began to be phased in from 1992. In February 1999, the GMDSS became fully operational, so that now a ship that is in distress anywhere in the world can be virtually guaranteed assistance, even if the ship's crew do not have time to radio for help, as the message will be transmitted automatically.

Two initiatives in the 1990s are especially important insofar as they relate to the human element in shipping. On 1 July 1998 the International Safety Management Code entered into force and became applicable to passenger ships, oil and chemical tankers, bulk carriers, gas carriers and cargo high speed craft of 500 gross tonnage and above. It became applicable to other cargo ships and mobile offshore drilling units of 500 gross tonnage and above from 1 July 2002.

On 1 February 1997, the 1995 amendments to the International Convention on Standards of Training, Certification and Watchkeeping for Seafarers, 1978 entered into force. They greatly improve seafarer standards and, for the first time, give IMO itself powers to check Government actions with Parties required to submit information to IMO regarding their compliance with the Convention. A major revision of the STCW Convention and Code was completed in 2010 with the adoption of the "Manila amendments to the STCW Convention and Code".

New conventions relating to the marine environment were adopted in the 2000s, including one on anti-fouling sytems (AFS 2001), another on ballast water management to prevent the invasion of alien species (BWM 2004) and another on ship recycling (Hong Kong International Convention for the Safe and Environmentally Sound Recycling of Ships, 2009).

The 2000s also saw a focus on maritime security, with the entry into force in July 2004 of a new, comprehensive security regime for international shipping, including the International Shiip and Port Facility Security (ISPS) Code, made mandatory under amendments to SOLAS adopted in 2002.

In 2005, IMO adopted amendments to the Convention for the Suppression of Unlawful Acts (SUA) Against the Safety of Maritime Navigation, 1988 and its related Protocol (the 2005 SUA Protocols), which amongst other things, introduce the right of a a State Party desires to board a ship flying the flag of another State Party when the requesting Party has reasonable grounds to suspect that the ship or a person on board the ship is, has been, or is about to be involved in, the commission of an offence under the Convention.

As IMO instruments have entered into force and been implemented, developments in technology and/or lessons learned from accidents have led to changes and amendments being adopted.

The focus on implementation continues, with the technical co-operation programme a key strand of IMO's work.

Key issues on the IMO agenda in the 2010s include:

- responding to the scourge of modern-day piracy, in particular in the waters off Somalia and in the Gulf of Aden
- addressing the reduction of greenhouse gas emissions from ships and thereby ensuring IMO's contribution to the climate change issue
- keeping the safety of life at sea and the human element, especially the seafarer, at the heart of IMO's work.

IMO's mission statement, as stated in Resolution A.1011(26), which sets out the Strategic plan for the Organization (for the six year period 2010 to 2015:

"The mission of the International Maritime Organization (IMO) as a United Nations specialized agency is to promote safe, secure, environmentally sound, efficient and sustainable shipping through cooperation. This will be accomplished by adopting the highest practicable standards of maritime safety and security, efficiency of navigation and prevention and control of pollution from ships, as well as through consideration of the related legal matters and effective implementation of IMO's instruments with a view to their universal and uniform application."


MARPOL
International Convention for the Prevention of Pollution from Ships (MARPOL)

Adoption: 1973 (Convention), 1978 (1978 Protocol), 1997 (Protocol - Annex VI); Entry into force: 2 October 1983 (Annexes I and II).

The International Convention for the Prevention of Pollution from Ships (MARPOL) is the main international convention covering prevention of pollution of the marine environment by ships from operational or accidental causes.

The MARPOL Convention was adopted on 2 November 1973 at IMO. The Protocol of 1978 was adopted in response to a spate of tanker accidents in 1976-1977. As the 1973 MARPOL Convention had not yet entered into force, the 1978 MARPOL Protocol absorbed the parent Convention. The combined instrument entered into force on 2 October 1983. In 1997, a Protocol was adopted to amend the Convention and a new Annex VI was added which entered into force on 19 May 2005. MARPOL has been updated by amendments through the years.

The Convention includes regulations aimed at preventing and minimizing pollution from ships - both accidental pollution and that from routine operations - and currently includes six technical Annexes. Special Areas with strict controls on operational discharges are included in most Annexes.

Annex I Regulations for the Prevention of Pollution by Oil (entered into force 2 October 1983)

Covers prevention of pollution by oil from operational measures as well as from accidental discharges; the 1992 amendments to Annex I made it mandatory for new oil tankers to have double hulls and brought in a phase-in schedule for existing tankers to fit double hulls, which was subsequently revised in 2001 and 2003.

Annex II Regulations for the Control of Pollution by Noxious Liquid Substances in Bulk (entered into force 2 October 1983)

Details the discharge criteria and measures for the control of pollution by noxious liquid substances carried in bulk; some 250 substances were evaluated and included in the list appended to the Convention; the discharge of their residues is allowed only to reception facilities until certain concentrations and conditions (which vary with the category of substances) are complied with.

In any case, no discharge of residues containing noxious substances is permitted within 12 miles of the nearest land.

Annex III Prevention of Pollution by Harmful Substances Carried by Sea in Packaged Form (entered into force 1 July 1992)
Contains general requirements for the issuing of detailed standards on packing, marking, labelling, documentation, stowage, quantity limitations, exceptions and notifications.

For the purpose of this Annex, "harmful substances" are those substances which are identified as marine pollutants in the International Maritime Dangerous Goods Code (IMDG Code) or which meet the criteria in the Appendix of Annex III.

Annex IV Prevention of Pollution by Sewage from Ships (entered into force 27 September 2003)

Contains requirements to control pollution of the sea by sewage; the discharge of sewage into the sea is prohibited, except when the ship has in operation an approved sewage treatment plant or when the ship is discharging comminuted and disinfected sewage using an approved system at a distance of more than three nautical miles from the nearest land; sewage which is not comminuted or disinfected has to be discharged at a distance of more than 12 nautical miles from the nearest land.

In July 2011, IMO adopted the most recent amendments to MARPOL Annex IV which are expected to enter into force on 1 January 2013. The amendments introduce the Baltic Sea as a special area under Annex IV and add new discharge requirements for passenger ships while in a special area.

Annex V Prevention of Pollution by Garbage from Ships (entered into force 31 December 1988)

Deals with different types of garbage and specifies the distances from land and the manner in which they may be disposed of; the most important feature of the Annex is the complete ban imposed on the disposal into the sea of all forms of plastics.

In July 2011, IMO adopted extensive amendments to Annex V which are expected to enter into force on 1 January 2013. The revised Annex V prohibits the discharge of all garbage into the sea, except as provided otherwise, under specific circumstances.



Annex VI Prevention of Air Pollution from Ships (entered into force 19 May 2005)

Sets limits on sulphur oxide and nitrogen oxide emissions from ship exhausts and prohibits deliberate emissions of ozone depleting substances; designated emission control areas set more stringent standards for SOx, NOx and particulate matter.

In 2011, after extensive work and debate, IMO adopted ground breaking mandatory technical and operational energy efficiency measures which will significantly reduce the amount of greenhouse gas emissions from ships; these measures were included in Annex VI and are expected to enter into force on 1 January 2013.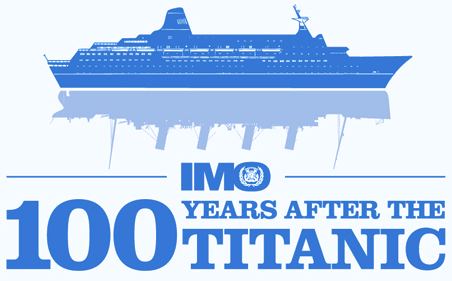 CURRENT AREAS OF RESEARCH
HULL DESIGN
Ballast Water Ship,
Optimum Hull Form for Ships Adopting Contra-Rotating Propeller,
Optimum Bow Design in Waves for Container Carriers,
Micro Bubble Lubrication,
Extremely low resistant hull coating,
Non Hub-vortex Propeller with Minimal Blade Area,
Propeller Attachment to improve Thrust Efficiency,
INTERNAL COMBUSTION
Optimum Hybrid Power Management system using shaft driven generator and controllable pitch propeller,
Optimum Combustion in Large-size Low-Speed Diesel Engines,
High Efficiency Heat Recovery System for Small size Diesel Engines,
Small Size Dual Fuel Diesel Engine,
Hybrid Turbo Chargers for Marine Use,
ALTERNATIVE ENERGY
Lithium Battery and Solar Panels Hybrid Power System,
Gigacell Battery and Solar Panel Hybrid Power system
Sail Assisted Cargo Ships.

A paradigm shift in shipping appears to be underway. Many classification societies, ship builders, naval architects and others are also working round the clock to come up with innovations that not only make shipping more secure, safe and efficient on clean ocean, but also cut cost substantially. The sum total of all these efforts will certainly see shipping on a higher growth trajectory.
UK JAN 2012 VESSEL EFFICIENCY COMPETITION - Piloting UK marine and maritime innovation = 50% of eligible costs

Together with the MOD's Defence, Science and Technology Laboratory and Scottish Enterprise, TSB are investing up to £8m in collaborative R&D and fast-track projects to deliver viable solutions for more efficient marine vessels. It is not really a competition, which suggests a prize. It is a sweetener for existing business.

They are looking for UK businesses – from inside and outside the industry – to develop solutions covering many aspects of efficiency in existing and future ships, boats, submarines, and their associated equipment and systems.

TSB are seeking innovative proposals that address the issues of improving current vessel performance and efficiency, but at the same time attract projects for future vessel design, coatings and propulsion systems.

The competition is also aiming to build collaboration across the maritime and marine industry, and develop UK-based supply chains and SMEs to underpin a national Strategy for Growth.

Proposals must be collaborative and business-led. TSB would like to see micro and small businesses involved. We expect to invest between £500k and £3m per project, although projects outside this range will be considered.

This is a fast track and two-stage CR&D competition that opens on 14 January 2013. The deadline for applicants to register for both types of project is noon on 20 February 2013 and the deadline for expressions of interest is at noon on 27 February 2013.

A briefing event for potential applicants will be held in London on 22 January 2013 and consortia-building events, to help applicants to find partners to work with, will be held before the competition opens in January.
LINKS
http://www.imo.org/about//international-convention-for-the-prevention-of-pollution-from-ships
Maritime Professional ClassNK December 2012 innovations for ship owners
http://www.maritimepropulsion.com/news/ecsa-supports-co2-monitoring-with-bunker-record-books-379
Solar
ACIDIFICATION - ADRIATIC - ARCTIC - ATLANTIC - BALTIC - BERING - CARIBBEAN - CORAL - EAST CHINA
ENGLISH CH - GULF MEXICO - INDIAN - MEDITERRANEAN - NORTH SEA - PACIFIC - PERSIAN GULF - SEA JAPAN
STH CHINA - PLASTIC - PLASTIC OCEANS - SEA LEVEL RISE