Solar Sailor was built and developed with generous support from the Australian Government, BP, Panasonic and others. It's well worth a visit to their website. An impressive machine, Solar Sailor operates as a passenger ferry in Sydney Harbour.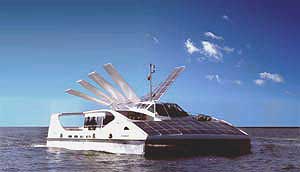 Nieuwsbrief@SolarSailor.nl | http://www.solarsailor.nl/en/home_text.htm
January 05, 2005
Solar Sailor -- a hybrid solar / wind boat
A Newly Electric Green – Sustainable Energy, Resources and Design

We've mentioned the possible return of sailing ships for greener shipping, but here's a new take on boating: the Solar Sailor, a passenger boat that can be powered by solar panels, and whose movable wing-like solar panels can also act as sails. The craft can run on wind, sun, battery, or diesel, or any combination of them all. And the best part is, it's not vaporware. It was first showcased at the 2000 Olympic Games in Sydney, and according to the Australian government's Department of Environment and Heritage, "It is the first vessel to be efficiently fueled by the dual energies of the wind and sun and is now operating commercially on Sydney Harbour."
Although the boat cost three million Aussie dollars to make - roughly 20% above the equivalent traditional vessel, "the company is confident that new technologies and the economics of scale will diminish this margin considerably over the next decade. However, even at current prices, depending on the degree of usage, a purchaser could expect to recoup this differential within five years through fuel savings." (And remember a five-year payback time is something like a 20% return on investment - much more profitable than the stock market, for most people.) And, of course, "In addition to reducing noise, air and water pollution from diesel exhaust, the data indicates that Solar Sailor will save 250,000 litres of diesel fuel consumed per vessel annum, an annual saving of 670 tonnes of greenhouse gas emissions per vessel."
Treehugger.com says "they also under scrutiny for duty as urban ferries, where they would use 50% less fuel". The inability to run 100% off the sun and wind when operating as a ferry is due to the application's speed requirements--the craft can only do 12-14 knots maximum estimate without also using battery/diesel hybrid assist; but cutting fuel usage in half is still a huge and admirable achievement. It's better than today's best hybrid cars do.
THE SOLAR SAILOR TEAM
Directors

Robert J Hawke AC Chairman

Hon RJL (Bob) Hawke, AC- Chairman.


Bob Hawke was Prime Minister of Australia from 1983 - 1991. He has extensive industry, finance and government high-level relations in Australia, China, USA, and Europe. He holds various honorary and political positions including Chairman of Sydney City Mission Fundraising Task Force. SSHL is the only commercial corporation of which he is a director.

Dr Robert Dane - CEO

Robert Dane (MBBS, DRACOG)- Executive Director and CEO Robert Dane was born and educated in Sydney where he was a keen rower and sailor on Sydney Harbour. He trained at Sydney University and started his career as a medical doctor running a successful rural practice on the NSW South Coast for 10 years where he was chairman of several hospital and medical committees.

In 1996, he conceived and patented the Solar Wing concept, founded Solar Sailor Pty Ltd, raised capital and project managed the research and development, design and construction of the highly successful Marjorie K prototype.
Since winning the Australian Design of the Year Award in 2001, SS headed by Chairman Hon. Bob Hawke, has been successfully commercializing its hybrid electric power systems in the world market as well as selling its Flexicell solar panels. SS now has contracts with Taiwan and another under negotiation with Qingdao Shipyard in China; agents across Asia, Europe and the USA. Contracts are pending in Australia and India as well as many other "works in progress" on the world stage.
SS has recently incorporated a US subsidiary - SSUSA in Los Angeles to accelerate multiple commercial opportunities in the US. SS Pty Ltd has filed a new patent that has 3 different US grant applications pending. The Sydney Solar Sailor continues to operate successfully in a very competitive market. In 2002/3 SS signed a further 3yr plus 3yr lease with Captain Cook cruises.
The media coverage of the of the SS ferry and the technology and has been has been world-wide including Beyond 2000, National Geographic, BBC Tomorrow's World and CNN as well as press and radio. In 2002, Solar Sailor was recognized for its environmental leadership, Dr Robert Dane being made SEDA Green Ambassador of Sustainable Energy.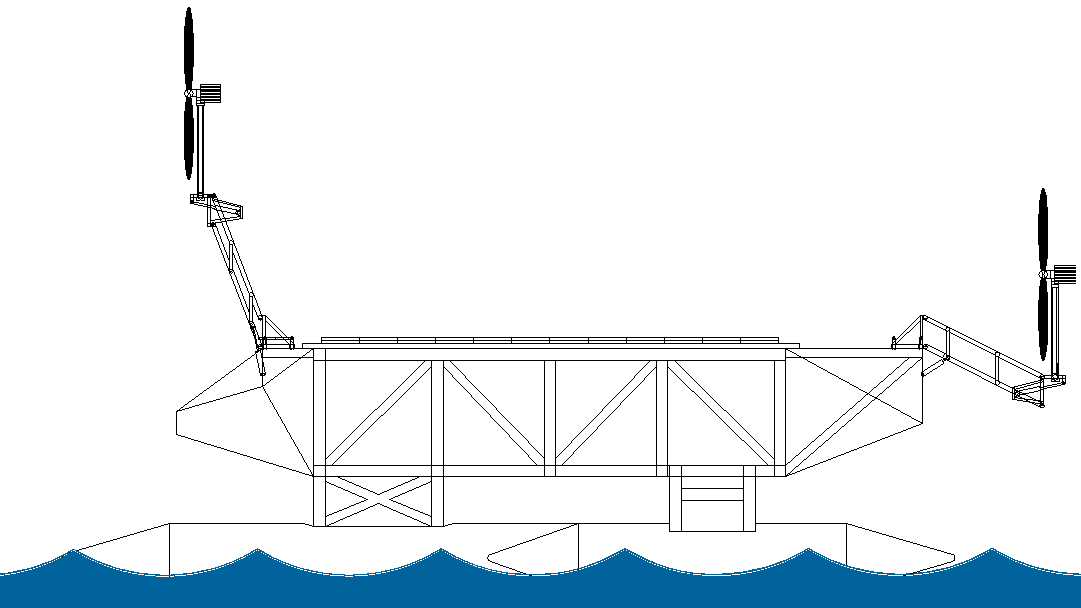 SOLAR POWERED FERRY - The Cross Channel Challenger (CCC) is a project currently on the drawing board looking for backing to develop a coastal cruiser that is zero carbon just like the hydrogen projects, but where the vessel converts energy from nature onboard.
This is a toe-in-the-water project for 2020-21 using budget off the shelf equipment to keep the costs down. Hence, the theoretical performance is lower than might be achieved but higher than the current benchmark. It is a useful stepping stone to medium range ferries and eventually bigger ships with longer ranges. Solar combined with wind power could be the winning combination. Comparing the two technologies will be interesting. For sure, the solar powered ferries will be safer and cheaper.
Solar and wind powered vessels do not need big hydrogen tanks next to docks for ships to fill up from. They do not need trucks to deliver the hydrogen from the conversion plants and last but not least, hydrogen is potentially dangerous, as the Zeppelin 'Hindenburg' demonstrated in 1937 when a spark ignited the fated airship, destroying it in minutes.
BBC's Tomorrow's World described SS's technology as "possibly the greatest evolution in boats since the advent of steam." Solar Sailor's intention is to take this technology to the world -green ferries for blue highways. The technology is not just applicable to environmentally sensitive waterways, all marine transport where constant high speed operations are not required, should be using this technology. When high speeds are required, a generator is used to power the electric drive direct, although fuel is being used, it is being used far more efficiently. The technology benefits both passengers and the environment -low noise, fumes, vibration, wash, air pollution, greenhouse gas emissions and no water pollution.
In designing new technology, there has to be a convincing balance between commerciality and environmental benefits when the economics of the bottom line is generally more important to operators than ecological issues. The key challenge in marketing to a traditional industry is building their awareness of the long term benefits both to the hip pocket and to the planet: lower operating costs, improved reliability and technology that exceeds all existing and proposed environmental regulations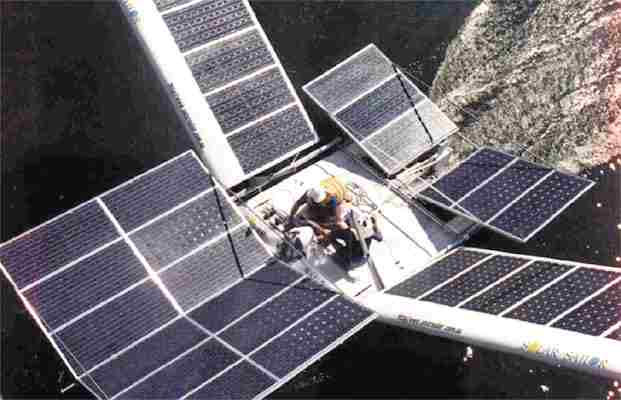 Media Releases From Solar Sailor
October 28, 2003 Hybrid Marine Propulsion (HMP) in New York Harbour
Dr Robert Dane, attended the Stevens Institute of Technology in New York to discuss HMP and prospects for introduction of this breakthrough, enviro-friendly technology in New York Harbour.
July 2003 Solar Sailor new Sydney Office
The Administration department of Solar Sailor has moved to new offices in Sydney. "This brings our executive staff, sales and marketing and financial services together" said Robert Dane, CEO of Solar Sailor Holdings. see contact page for details
July 2003 Solar Sailor licenses "Flexicell (TM)" Technology
Solar Sailor has completed their research and development of the "Flexicell (TM)" technology and are now focused on sales and marketing. We have successfully licensed the encapsulation process to two production facilities in Taiwan and in Australia. "This allows us to scale up instantly to meet large orders and reduce the dollar per watt cost" says CEO Robert Dane.
We can provide Flexicell (TM) standard panels for US$6.00/watt for most orders and down to $4/watt for large orders. Pictures of standard 36 cell panel and specifications are on our Solar Page of our products pages.
1st July 2003 Solar Sailor signs further 3 year contract with Captain Cook Cruises.
Sydney's premier cruise line Captain Cook Cruises today announced the signing of a 3-year plus 3-year lease. Anthony Haworth, Managing Director of Captain Cook Cruises "the vessel has performed above expectations and proven to be a popular, cost effective, reliable and easy to operate vessel."

David Franks, CFO of Solar Sailor said "the revenue from the Solar Sailor, adjusted for the additional revenue associated with the Sydney 2000 Olympics has increased in each of its three years of operations despite the present tough tourism market. We look forward to a continuing relationship with Captain Cook Cruises."
18th November 2002 Green-lighting greener ferries - Russell Long 2002 San Francisco Chronicle.
This winter, the State Legislature will consider adopting a plan to launch the world's cleanest ferry fleet on San Francisco Bay. The proposal results from two years of collaboration between the San Francisco Bay Water Transit Authority, community leaders, regulatory and transit agencies and labor and environmental groups.
17th October 2002 Solar Sailor welcomes Mr. Bob Hawke as Chairman
We are very proud and honoured to announce that the Hon Mr Robert J Hawke has become chairman of Solar Sailor Holdings. We look forward with Mr Hawke to taking our clean, green, Australian hybrid power technology to the world.
17th October 2002 Solar Sailor recognised for Environmental Leadership
The NSW Minister for Energy, Kim Yeadon, tonight announced Dr Robert Dane, inventor of the Solar Sailor as the 2002 SEDA Green Ambassador of Sustainable Energy.
14th October 2002 Solar Sailor attends 40th Australia-Japan Joint Business Conference
Sailor's Director, David Cassidy spoke at the above conference on Environmental Technology.
April 5, 6 & 7 - 2002 Solar Sailor took part in Solar Expo in Newcastle, NSW

Solar Sailor was proud to be a part of the Solar Expo held in Newcastle. We took numerous cruises around Newcastle Harbour and hosted several seminars for the Solar Expo. Friday the 5th of April was our official welcome to Newcastle.
04 March 2002 - Solar Sailor venue for Dr Suzuki interview
Sydney Solar Sailor was honoured to be the venue for Dr Suzuki's book launch"GOOD NEWS FOR A CHANGE."
31 Jan 2002 Solar Sailor Attends Pacific 2002
Dr Robert Dane, CEO of Solar Sailor addresses Pacific 2002, held at Darling Harbour Sydney. Robert attended the Defence Conference to explain benefits/implications and applications of Hybrid Power Systems in the all-electric boat.
28th November 2001 - Sydney Solar Sailor hosts Clear Waters seminar
Wednesday the 28th of November, Sydney Solar Sailor was the venue for a seminar hosted by the NSW Waterways Authority - "Clear Waters Expo 2001." The seminar was to introduce & explain the new Waterways Environment Act to local government bodies and marina operators.
October 17, 2001: Dick Smith inspects Solar Panels
Mr Dick Smith inspected our unique solar panels for use in an upcoming project.
May 7, 2001: Solar Sailor Ferry Wins Australian Design Award of the Year - Press Release The world's first solar powered ferry has won the design industry's top honour of the Australian Design Award of the Year. The ADA press release.
February 8, 2001: Solar Sailor Opens Golden Gate - Press Release
Solar Sailor Holdings, the Australian company behind the world's first wind and solar-driven ferry is in discussion with several groups in San Francisco for the development of hybrid power ferries to operate a major new marine transport initiative in the Bay area. Golden Gate press release in PDF
Media Coverage on Solar Sailor
July 10, 2002: ABC's New show "Dimensions with George Negus"
The film crew for this new show where on board the Sydney Solar Sailor Tuesday the 11th June, the show is going to air on ABC TV Wednesday July 10, 2002.
August 30th, 2001: ABC's New science show "Catalyst" films on board the Sydney Solar Sailor
Thursday the 30th of August 2001, presenter Graham Phillips, from ABC's Catalyst program, visited our Ulladulla factory to film & interview Robert Dane and staff. Graham was given an explanation and demonstration on how our Solar Panels are constructed.
Friday 31st August 2001, Graham and crew joined us for a cruise around Sydney Harbour, during the cruise the Catalyst crew were given a demonstration on the electric motors by a member of the University of Technology Sydney. This episode of "Catalyst" will go to air Thursday the 4th of October at 8.30pm. ABC online http://www.abc.net.au/catalyst
August 31, 2001: Business and Higher Education Round Table (B-HERT's) Distinguished Speaker Luncheon.
Dr Robert Dane gave a talk to B-HERT, a forum where leaders of Australia's business and academic communities can examine important educational issues of mutual interest for the purpose of developing and presenting recommendations for improving the interaction between Australian business and higher education institutions, and for future directions in higher education. http://www.bhert.com/
March 29, 2001: Business sunshine for Solar Sailor - Canberra Times
Four years after its prototype won the Australian Science Festival's Advanced Technology Boat Race on Lake Burley Griffin, Australia's Solar Sailor Holdings is looming as a viable commercial proposition and export earner. Canberra Times - Story text in PDF
March 2001: Here Comes the Sun - Bay Crossings
Bay Crossings sat down with the inventor of the world's first solar ferry to get the story of how he went from country doctor to solar entrepreneur. Here, in his own words, is his story. Bay Crossings web site
February 20, 2001: Solar Sailor Sails For Bulk Carriers - ABC Innovations
A popular attraction during the Sydney 2000 Olympics was Sydney Harbour's 100-passenger solar ferry, Solar Sailor. Now that success is leading to bigger things such as the bulk cargo ships that ply the world's oceans. Inspired by the human shoulder joint the ferry's unique pivoting sails have been recognised when it won a Sydney boat show award given by the International Cargo Handling and Co-ordinating Authority for outstanding initiatives in cargo handling. ABC Innovations - Interview Transcript in PDF
February 14, 2001: The world's first solar and wind powered commercial water craft - BBC Tomorrow's World
When people think of solar powered transport, they usually think of cars. But researchers are working on trains, planes, and boats. For boats, solar power holds a lot of promise. The weight and volume of the storage batteries which are such a limitation for other forms of transport are no problem for a boat which needs weight for ballast anyway. Also, boats don't have to deal with hills, the energy-draining stops and starts of traffic or the shade cast by trees and buildings. BBC Tomorrow's World
February 6, 2001: Aussies Show Off Their Solar Ferryboat - San Francisco Chronicle
The next big new thing on San Francisco Bay may be a ferryboat powered by electricity, the sun and the wind. A prototype of the boat, called the Solar Sailor, is in operation in Sydney Harbour in Australia. "The operators love it, the passengers love it, and it produces zero water pollution," said Robert Dane, a physician. San Francisco Chronicle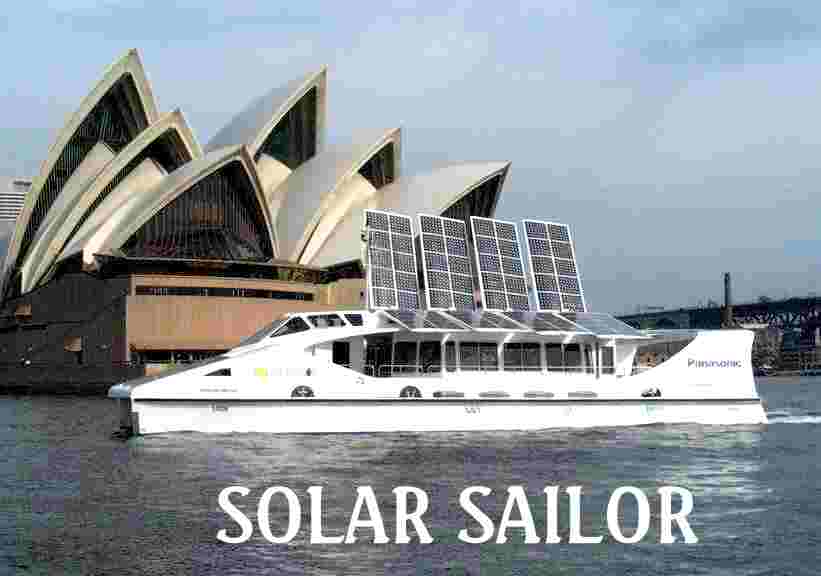 ENGINEERING DESIGN

082-00-01 : Solar Sailor Tourism Ferry
2.1. Product name
Solar Sailor
2.2. Description
Hybrid solar/wind/battery/LPG 100 person electric tourist catamaran featuring unique "solar wings" able to sail and collect solar energy.
2.3. Principal function(s)
This vessel was designed as a demonstration of the commercial viability of "hybrid power systems" in the maritime industry. Captain Cook Cruises operates the vessel as a conventional cruise vessel in the competitive tourism market on Sydney Harbour.
2.4. Brief as given by client to designer
This vessel was built "on spec". We aimed to produce a 100 person, comfortable, open plan, "no column" high efficiency, low wash vessel for commercial operation on Sydney Harbour.
2.5. Why does the product represent design excellence and why do you believe it deserves an Australian Design Award™?
The vessel has functional advantages over conventional vessels for economic, passenger comfort and environmental reasons.
The vessel incorporates in an aesthetic design, three areas of new Australian design and technology.
1. "Solar wings" – pivotally mounted NASA wing foils incorporating solar collectors. The one structure is able to sail and collect solar energy –This is a simple innovation and a world first.
2. Lightweight, flexible, high efficiency solar panels for the marine environment – Solar Sailor has developed a method of encapsulating the highest efficiency solar cells commercially available from bp (originally designed in Australia by the UNSW) without heavy glass making a panel that is one third the weight and flexible.
3. High efficiency electric motors for marine applications. In conjunction with the University of Technology Sydney, Solar Sailor has developed a high efficiency electric motor with one moving part and high torque enabling direct drive to the propeller without the need for a gearbox.
2.6. Proof of success / market potential
The current vessel has exceeded the operator' expectations and received universal positive feedback from customers. Solar Sailor has received over fifty expressions of interest in the product for the tourism, eco-tourism and passenger transport markets.}
2.7. Do you have a patent or design registration for the product?
Yes. Solar Sailor has a patent on the "Solar Wing" in Australia, NZ, and USA, TURKEY and pending in 26 other jurisdictions.
2.8. Is the product currently being exported?
We have exported solar panels to Japan.
2.9. Does the product replace goods which are currently being imported?
No – world first.
2.10. Product life cycle and environmental considerations
The vessel has an expected life of 30 years. The solar panels, batteries and computers have no moving parts and the motors have one moving part - meaning the vessel requires little maintenance. The LPG generator has to be maintained in a conventional way. The batteries are expected to last 8 years.
The vessel has little impact on the environment. The vessel is quiet, low wash and under all modes of power creates zero water pollution. The vessel can recharge off the grid using off-peak power and when not in use can put power back into the grid at on-peak rates. Even under LPG generator power it creates no diesel fumes, or particulate matter and 50% less greenhouse gas emissions

We like this concept. It's about time the oceans were cleaned up. Such a set-up could reduce diesel costs significantly and is retro fixable, but to be able to eliminate diesel fuel altogether, something more comprehensive is needed.
2.11. Industrial Design and/or Furniture Design considerations
2.11.1. RELEVANCE OF EXTERNAL FORM AND ERGONOMIC CONSIDERATIONS
The design had to incorporate solar wings (proven on a small prototype the Marjorie K), hybrid power system and satisfy waterways requirements for safety. The wings could not go out beyond the beam of the boat and had to fit under the lowest point of navigation on its route even with the wings up. The wings had to be stowed when the wind was over 40 knots. The layout for the flow of energy had to maximise efficiency of the system and optimise the weight distribution on the vessel.
2.11.2. Aesthetics
The vessel had to functionally incorporate new technology and yet be appealing to the tourist market. The 168 square metres of solar panels were positioned above the passengers or on the bow. A 2 to one ratio of length to beam matched the 2 to one ratio of the length to width ratio of the wings. The new technology was felt best being displayed in a futuristic and aerodynamic design.
2.11.3. Safety
The vessel satisfies all NSW Waterways safety requirements. The wings are engineered to withstand 40 knots of wind with 100% margin of safety. Fire, lifesaving and visibility requirements have all been met. Conventional lead-acid gel batteries were used as they are approved in marine applications. The LPG generator was placed aft on the transom of the catamaran to reduce noise and resolve safety issues regarding heavier than air gases collecting in the hulls.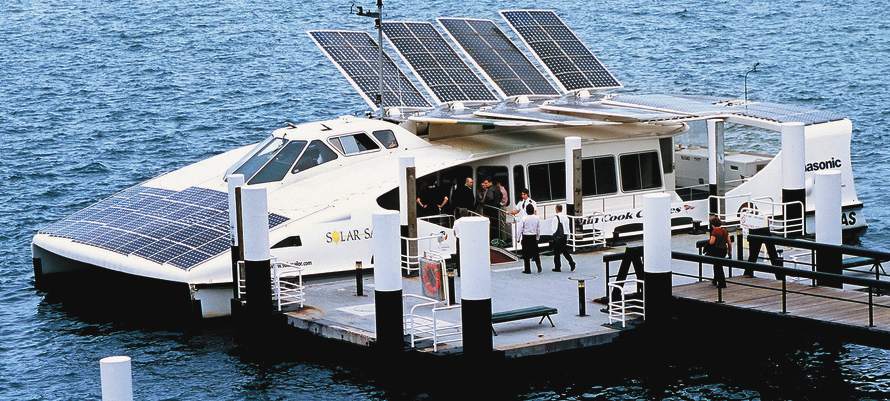 Still going strong and a fine example of technology in action.
2.11.4. Design problems encountered and solved
Wing design, Joint design, hydraulic design, computer and software design, solar panel encapsulation, motor design and the integration of this in the overall hybrid power system layout were all considered and optimised.
2.11.5. Important and innovative features
The innovative feature is the "solar wings". The two most abundant forces on the water are the sun and the wind. The solar wing is able sail and collect solar energy. It is modeled on nature where insects evolved wings initially as solar collectors and then used them to fly. Integrated with back up electric power storage and generation, the solar wing creates a vessel that is reliable, versatile, potentially has unlimited range, can refuel at sea, is economical, pleasant to be on and has minimal impact on the environment.
2.12. Engineering Design considerations
2.12.1. describe any new concepts, innovative design features or better ways of achieving the aims of the project.
The tourist vessel was limited by conditions and regulations on Sydney Harbour. We have designs for inter island trade-wind vessels where the wings extend beyond the beam of the boat when horizontal and have a higher aspect ratio when sailing. We have concept vessels where the wing not only uses solar and wind power but also creates lift.
2.12.2. describe any simplifications achieved in the design of the product.
The layout is simple open plan, "no column" design on one level. It makes access easy and wheelchair friendly.
2.12.3. describe any additional functions incorporated in the design, more effective functionality or increased efficiency.
The vessel can be operated by a single captain and a deck hand. Closed circuit TV aides visiblity round the vessel and wing positions can be monitored by computer, on closed circuit TV or visually.
2.12.4. describe any improvements in safety.
There is no fossil-fuel below deck level in any hulls in our boat. All systems are monitored in the wheelhouse by a computer.
2.12.5. describe any improvements in the use of materials for efficient manufacture.
The hulls and superstructure were made by a yacht builder using conventional techniques.
---
Why not visit the: www.solarsailor.com website for more information.
Solar Sailor catamaran ferry - Sydney Harbour
Solar Sailor Holdings
SYDNEY OFFICE
Suite 206, "The Bentleigh" ,
1 Katherine Street, Chatswood NSW 2067
PO Box 640, Lane Cove, Sydney NSW 2066
PHONE NUMBERS
Telephone: +61 2 9418 6011
Fax: +61 2 9418 6939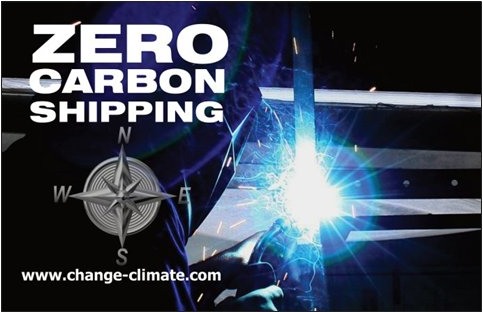 Zero Carbon shipping without hydrogen fuel cell inefficiencies is a possibility that needs to be investigated with projects such as the solar and wind powered ferry that is the subject of applications for support.