A ferry is a boat or a ship carrying passengers, and sometimes their vehicles, on scheduled services. Ferries have also been used to transport railroad cars. A foot-passenger ferry with many stops, such as in Venice, is sometimes called a waterbus or water taxi.
Ferries form a part of the public transport systems of many waterside cities, allowing direct transit between points at a capital cost much lower than bridges or tunnels.

Stenna Voyager high Speed ferry
Notable ferry services
Longer-run ferries connect coastal islands with the mainland. A route of this type connects Great Britain with the rest of Europe across the English Channel, connecting mainly to French ports, such as Calais, Cherbourg-Octeville and Le Havre. Large ferries also sail in the Baltic Sea between Finland, Sweden and Estonia. In many ways, these ferries are like cruise ships, but they can also carry hundreds of cars on car decks. In Britain, car-carrying ferries are sometimes referred to as RORO (roll-on, roll-off) for the ease by which vehicles can board and leave.
In Australia, three Spirit of Tasmania ferries carry passengers and vehicles 300 kilometres across the Bass Strait, which separates Tasmania from the Australian mainland. These run overnight but also include additional day crossings in peak time. All three ferries are based in the northern Tasmanian port city of Devonport; two ferries travel the route to Melbourne, Victoria, and the third to Sydney, New South Wales. Hong Kong has the Star Ferry and the First Ferry.
Due to the numbers of large freshwater lakes and length of shoreline in Canada, many provinces and territories have ferry services. BC Ferries, British Columbia, carries travellers between Vancouver Island and the B.C. mainland. It also services other islands including the Gulf Islands and the Queen Charlotte Islands. In Halifax, Nova Scotia a 12 minute harbour ferry service operated by Metro Transit is used by over 3000 commuters daily [1] trying to avoid gridlock on the Macdonald and Mackay bridges. In Ontario, a popular ferry service that transports the public, as well as goods and services, is the Chi-Cheemaun. Toronto also has a ferry service that shuttles beach-goers, tourists and aircraft passengers between the downtown core and Toronto Island beach and airport. The island province of Newfoundland is accessible only by air or by Marine Atlantic ferries; Prince Edward Island was only connected to the mainland by ferries until the opening of the Confederation Bridge in 1997.
The Pride of Rotterdam P&O ferry
Washington State Ferries operates the most extensive ferry system in the United States with ten routes on Puget Sound and the Strait of Juan de Fuca serving terminals in Washington and Vancouver Island. In fiscal year 1999, Washington State Ferries carried 11 million vehicles and 26 million passengers. The Staten Island Ferry in New York City, with service between the boroughs of Manhattan and Staten Island, is the nation's single busiest ferry route by passenger volume.
Hydrofoil
Hydrofoils have the advantage of higher cruising speeds, succeeding hovercraft on some English Channel routes where the ferries now compete against the Eurotunnel and Eurostar trains that use the Channel Tunnel. Hydrofoils also proved a practical, fast and relatively economical solution in the Canary Islands - their replacement by high-speed car ferries is seen by critics as a retrograde step given that the new vessels use much more fuel and foster the inappropriate use of cars 1 in islands already suffering from the impact of mass tourism.
Catamaran
Catamarans are normally associated with high-speed ferry services. Stena Line operates the largest catamarans in the world, the Stena HSS class, between the United Kingdom and mainland Europe or Ireland. These waterjet powered vessels, displacing 19,638 tonnes, are larger than most catamarans and can accommodate 375 passenger cars and 1,500 passengers.
Mangus Volk "Ferry"
Along the shore of the magnus volk in Brighton, there was a "ferry" on rails.
Ro-ro
Roll on-roll off ferries (RORO) are large, conventional ferries named for the ease by which vehicles can board and leave.
Cable ferry
Very short distances may be operated by a cable ferry, where the ferry is propelled along and steered by cables connected to each shore. Sometimes the cable ferry is human powered by someone on the boat. Reaction ferries are cable ferries that use the perpendicular force of the current as a source of power. A beautiful example of a current propelled ferry is in basel switzerland http://www.faehri.ch/ Chain ferries may be used in fast-flowing rivers across short distances. Cable Ferries are widely referred to in Australia as "punts".
Free ferries operate in some parts of the world, such as at Woolwich in London, England (across the River Thames), in Amsterdam, Netherlands (across the IJ waterway), in New York Harbor, connecting Manhattan to Staten Island and across many lakes in British Columbia.
Docking
Ferry boats often dock at specialized facilities designed to position the boat for loading and unloading, called a ferry slip. If the ferry transports road vehicles or railcars there will usually be an adjustable ramp called an apron that is part of the slip. In other cases, the apron ramp will be a part of the ferry itself, acting as a wave guard when elevated and lowered to meet a fixed ramp at the terminus - a road segment that extends partially underwater.
---
The well known designer of exotic vehicles such as the Borzoi, Bluebird Electric and Solar Navigator, knows when he's on to a good thing. Nelson previously insured his vehicles with the Royal for about 10 years then General Accident for another 10 years. Which just shows we tend to be loyal to our insurers - but are they loyal in return?
Nelson Kruschandl - "Best value and service."
These days there is a good choice of insurers each competing to save you money, so why not shop around. When about 3 years ago Nelson's policy went up dramatically by about 30% he decided to check out the market. He obtained quotations from most of the firms advertising savings such as Churchill and Direct Line, but was pleasantly surprised to find his local company could beat the best quote he'd obtained by quite a bit and offer a better policy. Sold. Nelson says: "Why don't you give Hastings Direct a try online." Move up to a better service and help keep this website active. For every policy sold through us, Hastings Direct will contribute to our running costs - with no extra cost to you. Please help us if you can. Applies in the UK only.
UK Car, Van and Motorcycle insurance
---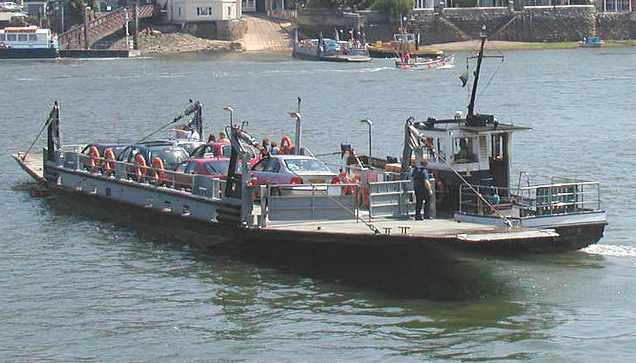 Ferry - Dartmouth, Devon, England
A taste for adventure capitalists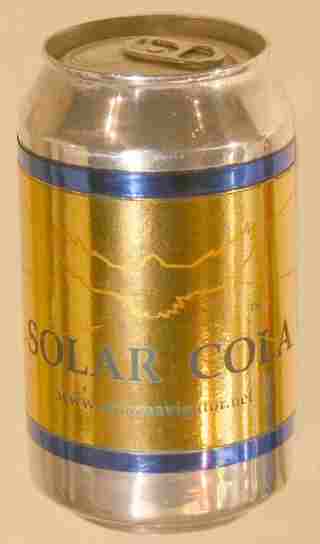 Solar Cola - a healthier alternative