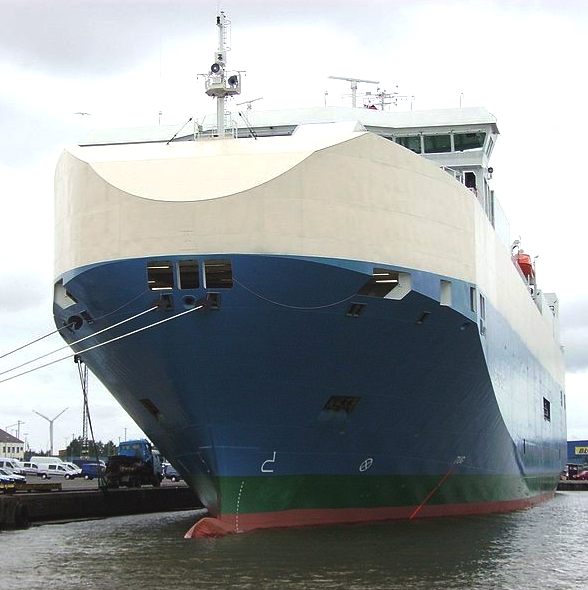 DECEMBER 12 2012
It is claimed that ClassNK's innovations for ship owners will help them comply with new conventions requirements.

The R & D projects of ClassNK for reducing running cost of ships are designed to offset the burden that would be cast on ship owners by the demanding new conventions set to come into force.

It is not just the financial crisis and the soaring prices of bunkers that affect shipping. What are even worse are the new conventions set to come into force which will certainly not offer any salubrious climate for shipping but could push companies into the red unless prolific and cost conscious measures are factored in. Thus, the Ballast Water Management, Green House Gases Reduction and the Amendments to MARPOL viz. mandatory requirement for Energy Efficiency Design Index will lay immense burden on the ship owners.

To help ship owners offset the unfavorable effect of these conventions, ClassNK, besides its service to the shipping trade as a classification society and other activities it has been ceaselessly striving to find solutions for cutting down cost for running of ships. It has made phenomenal investment in research and development having sunk in US $ 40 million already for undertaking 19 projects. ClassNK has committed $28 million in Japan for 22 projects and the remaining $ 12 million is being spent in research and development outside Japan.

"This means that ClassNK is working to improving the efficiency on what we already have. The government of Japan has targeted in achieving 30 per cent reduction of GHG emissions" says S. Sampath, General Manager (Survey) of ClassNK Mumbai Office. "It has 22 projects underway with each one having established reduction from 3% to 15%. Combining all these designs and systems in the new building it is possible to achieve a total of nearly 30 per cent reduction in fuel consumption. This total reduction may definitely add up to at least 20 per cent reduction, if not the targeted 30 per cent, due to overlap effects of the combination of the different systems and technologies.

"What this would mean is that it will be possible to achieve a huge saving in fuel consumption for the ship owners at the same time comply with the requirements of the convention. Some of these designs could also be incorporated in the existing ships which have been built prior to 2013 when the conventions come into force."

Some of the major research projects underway that promise to bring in reduction in fuel consumption are Minimal: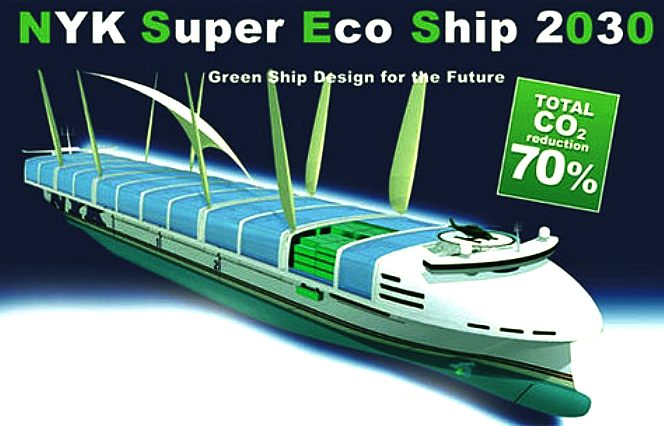 HULL DESIGN
Ballast Water Ship,
Optimum Hull Form for Ships Adopting Contra-Rotating Propeller,
Optimum Bow Design in Waves for Container Carriers,
Micro Bubble Lubrication,
Extremely low resistant hull coating,
Non Hub-vortex Propeller with Minimal Blade Area,
Propeller Attachment to improve Thrust Efficiency,
INTERNAL COMBUSTION
Optimum Hybrid Power Management system using shaft driven generator and controllable pitch propeller,
Optimum Combustion in Large-size Low-Speed Diesel Engines,
High Efficiency Heat Recovery System for Small size Diesel Engines,
Small Size Dual Fuel Diesel Engine,
Hybrid Turbo Chargers for Marine Use,
ALTERNATIVE ENERGY
Lithium Battery and Solar Panels Hybrid Power System,
Gigacell Battery and Solar Panel Hybrid Power system
Sail Assisted Cargo Ships.

A paradigm shift in shipping appears to be underway. Many classification societies, ship builders, naval architects and others are also working round the clock to come up with innovations that not only make shipping more secure, safe and efficient on clean ocean, but also cut cost substantially. The sum total of all these efforts will certainly see shipping on a higher growth trajectory.
HISTORY of NIPPON KAIJI KYOKAI
Nippon Kaiji Kyokai, known as ClassNK or NK, is a ship classification society. The Society is actively engaged in a growing range of ship related activities and services aimed at contributing to promoting the protection of human life and property at sea as well as protection of the marine environment.
The NK Mission:

ClassNK is dedicated to ensuring the safety of life and property at sea, and the prevention of pollution of the marine environment.

To achieve this mission ClassNK will: Focus on delivering the highest quality classification services, by the highest quality personnel, while maintaining its totally independent third party, non-profit status.

Focus on the development of relevant Rules,procedures and guidance, and maintain and develop its commitment to scientific and technological research and development.

Maintain and develop its global operations in line with the needs of clients using its services.

ClassNK has earned an outstanding reputation for its long-standing dedication to safeguarding life and property at sea and preventing marine pollution through the establishment of universally recognized standards for the design, construction and maintenance of ships and other marine structures.

The principal work of the Society's expert technical staff is to undertake surveys to ensure that the rules which it has developed are applied to new buildings and existing ships to ensure their safety. The rules cover not only hull structures, but also propulsion systems, electrics, electronic systems, safety equipment, cargo handling gear, and various other areas. ClassNK's surveyors work in shipbuilding and repair yards and at ports across the world, wherever they may be called upon to examine the condition of a ship.

The Head Office is located in Tokyo and in Chiba, Japan, and there are branch offices at the major Japanese and overseas cities throughout the world. (see Contact us) As of the end of May 2012, the Society had 7,847 ships over 200 million g.t. under class. This figure represents approximately 20 percent of the world merchant fleet currently under class.
CSR - World's First Harmonized CSR Software

On the 5 July 2012, ClassNK claim to have released the world's first software package for Harmonized CSR for use with the Harmonized Common Structural Rules (CSR) for bulk carriers and oil tankers announced by the IACS (International Association of Classification Societies) on 1 July 2012.

This software package, for designers and shipyards, is a complete renewal of ClassNK's existing CSR software, based on the knowledge gained through the development of its software packages so far, including the newest information technology, and the insights and opinions of designers and leading shipyards on ClassNK's existing CSR software.

In addition to strengthening features included in ClassNK's existing CSR software, this new CSR software package provides brand new functions such as a "Case study tool for a rapid assessment of effects resulting from a change in the parameters of initial ship design" and a function generating "3D models for hull structural analysis directly from rule calculation data". This new software used as a calculation tool, is a total support system increasing the efficiency of the ship's basic design.

Furthermore, this new software is not only able to make use of data produced by existing CSR, but also to perform data transfers with all 3D CAD software systems and ship performance calculation software data.

ClassNK is convinced that, thanks to this new Harmonized CSR software package, the design quality and the speed of the ship design process will be increased.
http://www.classnk.or.jp/hp/en/activities/csr_measure/
UK VESSEL EFFICIENCY COMPETITION - Piloting UK marine and maritime innovation = 50% of eligible costs

Together with the MOD's Defence, Science and Technology Laboratory and Scottish Enterprise, TSB are investing up to £8m in collaborative R&D and fast-track projects to deliver viable solutions for more efficient marine vessels. It is not really a competition, which suggests a prize. It is a sweetener for existing business.

They are looking for UK businesses – from inside and outside the industry – to develop solutions covering many aspects of efficiency in existing and future ships, boats, submarines, and their associated equipment and systems.

TSB are seeking innovative proposals that address the issues of improving current vessel performance and efficiency, but at the same time attract projects for future vessel design, coatings and propulsion systems.

The competition is also aiming to build collaboration across the maritime and marine industry, and develop UK-based supply chains and SMEs to underpin a national Strategy for Growth.

Proposals must be collaborative and business-led. TSB would like to see micro and small businesses involved. We expect to invest between £500k and £3m per project, although projects outside this range will be considered.

This is a fast track and two-stage CR&D competition that opens on 14 January 2013. The deadline for applicants to register for both types of project is noon on 20 February 2013 and the deadline for expressions of interest is at noon on 27 February 2013.

A briefing event for potential applicants will be held in London on 22 January 2013 and consortia-building events, to help applicants to find partners to work with, will be held before the competition opens in January.
LINKS
Maritime Professional ClassNK December 2012 innovations for ship owners
International Maritime Organization
Solarnavigator is designed to carry the Scorpion anti pirate weapon. A fleet of such autonomous vessels could be the basis of an international peacekeeping, pollution free oceanographic surveying and/or military unmanned patrol ships.