Nigel Irens is a leading yacht designer. He is perhaps best known as designer of the Cable and wireless Adventurer, a 35m trimaran motor yacht which completed a record-breaking circumnavigation in 1998, and of the record-breaking trimaran used by Ellen MacArthur to break the world record for solo circumnavigation in 2005, of which see more below.
His design portfolio is wide-ranging, from record-breaking yachts to innovative cruising designs such as Roxane, syntheses of traditional design such as the Westernman cutters – designed in association with Ed Burnett – or the launch Rangeboat, a 12m meter power craft of traditional appearance. Irens is perhaps particularly noteworthy for the simplicity, the efficiency, the essential elegance of his design.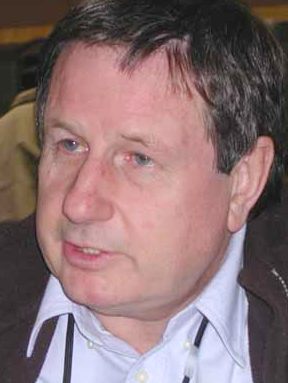 Nigel Irens
NIGEL IRENS and the B & Q TRIMARAN
Ellen MacArthurs latest 75-foot trimaran was designed by French based, British naval architect Nigel Irens in conjunction with the Offshore Challenges technical team. The giant three-hulled 'flying machine' is/was sailed single-handed by Ellen, and will be designed with a single focus - solo records. Without the constraints of class rules or grand prix racing, the boat has been conceived with trans-ocean passages in mind, and fully optimised, much like the the monohull KINGFISHER was, for solo sailing. The concept is built around trying to achieve high daily average speeds in a variety of conditions, coupled with safety and reliability, in equal measure.


NIGEL IRENS: "I have worked with and known Ellen for many years, designing a boat like this for her is an incredible, and exciting challenge...in particular having a blank sheet of paper without the restrictions of a rule (most classes of boat restrict how a boat may be designed or built) allows us to explore the best combination of performance, safety and reliability."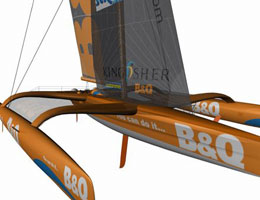 The B&Q Trimaran
ELLEN HOMECOMING
As the clock counted down for the arrival of Ellen MacArthur it wasn't surprising to see Nigel Irens, pacing the dockside at the National Maritime Museum, Falmouth awaiting the news of whether his design had broken the world speed record.
For Irens, who, in association with Benoit Caberet, has designed many of the world's greatest racing, cruising and power yachts, and has been at the forefront of multihull oceanic racing since the mid 80s, it was undoubtedly the most important day of his career. Commenting with just a few hours to go before MacArthur crossed the line, Irens said: "I feel incredibly happy because the design has done what it was designed to do - break the world speed record."
But what gives B&Q the edge over Francis Joyon's 1986 Van Peteghem/Lauriot Prévost-designed trimaran IDEC that broke the world speed record last year? Irens continued: "It's much more recent than Joyon's boat so we've had the benefit of more experience. In terms of reliability we're drawing a lot on the disastrous year in 2002 with the carnage in the Route du Rhum and there was a huge amount learned from that.
"I was quite surprised in a way they [MacArthur and team] were prepared to still go ahead with this project but at least we were able to draw on the problems of the Route du Rhum and say, 'okay, we're not having that again, we're going to change direction'. It meant accepting the rule to allow softer skins, energy absorbtion skins rather than the very rigid ones that failed before."
Designing a yacht for such an ambitious record was no easy task but as Irens said unlike classes such the ORMA, there are no rule constraints so they can design exactly what they want. "It's such a relief for us to design a boat which is, for once, not within the constraints of a rule. Although there are just a few rules in the ORMA class, they are extremely constraining. The obvious one, the one we are delighted to be able to escape from, is the length because it is so much more difficult to make a good sea boat at just 60ft.
"Making the boat 75ft you do of course take on a bit more weight and take on weight when you increase the height of the beams above the water because the bulkheads get bigger and the surface area of the hulls is greater and so on."
Chatting about the conception of B&Q Irens says it's like chucking the clay down on a wheel. "Our roles [Benoit Caberet and Irens], particularly my own role is at its most important at the very beginning of the project and it's me who says: 'This is the kind of boat I think we'll need'. I then do some hand sketches or simple 3d cad sketches. Interestingly, I still have the original sketch of B&Q and she isn't very different to what it was then.
"However, with Benoit we evolved the original sketch using the references we had for two boats, our most recent 60 footer - Fuji Generation - and the other was a boat I did in 1986. We did an in-depth investigation in to the distribution of buoyancy and we recreated the 1986 boat even though it hadn't been designed on computer we reconstituted that and used the same tools and that led to the shape of B&Q. Once we got the shape sorted out, the design was exposed to Ellen and team to decide how they wanted it layed out. The rest is history."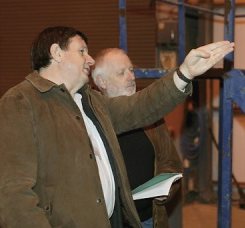 Nigel Irens and Paul Gelder
THE NEMA ANNUAL DINNER
On Saturday, February 6, 2006 the NEMA held its Annual Dinner at Anthony's Pier 4 in Boston. Nigel Irens was guest speaker. Renowned for his award-winning multihull designs, Iren's trimarans and catamarans have won numerous world class multihull races.
Here is a summary of the event, contributed by NEMA member, Ted Warren. Nigel covered two main topics, the Open 60 class and "The Race".
OPEN 60 CLASS
The class has become standardized on the wide trimaran. Nigel made two points on this, one that the trimaran develops more power for a given length and that the trimaran is more forgiving when sailing on one hull as it's stability curve allows more righting moment at higher angles of heel.
He is using additional daggerboards in the amas, well forward. The problem with multiple headsails is the the center of effort is in multiple locations and he is using the leeward foil and the main hull foil in variable balance. He has also seen problems with rudder stall and balancing the rig with the two daggerboards eliminates this (unloads the rudder). The rudder on the main hull has gotten smaller, also, and is now the same size as the rudders on the amas.
Nigel made the point that stuffing the bows in a modern Open60 is not a catastrophic problem as the boat stops, and the apparant wind clocks aft and the sails stall. This was demonstrated on video tape. He also showed the stability of these tris when sailing at extreme angles of heel.
He talked a bit about safety issues and capsize. The modern wide monohull race boat is now quite stable upside down and this has become a problem for their fleets, with the more aggressive boats threatening not to race rather than adding ballast. Still, we haven't solved this problem with multihulls and he considers this more of a problem for races in desolate ocean areas. He talked some of the dynamics of capsize in the Open60s, as the windspeed increases, and the true wind heading rotates aft, the boat accellerates, increasing the apparant wind and before you know it you are sailing in 30+ kts of apparent wind and on your way over. He has designed his latest Open60 with enough bouyance and shape in the beams to keep the mainhull out of the water when inverted.
Nigel talked about some of the trade-offs in full ama sterns. The tendency has been to keep the bows full to generate diagonal stability. This works great off the wind, but to windward most of the force is athwartships and the sterns will squat. Fuller sterns have been used lately to prevent this, but too much and you pitchpole off of the wind.
He also comment on individual team boat development. The problem mentioned is that some teams are not very disciplined and try five changes at once, or the development team is different than the racing team.
Nigel gave some history as to the Open60 class. It happened as a fortuitous combination of tax laws in France and a large interest in ocean racing. He mentioned that one company had the choice of paying taxes to the government or financing the building of an Open60. It seems that less sponsorship money has been available over time.
THE RACE
Nigel talked about the interesting design issues, that the parameters are different than Open60's because there is no length restriction, and that the boats are so large that they develop large righting moments just based on weight. He made the point that we don't know yet what the best configuration is. He felt that modern ropes had eliminated some of the sail handling issues with these big rigs.
He was asked how many boats will enter. He stated that if you listen to the organizers then 16 boats will be there, but the other possibility is that only two boats will make it, Playstation and Peter Goss' boat, and that there hasn't been much progress on Peter's boat. He mentioned that sponsorship is the big problem and offered that it might take some cross market financing and crews based across two countries. The problem is that local companies, say in France, can't justify the local market exposure that they would get for the cost of a boat for "The Race".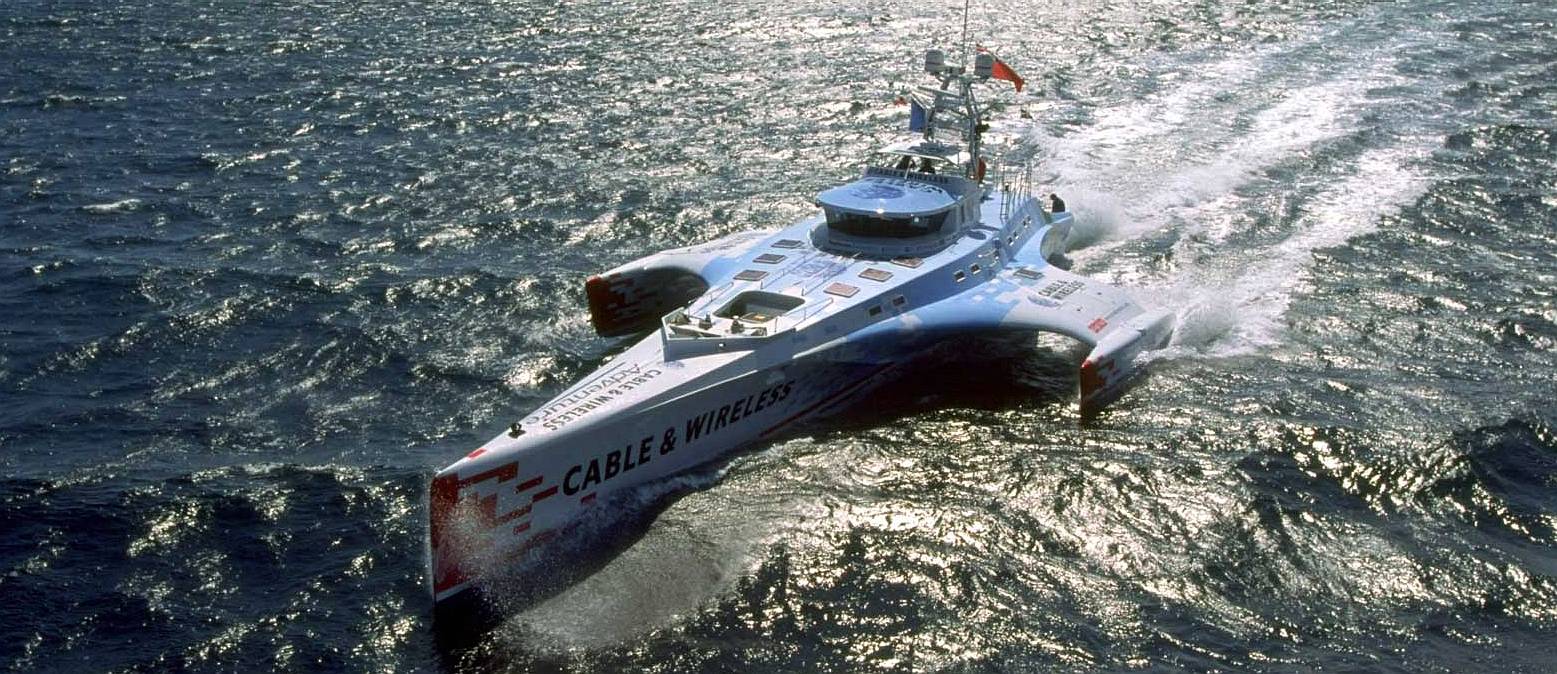 The Cable and Wireless Adventurer was built for the purpose of circumnavigating the world in less than 80 days. This was successfully accomplished in July 1998 in 74 days, 20 hours, 58 minutes, traveling more than 22,600 nautical miles (41,855 km). This achievement set a new Guinness World Record for a powered vessel. However, on 27 June 2008 Earthrace (later renamed Ady Gil), the biodiesel powered wave-piercing trimaran, set a new world record when it docked at the Vulkan shipyard in Sagunto, Spain after completing a circumnavigation in just 60 days 23 hours and 49 minutes. Both records are longer than the 60 days, 21 hours claimed by the US Navy's USS Triton nuclear-powered submarine during Operation Sandblast in 1960.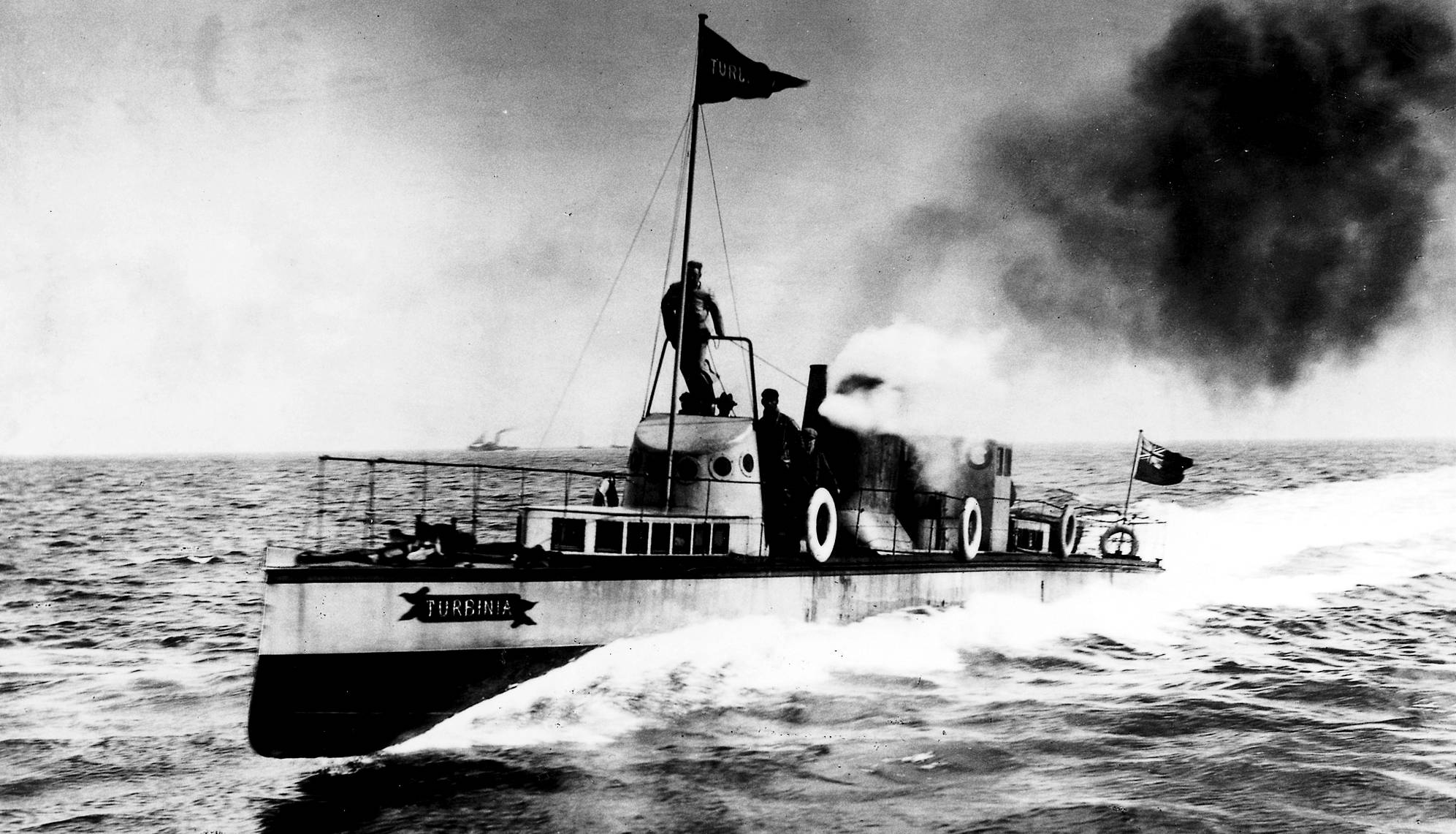 Long, thin hulls are nothing new, this is Turbinia at full steam in 1897 when Charles Parsons was doing his best to interest the Royal Navy to adopt his steam turbine engines. What was novel about the Cable and Wireless design was adding outriggers, no doubt inspired by the island fishing boats that have one or two hulls on either side of their canoes.
Nigel Irens has been involved in many exciting boat projects, including ENZA and the CABLE & WIRELESS ADVENTURER. See the short history below for other boats.
We feel that there is nonetheless a common link between them in that they are all boats designed for very specific purposes for owners who are very exacting in their requirements.
Nigel is quoted as saying: "There is no shortage of mainstream production boats available in the world but if you are looking for something original and different then he would like to hear from you". Since 1997 NIGEL IRENS has worked on all Raceboat designs in association with BENOIT CABARET
SHORT BOAT HISTORY
BAYER CROP SCIENCE
BAYER CROP SCIENCE is another derivative of FUJIFILM, making use of both hull and beam moulds, however that is where the similarity ends: project manager Jean Maurel has used his experience to put together a radical interpretation of the design.
The boat has only joined the ORMA circuit in the 2003 season and can be considered to be where FUJIFILM was this time last year in terms of development. Frederic le Peutrec has come from the highly disciplined world of Olympic sailing, but has also accumulated plenty of ocean racing miles on 60 foot trimarans like BISCUITS LA TRINITAINE - TEAM ETHYPHARM, and, indeed FUJIFILM herself.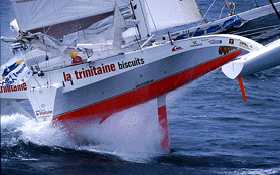 BISCUITS La TRINITAINE - 2001
Fuji Film started as a 60 footer for Loïck Peyron, lauched in April 2001 for the ORMA circuit. 2001 was very much a 'development season', the boat starting to show form towards the end of the year when Peyron and his crew Loick le Mignon came third in the 'Jacques Vabre' race to Brazil.
'FUJIFILM' went on to win the Zeebrugge Grand Prix and take 2nd place in the Fécamp Grand Prix, winning the ORMA championship outright - despite being abandoned and lost in the very heavy weather encountered by the 'Route du Rhum' fleet in November 2002.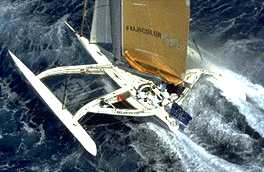 COVEFI - 1990
Originally built in 1990 for Mike Birch. With Loick Peyron as skipper she dominated the French 60 ft multihull circuit, winning the 1997 and 1999 ORMA championship, every Grand Prix in 1998 and the two-handed 'Jacques Vabre' in 1999. Sold at the end of 1999 she was raced by Jean-Luc Nélias under the colours of the Belgian Telecom company Belgacom.
After a season in the hands of Nélias the boat was taken over by 'Vendée Globe' veteran Bertrand de Broc is currently owned by the French bank Covefi (ex Belgacom, ex Fujicolor).
FUJI FILM - 1998
This 60 ft Trimaran was built by Multiplast in 1998 just in time for the 'Route du Rhum' single-handed St. Malo to Guadeloupe race in which she was placed 4th. Second accross the line in the gruelling 2000 'Europe1 New Man STAR'. 2nd in ORMA championship for 2000. Refitted with new floats in 2001.
The boat arrived in second place (out of only three finishers!) in the infamous 2002 'Route du Rhum'. Skipper - Marc Guillemot. www.latrinitaine.com
Nigel Irens' designs have been at the forefront of multihull oceanic racing since the mid eighties. Victories include four consecutive outright wins in the RWYC Single Handed Transatlantic Race (currently known as the Europe1 New Man STAR) and a 'Route du Rhum' win in 1986.
Nigel was educated at Clifton College in Bristol, England. He entered the sailing world professionally after receiving a diploma in Boatyard Management at Southampton College of Technology. A prolific career of designing and building numerous highly successful racing multihull sailboats has led to Nigel being recognized as the worlds leading designer of multihulled sail and power vessels.
A partial list of which includes:

1982 40ft. trimaran 'It 82' class winner of Round Britain race.

1983 80ft. catamaran 'Formula Tag' winner of Monaco to York race. Holder of world record for distance sailed in 24hrs. until 1994.

1985 60ft. racing trimaran 'Apricot' winner of Round Britain race.

1986 75ft. racing trimaran 'Fleury Michon VII' 1st in 'Silk Cut Brighton to London Race'. 1st overall in 'Route du Rum' single handed St. Malo to Guadeloupe. Holder of West-East Transatlantic sailing record 1987 to 1988.

1988 60ft. racing trimaran 'Fujicolor' winner of Grand Prix de Brest

1988 60ft. racing trimaran 'Fleury Michon IX' winner of 'Carlsberg Single Handed Transatlantic Race', beating record by 6 days.

1988 'Ilan Voyager' wins Round Britain powerboat race

1991 'Fujicolor II' wins 'Trophée des Multicoques'.

1992 'Fujicolor II' wins 'Europe 1 Single-Handed Transatlantic Race'.

1993 'Fujicolor II' wins 'U.A.P. Round Europe Race'.

1994 'Enza New Zealand' (ex-Formula Tag') wins 'Jules Verne Trophy' for the fastest ever circumnavigation of the world under sail.

1996 'Fujicolor', 'Banque Populaire' and 'La Trinitaine' 1st, 2nd and 3rd respectively in 'Europe 1 Single-Handed Race'.

1996 'Fujicolor', 'Banque Populaire', and 'Region Haute Normandie' 1st, 2nd and 3rd respectively in 'Quebec to St. Malo Race'.

1997 'Fujicolor', 'Corum Watches', 'Bank Populaire', and 'La Trinitaine' 1st, 2nd, 4th and 5th respectively in 'U.A.P. Round Europe Race'.

1998 'Cable And Wireless' 35meter power trimaran wins world record for circumnavigation in 74days

Nigel Irens
CONTACTS
NIGEL IRENS RDI FRINA
Tanners Yard House, St Lawrence Lane, Ashburton, Devon , TQ13 7DD, UK
Tel +44 (0)1364 652554 Mobile +44 (0)7834 336651
E-Mail : mail@nigelirens.com
Website: http://www.nigelirens.demon.co.uk/
RACING MULTIHULLS | PERFORMANCE MULTIHULLS

Please Note: This page is compiled from a number of articles published about Nigel Irens by way of review. We (Max Energy) nor any other project featured on this site, are associated in any way with the designer, unless specifically so stated. We guarantee the accuracy of any information on third party sites, quotes, etc, although every effort is made in that direction and references provided. Please visit Nigel's official site for all the latest information and contacts details - see links above.
LINKS and REFERENCES:
63' Nigel Irens Fusion Schooner
A 63' Nigel Irens fusion schooner is under construction at Covey Island Boatworks.
As the clock counted down for the arrival of Ellen MacArthur it wasn't particularly surprising to see Nigel Irens, designer of B&Q, pacing the dockside at ...
Nigel Irens - Wikipedia, the free encyclopedia
Nigel Irens is a leading yacht designer. He is perhaps best known as designer of the Adventurer, a 35m trimaran motor yacht which completed a ...
Nigel Irens: Information From Answers.com
Nigel Irens Nigel Irens is a leading yacht designers. He is most famous for designing the record-breaking trimaran used by Ellen MacArthur.
NIGEL IRENS: "I have worked with and known Ellen for many years, ... (See Nigel Irens detailed notes and thoughts as a separate story on this site...) ...
Boat Design Net Gallery - Nigel Irens Design
Boat Design and Boatbuilding Forums from Boat Design Net.
Burnett Yacht Design - Custom cruising yacht design and consultancy
After completing a degree in Yacht and Powercraft Design at Southampton Institute, Ed Burnett collaborated with Nigel Irens for a few years on various ...
SeaSailSurf.com : Yacht Design : Nigel Irens : "This is a boat ...
Nigel Irens : "This is a boat that has been waiting to be built for a long time" ... Nigel Irens has been closely involved with the development of the ORMA ...
Drawings by John Steele, based on Nigel Irens' design ... Steele worked with designer Nigel Irens to modify the hull lines to suit his taste and a schooner ...
Nigel Irens speaks at NEMA Annual Dinner. On Saturday, February 6, NEMA held its Annual Dinner at Anthony's Pier 4 in Boston. Nigel Irens was guest speaker. ...
[PDF] The International HISWA Symposium on Yacht Design andYacht ...
PDF/Adobe Acrobat - View as HTML
Nigel Irens Design. Tanners Yard house. St Lawrence Lane ... Text relating to power trimarans is adapted from a paper given by Nigel Irens at the Royal ...
Nigel Irens Watler Schurtenberger | Multihull Technology Inc Tim Ainley ... The Winnsing combination of Nigel Irens, Multihull Technology's Walter ...
He and co-skipper Nigel Irens, had already hunkered down to storm jib and 3rd reef in the mainsail, yet still they were reaching across these huge seas at ...
Nigel Irens, Mr. Nigel Irens, Staverton Bridge Mill Totnes, Devon, England, TQ9 6AH, Tel: (44) 1803-762770, Fax: (44) 1803-762377, ...
Designer of a wide range of custom craft including classic cruising yachts, power trimarans and racing multihulls. He was commissioned to design Ellen ...
Roxane by Nigel Irens is now sold
Roxane by Nigel Irens is now sold. ... Roxane by Nigel Irens is now sold
Flickr: Photos from Schooner Maggie B
Photograph ©2006 by Brooke Gray, Boat designed by Nigel Irens, Built by Covey Island Boatworks. This photo is public © This photo is public. ...
YBW.com Gallery :: Gipsy Moth IV
Nigel Irens with YM's technical editor, Paul Jeffes, discuss rot in the section of · Yacht designer Nigel Irens with YM editor, Paul Gelder ...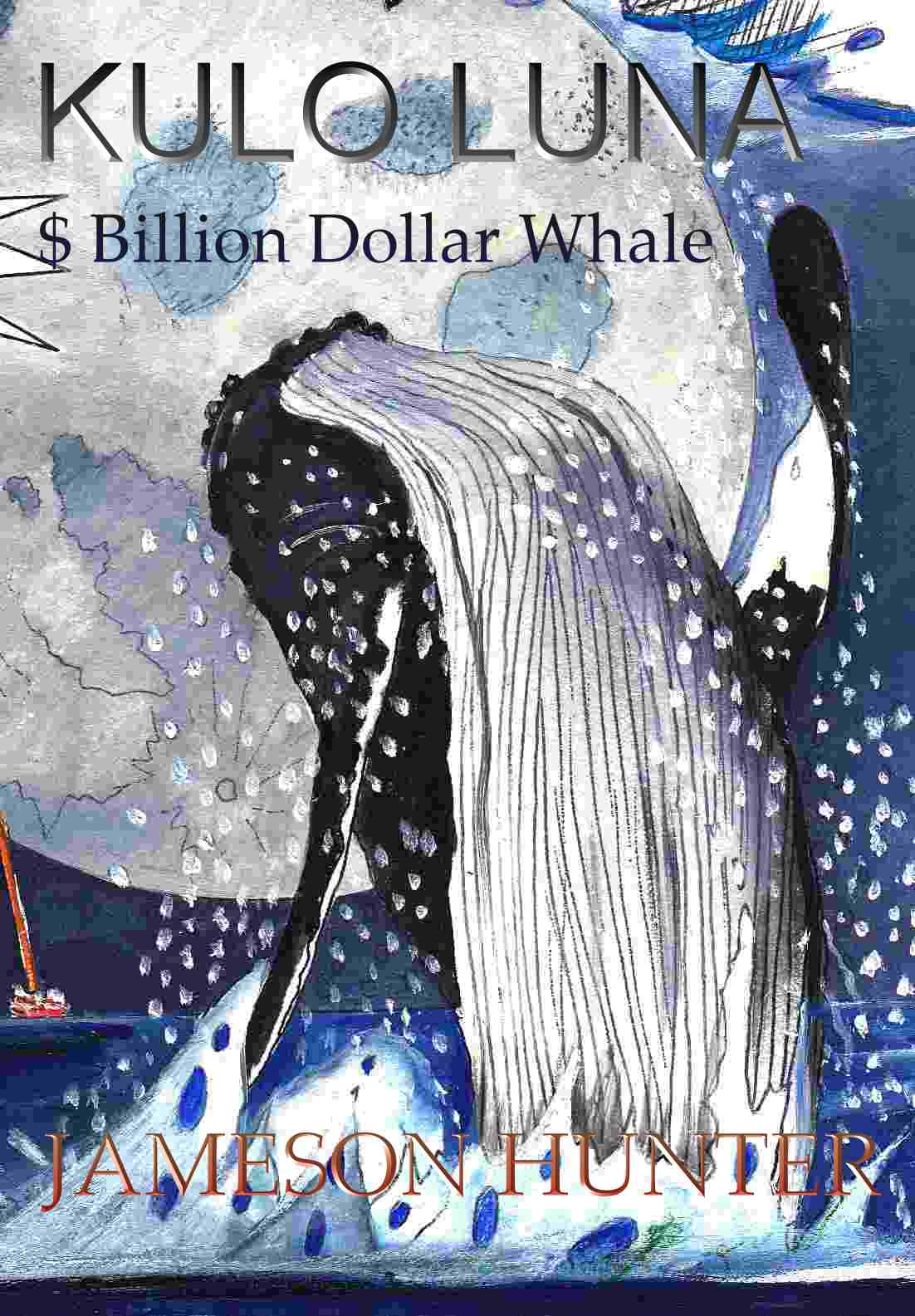 KULO LUNA - Is the story of a giant humpback whale and her young friend Kana who is killed by pirate whalers in the south pacific ocean. Enraged by the death of Kana, Kulo attacks the pirate ship, finally sinking it, but getting herself wounded in the process.......