Steve Fossett, then 59-year-old American millionaire and his crew of 12, sailed into the record books at around 1600 BST on Monday 5th April. The 125-foot catamaran Cheyenne shaved almost six days off the existing record after crossing the official start and finish line at Le Stiff lighthouse on Ouessant.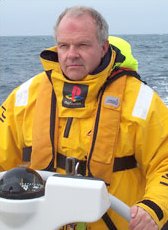 Steve Fossett
Their 21,760-mile journey took them around the Cape of Good Hope, Cape Leeuwin and Cape Horn during almost 59 days at sea. The previous record of 64 days, eight hours, was set by Frenchman Bruno Peyron in 2002.

Millionaire Mr Fossett and his crew returned the 125-foot catamaran Cheyenne to Plymouth to be reunited with loved ones. Mr Fossett said: "It's quite a celebration. Everybody on this crew is absolutely delighted, this is a satisfying moment for all of us. "This was something we've sought for five or six years, we've finally put it all together and now we're here. I'm delighted.

Two weeks after returning from his successful Round The World Sailing world record at the helm of his 125' maxi-catamaran Cheyenne, American skipper Steve FOSSETT announced that he has decided to pull back from front line international speed sailing.
After 11 years of spectacular record success (see below) he has decided to focus on key 2004-2005 projects in aviation (altitude, speed and distance gliding plus the round the world solo airplane) as well as other new (as yet undisclosed) sporting projects on land and in the air. Cheyenne may be put up for sale.

Steve confirmed: "The round the world record has fulfilled my highest ambition in sailing," also "and this just seems like the right time to stop."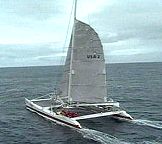 Cheyenne underway
"When we started out I thought the chance was 50-50 that we would get around. Then I wondered that the boat might not be fast enough." He added: "We did a lot of preparation. We had a very strong boat and I selected an absolutely top rate crew."

The round-the-world voyage cost an estimated £5m to mount, but frequently came close to failure due to broken equipment. In late February the electronic systems on board Cheyenne crashed leaving them sailing blind without vital wind and routing information.

Having fixed the electronics, they were in danger of losing the mast when the forestay broke. That too was patched up. Cheyenne encountered further problems in the Pacific when the metal track running up the mast failed twice in 72 hours. Crew members took it in turns to bolt it back into place as the yacht pitched and rolled.

"The decision to pick a crew that are not only outstanding sailors but are also capable of repairing equipment - that was a key decision in being able to make it around, " said Mr Fossett. "There were big worries when we had serious equipment problems and we didn't know whether we'd be able to solve them. "In the end the crew were able to figure out how to fix the equipment and we were able to keep going. "An average crew would not have been able to solve the equipment problems that this crew solved."

The team set sail from Plymouth on Friday 6th February aiming to shave four days off the Jules Verne record, so-called after Verne's famous novel, Around the World in Eighty Days. Engineer Mark Featherstone from Salcombe; Brian Thompson from Southampton; Justin Slattery and Damian Foxall, both from Ireland, are among the Cheyenne's multi-national crew. Mr Thompson, 42, the catamaran's watch captain, said: "I am very excited about finishing.

"It has been an amazing run but we have had to work incredibly hard to get to this point. We have overcome a huge amount and had some close shaves. "However, we have the most fantastic team and through hard work and determination we have got here." Fossett set a trans-Atlantic sailing record in the same multi-million pound catamaran, formerly called PlayStation, in 2001.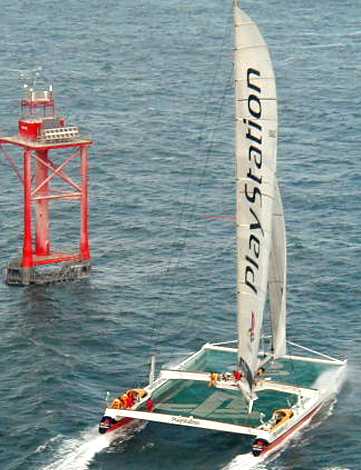 Cheyenne - formerly 'Play Station'
Fossett asked naval architects, Gino Morrelli and Pete Melvin, of California, to design "the best boat for racing fully crewed, non-stop, around the world, as fast as possible". Using a catamaran 'Velocity Prediction Program' developed by Gino Morrelli and Clay Oliver during the 1988 America's Cup Campaign, they designed a 32 metre boat, which was built by Cookson Boats of New Zealand.
Prior to The Race 2000, PlayStation hulls were lengthened to 38.1mtrs, by Green Marine, in Southampton, who extended both the bows and transoms. This was done to improve handling characteristics and overcome a tendency towards pitch poling, due to the fact that the catamaran was basically overpowered. Green Marine also fitted new trampolines and lighter and stronger Cuben Fibre sails.
PlayStation was the only starter in The Race 2000 that failed to finish. Less than 24 hours into the event, the mainsail tore. PlayStation had to divert to Gibraltar for a rendezvous with shore crew who were waiting with the old Main, having trucked it from Barcelona overnight. Then a week later the port dagger-board broke. Fossett retired the yacht, in consideration of these difficulties, Nick Maloney's badly broken ankle, and further sail problems. PlayStation then went to Florida and later up to the NE coast to prepare for the successful (Oct 2001) TransAt record run.

Play Station - cockpit

He holds 21 world sailing records and made the first round-the-world manned balloon flight in 2002. He's been described as a serial adventurer. In total he has set some 50 previous records at the controls of boats, jet planes, balloons and gliders. Now on dry land, the former businessman's next challenge is to fly non-stop around the world without refuelling in a jet plane. The Cheyenne's world record bid is funded largely by Fossett himself, with additional sponsorship from Michelob Ultra.

His focused and committed approach has made him the greatest record-setter in the history of speed sailing with over two-dozen total world and race records set. And 13 of the 22 current records listed as 'outright' in the World Sailing Speed Record Council (WSSRC) record book are held by Fossett - including the amazing new RTW at 58 days 9 hours on the 125' maxi-cat Cheyenne - and the 2001 New York - UK TransAtlantic rocket ride of 4 days 17 hours (aboard the same boat, then known as PlayStation).

"It has been an exciting - and very fulfilling - 11 years. In the past we've defended our records by re-taking 4 of them when broken: the 24 Hours (twice), Round Britain & Ireland, and Isle of Wight - but I don't want to make a program of that. My mind is on aviation projects right now. I should sell Cheyenne to someone who wants to do the Oryx Cup RTW Race - or maybe even try to break some of our records."


Steve Fossett's Sailing Records:
Round the World 58d 9h 32m 45s Feb-April 2004
TransAtlantic 4d 17h 28m 6s(25.78 kts) 01/10/2001
Round Britain & Ireland 4d 16h 9m 36s 01/10/2002
TransAt-Discovery Route 9d 13h 30m 18s 01/02/2003
TransMed (Marseilles-Carthage) 18h 46m 48s 01/05/2002
Fastnet Course 35h 17m 14s 01/03/2002
Newport-Bermuda 1d 14h 35m 53s 01/01/2000
Isle of Wight 2h 33m 55s 01/11/2001
Round Ireland 44h 42m 20s 01/09/1993
Hawaii-Japan 13d 20h 9m July-Aug 1995
Pacific Ocean East to West 16d 17h 21m 01/08/1995
Miami-New York 2d 5h 54m 42s 01/05/2001
Plymouth-LaRochelle 16h 41m 40s 01/04/2002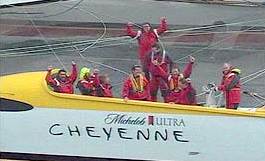 A jubilant Cheyenne crew
The official WSSRC course calls for an eastbound passge from Ouessant, leaving the 3 great capes - Cape of Good Hope ( S. Africa ), Cape Leeuwin ( SW Australia ) and Cape Horn ( Argentina ) - to Port, returning up the Atlantic to Ouessant. The past 8 weeks have seen Fossett and Cheyenne cover over 25, 000 miles along this course at a blistering pace, through every sort of weather, accompanied by a fistful of new RTW segment records - averting numerous potential technical disasters - including a separated forestay, shorted out instrumentation, broken mast track and (just this week) a disintegrating forward beam connection at the starboard hull - all resolved in a series of astonishing 'running repairs' by Cheyenne's brilliant crew.


Cheyenne's RTW crew:

Steve Fossett (skipper) USA
Adrienne Cahalan (navigator) AUS
David Scully (watch captain) USA
Brian Thompson (watch captain) GB
Jacques Vincent (watch captain) FRA
Guillermo Altadill ESP
Mike Beasley NZL
Fraser Brown NZL
Mark Featherstone GB
Damian Foxall IRE
Nick Leggatt ZA
Justin Slattery IRE
Paul Van Dyke USA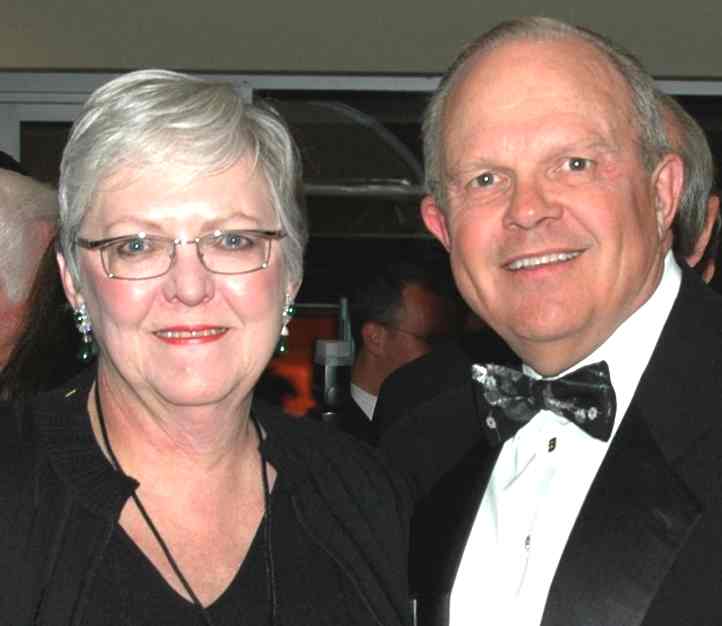 Peggy and Steve Fossett
FOR THE RECORD
Pilot, balloonist, yachtsman and endurance sportsman, Steve Fossett (USA - b. 1944) has made aviation records (across the broadest possible range of flying machines) and speed sailing his specialties in becoming one of the world's best known modern adventurers.

In ballooning, Steve's 1994-2002 quest to become the first person to achieve the First Solo Balloon Flight Round the World achieved tremendous success (on his 6th attempt) aboard the Roziere-type balloon 'Bud Light Spirit of Freedom' (19 June - 4 July 2002). And flying with copilot Terry Delore (NZL) in 2002 - 2003, Steve has now set 9 of the 21 Glider Open records - including the first 2,000 km Out-and-Return and the first 1,500 km Triangle flights.

As one of the world's top private jet pilots in the Cessna Citation X, Steve's achievements include the records for non-supersonic airplanes for U.S. Transcontinental (2h 56m - 726.83 mph) Australia Transcontinental (705.06 mph) and Round the World Westbound (500.56 mph). He received aviation's highest award for 2002 -- the Gold Medal of Federation Aeronautique Internationale (FAI).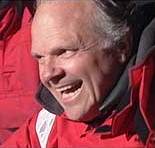 Ambition fulfilled
As skipper of the 60' trimaran 'Lakota' and the 125' catamaran 'PlayStation' (now 'Cheyenne'), since 1993 Steve has set 21 official world records (14 standing) and 9 distance race records (8 standing). He has twice set the prestigious 24 Hour Record of Sailing, and was named 2001 Rolex Yachtsman of the Year, among many honors. In October 2001 on 'PlayStation', Steve and crew set a startling TransAtlantic record of 4 days 17 hours - shattering the previous record by 43 hours 35 minutes - an increase in average speed of more than 7 knots.

Steve has also completed premier endurance sports events including the Iditarod dogsled race, Ironman Triathlon, and the English Channel swim.
---
STEVE'S HISTORY IN BRIEF :
Steve Fossett (born April 22, 1944, Tennessee) is a United States millionaire and adventurer. Fossett made his fortune in American financial markets but is best known as a long-distance balloonist.
On February 21, 1995 Fossett landed in Leader, Saskatchewan, Canada becoming the first person to make a solo flight across the Pacific Ocean in a balloon. In 2002 he was credited with being the first person to fly around the world alone, nonstop, in a balloon. He launched from Northam, Western Australia on June 19, 2002 and returned to Australia on July 2, 2002.
Steve Fossett is also one of the world's most accomplished sailors. He holds 15 World Record passages in sailing. In 2004 he, as skipper, set the world record for fastest circumnavigation of the world in his sailboat Cheyenne with a crew of 13.
Early in 2005 Fossett will pilot the Virgin Atlantic GlobalFlyer, to fly solo, non-stop around the world to set another raft of world records.
Among his other adventures, Fossett has swum the English Channel and driven the Le Mans 24 hours, amongst a host of other feats. He holds the world record for the number of world records held, with 62 world records.
---
Fossett Challenges www.fossettchallenge.com WSSRC Website www.sailspeedrecords.com
AWARDS
Gold Air Medal, Federation Aeronautique Internationale, 2002
Explorers Medal, The Explorers Club, 2003
Medaille de l'Aeronautique, France, March 2003
Grand Medaille de l'Aero Club de France, March 2003
Gold Medal, The Royal Aero Club of the United Kingdom, April 2003
Prix De La Vaulx, Fédération Aéronautique Intérnationale, 1995, 1997,1998 and 2002.
Prix de l'Aventure Sportive, Academie des Sports, France, March 2002
Rolex Yachtsman of the Year, U.S. Sailing Association, 2001
Balloon and Airship Hall of Fame, FAI-CIA, Inducted June 1997
Silver Buffalo, Boy Scouts of America, May 1999
Distinguished Eagle Scout, Boy Scouts of America, May 1998
Harmon Trophy, National Aeronautic Association, October 1998
Distinction in Exploration, National Geographic Society, November 1998
Victor Award (Special), Victor Sports Awards, July 1995 and June 1997
Diplome de Montgolfier, Fédération Aéronautique Intérnationale, March 1996
Hall of Fame, Aviation Week ans Space Technology, Laureate for Operations, March 2003
HONORARY MEMBERSHIPS
Aero Club de France
National Yacht Club of Ireland
Academie Nationale de l'Air et de l'Elspace
Yacht Club de France (2001-02)
Circumnavigators Club
The Adventurers Club
Newport Harbor Yacht Club
Royal Temple Yacht Club
Canterbury (NZ) Gliding Club
---
---
Healthier alternative tastes for adventure capitalists
Solar Red | Solar Cola | Solar Crush | Solar Citrus | Solar Spice