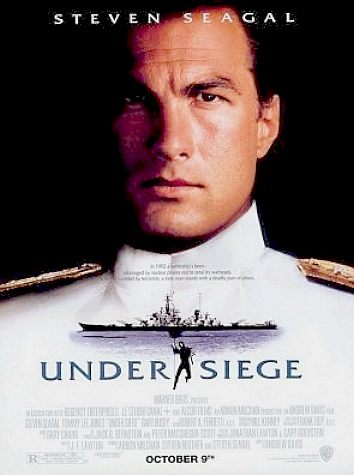 We loved both of the Under Siege movies that were well directed and produced. Steven is menacing and moves superbly, lending credibility to his character. Tommy Lee-Jones is also brilliant as the unbalanced ex-CIA operative and the other supporting cast members such as Gary Busey, are well chosen. Under Siege 2 is also well produced. It is a shame that there was not more in the series, where Bruce Willis has done so well with his Die Hard's by keeping up production standards.
Under Siege is a 1992 American action film directed by Andrew Davis and starring Steven Seagal as a former Navy SEAL who must stop a group of mercenaries, led by Tommy Lee Jones and Gary Busey, on the U.S. Navy battleship USS Missouri. It is Seagal's most successful film in critical and financial terms, including two Academy Award nominations.

Under Siege was followed by a 1995 sequel, Under Siege 2: Dark Territory.

The USS Alabama museum ship stood in for most of the Missouri sequences, and the USS Drum portrayed the North Korean submarine.

Based on an original screenplay by J. F. Lawton, Under Siege was rated 'R' ('Restricted') by the MPAA. The UK video release was edited for violence to get a more commercial 15 certificate. Ten seconds were removed from the film, chiefly from the workshop fight and a shot of Seagal ripping out a man's throat, along with Strannix's eye being gouged.

The film makes extensive use of the IntroVision process, a variation of front projection that allows realistic three-dimensional interaction of foreground characters with projected backgrounds without the heavy cost of traditional bluescreen effects. The technique was also used in the films Outland, Megaforce, Army of Darkness and Andrew Davis' The Fugitive.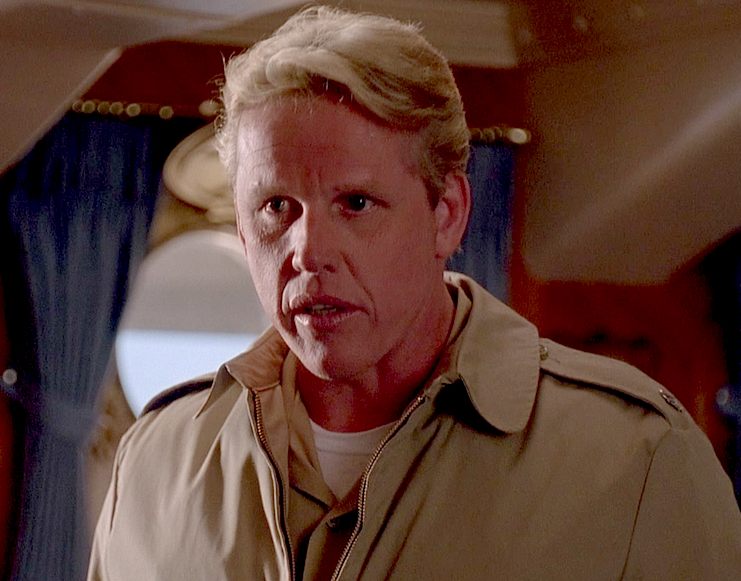 PLOT

he battleship USS Missouri (BB-63) arrives at Pearl Harbor, where George H. W. Bush announces that the ship will be decommissioned in California, making the trip her final voyage. Casey Ryback (Steven Seagal), a Chief Petty Officer assigned as a cook, is preparing meals in celebration of the birthday of Captain Adams (Patrick O'Neal), against the orders of Commander Krill (Gary Busey), who is having food and entertainment brought by helicopter.

Krill provokes a brawl with Ryback. Unable to imprison Ryback in the brig without clearance from the captain, Krill detains Ryback in a freezer and places a Marine, Private Nash (Tom Wood), on guard. A CH-46 helicopter lands on the ship's deck with a musical band, along with Playmate Jordan Tate (Erika Eleniak) and a group of caterers who are really a band of mercenaries led by ex-CIA operative Bill Strannix (Tommy Lee Jones).

Strannix' forces seize control of the ship with the help of turncoat Krill. Several officers are killed, including Captain Adams. The rest of the ship's company are imprisoned in the forecastle, except for some stragglers in unsecured areas. Strannix intends to steal and sell the ship's Tomahawks by unloading them onto a submarine he had previously stolen from North Korea. The CIA had tried and failed to assassinate him prior to the events of the film. Strannix and his men take over the ship's weapon systems, shooting down an F/A-18 Hornet sent to investigate, and plan on covering their escape by using missiles to obliterate tracking systems in Pearl Harbor.

Krill realizes they forgot about Ryback and learns the kitchen is an unsecured area. Strannix sends two mercenaries to eliminate Ryback and Nash. Nash is killed, but Ryback manages to kill the mercenaries.

Ryback contacts Admiral Bates (Andy Romano) at the Pentagon on satellite phone, whereupon the Navy plans to send a SEAL team to retake the ship. Krill discovers that Ryback is really a Chief Petty Officer and former Navy SEAL with extensive training in anti-terrorism tactics. To keep the missile-theft plan in place, Krill activates the fire suppression system in the forecastle, leaving the crew members to drown. The terrorists expect that Ryback will try to save his colleagues, and set up an ambush.

Ryback hears six sailors banging on pipes in Morse code, and rescues them. Together, they manage to overcome the ambush, shut off the water in the forecastle and eliminate several terrorists. Ryback shuts down the Missouri's weapon systems, in order to allow the incoming Navy SEALs to land. However, the submarine crew shoots down the helicopter carrying the Navy SEALs with shoulder-fired surface-to-air missiles. The Pentagon responds by ordering an air strike that will sink the Missouri. Strannix regains control of the ship's weapon systems and loads the Tomahawks onto the submarine. With the aid of a retired World War II Gunner's Mate, who was among the six sailors rescued earlier, Ryback uses the battleship's guns to sink the submarine, killing Krill and everyone on board.

Strannix suffers a major concussion from being in the proximity of the Missouri's guns as they are fired. He launches two nuclear-tipped Tomahawks towards Honolulu. As the sailors recapture the ship, Ryback finds his way into the control room, where he is caught off guard by Strannix, both of whom realize they know each other from their past covert experiences. Ryback manages to disarm Strannix, and the two engage in a knife melee. Eventually, Ryback gains the upper hand and stabs Strannix through the top of his head before ramming him into a computer monitor. Ryback then takes the launch code disk needed to self-destruct the Tomahawk missiles. One of the two missiles is destroyed by an F/A-18 Hornet. The codes are dialed in and the second Tomahawk missile is deactivated just in time, and the Navy calls off its airstrike.

The remaining crew members are freed as the ship sails towards San Francisco harbor. Ryback is checked by a Navy doctor, kissing Jordan as the crew looks on and cheers. The film ends with a funeral ceremony for Captain Adams being held on the deck of the Missouri, showing the Captain's casket with a flag draped over it and Ryback saluting in his formal dress uniform with full decorations.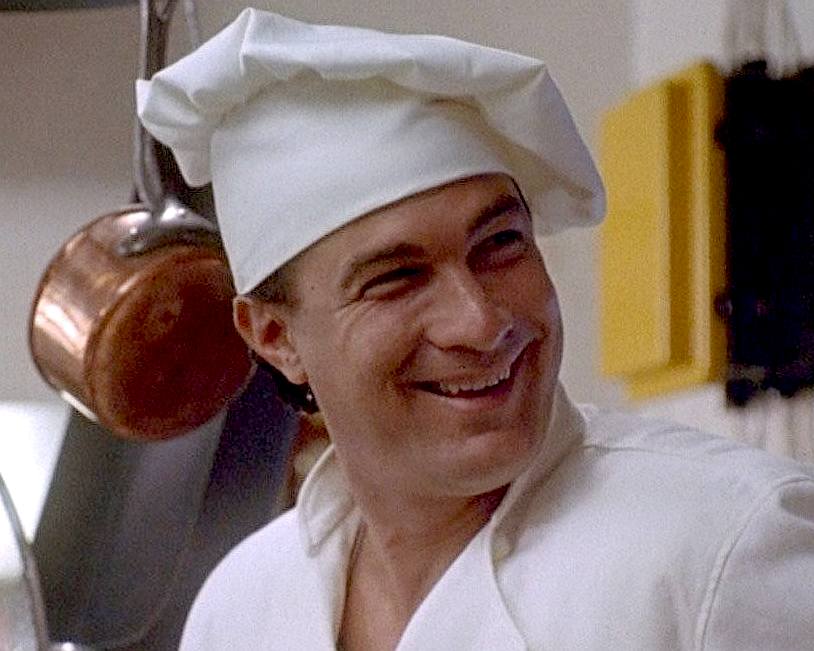 BOX OFFICE

On its opening weekend, Under Siege made $15,760,003 from 2,042 theaters, with a $7,717 average. From there, it went on to make $83,563,139. Worldwide, it made $156,563,139. At the time, it was the most successful film ever that had not been screened for any critics prior to its release.

The movie was also a critical success, with many hailing Tommy Lee Jones and Gary Busey as the villains. Rotten Tomatoes gives the film a score of 75% based on reviews from 24 critics. This was the only Steven Seagal movie to be certified fresh on Rotten Tomatoes, prior to 2010's Machete.

It was also the only Seagal movie to receive an Academy Award nomination, earning two nods for Best Sound Effects Editing (John Leveque and Bruce Stambler) and for Best Sound (Donald O. Mitchell, Frank A. Montaño, Rick Hart and Scott D. Smith). However, it did not win in either category.

In 2001, it was one of 400 films nominated for the American Film Institute's 100 Years... 100 Thrills list


CAST
> Steven Seagal as Chief Casey Ryback, a former Navy SEAL now the personal cook for the captain of the USS Missouri.
> Tommy Lee Jones as William "Bill" Strannix, a renegade, embittered ex-CIA operative who leads the team of terrorists.
> Gary Busey as Commander Krill, Missouri's sociopathic Executive Officer who serves as Strannix's right-hand man.
> Erika Eleniak as Jordan Tate, a Playboy Playmate model who came on board to entertain the ship's personnel.
> Colm Meaney as Daumer, Strannix's main henchman.
> Patrick O'Neal as Captain Adams, Commanding Officer of the Missouri.
> Andy Romano as Admiral Bates, a high-ranking member of the Joint Chiefs of Staff.
> Dale Dye as Captain Nick Garza, Admiral Bates' advisor. Garza is a SEAL who vouches for Ryback.
> Nick Mancuso as Tom Breaker, the CIA director and Strannix's former boss.
> Damian Chapa as Tackman, a sailor on board the Missouri.
> Tom Wood as Private Nash, a naive US Marine.
> Troy Evans as Granger, an officer aboard the ship.
> Dennis Lipscomb as Trenton, National Security Advisor
> David McKnight as Flicker, an officer aboard the ship
> Lee Hinton as "Cue Ball"
> Glenn Morshower as Ensign Taylor, an arrogant junior officer who strongly dislikes Ryback.
> Leo Alexander as Lieutenant Smart
> John Rottger as Commander Green, Operations Officer
> Raymond Cruz as Ramirez, Ryback's assistant cook.
> Richard Andrew Jones as Mr. Pitt, Technician and Strannix's assistant.
> Eddie Bo Smith Jr. as Shadow, one of Strannix's henchman.
> Dru Ann Carlson as Captain Spellman, Admiral Bates' aide.
> George Cheung as a commando (credited as George Kee Cheung)
> George H. W. Bush as Himself (archive footage, uncredited)
> Barbara Bush as Herself (archive footage, uncredited)

A - Z FILMS INDEX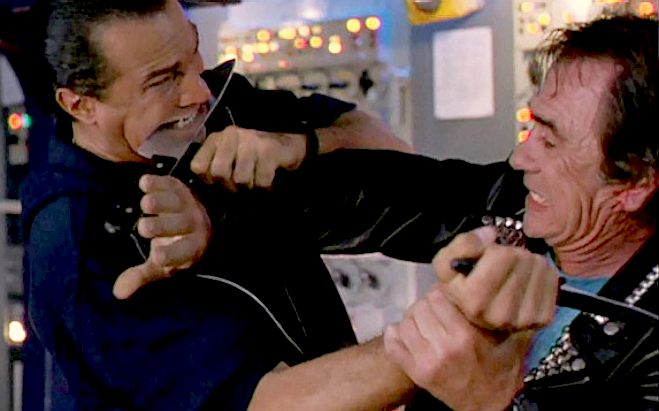 A - Z ACTORS INDEX
| | | | |
| --- | --- | --- | --- |
| Dermot Mulroney | | Kristen Bell | Ted Danson |

LINKS
http://www.introvision.co/
http://www.mpaa.org/
https://www.cia.gov/index.html
http://www.defense.gov/
https://pentagontours.osd.mil/
http://www.cbsnews.com/
http://www.imdb.com/title/tt0105690/
http://www.rottentomatoes.com/m/under_siege/
http://en.wikipedia.org/wiki/Under_Siege
http://en.wikipedia.org/wiki/Steven_Seagal
http://stevenseagal.com/
OPERATION NEPTUNE
When terrorists steal a nuclear submarine, all hell breaks loose with an oil rig destroyed causing marine pollution and the Pacific fleet decimated. The UN calls in John Storm to clear up the mess.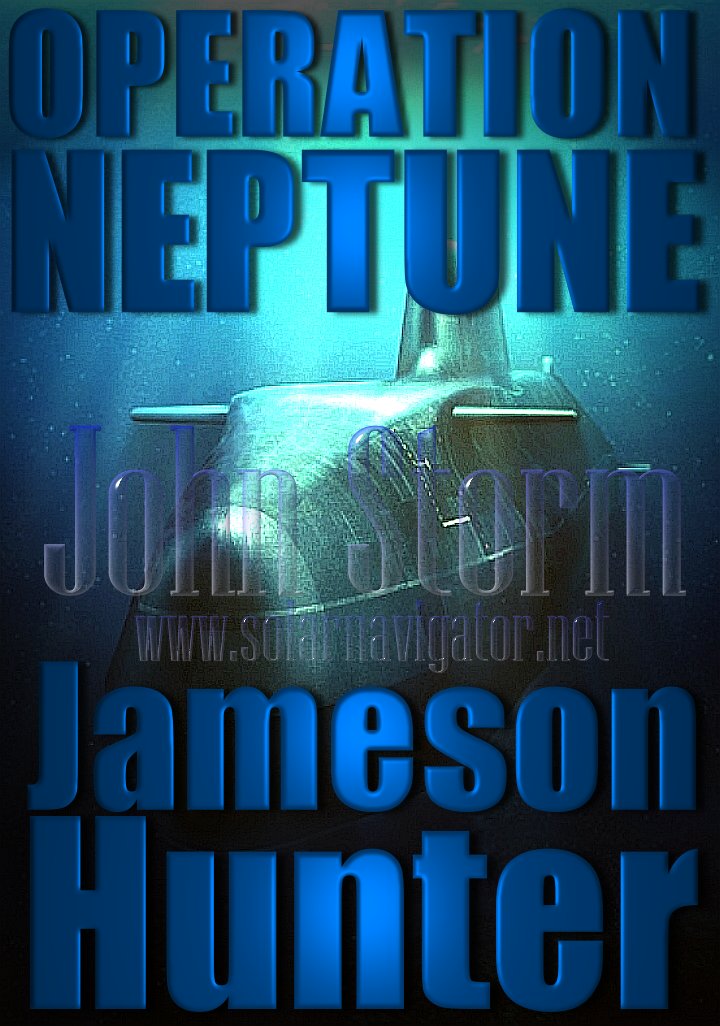 A naval action adventure movie to rival The Hunt For Red October, Under Siege and Battleship, with an environmental message. For release as an e-book in 2016 with hopes for a film in 2017 with a provisional budget of £???m including risk share, TBA