When I was very young, I bought a tortoise and kept it in a box before letting it go in the garden. Cruel I know, but I didn't know any better - I was just five. At this age these wonderful creatures represented a curiosity. Little did I know that I would be interested in the causes as to disappearing species as I grew up - where it seems as global temperatures rise, male turtles may start to lose their cool.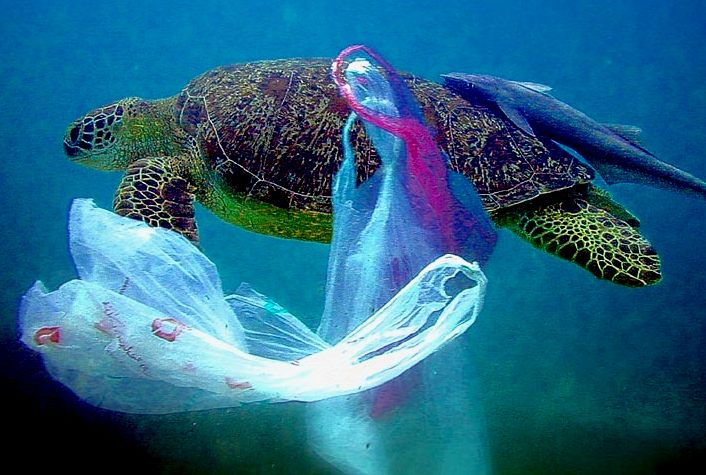 I love these animals. It drives me crazy to know that we are dumping plastic into the oceans that is taking the lives of thousands of sea turtles.
Many reptiles, including most turtles, display temperature-dependent sex differentiation. In other words, the temperature that an egg incubates at determines the sex of hatchlings. In the case of turtles, warmer temperatures yield more female offspring, and cooler temperatures yield more males.
A new study by Stephanie Kamel and Nicholas Mrosovsky of the University of Toronto documents the peril of Caribbean hawksbill sea turtles as coastal forests disappear—and with them, cool, male-producing nesting sites.
Turtles, Tortoises, and Terrapins are reptiles of the Order Testudines (all living turtles belong to the crown group Chelonia), most of whose body is shielded by a special bony or cartilagenous shell developed from their ribs. The Order Testudines includes both extant (living) and extinct species, the earliest known turtles being from around 215 million years ago, making turtles one of the oldest reptile groups, and a much more ancient group than lizards and snakes. About 300 species are alive today; some are highly endangered. Turtles are ectothermic.
Anatomy and morphology
Turtles vary widely in size, although marine turtles tend to be relatively larger animals than their land and freshwater relatives.
The largest chelonian is a marine turtle, the great leatherback sea turtle, which reaches a shell length of 200 cm (80 inches) and can reach a weight of over 900 kg (2,000 lb, or 1 short ton). Freshwater turtles are generally smaller, but with the largest species, the Asian softshell turtle Pelochelys cantorii, a few individuals have been reported to measure up to 200 cm or 80 in (Das, 1991). This dwarfs even the better-known alligator snapping turtle, the largest chelonian in North America, which attains a shell length of up to 80 cm (31˝ in) and a weight of about 60 kg (170 lb).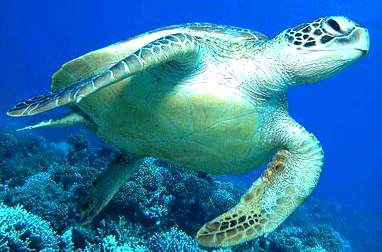 A sea turtle swimming over coral
Giant tortoises of the genera Geochelone, Meiolania, and others were relatively widely distributed around the world into prehistoric times, and are known to have existed in North and South America, Australia, and Africa. They became extinct at the same time as the appearance of Man, and it is assumed that humans hunted them for food. The only surviving giant tortoises are on the Seychelles and Galápagos Islands and can grow to over 130 cm (50 in) in length, and weigh about 300 kg (670 lb).
The largest ever chelonian was Archelon ischyros, a Late Cretaceous sea turtle known to have been up to 4.6 m (15 ft) long.
The smallest turtle is the speckled padloper tortoise of South Africa. It measures no more than 8 cm (3 in) in length and weighs about 140 g (5 oz). Two other species of small turtles are the American mud turtles and musk turtles that live in an area that ranges from Canada to South America. The shell length of many species in this group is less than 13 cm (5 in) in length.
Neck folding
Turtles are broken down into two groups, according to how they evolved a solution to the problem of withdrawing their neck into their shell (something the ancestral Proganochelys could not do): the Cryptodira, which can draw their neck in while contracting it under their spine; and the Pleurodira, which contract their neck to the side.
Head
Most turtles that spend most of their life on land have their eyes looking down at objects in front of them. Some aquatic turtles, such as snapping turtles and soft-shelled turtles, have eyes closer to the top of the head. These species of turtles can hide from predators in shallow water where they lie entirely submerged except for their eyes and nostrils. Sea turtles possess glands near their eyes that produce salty tears that rid their body of excess taken in from the water they drink.
Turtles are thought to have exceptional night vision due to the unusually large number of rod cells in their retinas. Turtles have color vision with a wealth of cone subtypes with sensitivities ranging from the near Ultraviolet (UV A) to Red. Some land turtles have very poor pursuit movement abilities, which are normally reserved for predators that hunt quick moving prey, but carnivorous turtles are able to move their heads quickly to snap.
Turtles have a rigid beak. Turtles use their jaws to cut and chew food. Instead of teeth, the upper and lower jaws of the turtle are covered by horny ridges. Carnivorous turtles usually have knife-sharp ridges for slicing through their prey. Herbivorous turtles have serrated-edged ridges that help them cut through tough plants. Turtles use their tongues to swallow food, but they can't, unlike most reptiles, stick out their tongues to catch food.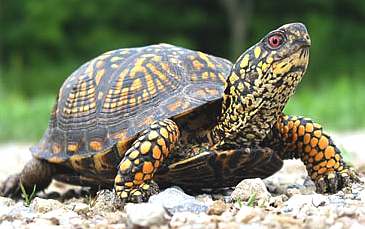 Male box turtle
Shell
The upper shell of the turtle is called the carapace. The lower shell that encases the belly is called the plastron. The carapace and plastron are joined together on the turtle's sides by bony structures called bridges. The inner layer of a turtle's shell is made up of about 60 bones that includes portions of the backbone and the ribs, meaning the turtle cannot crawl out of its shell. In most turtles, the outer layer of the shell is covered by horny scales called scutes that are part of its outer skin, or epidermis. Scutes are made up of a fibrous protein called keratin that also makes up the scales of other reptiles. These scutes overlap the seams between the shell bones and add strength to the shell. Some turtles do not have horny scutes. For example, the leatherback sea turtle and the soft-shelled turtles have shells covered with leathery skin instead.
The shape of the shell gives helpful clues to how the turtle lives. Most tortoises have a large dome-shaped shell that makes it difficult for predators to crush the shell between their jaws. One of the few exceptions is the African pancake tortoise which has a flat, flexible shell that allows it to hide in rock crevices. Most aquatic turtles have flat, streamlined shells which aid in swimming and diving. American snapping turtles and musk turtles have small, cross-shaped plastrons that give them more efficient leg movement for walking along the bottom of ponds and streams.
The color of a turtle's shell may vary. Shells are commonly colored brown, black, or olive green. In some species, shells may have red, orange, yellow, or grey markings and these markings are often spots, lines, or irregular blotches. One of the most colorful turtles is the eastern painted turtle which includes a yellow plastron and a black or olive shell with red markings around the rim.
Tortoises, being landbased, have rather heavy shells. In contrast, aquatic and soft-shelled turtles have lighter shells that help them avoid sinking in water and swim faster with more agility. These lighter shells have large spaces called fontanelles between the shell bones. The shell of a leatherback turtle is extremely light because they lack scutes and contain many fontanelles.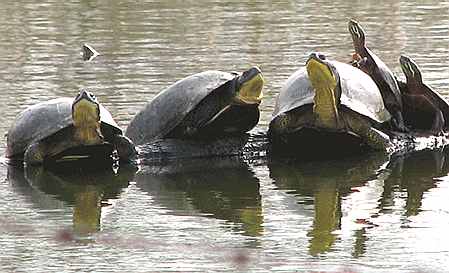 Turtles basking Michigan
Skin and molting
As mentioned above, the outer layer of the shell is part of the skin, each scute (or plate) on the shell corresponding to a single modified scale. The remainder of the skin is composed of skin with much smaller scales, similar to the skin of other reptiles. Turtles and terrapins do not moult their skins all in one go, as snakes do, but continuously, in small pieces. When kept in aquaria, small sheets of dead skin can be seen in the water (often appearing to be a thin piece of plastic) when it has been sloughed off, often when the animal deliberately rubs itself against a piece of wood or stone. Tortoises also shed skin, but a lot of dead skin is allowed to accumulate into thick knobs and plates that provide protection to parts of the body outside the shell.
The scutes on the shell are never moulted, and, as they accumulate over time, the shell becomes thicker. By counting the rings formed by the stack of smaller, older scutes on top of the larger, newer ones, it is possible to estimate the age of a turtle, if you know how many scutes are produced in a year. This method is not very accurate, partly because growth rate is not constant, but also because some of the scutes eventually fall away from the shell.
Limbs
Terrestrial tortoises have short, sturdy feet. Tortoises are famous for moving slowly, in part because of their heavy, cumbersome shell but also because of the relatively inefficient sprawling gait that they have, with the legs being bent, as with lizards rather than being straight and directly under the body, as is the case with mammals.
The amphibious turtles normally have limbs similar to those of tortoises except that the feet are webbed and often have long claws. These turtles swim using all four feet in a way similar to the dog paddle, with the feet on the left and right side of the body alternately providing thrust. Large turtles tend to swim less than smaller ones, and the very big species, such as alligator snapping turtles, hardly swim at all, preferring to simply walk along the bottom of the river or lake. As well as webbed feet, turtles also have very long claws, used to help them clamber onto riverbanks and floating logs, upon which they like to bask. Male turtles tend to have particularly long claws, and these appear to be used to stimulate the female while mating. While most turtles have webbed feet, a few turtles, such as the pig-nose turtles, have true flippers, with the digits being fused into paddles and the claws being relatively small. These species swim in the same way as sea turtles (see below).
Sea turtles are almost entirely aquatic and instead of feet they have flippers. Sea turtles "fly" through the water, using the up-and-down motion of the front flippers to generate thrust; the back feet are not used for propulsion but may be used as rudders for steering. Compared with freshwater turtles, sea turtles have very limited mobility on land, and apart from the dash from the nest to the sea as hatchlings, male sea turtles normally never leave the sea. Females must come back onto land to lay eggs. They move very slowly and laboriously, dragging themselves forwards with their flippers. The back flippers are used to dig the burrow and then fill it back with sand once the eggs have been deposited.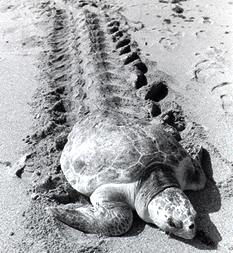 Turtle heading inland to lay eggs in sand
Sea Turtles (Chelonidae)
Female turtles typically return to the same beach where they were hatched to lay eggs. All sea turtle species are listed as endangered except the loggerhead, which is listed as threatened. The worldwide population for each species is unknown.


Threats: Human activity has greatly reduced the sea turtle population through capture, harvesting of eggs, alteration and destruction of nesting beaches, ocean pollution, and fishing and shrimp nets.
Survival: Most sea turtles live approximately 15 to 20 years and may reach as much as 80 years!
There are eight different species of sea turtle:
Green: (Chelonia mydas)
The green sea turtle usually lives among sea grass and measures 36 to 43 inches and weighs 200 to 300 pounds.

Hawksbill: (Eretmochelys imbricata)
The Hawksbill turtle is the source of the term "tortoise shell" because of the pattern of markings on its shell. The Hawksbill measures 30 to 36 inches and weighs 100 to 200 pounds.

Kemp's Ridley: (Lepidochelys kempii)
The smallest and the most endangered of all the sea turtles, the Kemp's Ridley has an oval-shaped shell that is olive-grey in color. On average, it reaches a length no more than 30 inches and weighs 80 to 100 pounds.

Olive Ridley: (Lepidochelys olivacea)
This turtle gets its name from its olive-colored shell. The Olive Ridley has a wide, heart-shaped shell and a greenish-white underside. It is 24 to 30 inches in length and weighs 90 to 100 pounds.

Leatherback: (Dermochelys coriacea)
This turtle is the largest living sea turtle. The leatherback has large limbs and no claws. It has no shell, but instead has a leathery back with raised gray stripes. It can reach a length of 6 feet and weighs up to 1,400 pounds.

Loggerhead Turtle: (Caretta caretta)
A large turtle with reddish-brown markings, the loggerhead can reach 33 to 40 inches in length and weighs 150 to 400 pounds.

East Pacific Green: (Chelonia agassizi)

Australian Flatback: (Natator depressus)
Sea turtles can be found in most marine habitats. They migrate hundreds of miles between nesting and feeding grounds.
The main diet of sea turtles includes jellyfish, seaweed, crabs, shrimp, snails, algae, and mollusks.
National Parks: Sea turtles are found in Canaveral National Seashore, FL; Dry Tortugas National Park, FL; Cumberland Island National Seashore, GA; and Padre Island National Seashore, TX.

American map turtle hatchling
Ecology and life history
Even though many spend large amounts of their lives underwater, all turtles and tortoises are air-breathing reptiles, and must surface at regular intervals to refill their lungs with fresh air. They can also spend a lot of their lives on dry land. Aquatic respiration in Australian freshwater turtles is currently being studied. Some species have large cloacal cavities that are lined with many finger-like projections. These projections, called "papillae", have a rich blood supply, and serve to increase the surface area of the cloaca. The turtles can take up dissolved oxygen from the water using these papillae, in much the same way that fish use gills to respire.
Turtles lay eggs, like other reptiles, which are slightly soft and leathery. The eggs of the largest species are spherical, while the eggs of the rest are elongated. Their albumen is white and contains a different protein than do bird eggs, such that it will not coagulate when cooked. Turtle eggs prepared to eat consist mainly of yolk. In some species, temperature determines whether an egg develops into a male or a female: a higher temperature causes a female, a lower temperature causes a male. Large numbers of eggs are deposited in holes dug into mud or sand. They are then covered and left to incubate by themselves. When the turtles hatch they squirm their way to the surface and make for the water. There are no known species wherein the mother cares for the young.
Sea turtles lay their eggs on dry sandy beaches, and are highly endangered largely as a result of beach development and over hunting. Immature sea turtles are not raised by either parent.
Turtles can take many years to reach breeding age. Often turtles only breed every few years or more.
Researchers have recently discovered a turtle's organs do not gradually break down or become less efficient over time, unlike most other animals. It was found that the liver, lungs and kidneys of a centenarian turtle are virtually indistinguishable from those of its immature counterpart. This has inspired genetic researchers to begin examining the turtle genome for longevity genes.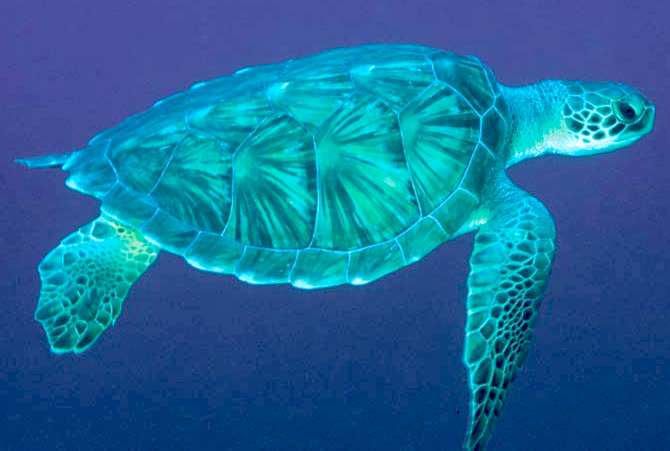 A sea turtle seen from above
Evolutionary history
The first turtles are believed to have existed in the early Triassic Period of the Mesozoic era, about 200 million years ago. Their exact ancestry is disputed. It was believed that they are the only surviving branch of the ancient clade Anapsida, which includes groups such as procolophonoids, millerettids, protorothyrids and pareiasaurs. All anapsid skulls lack a temporal opening, while all other extant amniotes have temporal openings (although in mammals the hole has become the zygomatic arch). The millerettids, protorothyrids and pareiasaurs became extinct in the late Permian period, and the procolophonoids during the Triassic.
However, it was recently suggested that the anapsid-like turtle skull may be due to reversion rather than to anapsid descent. More recent phylogenetic studies with this in mind placed turtles firmly within diapsids, slightly closer to Squamata than to Archosauria. All molecular studies have strongly upheld this new phylogeny, though some place turtles closer to Archosauria. Re-analysis of prior phylogenies suggests that they classified turtles as anapsids both because they assumed this classification (most of them studying what sort of anapsid turtles are) and because they did not sample fossil and extant taxa broadly enough for constructing the cladogram. As of 2003, the consensus is that Testudines diverged from other diapsids between 285 and 270 million years ago. Future analyses may show the turtles to be relatives of the placodonts.
A new phylogenetic analysis agrees with prior analyses nesting turtles with pareiasaurs within the much larger clade, Lepidosauromorpha. The closest pareiasaur to turtles appears to be a rarely-studied form, Stephanospondylus. Indeed turtles are related to other reptiles without temporal openings.
The earliest known modern turtle is proganochelys, though this species already had many advanced turtle traits, and thus probably had many millions of years of preceding "turtle" evolution and species in its ancestry. It did lack the ability to pull its head into its shell (and it had a long neck), and had a long, spiked tail ending in a club, implying an ancestry occupying a similar niche to the ankylosaurs (though, presumably, only parallel evolution).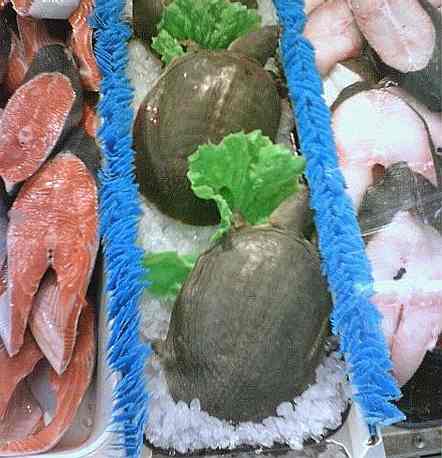 Turtles in Asian supermarket. Richmond BC Canada
Turtle, tortoise or terrapin?
Although the word "turtle" is widely used to describe all members of the order Testudines, it is also common to see certain members described as terrapins, tortoises or sea turtles as well. Precisely how these alternative names are used, if at all, depends on the type of English being used.
British English normally describes these reptiles as turtles if they live in the sea; terrapins if they live in fresh or brackish water; or tortoises if they live on land. However, there are exceptions to this where American or Australian common names are in wide use, as with the Fly River turtle.

American English tends to use the word turtle for all species regardless of habitat, although tortoise may be used as a more precise term for any land-dwelling species. Oceanic species may be more specifically referred to as sea turtles. The name "terrapin" is strictly reserved for the brackish water diamondback terrapin, Malaclemys terrapin; the word terrapin in this case being derived from the Algonquian word for this animal.[1]

Australian English uses turtle for both the marine and freshwater species but tortoise for the terrestrial species.
To avoid confusion, the word chelonian is popular among veterinarians, scientists, and conservationists working with these animals as a catch-all name for any member of the order Testudines. It is based on the Ancient Greek word χελώνη (chelone, modern Greek χελώνα), meaning tortoise.
Turtles as pets
Turtles, particularly small terrestrial and freshwater turtles, are quite commonly kept as pets. Among the most popular are the Greek spur-thighed tortoise and red-ear slider (or terrapin).
Taxonomy
Turtles are divided into three suborders, one of which, the Paracryptodira, is extinct. The two extant suborders are the Cryptodira and the Pleurodira. The Cryptodira is the larger of the two groups and includes all the marine turtles, the terrestrial tortoises, and many of the freshwater turtles. The Pleurodira are sometimes known as the side-necked turtles, a reference to the way they withdraw their heads into their shells. This smaller group consists primarily of various freshwater turtles.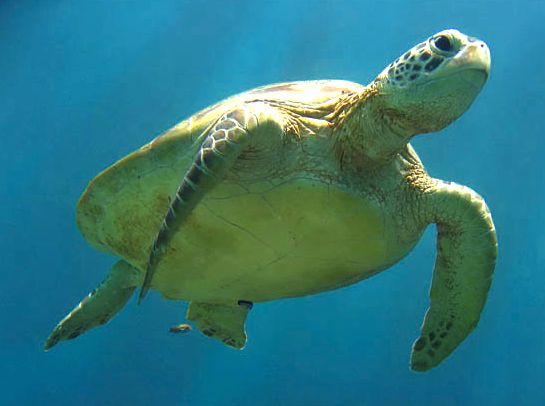 Sea turtle underside
REFERENCES and LINKS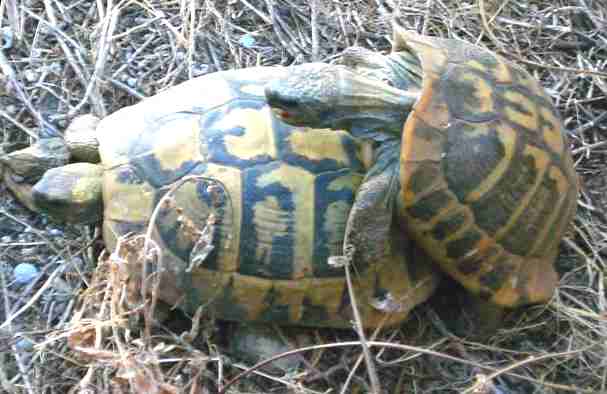 Horny tortoises
POPULAR REPTILES:
Adder

Anaconda (Boa)

Asp
Bearded Dragon

Cobra

Gila Monster

Grass Snake

Iguana

Komodo Dragon
Lizard, African Plated
Lizard, Great Plated
Lizard, White-throated Monitor

lizards

Rattle Snake

Sea Snake
Skink, Blue Tongued

Snakes
Snake, Brown House
Snake, California King
Snake, Corn
Snake, Taiwan Beauty

Terrapin
Tortoise, Aldabra
Tortoise, Hermann's
Tortoise, Spurred
Turtle, Chinese Box
Turtle, Eastern Box

A SEAVAX DRONE - Is a robotic ship that is designed to trap and crunch up plastic bags, fishing nets and bottles before such garbage can kill any more turtles. The Eastern Garbage Patch is a large gyre of marine debris located near the Midway Islands in the Pacific Ocean. Albatrosses in the area give birth to 500,000 chicks every year, and nearly half of them die – many of them after consuming plastic fed to them by their parents, who think it's food. Turtles see plastic bags as jellyfish, a food source, many more die entangled in fishing nets.
Please use the Index below to navigate the Animal Kingdom:-
| | |
| --- | --- |
| SIMPLE LIFE FORMS | As in Amoeba, plankton (phyla: protozoa) |
| ECHINODERMS | As in Starfish (phyla: Echinodermata) |
| ANNELIDS | As in Earthworms (phyla: Annelida) |
| MOLLUSKS | Such as octopus (phyla: Mollusca) |
| ARTHROPODS | Crabs, spiders, insects (phyla: Arthropoda) |
| CRUSTACEANS | such as crabs (subphyla: Crustacea) |
| ARACHNIDS | Spiders (class: Arachnida) |
| | Ants, (subphyla: Uniramia class: Insecta) |
| | Sharks, Tuna (group: Pisces) |
| | Such as frogs (class: Amphibia) |
| | As in Crocodiles, Snakes (class: Reptilia) |
| | Such as Eagles, Crow (class: Aves) |
| | Tyranosaurus Rex, Brontosaurus (Extinct) |
| MAMMALS | Warm blooded animals (class: Mammalia) |
| MARSUPIALS | Such as Kangaroos (order: Marsupialia) |
| PRIMATES | Gorillas, Chimpanzees (order: Primates) |
| RODENTS | such as Rats, Mice (order: Rodentia) |
| CETACEANS | such as Whales & Dolphins ( order:Cetacea) |
| ANTHROPOLOGY | Neanderthals, Homo Erectus (Extinct) |
| HUMANS - MAN | Homo Sapiens THE BRAIN |
| | Which includes PLANTS non- animal life |
Healthier alternative tastes for adventure capitalists
Solar Red | Solar Crush + | Solar Cola | Solar Citrus + | Solar +