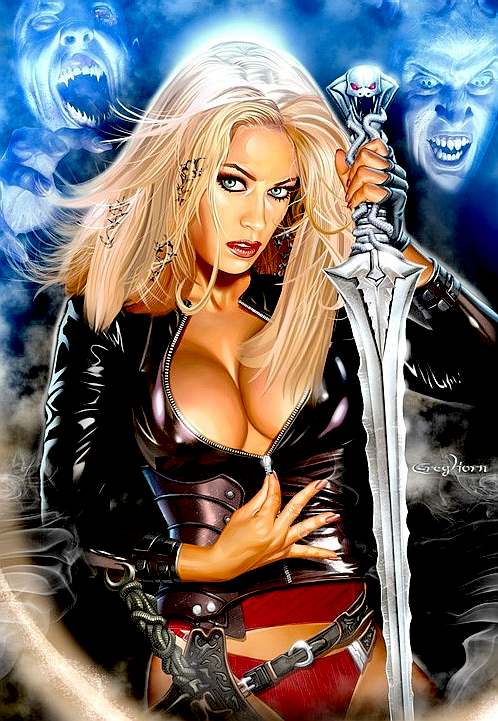 JEZZERIE JADE is the Shadow Hunter - Generally speaking the battle between demons and angels is one which does not transfer well to comics, even if it is a good source material for great stories. The problem is that most often the writer seems constrained by the original material (the Bible) for the story. This is not necessarily the case here, but this still feels a little off in a lot of ways. While this issue might not be a pleasure for the brain then, it is still, like it's creator, a candy feast for the eyes.
COMIC SALLIANCE on GREG HORN

I'm just going to come right out and say it: Jenna Jameson's Shadow Hunter, the comic published by the short-lived Virgin Comics that starred a character based on "creator" and adult film star Jenna Jameson named — I kid you not — "Jezzerie Jaden," was the comic Greg Horn was born to draw.

The image of Jameson — excuse me, Jezzerie — plays right to Horn's pin-up strengths, although I have to say, when you have a comic with the words "Jenna Jameson" on the cover and she's drawn unzipping her top, you're setting your audience up for some major disappointment once they get to the inside of your PG-13 comic. Then again, maybe being the one place where you couldn't see Jenna Jameson naked actually gave it some novelty value.

But that's beside the point, which is that the two "demons" in the background are somehow drawn more realistically than the shiny character based on an actual, real person in the foreground. And even their horns and claws look like cheap props from the Halloween store.


JENNA JAMESON'S SHADOW HUNTER

Shadow Hunter is a three issue comic book limited series by Virgin Comics and porn star, entertainer and author Jenna Jameson. It is part of Virgin Comics' Voices line, which allows celebrities to create their own comic books. The story was conceptualized by Jenna Jameson and Witchblade writer Christina Z, who wrote the script. Mukesh Singh illustrated the book.
STORY LINE

Shadow Hunter is a three issue comic book limited series by Virgin Comics and porn star, entertainer and author Jenna Jameson. It is part of Virgin Comics' Voices line, which allows celebrities to create their own comic books. The story was conceptualized by Jenna Jameson and Witchblade writer Christina Z, who wrote the script. Mukesh Singh illustrated the book.
GRAPHIC NOVEL REVIEW - With graphic novels, persistence is the key to gaining a loyal following. That is achieved with great stories that stir the imagination. We suspect that the hype for Shadow Hunter overtook the superb artwork and lack of original story lines, such that production was not financially viable. Pity.
PUBLICATION

Issue #0 was released on January 2, 2008
Issue #1 was released on February 20th, 2008
Issue #2 was released on April 9th, 2008
Issue #3 was released on May 28th, 2008
JEZZARIE JADEN

The daughter of a demon, she is also imbued with the power of the first woman Lilith. She uses her powers to fight the onslaught of both realms of heaven and hell though she has chosen to act on her own, she tends towards the side of good.
ORIGIN

Jezzerrie is first shown as an out-of-work tattoo artist haunted by obscure but demonic childhood visions. She struggles to find some order in her life – she has dumped her deadbeat boyfriend but is now struggling to pay the bills. In order to make some sense of her life she answers an internet advertisement from a scientist trying to do research into previous lives (her main motivation though being that she gets paid for it.). As Jezzerie undergoes his tests he discovers more than he thought possible, as her consciousness maintains the link to a life not yet lived as well as other bizarre markers. In a flashback it is revealed that as a child she experienced dreamlike hallucinations, which are now questioned as to whether they are hallucinations or something else. As she leaves his office he instructs her to return when she can for more treatment, but she finds outside that she is attacked by demonic creatures, and also seemingly switching dimensions partially.

On her return to New York City, she is soon attacked again, and on this occasion she transforms into a dark haired demon-like woman who can materialize a sword from her right arm. She comes face to face with a demon who upon recognizing a tattoo on her identifies her as a highborn of royal descent and his daughter. Upon her entry into the shadow realm she meets a swordsman who stabs her and she is later stabbed by her father. It is later revealed that this has caused her to be imbued respectively with the power of the divine and a Hell Spirit. It is also revealed to her that she has carried some of the magical essence of the first woman, Lilith within her since being born. She fights back to New York City once again and the swordsman finds her once again and says that she must join him against the shadows. As they prepare for the return of her father on the frozen East River he too demands her help. She decides to accept neither of them and commits suicide in front of them. As she is actually immortal this frees her from her debt to either and now she can operate separately on her own as the Shadow Hunter.
CREATION

She is the main character of a comic conceived by and partially inspired by Jenna Jameson, the famous pornographic movie actress. The character's appearance is partially based on her own likeness. The character's first appearance was in Jenna Jameson's Shadow Hunter #0. This issue served as a preview issue for the main series and the same panels appeared in the preview as in the first issue over the first ten pages. While she is associated with Jameson, she actually is only partially responsible for the conception of the character and did not provide any writing, though she was responsible for several key characteristics.

In her introduction to the series Jenna Jameson is quoted as writing the following:
" My name, Jenna Jameson, is pretty much synonymous with sensuality. But there's a lot more to me than that. I'm all about risk taking. Pushing the envelope. Surprising people. I believe that women are powerful, amazing, intelligent creatures. And like any creature we have a dark side. A side that's flawed and vulnerable but strong and, of course, sexy ...

For our heroine I wanted a character that everyone could relate to. She's a young woman on the verge of figuring out who she is...

Not to mention the fact that she gets to kick demon butts and carry a seriously badass sword. All while trying to save the world. What girl wouldn't want that?"


CHARACTER EVOLUTION

As the character has to date only been featured in four issues (one of which was a preview issue) she has undergone very little actual character development. The sole exception to this is the third and final issue of the series which is told aside for regular comic format. This issue features a sequence of journal entries and introspections from Jezerrie (as well as a significant amount of art), presumably from some time in the future after having become the Shadow Hunter as she seems to have better control and understanding over herself. This issue explores topics such as the role of divinity or the needs of duty, while also offering some more personal introspection of her life.
MAJOR STORY ARCS

The character actually never undergoes any story arcs outside of her origin story, though the third and final issue of her series seems to imply that she eventually undergoes further adventures as she describes some of her reflections (though no developments) on her chosen path. Her origin would seem to indicate a fairly heroic path though.
POWERS and ABILITIES

Jezzerie is the daughter of a demon lord and yet also has the magical powers of Lilith (the first woman) within her. This makes her an extremely powerful entity. By choosing to kill herself she merged the two aspects of herself into one. That she survived this death into a rebirth signifies that she is in fact immortal. She is able to materialize a sword out of her right arm. Her energy is self-described as coming "from everything." By using the sword she can also induce a meditative state, and she implies that the sword itself has its own identity. The sword and her innate abilities also seemingly grant her an instinctive sense about how to use a sword effectively as she proves herself a dangerous hand-to-hand combatant especially when using the sword.

LINKS & REFERENCE
Daily Mail Jenna-Jameson-returns-porn-despite-vowing-involved-adult-films-again
http://comics-port.blogspot.co.uk/2009/07/jenna-jamesons-shadow-hunter.html
http://www.comicvine.com/jenna-jamesons-shadow-hunter-2/4000-133138/
http://www.comicvine.com/jezzerie-jaden/4005-56387/
Wikipedia Shadow_Hunter_comics
I Offer Sam Hain rough cut 2003 starring Jenna Jameson
http://en.wikipedia.org/wiki/Shadow_Hunter_%28comics%29
http://en.wikipedia.org/wiki/Jenna_Jameson
http://comicsalliance.com/greg-horn-art/
http://www.ioffer.com/i/sam-hain-rough-cut-2003-starring-jenna-jameson-477353218
Evolution accelerated by man an anthropological anthem, action adventure movie with John Storm and Charley Temple, by Jameson Hunter
Blueplanet Universal Productions are looking for graphic artists, inkers and colourists to help them develop the John Storm adventure series into fullly fledged graphic novels: to be printed and distributed in the usual way, and, if the technology permits, for download to be read on an ipad or Kindle reader. Why not take a look at the John Storm link below to see an example chapter from the first of Jameson Hunter's books: Kulo Luna