Dolphin Tale is a 2011 family drama film directed by Charles Martin Smith from a screenplay by Karen Janszen and Noam Dromi and a book of the same name. It stars Harry Connick, Jr., Ashley Judd, and Morgan Freeman.

The book and film are inspired by the true story of Winter, a bottlenose dolphin that was rescued in December 2005 off the Florida coast and taken in by the Clearwater Marine Aquarium. Winter lost her tail after becoming entangled with a rope attached to a crab trap and was fitted with a prosthetic one.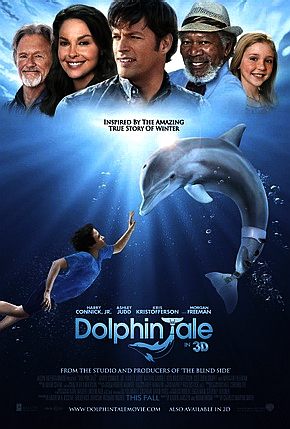 Dolphin Tale - film poster


Plot
The initial scenes of the movie show a pod of dolphins in their natural place followed by a crab fisherman returning a crab trap to the ocean after emptying the trap of its contents.

In the next scene, Sawyer Nelson (Nathan Gamble) is biking along the beach when a fisherman (Richard Libertini), calls for help after finding an injured bottlenose dolphin tangled in a crab trap. The two call for assistance, and rescue workers from the Clearwater Marine Hospital, run by Dr. Clay Haskett (Harry Connick Jr.), take the injured dolphin for treatment. Clay's daughter and Reed's granddaughter Hazel (Cozi Zuehlsdorff) names the dolphin Winter, as two prior dolphins (Summer and Autumn) were successfully returned to the ocean, and believes that using seasons as names will continue the streak. She allows Sawyer to see Winter; Clay initially does not like the arrangement since Sawyer is not trained in marine animal care; however, after noticing that Winter responds well whenever Sawyer is around, he is allowed to visit. Afterwards Sawyer (who was enrolled in summer school due to him failing or nearly failing all his classes during the year) skips classes to visit Winter daily. Sawyer's mother Lorraine (Ashley Judd) finds out about Sawyer skipping classes, but after seeing that Sawyer's interaction with Winter has improved his moods and well-being (something Sawyer had not shown since being abandoned by his father who disappeared while going on a visit five years earlier), she withdraws him from summer school and allows him to volunteer at the hospital.

Unfortunately, Winter's tail is damaged and thus must be amputated. Winter learns to swim without a tail by developing a side-to-side motion (like a fish), but after an x-ray Dr. Haskett notices that the unnatural motion is causing stress on her spine; if continued the motion will eventually kill her. Meanwhile, Sawyer's cousin Kyle, a champion swimmer, returns from the military with a damaged right leg from an explosion. Sawyer is excited to see him at a welcome-back party his aunt was throwing because he wants to invite Kyle to meet Winter. He is devastated to learn that Kyle had skipped the party all together to go to the local Department of Veterans Affairs Medical Center, where he meets Dr. Cameron McCarthy (played by Morgan Freeman) who specializes in prosthetics. To Sawyer's surprise, Kyle is embarrassed to see them and even asks them to leave, which infuriates Sawyer. Kyle takes him on a walk and talks to Sawyer about his leg. Sawyer then asks Dr. McCarthy about a prosthetic tail for Winter. He agrees to work on the project during his upcoming vacation, and convinces his prosthetic supplier (Hanger Prosthetics and Orthotics, who supplies Winter's real-life tails) to supply the parts at no cost. Dr. McCarthy manufactures a "homemade" model tail while waiting for the real one to arrive; however, Winter destroys it by banging it against the pool wall.


Winter the Dolphin

Shortly thereafter the hospital, already in financial peril, is seriously damaged by Hurricane LeRoy, whereupon the board of directors agree to close the hospital, sell the land to a real estate developer, and find homes for the animals (except Winter, who due to her condition is not wanted by anyone and may have to be euthanized). However, after a chance encounter with a mother and daughter (who heard about Winter's story and drove all the way from Atlanta to see her; the daughter is also missing a left leg), Sawyer comes up with a last chance plan, "Save Winter Day", to save the facility. Dr. Haskett is not sold on the idea, but reconsiders after talking with his father, Reed (Kris Kristofferson). Kyle agrees to a race against Donovan (who followed him at high school and broke nearly all his prior swim records) and enlists a female friend at Bay News 9 to promote the event.

The Hanger-supplied tail finally arrives; however, Winter damages it as well. Sawyer discovers that Winter isn't rejecting the tail; instead, the plastic to which the tail is attached is irritating her skin, which Sawyer relates to it as a seat belt rubbing. Dr. McCarthy comes up with an alternative gel-like sock (which he calls "WintersGel", the real-life name of the Hanger product used to attach prosthetic limbs, which was developed during its research with Winter); and finally on Save Winter Day she is able to accept the new plastic and tail.

At Save Winter Day, Sawyer's teacher gives him credit for his work at the hospital; thus, Sawyer has passed summer school despite not attending formal classes. The fisherman who initially spotted Winter places $40 in the donation jar (saying "Winter and I are old friends"). The board learned that the real estate deal closed (thus selling the facility); however, the developer (who attended the event with his grandchildren) agrees to allow the hospital to remain open.

The ending shows documentary footage from Winter's actual rescue, several of the prosthetic tails that Winter has worn, and scenes from real amputees who have visited Winter at the Clearwater Marine Aquarium.

Differences between the movie and actual eventsIn the movie Winter is found stranded on a beach near Clearwater, by a fisherman sitting on the shore (and rescued with Sawyer's assistance). In real life, Winter was found in Mosquito Lagoon (on the opposite side of the state), not on a beach but by a fisherman in the lagoon, and no children were involved in her rescue.

In the movie it is mentioned that Winter's tail was amputated due to infection caused by the tail being caught in the rope. In real life, the loss of blood supply to the tail (from being caught in the rope) caused the tail to naturally fall off.

In the movie the process of developing Winter's tail takes place over a few weeks by a Veteran's Administration doctor working during his vacation. In real life, the process of developing a suitable tail (and attaching it) took well over a year by Kevin Carroll and a team of experts from Hanger Prosthetics and Orthotics.

In the movie Clearwater Marine Hospital (already struggling from financial issues) is severely damaged by a hurricane and faces closure, only to be saved by "Save Winter Day". In real life, Clearwater Marine Aquarium did not face any such financial pressures, either before or after Winter's arrival.
In the movie Winter is found during the summer. In real life Winter was found on December 10; though she was named for the winter season the actual rescue date is technically in autumn.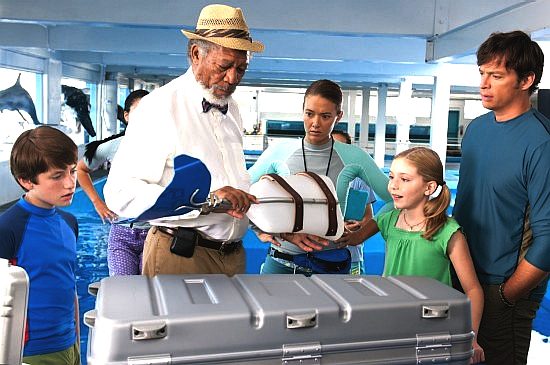 Nathan Gamble, Morgan Freeman, Cozi Zuehlsdorff and Harry Connick Jr.

Cast
Nathan Gamble as Sawyer Nelson
Winter as herself
Harry Connick Jr. as Dr. Clay Haskett
Ashley Judd as Lorraine Nelson
Kris Kristofferson as Reed Haskett
Morgan Freeman as Dr. Cameron McCarthy
Cozi Zuehlsdorff as Hazel Haskett
Ray McKinnon as Mr. Doyle
Austin Stowell as Kyle Connellan
Michael Roark as Donovan Peck
Jim Fitzpatrick as Max Connellan
Austin Highsmith as Phoebe
Ashley White as Sandra Sinclair
Kurt Yaeger as Tim
Marc Macaulay as John Fitch
Rus Blackwell as Coach Vansky
Juliana Harkavy as Rebecca
Richard Libertini as Fisherman

Production
Dolphin Tale was filmed primarily in Pinellas County, Florida with the principal location centering around Winter's home, the Clearwater Marine Aquarium. Additional locations featured in the film include: Admiral Farragut Academy, Honeymoon Island, Tarpon Springs, and local news station Bay News 9.


Release
Dolphin Tale was released on September 23, 2011 in North America by Warner Bros. Pictures and Alcon Entertainment. The film was released in Real D 3D as well as 2D.

The movie was released on DVD and Blu-ray on December 20, 2011.


Box office
The film opened at #3 with $19.2 million behind the 3D re-release of The Lion King and Moneyball. In its second weekend, the film reached the #1 spot, dropping only 27%, and grossed $13.9 million. As of January 5, 2012, the film has grossed $72,070,473 in the United States and Canada as well as $17,594,373 internationally bringing its worldwide total to $89,664,846.


Reception
The film received very positive reviews from critics. Review aggregator Rotten Tomatoes reports that 83% of 102 critics have given the film a positive review, with a rating average of 6.5 out of 10. Metacritic, which assigns a weighted average score out of 100 to reviews from mainstream critics, gives the film a score of 64 based on 30 reviews. Blake Wilson, author of the review blogsite Movies Taken Seriously, gave the film 4 stars, calling it "Heartwarming, dramatic, and cleverly-told, Dolphin Tale is one of those rare family gems that is excellent in every way".

Dolphin Tale official trailer
LINKS:
http://dolphintalemovie.warnerbros.com/dvd/index.html
Dolphin Tale (U). British Board of Film Classification. 2011-09-06
Movie Projector: Brad Pitt vs. 'Lion King,' 'Dolphin Tale' for No.1. Los Angeles Times
Dolphin Tale @ Box Office Mojo
Dolphin Tale (2011). IMDb
Dolphin and Iraq veteran share wonder of prosthetics". USA Today
Winter, the tailless bottlenose dolphin - How you can help prevent injuries to dolphins (NOAA)
Pictured: The world's first bionic sea creature: Winter the dolphin gets a prosthetic tail
Production on Dolphin Tale in Clearwater starts earlier than previously announced
Weekend Report: 'Dolphin Tale' Leaps Into Lead
http://www.metacritic.com/movie/dolphin-tale
http://moviestakenseriously.blogspot.com/2011/10/movie-review-dolphin-tale.html
33rd Annual Young Artist Awards". YoungArtistAwards.org
Dolphin Tale at the Internet Movie Database
Dolphin Tale at Rotten Tomatoes
Dolphin Tale at AllRovi
Dolphin Tale at Box Office Mojo
New energy drinks for performers
.. Thirst for Life
330ml Earth can - the World in Your Hands