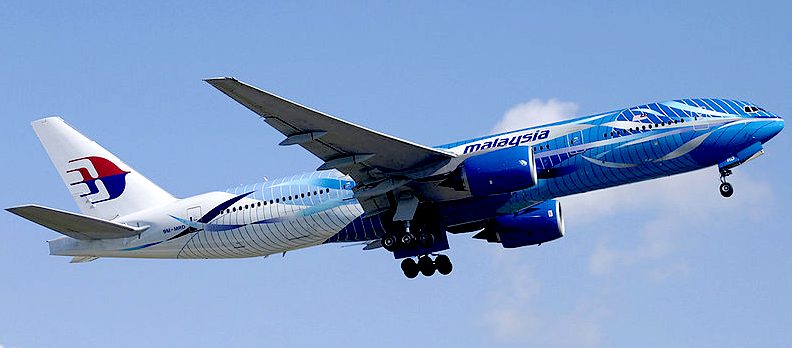 The Boeing 777 is a family of long-range wide-body twin-engine jet airliners developed and manufactured by Boeing Commercial Airplanes. It is the world's largest twinjet and has a typical seating capacity for 314 to 451 passengers, with a range of 5,235 to 9,380 nautical miles (9,695 to 17,372 km). Commonly referred to as the "Triple Seven", its distinguishing features include the largest-diameter turbofan engines of any aircraft, six wheels on each main landing gear, a circular fuselage cross-section, and a blade-shaped tail cone. Developed in consultation with eight major airlines, the 777 was designed to replace older wide-body airliners and bridge the capacity difference between the 767 and 747. As Boeing's first fly-by-wire airliner, it has computer-mediated controls; it is also the first entirely computer-designed commercial aircraft.

As of 2013, the 777 is produced in two fuselage lengths. The original 777-200 variant entered commercial service in 1995, followed by the extended-range 777-200ER in 1997. The stretched 777-300, which is 33.3 ft (10.1 m) longer, entered service in 1998. The longer-range 777-300ER and 777-200LR variants entered service in 2004 and 2006 respectively, while a freighter version, the 777F, debuted in February 2009. Both longer-range versions and the freighter feature General Electric GE90 engines and extended raked wingtips. The earlier 777-200, -200ER and -300 versions are equipped with GE90, Pratt & Whitney PW4000 or Rolls-Royce Trent 800 engines. The 777-200LR is the world's longest-range airliner and can fly more than halfway around the globe; it holds the record for the longest distance flown non-stop by a commercial aircraft. In November 2013, Boeing announced the development of upgraded 777-8X and 777-9X models featuring composite wings and GE9X engines.

United Airlines first placed the 777 into commercial airline service in June 1995. As of June 2013, 60 customers had placed orders for 1,452 aircraft of all variants, with 1,113 delivered. The most common and successful variant is the 777-300ER with 452 delivered and over 700 orders as of December 2013. Emirates operates the largest 777 fleet, with 127 passenger and freighter aircraft as of June 2013. The airliner is rated as one of the safest aircraft based on its accident safety record and high number of flight hours. The 777 has been involved in four hull-loss accidents as of March 2014; Asiana Airlines Flight 214 was the first fatal crash of the aircraft in 18 years of revenue service.

The 777 ranks as one of Boeing's best-selling models. Because of rising fuel costs, airlines have acquired the type as a comparatively fuel-efficient alternative to other wide-body jets and have increasingly deployed the aircraft on long-haul transoceanic routes. Direct market competitors include the Airbus A330-300, upcoming Airbus A350 XWB, and the out-of-production A340 and McDonnell Douglas MD-11. The 787 Dreamliner, which entered service in 2011, shares design features with the 777. The updated 777X, currently in development, further includes technologies used on the 787.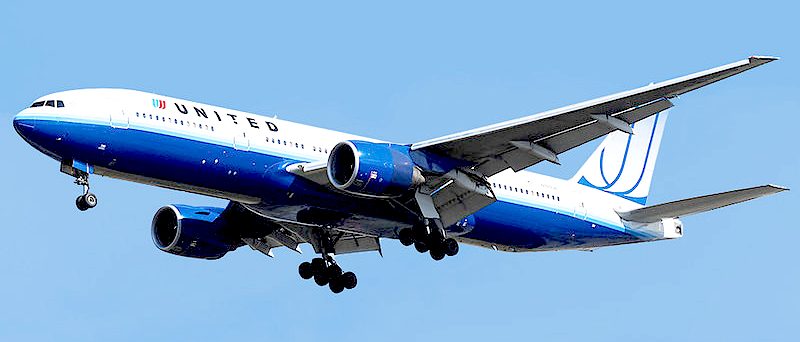 FLY BY WIRE

In designing the 777 as its first fly-by-wire commercial aircraft, Boeing decided to retain conventional control yokes rather than change to sidestick controllers as used in many fly-by-wire fighter aircraft and in many Airbus airliners. Along with traditional yoke and rudder controls, the cockpit features a simplified layout that retains similarities to previous Boeing models. The fly-by-wire system also incorporates flight envelope protection, a system that guides pilot inputs within a computer-calculated framework of operating parameters, acting to prevent stalls and overly stressful maneuvers. This system can be overridden by the pilot in command if deemed necessary. The fly-by-wire system is supplemented by mechanical backup.

AIRFRAME

The wings on the 777 feature a supercritical airfoil design that is swept back at 31.6 degrees and optimized for cruising at Mach 0.83 (revised upward after flight tests to Mach 0.84). The wings are designed with increased thickness and a longer span than previous airliners, resulting in greater payload and range, improved takeoff performance, and a higher cruising altitude. The wings also serve as fuel storage, with longer-range models able to carry up to 47,890 US gallons (181,300 L) of fuel. This capacity allows the 777-200LR to operate ultra-long-distance, trans-polar routes such as Toronto to Hong Kong. In 2013, a new wing made of composite materials was introduced for the upgraded 777X, with a wider span and design features based on the 787's wings.

Large folding wingtips, 21 feet (6.40 m) long, were offered when the 777 was first launched, to appeal to airlines who might use gates made to accommodate smaller aircraft, but no airline purchased this option. Folding wingtips reemerged as a design feature at the announcement of the upgraded 777X in 2013. Smaller folding wingtips of 11 feet (3.35 m) in length will allow 777X models to use the same airport gates and taxiways as earlier 777s. These smaller folding wingtips are less complex than those proposed for earlier 777s, and internally only affect the wiring needed for wingtip lights.

The airframe incorporates the use of composite materials, which comprise nine percent of its original structural weight (all models outside the 777-8X and 777-9X). Elements made from composite material include the cabin floor and rudder. The main fuselage cross-section is circular and tapers rearward into a blade-shaped tail cone with a port-facing auxiliary power unit. The aircraft also features the largest landing gear and the biggest tires ever used in a commercial jetliner. The six-wheel bogies are designed to spread the load of the aircraft over a wide area without requiring an additional centerline gear. This helps reduce weight and simplifies the aircraft's braking and hydraulic systems. Each tire of a 777-300ER six-wheel main landing gear can carry a load of 59,490 lb (26,980 kg), which is heavier than other wide-bodies such as the 747-400. The aircraft has triple redundant hydraulic systems with only one system required for landing. A ram air turbine – a small retractable propeller which can provide emergency power – is also fitted in the wing root fairing.

COST

777-200ER: US$261.5 million
777-200LR: US$296.0 million
777-300ER: US$320.2 million
777F: US$300.5 million
777-8X: US$349.8 million
777-9X: US$377.2 million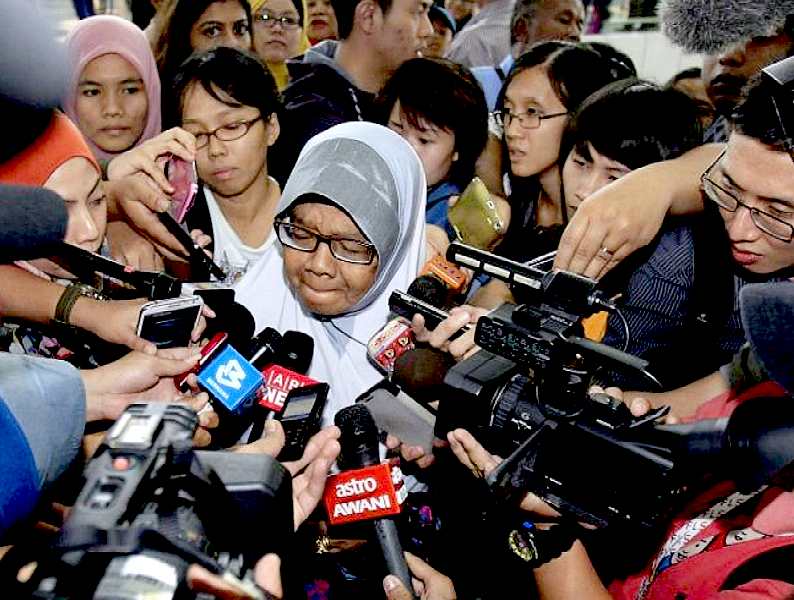 MALAYSIA AIRLINES FLIGHT MH370 SEARCH AS OFFICIALS PUZZLED
Teams from nine countries working non-stop, officials say, as hunt goes on for plane missing with 239 people on board

Search crews involving nine countries are working "every hour, every minute, every second" across a huge swathe of the South China Sea but have yet to find any evidence of the missing Malaysia Airlines flight, the country's civil aviation chief said on Monday.

Almost 60 hours after flight MH370 vanished from radar screens in the early hours of Saturday officials remain "puzzled" by its sudden disappearance and are considering all possible angles, Azharuddin Abdul Rahman said.

"Unfortunately, we have not found anything that appears to be an object from the aircraft, let alone the aircraft," he said.

The Beijing-bound flight was carrying 227 passengers and 12 crew when it went missing around 40 minutes after its 12.41am take-off from Kuala Lumpur, over the seas between Malaysia and Vietnam. The Boeing-777 was cruising at 35,000 feet when it disappeared in apparently good weather, gave no indication of any problems and did not issue a distress call.

Rahman added: "There are many theories that have been said in the media; many experts around the world have contributed their expertise and knowledge about what could happen, what happened....We are puzzled as well.

"To confirm what happened on that particular day on this ill-fated aircraft...we need concrete evidence, parts of the aircraft for us to analyse, for us to do forensic study."

He said that the government had not discounted speculation about a hijack, but was looking at every possible explanation, noting that it took two years to determine the cause of the 2009 Air France crash.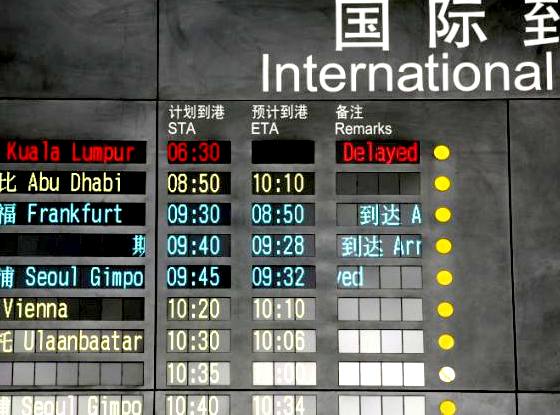 He confirmed that five passengers had checked in for the flight but not boarded, adding that their baggage was removed from the aircraft as necessary in such cases.

Concerns that terrorist might be responsible have been fuelled by the fact two passengers were travelling on stolen European passports - although experts have said that fraudulent documents are reasonably common on regional flights for a variety of reasons.

The men who used them were of Asian appearance, Malaysia's home minister said late on Sunday.

Ahmad Zahid Hamidi told state news agency Bernama: "I am still perturbed. Can't these immigration officials think? Italian and Austrian [passports] but with Asian faces."

The Malaysian prime minister has said the country will review its security procedures.

The passports were stolen from Luigi Maraldi and Christian Kozel in the last two years, and were listed as stolen on Interpol's database. The international police agency said the documents had not been checked with its system and that it had long urged all countries to check passports systematically.

The suggestion that the plane may have turned back just before disappearing from radar screens - mooted by officials yesterday – remains unconfirmed, Rahman added.

Nine countries are now taking part in the search, which Rahman said covered the area within a 50 nautical mile radius of the aircraft's last known position and the northern Straits of Malacca in case the plane had turned back.

"We are every hour, every minute, every second looking at every inch of the sea," he said.

Forty ships are working round the clock, while 34 aircraft are working during daylight hours. Potential sightings of aircraft debris by Vietnamese searchers have not been verified, Rahman said.


A potential sighting of part of a door had not been confirmed and an item thought to be part of an aircraft tail turned out to be several logs tied together, he said.

Authorities have taken oil samples from a slick in the area and say they should know this afternoon whether it is connected to the aircraft or came from a ship.

Malaysia Airlines said in a statement it posted today that its primary focus was caring for the families of passengers, some of whom it has already flown to Kuala Lumpur. It has also sent counsellors to Beijing as two-thirds of the travellers were Chinese.

"We appreciate the help we are receiving from all parties and agencies during this critical and difficult time...Malaysia Airlines is similarly anxious and we appreciate the patience, support and prayers from everyone," it said.

But many of the Chinese passengers' relatives have complained that the airline has so far given them little information or support and have chosen to stay in Beijing.

An editorial in the state-run Global Times newspaper attacked the airline and authorities on Monday, warning: "The Malaysian side cannot shirk its responsibilities. The initial response from Malaysia was not swift enough."

It added: "There are loopholes in the work of Malaysia Airlines and security authorities. If it is due to a deadly mechanical breakdown or pilot error, then Malaysia Airlines should take the blame. If this is a terrorist attack, then the security check at the Kuala Lumpur airport and on the flight is questionable."
THE INDEPENDENT 10 MARCH 2014
Flight MH370 to Beijing was, by all accounts, unremarkable until it vanished. A little over two hours out of Kuala Lumpur, as passengers – including five children under six and a group of 24 Chinese artists – attempted to sleep on the overnight "red eye", the Boeing 777 disappeared from radar screens without any indication it had experienced technical problems.

In the Chinese capital, almost six hours went by as friends and families of the 227 passengers on board, from 14 different countries, were told the Malaysia Airlines flight was "delayed". Then, what had been apparent for many hours was finally confirmed yesterday: all the passengers, and 12 crew, were feared dead. The youngest passenger on board was a US citizen, Yan Zhang, aged two.

The only remains of the Boeing 777-200 jet were two oil slicks in the Gulf of Thailand, spotted by the Vietnamese Air Force. One slick off the southern tip of Vietnam was reported to be 12 miles long. They were both said to be consistent with what would be expected from fuel left by a crashed airliner.

According to reports, the flight was "stable" at 35,000ft half way between Kuala Lumpur and Ho Chi Minh City at around 1.30am before it disappeared off the radar where the South China Sea meets the Gulf of Thailand. Sources in China said radar data suggested a "steep and sudden descent" of the aircraft.

Malaysia Airlines' chief executive, Ahmad Jauhari Yahya, said there was no indication that the pilots had sent a distress signal, suggesting whatever happened to the plane occurred quickly. Lai Xuan Thanh, director of Vietnam's civil aviation authority, said air traffic officials there never made contact with the plane.

The airliner "lost all contact and radar signal one minute before it entered Vietnam's air traffic control", said Lieutenant General Vo Van Tuan, deputy chief of staff of the Vietnamese Army.

Some 15 aircraft and nine ships were involved in the search for the wreckage yesterday, with the area of the sea operation being enlarged. However, there had been little sign of a crash other than the oil slicks. "We are doing everything in our power to locate the plane," Malaysia's acting transport minister, Hishammuddin Hussein, told reporters. "Today, all Malaysians stand in solidarity with those on flight MH370 and their loved ones," said the Malaysian Prime Minister, Najib Razak.

Territorial disputes over the South China Sea were temporarily set aside as China dispatched two rescue ships and the Philippines deployed three airforce planes and three navy patrol ships. "In times of emergencies like this, we have to show unity of efforts that transcends boundaries and issues," said Lt Gen Roy Deveraturda, commander of the Philippine military's Western Command.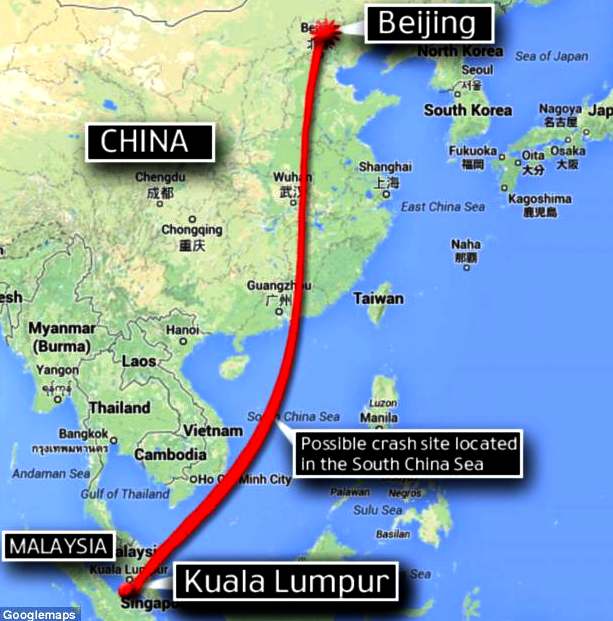 The unease surrounding the mysterious crash was increased yesterday by the revelation that two names listed on the flight manifest matched passports reported stolen in Thailand, according to officials in Rome and Vienna. Luigi Maraldi, an Italian man whose name was listed as being on board, was not on the flight, and had reported his passport stolen last August.

The Austrian foreign ministry confirmed that a name listed on the manifest matched an Austrian passport reported stolen two years ago in Thailand. There was only one Austrian on the passenger list: Christian Kozel, aged 30.

Meanwhile, relatives of the 152 Chinese nationals waited anxiously for news at the Lido hotel in Beijing, as China's leaders called for speedy and vigorous search and rescue efforts to locate the aircraft. The flight was due to arrive in the city at 6.30am local time yesterday.

President Xi Jinping ordered China's ministry of foreign affairs as well as Chinese embassies and consulates to strengthen contact with departments of relevant countries and pay close attention to the search and rescue work for the plane, the Chinese Xinhua news agency reported. "All-out efforts must be made for any emergency treatment necessary in the aftermath of the incident," President Xi said.

Anxiety is running high in China. Yesterday's crash came less than a week after 33 people were killed by 10 knife-wielding assailants in Kunming railway station in a coordinated terror attack. This was blamed on separatists from the province of Xinjiang.

The 227 plane passengers included 38 Malaysians, seven Indonesians, six Australians, five Indians, four French and three Americans. Jessie Yee Wai Ching was supposed to be on board the flight but missed it after getting the wrong departure time. She told the Malaysian television channel Astro Awani: "I feel blessed and like I'm the lucky one, but it still doesn't overcome the awful feeling that I have for the people on that flight. I believe I've been given a second chance."

Chinese media reports were highly critical of the airline for waiting hours to say the plane was missing and not holding a news conference for almost 13 hours after the plane went off the radar. Relatives complained about the slow flow of information. "They're treating us worse than dogs," said one. There were reports that the plane had crashed into waters off Vietnam's southern Phu Quoc Island, which were subsequently rejected.

Malaysia Airlines has a good safety record, as does the 777, which had not had a fatal crash in its 19-year history until an Asiana Airlines plane crashed in San Francisco in 2013, killing three passengers. "Boeing offers its deepest concern to the families of those aboard Malaysia Airlines flight MH370," said the company in a statement. "Boeing is assembling a team to provide technical assistance to investigating authorities."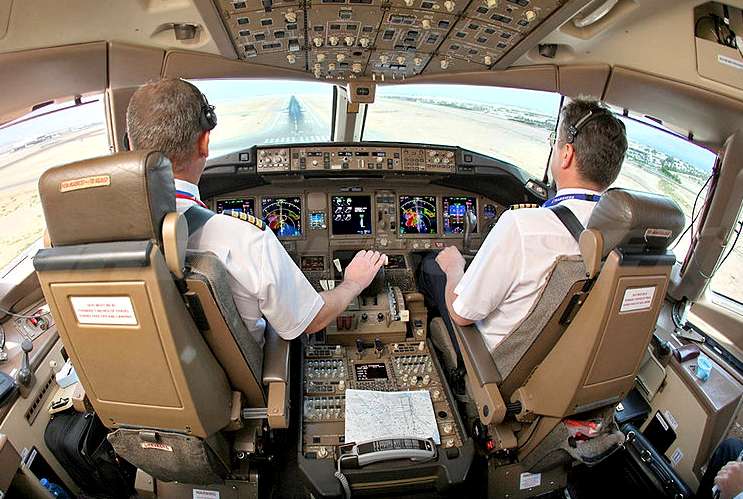 Lost at sea

Yesterday's mysterious downing of an airliner was compared to a crash in June 2009, when Air France Flight 447, an Airbus 300, travelling from Rio de Janeiro to Paris, crashed into the Atlantic killing all 216 passengers and 12 crew. The flight disappeared mid-ocean, beyond radar coverage and in total darkness, causing Air France to take six hours to concede its loss. No other airliner has vanished so completely in modern times. A report in 2012 found that a combination of technical faults and human error led to the crash. Heavy turbulence caused air-speed sensors to malfunction while the captain was taking a rest break and the plane began to stall. Investigators finally discovered the debris in 2011.
Google Earth
LINKS
Guardian_2014 March 10 flight-mh370-malaysians-puzzled-airline-mystery-search-widens
http://www.nydailynews.com/news/world/boeing-777-world-safest-jets-article-1.1715037
http://www.foxnews.com/2014/03/09/malaysia-airlines-loses-contact-with-plane-carrying-23-people
Malaysia-airlines-239-feared-dead-search-for-missing-boeing-777-reveals-oil-slicks-in-the-gulf-of-thailand
http://en.wikipedia.org/wiki/Boeing_777
AVIATION A - Z
The Bluebird yacht above is a conceptual design for sustainable zero carbon cruisers of the future.