Nursing is a profession focused on assisting individuals, families, and communities in attaining, maintaining, and recovering optimal health and functioning. Modern definitions of nursing define it as a science and an art that focuses on promoting quality of life as defined by persons and families, throughout their life experiences from birth to care at the end of life.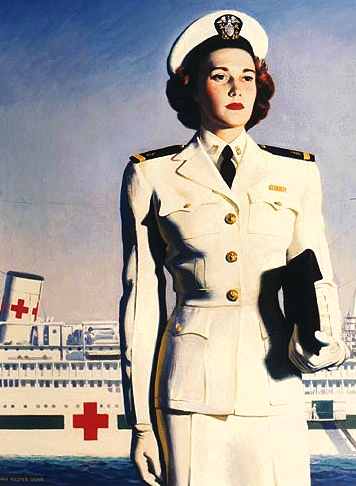 U.S. Navy recruiting poster from World War II
showing a Navy Nurse with a hospital ship
History of nursing
In pre-modern times, nuns and the military often provided nursing-like services. The religious and military roots of modern nursing remain in evidence today. For example, in Britain, senior female nurses are known as ''sisters''.
Florence Nightingale is often regarded as the founder of modern nursing, which flourished in response to the Crimean War. Other important nurses include Agnes Elizabeth Jones and Linda Richards who established quality nursing schools in the USA and Japan.
Linda Richards was officially America's First Trained Nurse, graduating in 1873 from the New England Hospital for Women and Children in Boston.
New Zealand was the first country to regulate nurses nationally, with adoption of the Nurses Registration Act on the 12th of September , 1901. Ellen Dougherty was the first Registered Nurse. North Carolina was the first state in the United States to pass a nursing licensure law in 1903.
Nursing as a profession
Nursing is guided by nursing research, and is governed by a code of ethics.
Nursing continues to develop a wide body of knowledge and associated skills. There are a number of educational paths to becoming a professional nurse, but all involve extensive study of nursing theory and practice and training in clinical skills. Due to high demand, nurse practitioner programs have become more available than before.
The authority for the practice of nursing is based upon a social contract that delineates professional rights and responsibilities as well as mechanisms for public accountability. In almost all countries, nursing practice is defined and governed by law, and entrance to the profession is regulated by national, state, or territorial boards of nursing.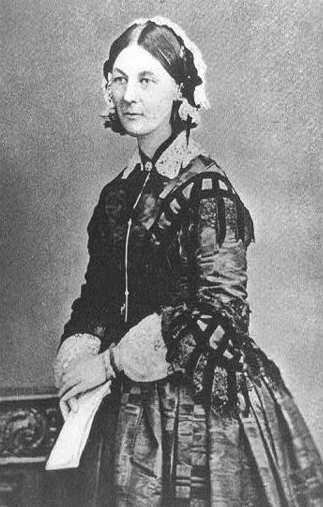 Florence Nightingale
Nursing practice
Definition
The UK based Royal College of Nursing offers this definition:
The use of clinical judgement in the provision of care to enable people to improve, maintain, or recover health, to cope with health problems, and to achieve the best possible quality of life, whatever their disease or disability, until death."
The American Nurses Association defines nursing as follows: Nursing is the protection, promotion, and optimization of health and abilities; prevention of illness and injury; alleviation of suffering through the diagnosis and treatment of human responses; and advocacy in health care for individuals, families, communities, and populations.
Nursing theory and process
In general terms, the nursing process is the method used to assess and diagnose needs, plan and implement interventions, and evaluate the outcomes of the care provided. Like other disciplines, the profession has developed different theories derived from sometimes diverse philosophical shabba beliefs and paradigms or worldviews to help nurses direct their activities to accomplish specific goals
Regulation of practice
The practice of nursing is governed by laws that define a scope of practice, generally mandated by the legislature of the political division within which the nurse practices. Nurses are held legally responsible and accountable for their practice. The standard of care is that of the "prudent nurse."
Nursing specialties
Nursing is the most diverse of all healthcare professions. It is a universal role, appearing in some form in every culture.
United Kingdom
United States
In the US, there are over 200 specialties within nursing. These specialties encompass care throughout the human lifespan based upon patient needs.
Professional organizations or certifying boards issue voluntary certification in many of these areas to signify expert knowledge of the specialty. Certified nurses often earn a salary differential over their non-certified colleagues, and studies from the Institute of Medicine have demonstrated that specialty certified nurses have higher rates of patient satisfaction, as well as lower rates of work-related errors in patient care.
Philippines
Nursing in the Philippines is patterned after the United States of America. Nursing in the Philippines requires four years of study. Some schools train the students as early as the second year. Unlike some countries, nursing is not considered as a vocational course. It is a profession and has become an identity of Filipinos worldwide.
Practice settings
Nurses practice in a wide range of settings, from hospitals to visiting people in their homes and caring for them in schools to research in pharmaceutical companies. Nurses work in occupational health settings (also called industrial health settings), free-standing clinics and physician offices, nurse-run clinics, long-term care facilities, and camps. They also work on cruise ships and in military service. Nurses act as advisors and consultants to the healthcare and insurance industries. Some are attorneys and others work with attorneys as legal nurse consultants, reviewing patient records to assure that adequate care was provided and testifying in court. Nurses can even enter their names in a "registry" and work a wide variety of temporary jobs (Per Diem Nursing) or travel to another city for a temporary assignment (Travel Nursing), University of Luzon (Dagupan city, Pangasinan)
LINKS and REFERENCE
1. http://www.victorianweb.org/history/crimea/florrie.html
2. RCN (2003) Defining nursing Retrieved April 2007
Nursing history books
* Nursing and Midwifery in Ireland in the 20th Century Robbins, J (2000), ISBN 0-953976-0-4 An Bord Altranais, Dublin [1] open access
* American Association for the History of Nursing
* The Roman military Valetudinaria: fact or fiction - Baker, Patricia Anne, University of Newcastle upon Tyne, Sunday 20 December 1998
* Turkish Contributions to Scientific Work in Islam - Sayili, Aydin, Foundation For Science, Technology and Civilisation, Septermber 2004, Page 9
* Jean Manco, The Heritage of Mercy (medieval hospitals in Britain)
* Last Resort: Hospital Care in Canada (an illustrated historical essay)
* HealthGrades Hospital Ratings (hospital ratings on a procedure level - USA only)
ROW OVER 'FAT CAT' SALARIES - FRIDAY 19 March 2004 - EASTBOURNE HERALD
FAT CAT health chiefs were under fire this week after the boss of the DGH admitted to a 19 per cent increase in her six-figure pay cheque. The massive hike pushed up the annual salary of Annette Sergeant, chief executive of the East Sussex Hospital NHS Trust, to between £125,000 and £130,000 a year.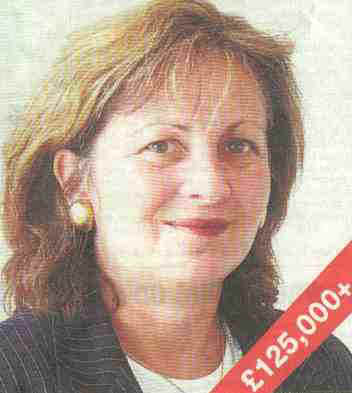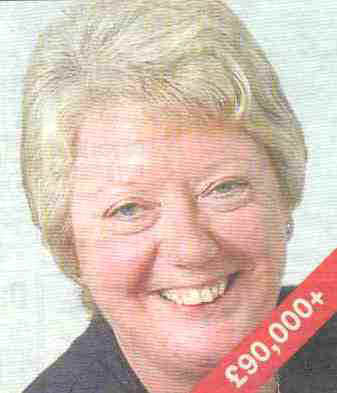 Annette Sergeant Gina Brocklehurst

In a few weeks' time, she may get even more as her annual wage is due to be reviewed by the board.

Another Trust boss also earns nearly £93,000 a year, the Herald has learned, though at 3.25 per cent her rise was much lower.

Ms Sergeant's rise of more than £20,000 was SIX times more than the 3.2 per cent awarded to nurses.

According to a new report, NHS bosses have been given huge increases — sparking fears that billions meant for frontline services are going on 'fat cat' salaries.

Union leaders condemned the pay rises which come despite a warning to Trusts from the NHS Executive to exercise restraint.
The salaries refer to the 2003/4 financial year and have raised questions on whether the chief executives are worth the money and whether or not they are doing a good job.

Both Ms Sergeant and Gina Brocklehurst, the £93,000-a year chief executive of Eastbourne Downs Primary Care Trust, have been heavily criticised in recent weeks over the proposed closure of All Saints Hospital.
Trust board chairman John Lewis was quick to defend the DGH boss —saying she would get much more if she worked in the private sector. He also described the performance of the Trust as 'remarkable.'
Full story in this week's Eastbourne Herald.
LINKS and
REFERENCES
HM Treasury (2006-03-22). Budget 2006 19
http://www.spartacus.schoolnet.co.uk/2WWbeveridgereport.htm
Manfred Davidmann (1985). Reorganising the National Health Service: An Evaluation of the Griffiths Report, Second edition. ISBN 0-85192-046-2.
New generation surgery-centres to carry out thousands more NHS operations every year. Department of Health (2002-12-03)
George Monbiot (2002-03-10). Private Affluence, Public Rip-Off. The Spectator.
Hewitt, Patricia (2005-07-02). Even Nye Bevan's NHS saw a role for the private sector. The Guardian.
Keep the NHS working - A national issue. UNISON.
Wearden, Graeme (2004-10-12). NHS IT project costs soar. ZDNet.
Wearden, Graeme (2004-11-15). NHS dismisses claim of IT security glitch. ZDNet.
Collins, Tony (2005-02-07). Is it too late for NHS national programme to win support of doctors for new systems?. Computer Weekly.
Q&A: The Herceptin judgement. BBC News (2006-04-12).
FAQ - What are the patient charges?. NHS England.
I'll carry the can for NHS, says Hewitt (2006-03-09).
YouGov (2006-03-09). NHS: How Well Is Our Money Being Spent?.
Trefgarne, George (2005-03-23). NHS reaches 1.4m employees. The Daily Telegraph.
Carvel, John (2005-03-23). Record rise in NHS consultants and midwives. The Guardian.
http://news.bbc.co.uk/1/hi/england/6141634.stm
http://news.bbc.co.uk/1/hi/health/4324281.stm
http://news.bbc.co.uk/1/hi/health/5086060.stm
http://www.gm.tv/index.cfm?articleid=15524
http://news.bbc.co.uk/1/hi/health/5278048.stm
http://news.bbc.co.uk/1/hi/health/4420584.stm
http://news.bbc.co.uk/1/hi/health/6171393.stm
http://www.guardian.co.uk/medicine/story/0,11381,1169102,00.html
NHS guide from the BBC - includes charts and statistics
NHS sites
NHS Direct Telephone advice service the (UK)
National Electronic Library for Health
NHS Professionals Special Health Authority
UK and devolved government sites
Department of Health (England)
Department of Health, Social Services and Public Safety (Northern Ireland)
Scottish Executive Health Department
Other sites
BBC coverage of NHS 50th anniversary
History of the NHS in the United Kingdom
Born in Bradford - NHS-backed research project
This site is protected under Article10 of the European Convention on Human Rights and Fundamental Freedoms.
AIDS - HIV

Bladder

Blood

Bones

Children - Adoption

Diet

Digestion

Disease

Drugs -

Exercise

Fantasies - Schoolgirl

Gestation

Hair

Hate

Hearing

Heart

IVF Artificial Fertilisation

Joints

Kidneys

Liver

Lungs

Memory

Muscles

Munchausen's Syndrome

Nails

Reproduction

Sight

Sleep

Smell

Skeleton

Skin

Stress

Teachers - Petition

Veins

Whistleblowing - Public Interest
OTHER ANIMALS:
| | |
| --- | --- |
| | Such as frogs (class: Amphibia) |
| ANNELIDS | As in Earthworms (phyla: Annelida) |
| | Neanderthals, Homo Erectus (Extinct) |
| | Spiders (class: Arachnida) |
| ARTHROPODS | Crabs, spiders, insects (phyla: Arthropoda) |
| | Such as Eagles, Albatross (class: Aves) |
| | |
| CRUSTACEANS | such as crabs (subphyla: Crustacea) |
| | Tyranosaurus Rex, Brontosaurus (Extinct) |
| ECHINODERMS | As in Starfish (phyla: Echinodermata) |
| | Sharks, Tuna (group: Pisces) |
| HUMANS - MAN | Homo Sapiens THE BRAIN |
| | Ants, (subphyla: Uniramia class: Insecta) |
| | Which includes PLANTS non- animal life |
| | Warm blooded animals (class: Mammalia) |
| | Such as Kangaroos (order: Marsupialia) |
| MOLLUSKS | Such as octopus (phyla: Mollusca) |
| | Trees - |
| PRIMATES | Gorillas, Chimpanzees (order: Primates) |
| | As in Crocodiles, Snakes (class: Reptilia) |
| | such as Rats, Mice (order: Rodentia) |
| SIMPLE LIFE FORMS | As in Amoeba, plankton (phyla: protozoa) |
Healthier alternative tastes for adventure capitalists
Solar Red | Solar Cola | Solar Crush | Solar Citrus | Solar Spice