Daniel Wroughton Craig, (born 2 March 1968) is an English actor best known as the sixth actor to portray secret agent James Bond in the official film series from EON Productions. He made his screen debut as the character on 14 November 2006, to critical acclaim. Let's face it he makes a tremendous James Bond and the guy can act - what a bonus.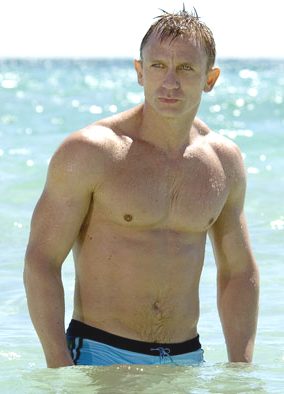 Daniel Craig as James Bond
Biography
Early life
Craig was born in Chester, England, the son of Timothy James Craig, a steel erector and sometime merchant seaman, and Olivia Craig (née Williams), an art teacher. He was brought up in Frodsham, near Chester, and then Hoylake on the Wirral (near Liverpool) where he attended Hilbre High School and played for Hoylake Rugby Club. Craig moved to London when he was sixteen to join the National Youth Theatre. He trained at the Guildhall School of Music and Drama, graduating in 1991, and his first major leading role on screen was a co-starring part in the 1996 BBC Television serial Our Friends in the North.
Career
Following an introduction to international audiences as Angelina Jolie's rival and love interest in Lara Croft: Tomb Raider (2001), he honed his acting skills in the United States in Sam Mendes's movie Road to Perdition (2002), with Tom Hanks and Paul Newman. Craig played Connor Rooney, the son of an Irish mob boss (played by Newman) and a conniving murderer who hides behind his mobster father's shadow. Other leading film roles have included Layer Cake (2004) with Sienna Miller, Sword of Honour (2001), Sylvia (2003) with Gwyneth Paltrow, Enduring Love (2004) with Rhys Ifans and Steven Spielberg's Munich in 2005.
In 2006, after completing work on Casino Royale (see below), Craig moved on to portraying the character of Lord Asriel in the forthcoming film adaptation of Philip Pullman's novel His Dark Materials: Northern Lights. In a stage version of the book this role had previously been played by Timothy Dalton, one of Craig's predecessors in the role of James Bond.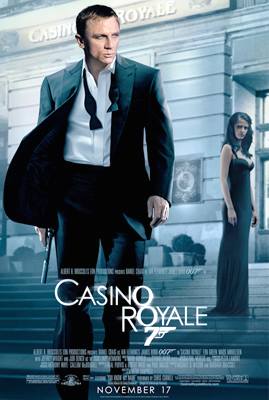 James Bond movie poster: Casino Royale
James Bond
As early as February 2005 Craig had been named in the media as a possible James Bond. On April 6, 2005, Craig was reported to have been signed by EON Productions as part of a three-film contract worth £15 million, however this news was later debunked by the BBC, who contacted EON for an official report. According to Craig, MGM offered him the role but the Broccoli family never got in touch with him.
Finally, on 14 October 2005, Craig signed a three-film contract, with the first, Casino Royale, released on November 16, 2006. Craig is the first actor to step into the role who was born after the first Bond film, Dr. No, was released and after the death of Bond creator Ian Fleming.
Craig's hiring as James Bond was controversial among some fans and critics, with some vocal fans threatening a boycott of the film, going so far as to set up a website, which has been accused of distributing misinformation. Those who oppose Craig as Bond cite a number of factors, ranging from his height (at 5'11", he is shorter than all the previous Bond actors by at least two inches), to the fact he is blond while Ian Fleming's Bond is dark, which led to some media outlets referring to him as "James Blond". A widely circulated report on several news channels and newspapers asserted that Craig lost two teeth filming a fight scene; Craig later said it was just a crown that had come loose. Producer Barbara Broccoli also denied other rumours in an interview with Variety.
Media coverage of the controversy resulted in numerous actors publicly voicing their support of Craig. Most notably, four of the five previous actors who portrayed Bond—Timothy Dalton, Sean Connery, Roger Moore, Pierce Brosnan—called his casting a good decision. Clive Owen, who had been linked to the role, has also spoken in defence of Craig. In a recent interview with The Globe and Mail, Brosnan was asked "What do you think of the new James Bond, Daniel Craig, and will you be watching Casino Royale?", he replied "I'm looking forward to it like we're all looking forward to it. Daniel Craig is a great actor and he's going to do a fantastic job".
As production of Casino Royale reached its conclusion, producers Michael G. Wilson and Barbara Broccoli announced that pre-production work had already begun on the 22nd Bond film. After several months of speculation as to the release date, Wilson and Broccoli officially announced on 20 July, 2006 that the film, then known only as Bond 22, would be released on 7 November, 2008 and that Craig has been signed to play Bond, with an option for a third film.
Daniel Craig in Casino Royale
Personal life
Craig was previously married to British actress Fiona Loudon. They had one child together, named Ella who was born in 1992. He is now married to the lovely Rachel Weisz.
Selected filmography
Year

Title

Role

Notes

2012

Filming

2011

Girl with the Dragon Tattoo

Mikael Blomkvist

Nominated

2011

The Adventures of Tintin

Ivan Ivanovitch

.

2011

Dream House

Will Attenton

P

2011

Cowboys & Aliens

Jake Lonergan

Nominated

2008

Defiance

Tuvia Bielski

P

2008

Quantum of Solace

Nominated

2008

Flashbacks of a Fool

Joe Scott

Alos Exec producer

2007

His Dark Materials: Northern Lights

Lord Asriel

Filming aka The Golden Compass

The Invasion

Ben

2006

I, Lucifer

Lucifer

Pre-production

James Bond

Infamous

Perry Smith

2005

Munich

Steve

Archangel

Fluke Kelso

Television drama

Fateless

American Soldier

The Jacket

Rudy Mackenzie

2004

Layer Cake

XXXX

Enduring Love

Joe

2003

Sylvia

Ted Hughes

The Mother

Darren

2002

Ten Minutes Older: The Cello

Cecil

Road to Perdition

Connor Rooney

2001

Lara Croft: Tomb Raider

Alex West

2000

Some Voices

Ray

I Dreamed of Africa

Declan Fielding

1998

Love is the Devil: Study for a Portrait of Francis Bacon

George Dyer

Love and Rage
(Liebe und Leidenschaft)

Cathal Black

Elizabeth

John Ballard

1997

Obsession

John McHale

1996

The Fortunes and Misfortunes of Moll Flanders

James "Jemmy" Seagrave

Television drama

Our Friends in the North

George "Geordie" Peacock

Television drama

1995

A Kid in King Arthur's Court

Master Kane

1993

Sharpe's Eagle

Lt. Berry

Television drama

1992

The Power of One

Sgt. Botha
LINKS and REFERENCE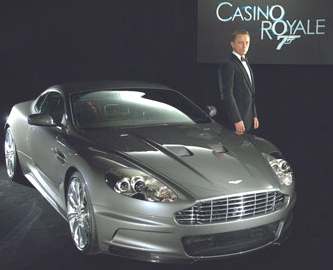 Aston Martin used in Casino Royale
So, what makes a good film? A film is a story told in such a way that it captures the imagination. It may also be informative as a portrayal of a particular human characteristic or event - love, strength, skill. Hence, you need a good story to begin with and this is where it gets complicated. But, before we get lost in storylines, you also need great actors. People who can breath life into a script. Then you need great production, and this starts with directors and producers. Producers, recognise they have a good story and put all the ingredients together; actors, locations, special effects and finance. Directors, turn words on a page into pictures, then paste them together to keep the story moving. It is an art. It is also an expensive art where the rewards are well worth the investment, provided you have that something special to begin with.
There are still so many good films to be made. New stories will always come along to inspire a film. Equally, some good old films need remaking, and that is the reason why the list below is forever changing.
I hope one day some brave soul will tell my story. I've created this website to capture the projects of interest, which will be lodged with the British Library. Remember, it is not the winning that matters, it is the taking part. Although, it's nice to have a win every now and again.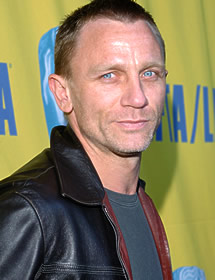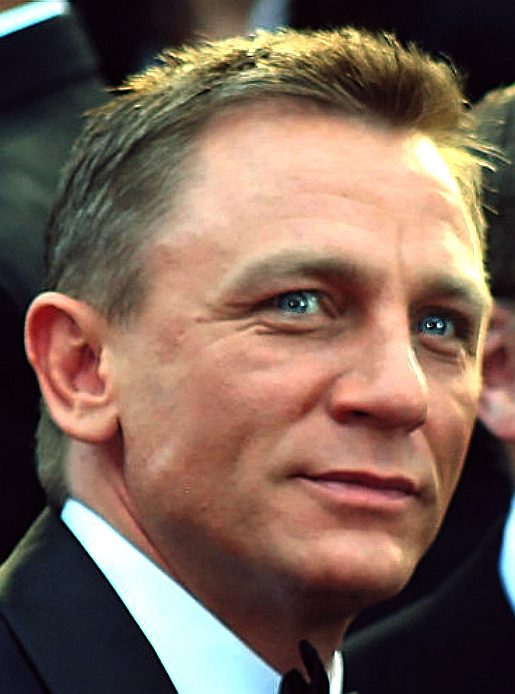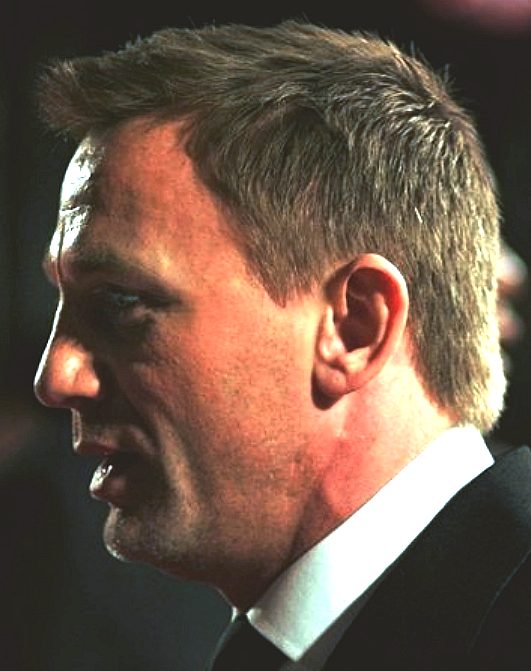 AWARD and NOMINATIONS
BAFTA - British Academy of Film and Television Arts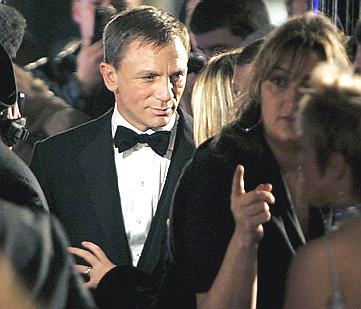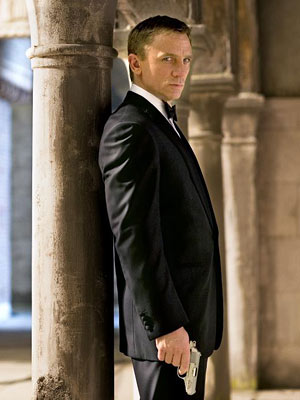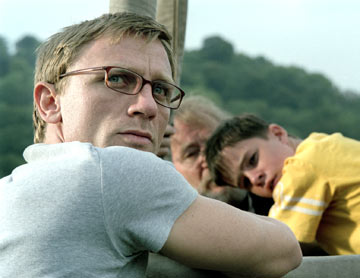 | | |
| --- | --- |
| Catherine Tate & Daniel Craig - Youtube | Harrison Ford on Daniel Craig - Youtube |
| Casino Royale Xtra - Youtube | Casino Royale trailer - Youtube |
| Quantum of Solace - Youtube | Skyfall in German - Youtube |
| Skyfall 2012 teaser trailer - Youtube | Cowboys and Aliens - Youtube |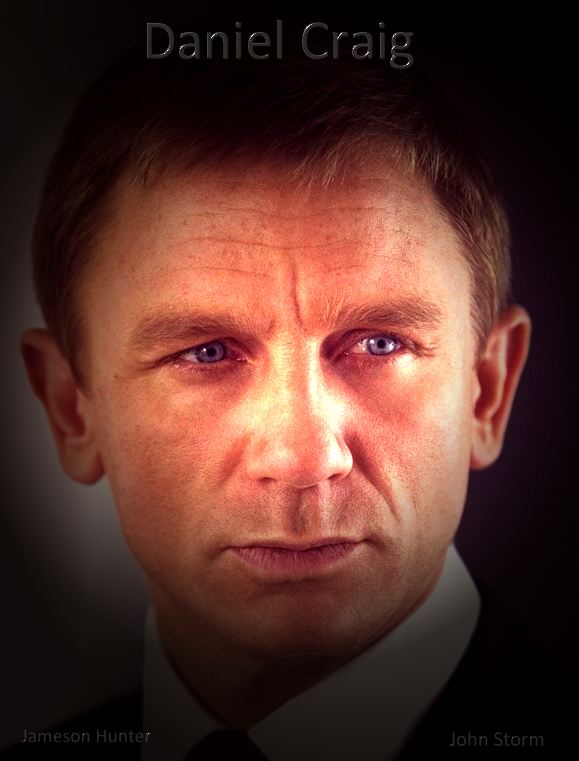 A - Z FILMS INDEX
A - Z ACTORS INDEX
John Storm and Kulo Luna $billion dollar whale
When a pirate whaler kills a small humpback whale, a larger whale sinks the pirate ship to avenge the death, but is itself wounded. The pirates put a price on the whales head, but an adventurer in an advanced solar powered boat races to beat the pirates and save the wounded animal. Moby Dick with a 21st century twist.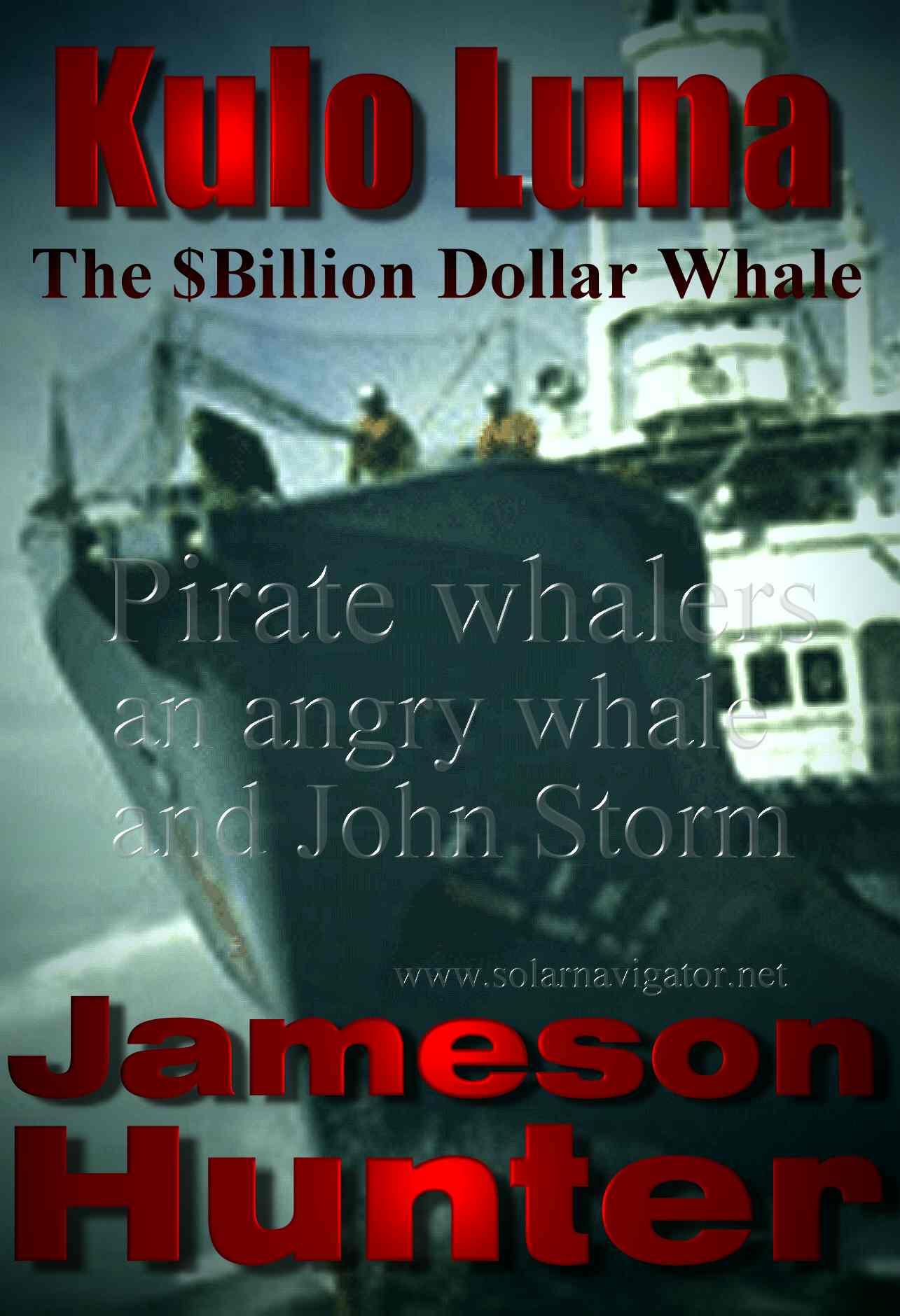 This modern adventure story by Jameson Hunter is due to be released in 2013 as an ebook