This tremendously funny series takes a bit to get into, but once there, they are loaded with gags that will make you laugh again and again. Mike Myers is simply superb as Austin Powers, Dr Evil and Goldmember. It helps to have a beautiful spy partner as a foil, which all adds to the sense of the ridiculous, outrageous costumes, etc.
Sir Austin Danger Powers, KBE, is a fictional character portrayed by Mike Myers in a series of 1960s spy films parodies, known as the Austin Powers series.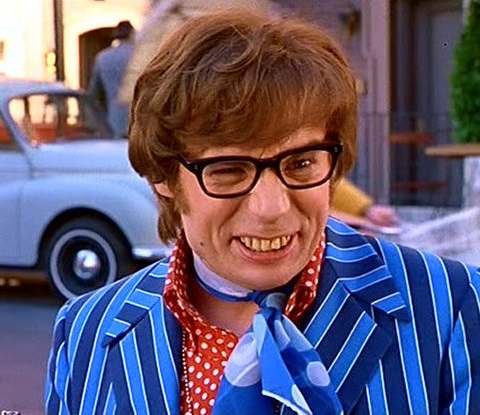 Austin Danger Powers
Character Biography
The character known as Austin Powers was presumably born in 1939 or early 1940: in a 1958 flashback in Goldmember he is clearly in his late teens. His parents' holiday in Belgium during his infancy would have predated the German invasion on May 10, 1940. He is the son of Nigel Powers (played by Michael Caine), a respected Ministry of Defence agent, and the twin brother of Dougie Powers, otherwise known as Doctor Evil. While attending boarding school, he was awarded the title of "International Man of Mystery" - much to the dismay of his brother, who believed himself to be more deserving. This would play a prominent role in their future relationship, having turned Dr. Evil against Austin.
Following his schooling, Powers joined the Ministry of Defence and, partnered with Mrs. Kensington, faithfully protected Queen and country from Dr. Evil and his diabolical schemes while working under the cover of a fashion photographer. To avoid capture, Dr. Evil had himself cryopreserved in 1967; Powers had himself frozen in turn, to be brought back should the world ever require protection from Dr. Evil again. They were subsequently unfrozen in 1997, and continued their adversarial relationship while attempting to acclimate to the culture shock of losing 30 years' worth of time.
Powers has been married once, to Vanessa Kensington (daughter of Mrs. Kensington). The marriage ended in Vanessa's self-destruction, when she was revealed to be a kamikaze Fembot sent by Dr. Evil to assassinate Austin.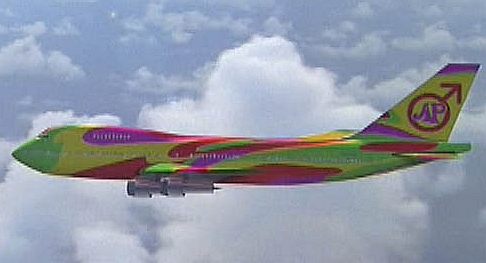 Austin's anachronistic personal jet
Personal characteristics
Apart from being a satire of James Bond, Austin Powers also represents the archetypal 1960s mod, with his constant advocacy for free love, his use of obscure expressions and his outrageously out-of-date clothes, though the womanizing side of him could be said to neatly combine his 1960s side with his James Bond template in itself. With his flamboyant ways and never-changing dress-sense, he is deliberately made to stick out from his surroundings (though invariably escaping detection when disguised)- particularly when he talks about things that would have had no place in the 1990s, or when he tries to play a CD on a record player. At the same time, a running joke alongside the fact that women are always around him is that he has very few redeeming features whatsoever.
Apart from his large teeth, unkempt hair and glasses, when he takes off his clothes he is revealed to have a very hairy body (perhaps an exaggerated version of Sean Connery's as seen in his shirtless scenes) and—although we never see it—it is implied that he has a small penis. This in turn could be interpreted as exaggerating what many see as the stupidity of the James Bond girls' being in many cases besotted with a secret agent even though he will invariably vanish after the ceremonious "warming up of bodies" that is detected when most of the Bond-films come to an end. Austin similarly reflected Bond's lack of reflection with regard to the loss of a girl (although when Bond's wife was killed, he became very upset and tracked down and killed the culprit) when Vanessa exploded; once again, exaggerated to the point that Austin, after mourning for only a brief moment, joyously exclaims "Hold on a tic. That means I'm single again!" and proceeds to run around the hotel naked.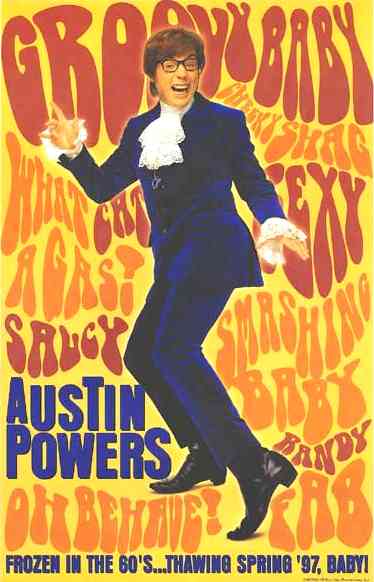 International Man of Mystery
Austin Powers (Mike Myers) and Dr. Evil (Mike Myers) both awake in the 90s. Evil is here to terrorize the world while he makes demands of $1 million dollars as his ransom, and Powers is here simply to catch Dr. Evil and maybe do a little "shagging". When they wake up they both are soon to find out that the 90s are not much like the 60s; things have changed. Austin is shocked to find out that "swing" like they did in the 60s, and Evil is shocked to learn that no one filled him in on the fact that $1 million dollars just wasn't a whole lot of money anymore.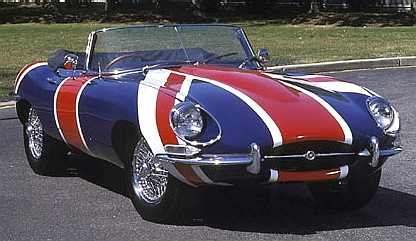 Austin's Jaguar convertible - Shaguar
Mike Myers is truly amazing in this sort of role. He seems to be enjoying himself as he does his duel role of Austin and Dr. Evil and it shows. Every time Austin is on screen it's fun to just try and figure out what his next tactic will be. Whether it's his attempts to "shag" women, capture Dr. Evil, or elude the dastardly FemBots, Powers just finds a way to be funny. Elizabeth Hurley is Powers' more than associate Vanessa Kensington. Hurley is perfect as the shy, uninviting Vanessa who first can't figure out how her mother ever liked Austin, but eventually softens.
This was a fresh and innovative movie that is a lot of fun. I enjoyed Austin Powers as pure escapism once the vibrant colours and sound, and wacky antics were accepted. There are a lot of tongue in cheek references to anything and everything and it just kept coming at you with its humor. I think most people will enjoy these movies. Mike Myers even sings on the soundtrack to this movie. Do you really want to hear Mike Myers sing? In fact the songs kind of grow on you, not for any musical or vocal skills, but because the lyrics are so funny - corny, but good corn.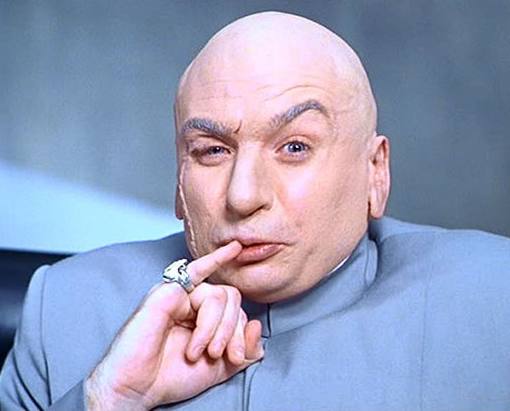 Dr Evil - Austin Powers arch rival
CARTOONS OF NOTE
A - Z FILMS INDEX
Austin Powers' babes: Liz Hurley, Heather Graham and Beyonce - all were fabulous, with Heather Graham being almost too watchable, that pixie quality, ummm - can't quite put our finger on it. Unreal, doll like - so fascinating. Liz Hurley is far sexier mature. Beyonce. Well, she's cool.
A - Z ACTORS INDEX
A heartwarming action adventure: Pirate whalers V Conservationists,
introducing John Storm and his solar powered robot ship
as they fight to save a wounded whale from the sushi bars.
For release as an e-book from 2013/4 with hopes for a film in 2015 TBA