The Austin Powers series is a series of three action-comedy films – Austin Powers: International Man of Mystery (1997), Austin Powers: The Spy Who Shagged Me (1999) and Austin Powers in Goldmember (2002) – directed by Jay Roach, produced, written by and starring Mike Myers as both the title character and the main antagonist Dr. Evil, and distributed by New Line Cinema. The franchise parodies numerous James Bond, Derek Flint, Jason King, and Matt Helm films, characters, and video games, incorporates myriad other elements of popular culture as it follows the British spy's quest to bring his nemesis to justice.

The films poke fun at the outrageous plots, rampant sexual innuendo, and one-dimensional stock characters characteristically associated with 1960s spy films, as well as the cliché of the ultra-suave male superspy. Contrary to the handsome, super-smooth leading men of the James Bond genre, Austin Powers is not conventionally attractive (he is especially known for his bad teeth), although female characters in the films seem to find him irresistible.

The general theme of the films is that the arch-villain Dr. Evil plots to extort large sums of money from governments or international bodies but is constantly thwarted by Powers, and (to a degree) his own inexperience with life and culture in the 1990s. In the first film, Austin and Dr. Evil are awakened after being cryogenically frozen for 30 years. Continuing to incorporate cultural elements of the 1960s and 1970s, the second and third films feature time travel as a plot device and deliberately overlook inconsistencies.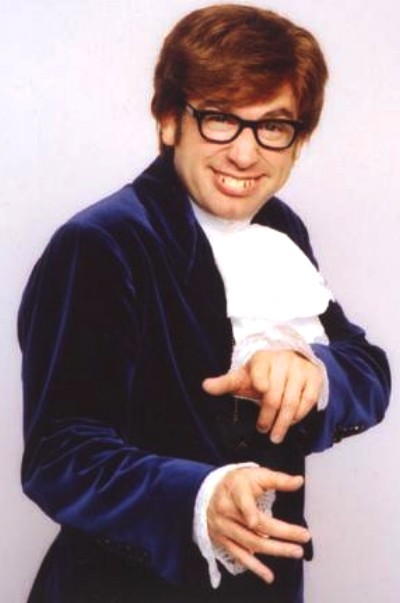 DEVELOPMENT

Myers himself has stated in interviews that the idea for Austin Powers came to him one night while driving home from ice hockey practice. Hearing the song "The Look of Love" by Burt Bacharach on his car radio, he wondered "Where have all the swingers gone?", and conceived the character who would become Austin Powers. The first phrase he thought the character might say was "Do I make you horny?" which later did indeed become a catch phrase for the character. He has also disclosed that the character also draws on his recollections of former Radio Caroline DJ Simon Dee who hosted the first real TV chat show in the UK in 1967 which ended with his driving off in a sports car with a young blonde in the passenger seat.

Though he is a Canadian by birth, Myers' parents are natives of Liverpool, England, and Myers holds dual nationality. Although the films parody the plots and characters of 1960s spy movies, the humour is influenced by Myers' British heritage, particularly the Carry On films and the comedic works of Benny Hill and Peter Sellers, of the latter of whom Myers is a self-confessed fan (his favourite films being the Bond spoof Casino Royale and The Party). Influences from Sellers' films are apparent throughout the series; the character of Austin Powers reflects the inspiration of Seller's portrayal of the character Roger Danvers in the 1972 film There's a Girl in My Soup. Powers' dandyish appearance can also be shown to have been inspired by that of the fictional Jason King - the adventurous character from the ITV Spy-fi series Department S who was featured in the eponymous spin-off series. Other obviously-apparent influences are The Beatles films, The Monkees television series and the "cocktail party" skits from Rowan and Martin's Laugh-In.


CARS

The series featured two cars–number plates "SWINGER" and "SWINGER2" and collectively dubbed the "Shaguars"–that were portrayed by a 1961 Jaguar E Type and a 2001 XK8 convertible respectively. The Ministry of Defence creates two cars to transport Powers through time: a psychedelic-rainbow painted 1999 Volkswagen "New Beetle" convertible in the second film, and a purple 1975 Cadillac Eldorado Fleetwood "pimpmobile" (number plate "SWNGR 3") in the third. Additionally, Felicity Shagwell drives a 1965 Chevrolet Corvette Stingray with an American flag paint scheme in the second film and Nigel Powers has a 2001 Mini Cooper – able to travel underwater, and which bears the number plate "GR8SHAG" - in the third.
INTERNATIONAL MAN OF MYSTERY
International Man of Mystery is the 1997 American action comedy film and the first installment of the Austin Powers series. It was directed by Jay Roach and written by Mike Myers, who also starred as both Austin Powers and the antagonist Dr. Evil., Powers' arch-enemy. The film co-stars Elizabeth Hurley as Vanessa Kensington, Robert Wagner as Number 2, Seth Green as Scott Evil, and Michael York as Basil Exposition. Will Ferrell, Mimi Rogers, Carrie Fisher, Tom Arnold, Rob Lowe, Christian Slater, Cheri Oteri, Neil Mullarkey and Burt Bacharach made cameo appearances alongside an uncredited cameo by MADtv star Michael McDonald, among many others.

The film is a parody of the James Bond films (particularly the earlier features in the franchise) as well as other parody films that also spoof James Bond and other 1960s spy films (as Myers describes it).

The film, which cost US$16.5 million, opened on May 2, 1997, to positive reviews. It made a modest impact at the box office, grossing US$53 million from its North American release and about US$68 million worldwide. The film later became a hit and cult classic in the home video market and cable television, spawning two sequels, Austin Powers: The Spy Who Shagged Me and Austin Powers in Goldmember, with a fourth film in the works.
LINKS
http://en.wikipedia.org/wiki/Austin_Powers:_International_Man_of_Mystery
Wiikipedia_International_Man_of_Mystery
Imdb International Man of Mystery
http://www.imdb.com/title/tt0118655/
http://www.rottentomatoes.com/m/austin_powers_international_man_of_mystery/
Rotten Tomatoes Austin Powers International_man_of_mystery
http://www.urbandictionary.com/define.php?term=international%20man%20of%20mystery
Urban Dictionary International Man of Mystery
Blueplanet Productions 2014 - 2016

The Adventures of John Storm: KULO LUNA™ - The $Billion Dollar Whale © BH Ltd MMXIII

A. Pre-production unit costs

B. Above the line costs -prod execs

C. Crew - Main unit

D. Crew - 2nd & 3rd units

E. Cast + options

F. Computer graphics (CGI)

G. Art department

H. Equipment

I. Location / transport / catering

J. Stock, lab, video transfers

K. Post production

L. Travel / hotel accommodation

M. Publicity / screenings

N. Legal, accounting. insurance (Int, film guarantors)

O. Contingency @ 10%

P. Producers fee (%)

Q. Distribution - Direct (costs)

R. Profit projected on sales

S. Finance / Interest

T. Total target film cost (production & distribution)

U. Studio property / equipment (invest)

| | | |
| --- | --- | --- |
| Title: | The Billion Dollar Whale | . |
| Format: | 35mm Anamorphic* | to HD DVD Blu-Ray |
| Ratio: | 20 to 1* | . |
| Runtime: | 110 minutes | . |
| Pre-production: | 39 weeks | . |
| Shooting: | 11 weeks | . |
| Post-production | 15 weeks | . |

Blueplanet Universal Productions KULO LUNA™ © BH Ltd MMXIII
Kulo Luna $billion dollar whale
When a pirate whaler kills a small humpback whale, her giant friend sinks the pirate ship to avenge the death, but is itself wounded. The pirates put a price on the whale's head, but an adventurer in an advanced solar powered boat races to beat the pirates and save the wounded animal.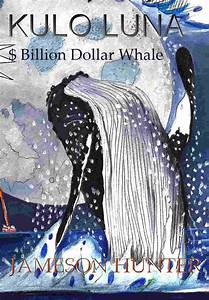 A heartwarming action adventure: Pirate whalers V Conservationists, with an environmental message and a $Billion dollars riding on the winner. For release as an e-book in 2013 with hopes for a film in 2015 with a provisional budget of £80m including risk share, TBA
A - Z FILMS INDEX