In principle, a fuel cell operates like a battery. Unlike a battery, a fuel cell does not run down or require recharging. Typically, it requires a feed of hydrogen and oxygen. It will produce energy in the form of electricity and heat as long as fuel is supplied.
A fuel cell consists of two electrodes sandwiched around an electrolyte. Oxygen passes over one electrode and hydrogen over the other, generating electricity, water and heat.
Hydrogen fuel is fed into the "anode" of the fuel cell. Oxygen (or air) enters the fuel cell through the cathode. Encouraged by a catalyst, the hydrogen atom splits into a proton and an electron, which take different paths to the cathode. The proton passes through the electrolyte. The electrons create a separate current that can be utilized before they return to the cathode, to be reunited with the hydrogen and oxygen in a molecule of water.
A fuel cell system which includes a "fuel reformer" can utilize the hydrogen from any hydrocarbon fuel - from natural gas to methanol, and even gasoline. Since the fuel cell relies on chemistry and not combustion, emissions from this type of a system would still be much smaller than emissions from the cleanest fuel combustion processes.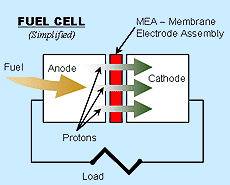 Fuel cells have the power to change our future. A breakthrough "clean machine," the fuel cell harnesses the chemical energy of hydrogen and oxygen to generate electricity without combustion or pollution. Fuel cells will power the boat or car of tomorrow - quieter, cleaner and more energy efficieint, with good range and performance. This could benefit: national energy security, cleaner air, and economic growth.
There is intense competition around the world in fuel cells. Companies in Germany and Japan are testing fully engineered vehicles. The country that develops practical fuel cell technology may hold the key to the next generation of power production.
To keep abreast of the latest advancements in the transportation industry, see Fuel Cell Technology Updates.
Fuel cells are modular, scalable and fuel flexible, characteristics that make them excellent candidates for a wide range of specialty applications in vehicles and for portable power. Fuel cells are being examined for use in deep mines and on board unmanned aircraft capable of flying for months at a time. In between are various specialty vehicles, such as bicycles and scooters, some of which come with an on-board electrical outlet. The following is not meant to be a complete listing of every fuel cell specialty vehicle; these are the major developers and demonstrations underway. For some pictures of specialty vehicles, check out our Fuel Cells in Transportation: What in the World is Going On? brochure.
FuelCell Propulsion Institute
FuelCell Propulsion Institute and the U.S. Department of Energy are working together, along with contributions from Natural Resources Canada (NRCan) and more than 20 international partners, has developed a fuel cell powered mining locomotive. The 25-month project converted a 13.3 kW battery-powered mining locomotive to a 14.4 kW fuel cell design. Research at the Institute has shown that using fuel cells coupled with metal-hydride onboard energy storage will provide improved health and safety, enhanced performance, and reduced mine operating costs, since the diesel engine is not well suited for underground operation and becomes extremely costly.
U.S. Office of Naval Research
The U.S. Office of Naval Research (ONR) has funded research at the Naval Undersea Warfare Center to test a new, high-energy electric power source to propel unmanned undersea vehicles. Researchers have conducted a continuous 37-hour demonstration of a semi-fuel cell, which combines features of a fuel cell and a standard battery, carrying a permanent internal power generator that runs on external liquid hydrogen peroxide tanks.
Energy Partners
Energy Partners joined with John Deere Corporation to develop fuel cell utility vehicles based on Deere's "Gator" vehicle. With a 10kW PEM fuel cell engine, the Gator can run for 5.3 hours, and can be refueled with hydrogen in five minutes.
Energy Partners build a fuel cell "Genesis" people mover, similar to a golf cart. The 7.5kW PEM fuel cell engine uses stored hydrogen for a range of 45 miles between fuelings.
FuelCell Propulsion Institute
FuelCell Propulsion Institute and the U.S. Department of Energy are working together, along with contributions from Natural Resources Canada (NRCan) and more than 20 international partners, has developed a fuel cell powered mining locomotive. The 25-month project converted a 13.3 kW battery-powered mining locomotive to a 14.4 kW fuel cell design. Research at the Institute has shown that using fuel cells coupled with metal-hydride onboard energy storage will provide improved health and safety, enhanced performance, and reduced mine operating costs, since the diesel engine is not well suited for underground operation and becomes extremely costly.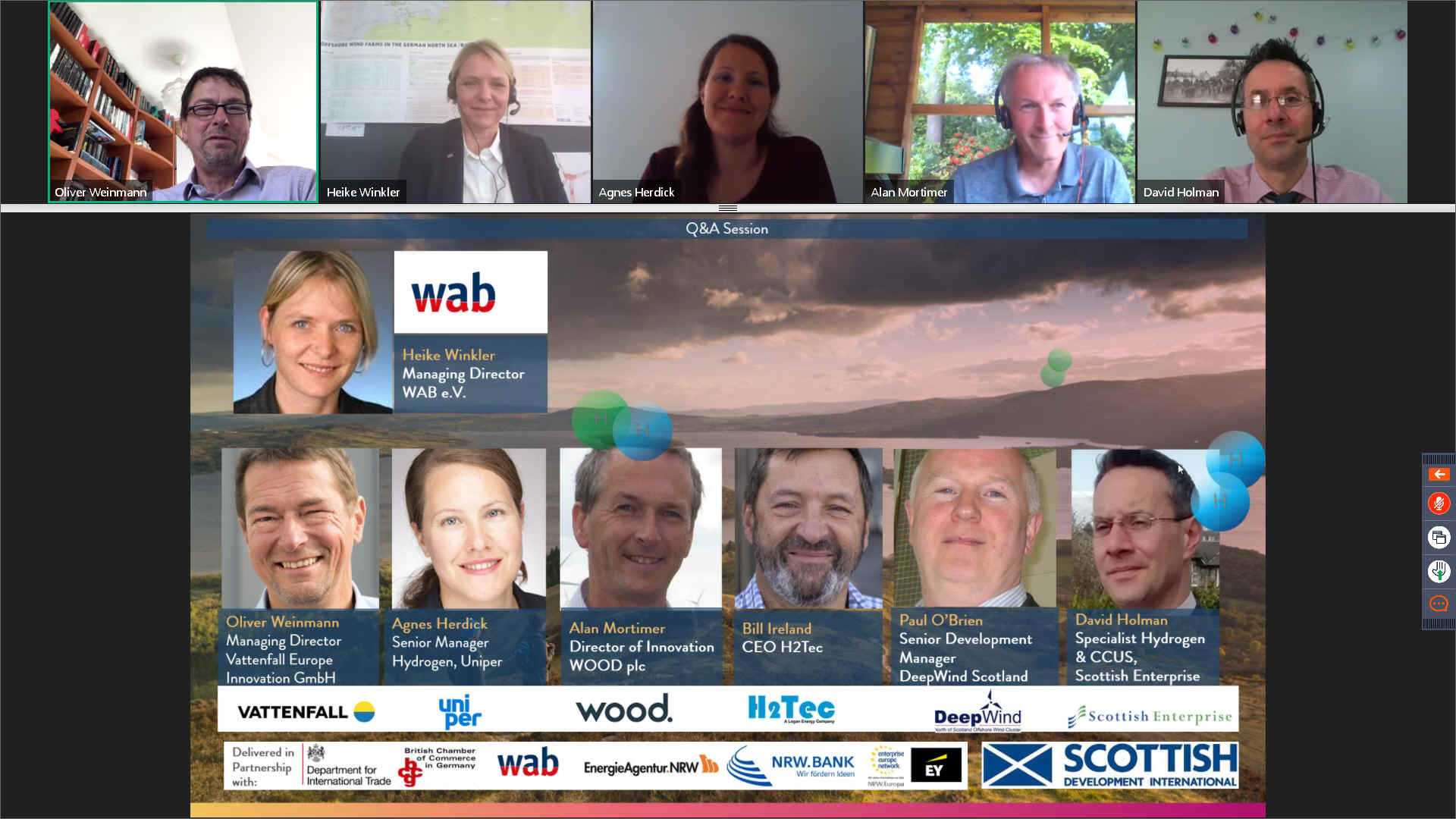 SCOTTISH ENTERPRISE - On the 20th of May 2020, Scottish Enterprise hosted a webinar: "Green Hydrogen at Industrial Scale for a Zero Carbon Future." What was clear from the 120 minutes of presentations, questions and answers, to do with the abundance of green hydrogen from wind power, was the relatively high cost of such production as compared to blue hydrogen and fossil fuels - and the problem of bringing this down to be competitive. It might be that the proposed Hydrogen Batteries in combination with smart service stations, could provide a means to introduce alongside batteries, helping to bring down the cost of electric motoring.
TRANSPORTATION APPLICATIONS
Ballard to Provide Fuel Cell Engines to Australia, Delivers Fuel Cell Buses to London. Ballard Power Systems will provide three of its latest generation heavy-duty fuel cell engines to EvoBus for integration into Mercedes-Benz Citaro buses for the public transport system in Perth, Western Australia. Ballard will deliver the 205 kW heavy-duty fuel cell engines in the first half of 2004 and the buses will be placed in routine transit operation in the second half of 2004 as part of a two-year demonstration program. Ballard also delivered three Mercedes-Benz Citaro buses, powered with Ballard® fuel cell engines, to the public transport authorities in London. The City of London will operate the Ballard powered fuel cell buses on a central London bus route, beginning in January 2004, as part of the Clean Urban Tranport for Europe (CUTE) project. http://www.ballard.com/
U.S. Air Force Fuel Cell Bus a Success. Enova Systems has successfully integrated a fuel cell system into the U.S. Air Force's first hybrid fuel cell bus at Enova's facilities in Honolulu, Hawaii. The partners on the bus project include Enova, the U.S. Air Force, the State of Hawaii's High Technology Development Corporation (HTDC) and Hydrogenics.
http://www.enovasystems.com/investor/pressContent/12112003.asp

GVB Begins Hydrogen Bus Operation. GVB, the transit authority of Amsterdam, The Netherlands, began operating four hydrogen-fueled buses on two routes in the northern part of the city. The buses extract hydrogen from nine roof-mounted water tanks, each capable of supplying enough fuel to power the bus for 250 kilometers (155 miles). The two-year project will cost 7 million euros (US$8.6 million), with funding supplied by the European Union, the Dutch Transport Ministry and the Amsterdam Council. Also involved in the project are DaimlerChrysler, Hoek Loos, Nuon, Shell and the Netherlands Agency for Energy and the Environment.

Proton Energy Wins Two SBIR Awards. Proton Energy Systems, Inc. was awarded a Small Business Innovative Research (SBIR) Phase II contract from NASA for development of lightweight unitized regenerative fuel cell technology for unmanned aerial vehicles. Proton also received a SBIR Phase I contract from the U.S. Army Missile Defense Agency (MDA) for development of lightweight regenerative fuel cell technology for high altitude airships.
http://www.protonenergy.com/

STATIONARY POWER
Yale Fuel Cell Dedicated. FuelCell Energy, Inc., the Connecticut Clean Energy Fund and Yale University dedicated a high-efficiency Direct FuelCell® power plant at the Environmental Science Center (ESC) near Yale University's Peabody Museum. The 250 kilowatt fuel cell will provide approximately 25 percent of the building's electricity needs, with the heat being used primarily to maintain tight temperature and humidity controls at the ESC. http://www.fce.com/#

PORTABLE/BACKUP POWER
Astris Launches New Fuel Cell Generator. Astris Energi Inc. has unveiled the 2.4 kW model E8 alkaline fuel cell generator. The E8 is a completely self-contained portable unit, powered by Astris' new POWERSTACK MC250 fuel cell, which performs 30%-60% better than previous units. Astris Energi plans to place the POWERSTACK MC250 into pilot production in its Vlasim, Czech Republic facility in the first half of 2004.
http://www.astris.ca/news/index.php
Plug Power Begins Product Shipments. Plug Power has shipped fifteen GenCore™ 5T 5kW hydrogen fueled back-up power system to customers in the United States, the United Kingdom and Japan to support a variety of applications in the telecommunication, industrial, research, and government sectors.
http://www.plugpower.com/
Hitachi and Tokai Develop DMFC Prototype. Hitachi, Ltd. and Tokai Corporation have developed a prototype direct methanol fuel cell for use in handheld electronic devices. The DMFC has a methanol concentration of approximately 20 percent, which is expected to be increased by 10 percent once the units are commercially available. Hitachi plans to introduce the DMFC by 2005 for use in a compatible personal digital assistant.
ERD and Manhattan Scientifics Sign Licensing Agreement. Energy Related Devices (ERD) has entered into an agreement with Manhattan Scientifics for a worldwide non-exclusive license of Manhattan's MicroFuel Cell technology. Under the agreement, ERD is allowed to sublicense to any number of companies to produce and sell MicroFuel Cells.
http://www.energyrelatedevices.com/

FUELS/REFORMERS/STORAGE
New York to Build Hydrogen HI WAY. $2 million in federal support has been awarded to establish the Hydrogen "HI WAY" Initiative in New York State. Funding for the project, which will create a hydrogen energy infrastructure validation platform across the state, is included in the Conference Report for Fiscal Year 2004 Energy and Water Appropriations. Reps. John M. McHugh (R-NY), James T. Walsh (R-NY), and John E. Sweeney (R-NY) spearheaded the effort, which will bring together a team of industry, academic, state and federal partners to create the infrastructure and end-use technology to support production of hydrogen energy. http://mchugh.house.gov/pr2003/111803_hiway.html

Proton Unveils New Hydrogen Generator. Proton Energy Systems, Inc. unveiled its HOGEN H Series hydrogen generators at the POWER-GEN International convention in December. The H Series hydrogen produces ultra-pure hydrogen 24/7 at an output capacity of 80-240 standard cubic feet per hour at a fraction of the cost of cylinder or tube trailer gas. http://www.protonenergy.com/
Dynetek to Deliver Storage Systems to Ford. Dynetek Industries Ltd. will deliver on-board complete hydrogen fuel storage systems for Ford Motor Company's 2004 Ford Focus FCV zero emission automobiles. Dynetek will provide complete fuel storage and components solution using its certified 350 bar (5000 psi) hydrogen fuel storage system.
http://www.dynetek.com/
QuestAir and Iwatani Sign Marketing Agreement. QuestAir Technologies Inc. has signed an agreement with Iwatani International Corporation to market QuestAir's hydrogen purification systems in Japan and other parts of Asia. Under the terms of the three-year, non-exclusive agreement, Iwatani received the right to market QuestAir's HyQuestor® and QuestAir H- 3200 pressure swing adsorption (PSA) products in Japan, China and nine other Asian countries.
http://www.newswire.ca/en/releases/archive/December2003/22/c5062.html
Innovatek Wins Army Contract. Innovatek, Inc. has received a $780,000 contract with the U.S. Army to develop a new fuel processor that will generate hydrogen for use in portable fuel cells. The technology is built on InnovaTek's proprietary compact microchannel architecture that produces hydrogen from readily available fuels such as gasoline and diesel. http://www.tekkie.com/news/press_release_12162003.htm

FUEL CELL COMPONENTS
UQM Delivers Motor to Eaton, Receives Order from Caterpillar. UQM Technologies has developed and delivered a UQM® compressor drive motor to Eaton Corporation for use as part of the air handling system in a fuel cell. The highly efficient UQM® motor operates at 24,000 revolutions per minute and is lightweight and compact. UQM also received an order from Caterpillar Inc. for its permanent magnet motors that will be installed on a fuel cell powered Caterpillar-Elphinstone R1300 mine loader. The mine loader is under development by a consortium of companies led by Vehicle Projects LLC. and includes Caterpillar Inc., Natural Resources Canada, and the U.S. Department of Energy. The zero emission fuel cell powered mine loader is expected to be placed in demonstration at a mine in Nevada in early 2005 to evaluate the operability, and productivity of the system.
http://www.uqm.com/press/news/04-28.html
http://www.uqm.com/p-ress/news/0427.html

REPORTS/MARKET STUDIES
Solid Oxide Fuel Cells. Business Communications Company, Inc. (BCC) has released a new report, "RGB-282 Solid Oxide Fuel Cells," which reveals that the global market for solid oxide fuel cells (SOFCs) is currently estimated at $123 million, of which the North American market is estimated to be approximately $67 million. http://www.bccresearch.com/
North American Stationary Fuel Cell Market. Frost & Sullivan has released a new report, "North American Stationary Fuel Cell Markets," which claims that revenues in the stationary fuel cell market totaled $21.4 million in 2002 and are projected to reach $1.27 billion by 2009. http://www.frost.com/prod/servlet/frost-home.pag
MISCELLANEOUS
Palcan Joins With Shanghai Mingliang Plastic. Palcan Fuel Cells Ltd. has signed a joint venture agreement with Shanghai Mingliang Plastic Co. Ltd. to establish a commercial manufacturing facility in Shanghai to produce PEM fuel cell stacks for the global fuel cell marketplace. Palcan will have full managerial control of the facility, which is expected to be operational within six months. When fully operational, the manufacturing facility will manufacture 20,000 PEM fuel cell stacks units per year. The units will be sold at substantially less than the current world market prices. http://www.palcan.com/
FuelCon Selects Illies as Asia Sales Partner. FuelCon has selected Illies & Co. as its sales partner for the Asia region. Illies & Co. will market FuelCon's fuel cell test systems in Japan, China, Taiwan and Korea. http://www.fuelcon.com/en/news/index.html#

SMART-CHARGER - This graceful electric car concept (inspired by Reid Railton is potentially the world's fastest vehicle to be powered by hydrogen energy cartridges. This streamliner is theoretically capable of 400mph using the latest production electric motors, but is designed to beat 208mph at Pendine Sands in the United Kingdom, to beat the Ford Fusion 999 record, and then 350mph at the Bonneville Salt Flats in the USA, to beat the Buckeye Bullet 2 record of 303mpm. Featuring built in energy cartridge swapping system, charged using renewable solar energy. A unique PR opportunity in celebration of the EU banning petrol and diesel cars in Europe and the UK from 2030.
FUEL CELL MANUFACTURERS & RESEARCH A - Z