Coca-Cola Zero or Coke Zero is a product of the Coca-Cola Company. It is a sugar-free variation of Coca-Cola. In the United States, where the drink was first introduced, Coke Zero is marketed as having zero calories (hence the Zero in the product's name), but in other countries it is marketed as having zero sugar. Coca-Cola Zero in fact has a small caloric value. Depending on the country in which it is made, it has about 0.2 to 0.5 calories per 100 mL (3.4 US fl. oz.).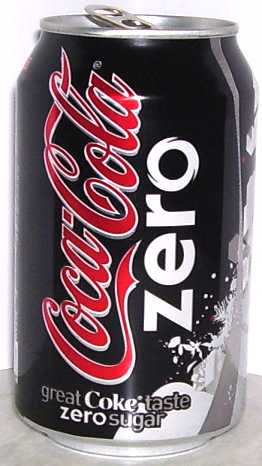 Coca-Cola Zero
Ingredients
Coke Zero's stated ingredients vary in different markets:
Ingredient Name

Australia;
New Zealand

United States;
Canada

Germany

Spain

United Kingdom;
Ireland

Norway;
Finland;
Denmark;
Sweden

Belgium;
Netherlands

Argentina;
Bolivia;
Chile;
Brazil

France

Mexico

Hong Kong

Carbonated water

Yes

Yes

Yes

Yes

Yes

Yes

Yes

Yes

Yes

Yes

Yes

Color

E150d*

Caramel

E150d*

E150d*

E150d*

E150d*

E150d*

E150d*

Caramel

E150d*

E150d*

Acesulfame potassium

Yes

Yes

Yes

As E-950

Yes

Yes

Yes

Yes

Yes

Yes

As E-950

Aspartame

Yes

Yes**

Yes

As E-951

Yes**

Yes**

Yes**

Yes**

Yes**

Yes**

As E-951

Caffeine

Yes

Yes

Yes

Yes

Yes

Yes

Yes

Yes

Yes

Yes

Yes

Phosphoric acid

Yes

Yes

Yes

As E-338

Yes

As E-338

As E-338

As E-338

Yes

Yes

As E-338

Potassium benzoate

Yes

Potassium citrate

Yes

Sodium benzoate

Yes

As E-211

As E-211

Yes

Yes

As E-211

Sodium citrate

Yes

Yes

As E-331

As E-331

As E-331

As E-331

As E-331

Yes

Yes

As E-331

Sodium cyclamate

Yes

As E-952

Yes

Yes

No

Flavor

Yes

Natural flavors

Yes

Yes

Yes

Yes

Yes

Yes

Yes

Yes

Calories per 100 ml (3.4 US fl. oz.)

0.3 kcal

0.5 kcal

0.2 kcal

0.2 kcal

0.5 kcal

0.3 kcal

0.3 kcal

0 kcal

0.3 kcal

0.3 kcal

Listed as "0kcal"
* E150d is an acid-proof caramel coloring used in soft drinks
** The Argentinian, Australian, Belgian, Brazilian, Canadian, Danish, Dutch, Finnish, French, German, Hong Kong, Mexican, Norwegian, Spanish, Swedish, UK and US Coca-Cola Zero Ingredient labels mark that the soda water contains a Phenylalanine source. This is from Aspartame.
It is a caffeinated beverage with 34.5 mg of caffeine per 12 US Fluid Ounces (9.7mg/100 ml), roughly the same as original Coca-Cola (which has 34 mg of caffeine).
Distribution
Coke Zero is currently sold in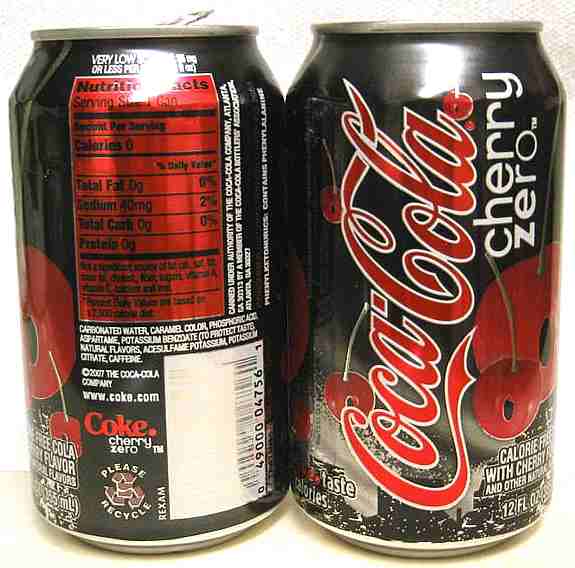 US Coca-Cola Cherry Zero cans with a cherry zero logo
Marketing
Coke Zero is Coca-Cola's biggest product launch in 22 years, and primarily targets young adult males. In the U.S., advertising has reflected that by describing the drink as "calorie-free" rather than "diet", since that demographic associates diet drinks with women.
It also makes the marketing claim that the taste is almost indistinguishable from Coca-Cola since, unlike Diet Coke, Coke Zero is based on the formulation of Coca-Cola. A 2007 U.S. viral marketing campaign for Coke Zero played to that theme by suggesting that the company's executives were so angry over the drinks' similarities they were considering suing their coworkers for "taste infringement". It featured company executives talking to actual lawyers who were not let in on the conceit, and solicited customers as possible plaintiffs.
In Australia, the company created a controversial fake front group to promote the product, a campaign of outdoor graffiti and online spamming (which promoted a fake blog), was created by Coca-Cola and designed to appeal to its target audience. Once exposed, consumer advocates assailed the campaign as misleading and established the Zero Coke Movement to comment on the ethics of Coke's activities.
In the UK, Girls Aloud singer Cheryl Cole was signed up to launch the product in a campaign aimed at young men. A television advert was aired, featuring a group of men marching through a city saying "Why can't all the good things in life come without downsides?", ending with a huge banner being rolled down a building, reminiscent of a scene from the German movie Good Bye Lenin!. (The same TV ad has been used in some other markets, like Croatia.) Recently, Manchester United and England football player Wayne Rooney and his girlfriend Coleen McLoughlin have been advertising Coke Zero in a print campaign.
In Austria, the launch of Coke Zero is currently underway. Massive viral marketing is taking place, corporate representatives are spamming online forums, e.g. of major newspapers's websites, with links to the fake-blog Zeronistas.at. On this blog, the "Zeronistas" are portrayed as a group of 4–5 male persons who are "striving to continuosly improve the life of young men". The website/blog is also being advertised via outdoor posters similar to concert announcement posters.
In Norway, the launch started on Monday October 2, 2006 and like in Australia the online forums are being spammed by the companies representatives. The launch is the largest and most expensive launch of any food product ever seen in Norway.
In Finland, Coca-Cola called off the Zero marketing campaign on Internet due to its sexist implications. The campaign was deemed to objectify women as sex objects and hence endorse discriminating attitudes to women.
In January 2007, the campaign started in Argentina, with the taglines "Coca-Cola Zero, el sabor que nadie esperaba" (Coca-Cola Zero, the flavour nobody was hoping for) and "El mismo sabor de siempre, zero azúcar" (The same taste as always, zero sugar).
On January 15, 2007, television commercials for Zero appeared in Denmark and the product can be found in local stores. Coke Zero launched in Ireland on February 8, 2007, with Girls Aloud singer Sarah Harding as the face of the brand, much like her bandmate Cheryl Cole was in the UK.
With its current targeting of young males Coke Zero seems destined to compete head on with Pepsi Max. In the UK some Coke Zero advertising alluded to Pepsi Max, leading to a robust counter-campaign by Pepsi directly extolling the virtues of the concept of "maximum" over that of "zero."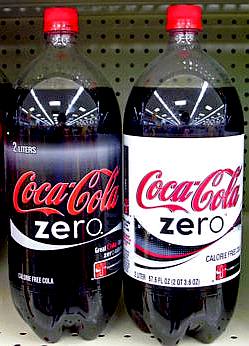 U.S. Coke Zero bottle with black background,
next to older white one March 2007
Coke Zero's US ads make use of a superimposed computer image on the Coke Zero can. In earlier versions of these commercials, the can's design was different and its colors were inverted.
Product logo
The Coca-Cola Zero logo has generally featured the script Coca-Cola logo in red with white trim on a black background, with the word "zero" underneath in a lower case geometric typeface looking a lot like Twentieth Century. Some details have varied from country to country. The British logo, for example, has the "o" taking a spiral form. In the U.S., the letters decline in weight over the course of the word.
The U.S. and Canada also appear to be the only countries in which the logo originally had a white background, with a black "zero". This was the face of the drink from its inception until late 2006, when a holiday theme triggered the switch. The black color was kept on 2-liter bottles into 2007, and was introduced on cans as the new year began. This further diminished the confusion there was between Diet Coke and Coke Zero having a similar white logo with black letters. Twenty-ounce (591 ml) bottles remained white for some time afterwards, but black labels began to be phased in in late February shortly after the launch of Cherry Coke Zero.
The advertising agency VCCP handle the Coca-cola account and all its ATL activity within the UK.
Dispute over the Zero name
In Norway the Brewery Ringnes claims that Bryggeriforeningen owns the right to Zero name. The Zero name was used on a non alcoholic beverage from 1972 to 1996.
Criticism
Several customers in Norway have complained that Coca Cola Zero in 1.5 litre bottles contains particles. A representative of the Norwegian division of Coca Cola Company says that one of the ingredients did not mix well enough.

There are also concerns about health effects of aspartame.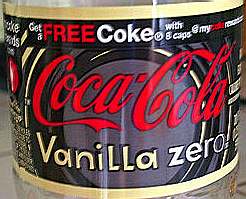 US Vanilla Coke Zero label
Flavored variants
Coca-Cola Cherry Zero is a cherry-flavored variation of Coca-Cola Zero. In late January of 2007, it was introduced to store shelves and was widely available throughout the United States even before its official début. The official début of Coca-Cola Cherry Zero occurred on February 7, 2007, at New York City's Fashion Week.
Coca-Cola introduced a vanilla-flavored version, Coca-Cola Vanilla Zero, concurrently with the relaunch of the original Coca-Cola Vanilla in May 2007.
References
---
A taste for adventure capitalists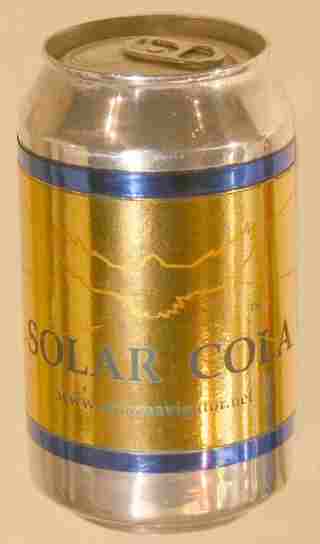 Solar Cola - a healthier alternative
We are seeking venture (seed) capital to develop our supply chain and begin a world marketing campaign. We are offering shares in our company by way of equity funding. Although, this product has potential for good growth, the value of shares in any company, private or public, can go down as well as up.
Prospective investors in our company should consult their own independent investment advisers, and please note this information is provided for general guidance only. It is not a prospectus, but is provided in response to the number of requests we have received asking for more information.
For all Investor and Trade enquiries contact: Nelson Kruschandl
Solar Cola UK or Solar Cola Exports
United Kingdom
+ 44 (0) 1323 831727
+44 (0) 7905 147709
---