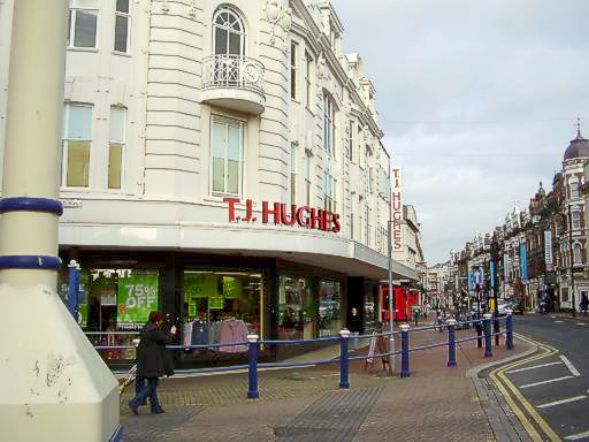 A number of supermarket and department stores chains produce their own brands.
T J Hughes is a British discount department store brand which first emerged in Liverpool in 1925 and had become a national chain with 57 shops by 2011. The business now consists of 12 shops around the country, following liquidation and rescue in 2011.
ADMINISTRATION

It is understood TJ Hughes needed a major cash injection to see it through to the autumn. Endless, the parent company of TJ Hughes, could not provide the cash despite being a turn-around investor, having made a loss of £10 million in the year ending January 2011. TJ Hughes entering administration had meant it has put 4000 jobs at risk. Administrators Ernst & Young claimed they were aiming to try and prevent as many redundancies as possible.

There were also reports of a number of prospective buyers, including Primark. Ernst & Young said it hoped to sell the company as a going concern, saying it was "very much business as usual" but added that it could be difficult to sell all of the stores owing to the previous trading history of TJ Hughes. The news came three days after Jane Norman, the women's-wear chain, went into administration with a number of other retailers going into administration.

Thursday 7 July 2011: GA Europe acquired Endless' secured debt due from TJ Hughes and will work with administrators Ernst & Young to liquidate stock from the retail chain's 57 stores.

Friday 22 July 2011: TJ Hughes administrators Ernst & Young announced the company's Liverpool distribution centre was to close, making 116 employees redundant.

Monday 1 August 2011: the TJ Hughes flagship store in Liverpool was sold to Speke-based (Benross Group), who also bought 3 other stores in Eastbourne, Glasgow and Sheffield, saving 442 jobs. Lewis Home Retail also bought the brand name and website.

Thursday 4 August 2011: Ernst & Young announced the closure of 22 TJ Hughes stores throughout the United Kingdom, losing 1000 jobs. Store closures will begin on Wednesday 10 August, with Shrewsbury closing its doors, with more stores to follow over the coming days.

Tuesday 20 August 2011: Saw Ernst & Young announce the remaining TJ Hughes store will close their doors on Wednesday 31 August 2011, apart from the 6 stores bought by Lewis's Home Retail Ltd. (Part of the Benross Group). They also bought the Brand name and the remaining 6 stores will continue to trade as TJ Hughes.
CRITICISM

TJ Hughes were fined £2,056 in 2006 when a sales assistant sold knives to a 14-year-old who was sent into the shop to attempt to purchase the item. A subsequent investigation showed the company did not have the necessary procedures in place to prevent the sale at the time.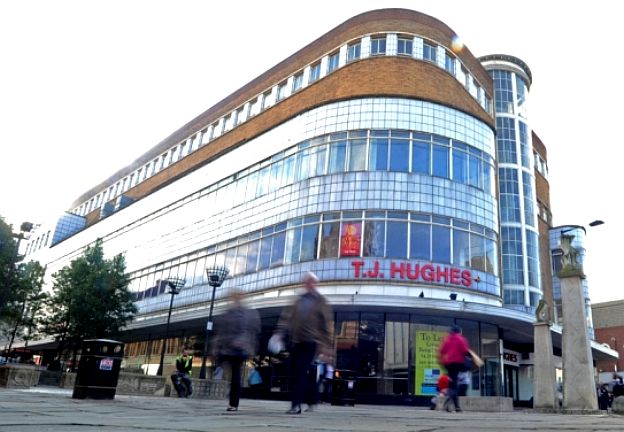 DONCASTER - SEPTEMBER 2014
Doncaster is set for a major jobs boost under plans to transform a vacant town centre landmark into a retail and leisure complex.

Proposals have been announced for the site of the former TJ Hughes department store to be turned into shops and restaurants.

The Art Deco building, officially called Danum House, has started to fall into disrepair after the closure of TJ Hughes when the firm went into administration and Doncaster Council moved out.

Civic and business leaders have hailed the announcement saying it will provide a major jobs boost and act as a catalyst for further investment in the town centre.

Simon Dishman, policy and information officer for Doncaster Chamber said: "The latest announcement that another vacant retail premises is to be filled in the town centre provides further evidence of the town's ongoing regeneration and development.

"This will aid the town by providing further job opportunities for local people as well as helping drive inward investment. Finally, this will also provide an added boost to other retailers in the area by enhancing the footfall throughout the town centre."

Mayor Ros Jones said: "It is great to see such a prominent town centre building being brought back into use. These plans and the new investment coming to the Frenchgate Centre and Waterdale area reflect the increasing confidence that investors and developers have in Doncaster."

Threadneedle Property Investments Ltd is the firm behind the proposals for the building which is bordered by Printing Office Street, St Sepulchre Gate and Duke Street.

Planning permission to change the use of the building and internal layout of the basement, ground floor and first floor has been granted.

Threadneedle, confirmed it was behind the plans but did not want to release full details.

The firm's website says it is one of the UK's leading fund managers and one of the 30 largest asset management firms globally. The company owns around 35 retail properties across the country, including Bethal Square in Brecon and Pavilion Shopping Centre in Tonbridge and has just ploughed £2.5 million into a retail park in Northern Ireland. The planning consent allows it be used for retail, eateries, crèches, day centres as well as leisure and entertainment.

The planning application states: "In the intervening two year period, our client has had real difficulty letting this upper floor space.

"The proposed change of use would help market and therefore let the unit."

"The proposal would bring a vacant listed building back into use, will not cause significant harm to neighbouring uses or highway safety and retains the character of the building.

"The proposal would add vitality to the shopping area."

The building currently and comprises the former TJ Hughes store at the basement, ground and first floor with vacant office floor space across the remaining upper floors.
T J HUGHES CONTACTS
180-182 George Lane
London, E18 1AY
Tel: 020 8518 8100

177/187 Terminus Road
Eastbourne, East Sussex
BN21 3NX
Tel: 0844 576 0991
TJ Hughes Customer Services
Hughes House
London Road
Liverpool, L3 8JA
Tel: 0844 576 0272

SUPERMARKET and RESTAURANT LINKS :
Aldi - Discount supermarket chain Australia, Austria, Belgium, Denmark, France, Ireland, Luxembourg, Netherlands and the USA. http://www.aldi.com
Aldi (UK) (discount supermarket chain) This UK site includes details of current weekly special offers (with an option to subscribe to a free email newsletter), store locations and new additions to the range of regular products.
Alldays (UK convenience store chain) http://www.alldays.co.uk
Asda (UK supermarket chain) This UK supermarket chain was originally established by Associated Dairies, hence the name, but recently taken over by Wal-Mart.
Auchan (hypermarket chain) This hypermarket chain is based in France but also has a few stores in other countries, including the USA.
Big W (UK hypermarket chain) Part of Woolworths, with similar store layout and range of good to the US KMart, Pamida, ShopKo, Wal-Mart, etc.
Boots or Boots (UK retail chain) Originally a chemists, Boots now also sell a wide range of goods. http://www.boots.co.uk
British Home Stores (BHS) (UK department store chain)
Budgens (UK supermarket chain)
Burger King (UK) - Includes a restaurant locator current special offers.
Carrefour (supermarket chain) This supermarket chain is based in France but also has a large number of stores in several other European countries and other parts of the world. http://www.alldays.co.uk
Co-Op Stores (UK) (UK retail chain) This site covers the UK Co-op's supermarkets and other shops. There are separate Co-op organisations in some other European countries.
CostCo (UK division of the US membership warehouse retail chain)
Debenhams or Debenhams (UK department store chain) http://www.debenhams.co.uk
Farmfoods (UK supermarket chain) This chain sells mainly but by no means exclusively frozen food.
Iceland (UK supermarket chain) http://www.iceland.co.uk
Harry Ramsden's Fish And Chips Includes details of menu items and locations.
John Lewis Partnership (UK department store chain) http://www.johnlewis.co.uk
Kaufhof (German department store chain)
Kentucky Fried Chicken (KFC) (UK) This site includes details of menu items.
Kwik Save (UK supermarket chain) A few years ago the Kwik Save chain was purchased by Somerfield.
Lidl (Germany) (European deep discount supermarket chain)
Lidl (UK) (European deep discount supermarket chain) Includes details of store locations, weekly specials, price reductions and a facility to subscribe to a weekly specials email newsletter.
Littlewoods (UK department store chain) http://www.littlewoods.com
Londis (UK supermarket chain) http://www.londis.co.uk
Makro (UK hypermarket chain) This chain is part of the German Metro group, a "cash and carry" for trade customers only. However, in practice it is very nearly a normal shop at normal proces.
Marks And Spencer (UK department store chain)
McDonald's (UK) - Fast food chain http://www.mcdonalds.co.uk
Migros (Swiss supermarket/hypermarket chain)
Morrisons or Morrisons(UK supermarket chain)
Netto (UK) (discount supermarket chain) Includes details of locations and current special offers, and links to Netto sites in other countries featuring 'Smart Shopping'. By taking a no frills approach and cutting out all those unnecessary extras, we can offer you premium quality at the lowest prices in Britain. By only paying for what you want and nothing else we can give today's busy customer a different and fresh alternative to grocery shopping. And most importantly of all, save you time and money, every day of every week.
Poundland (UK discount retail chain) All items in Poundland shops cost £1.
QD Stores (UK discount retail chain)
Range, The (UK retail chain) This chain has a small number of large stores with a layout similar to K-Mart and Wal-Mart, but UK prices.
Safeway (UK supermarket chain) Most of Safeway's 479 supermarkets in Britain have now been acquired by Morrison's, hence may be re-branded.
Sainsbury's (UK supermarket chain) http://www.sainsburys.com
Somerfield (UK supermarket chain) http://www.somerfield.co.uk
WH Smith (UK retail chain) - WH Smiths sells books, magazines, stationary items.
Spar (UK) (European convenience store chain) - This is Spar's UK site.
Spar (International) - This site covers Spar's operations in all countries.
Subway (UK) - The Subway submarine sandwich chain has 150 locations in UK & Ireland
Superdrug (UK retail chain) Superdrug is primarily a chemist. http://www.superdrug.com
Tesco (UK supermarket chain) http://www.tesco.com
T J Huges - Discount department store chain.
http://en.wikipedia.org/wiki/T_J_Hughes
http://www.tjhughes.co.uk/
Upim (Italian department store chain)
Waitrose (UK supermarket chain) Part of the John Lewis organisation.
Wimpy's (UK fast food restaurant chain) Includes details of menu items and a restaurant locator, but no prices. http://www.wimpyburgers.co.uk
A taste for adventure capitalists