Led Zeppelin were an English rock band formed in 1968 and composed of guitarist Jimmy Page, vocalist Robert Plant, drummer John Bonham, and bass guitarist and keyboardist John Paul Jones. They are one of the most successful groups in popular music history.
While the band are best known as pioneers of hard rock and heavy metal, they also drew inspiration from many other musical genres, including blues, rockabilly, reggae, soul, funk, jazz, classical, Celtic, Indian, Arabic, folk, pop, Latin and country.
Over 25 years after disbanding in response to Bonham's 1980 death, Led Zeppelin continue to be held in high regard for their artistic achievements, commercial success, and broad influence, as is evident from their continual high album sales of more than 300 million albums worldwide, including 109.5 million sales in the United States. Led Zeppelin are ranked No. 1 on VH1's list of the 100 greatest artists of hard rock.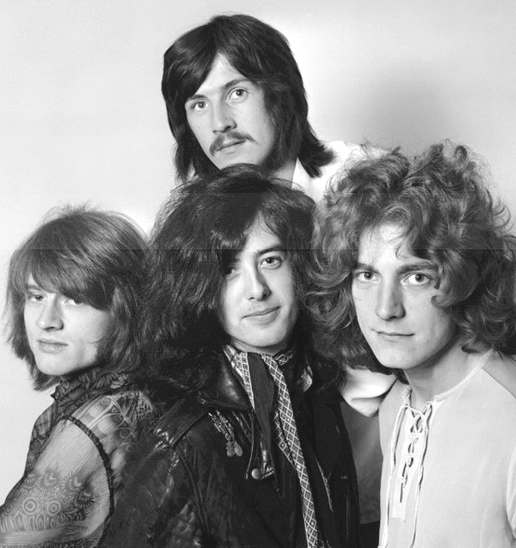 Led Zeppelin
History
The early days (1968-1970)
The "New Yardbirds"
The beginnings of Led Zeppelin can be traced back to the English blues-influenced rock band The Yardbirds. Page joined the Yardbirds in 1966 to play bass guitar after the original bassist, Paul Samwell-Smith, left the group. Shortly after, Page switched from bass to second lead guitar, creating a dual-lead guitar lineup with Jeff Beck.
Following the departure of Beck in October 1966, The Yardbirds, tired from constant touring and recording, were beginning to wind down. Page wanted to form a supergroup with himself and Beck on guitars, and The Who's rhythm section - drummer Keith Moon and bassist John Entwistle. Vocalists Donovan, Steve Winwood and Steve Marriott were also considered for the project. The group never formed, although Page, Beck and Moon did record a song together in 1966, "Beck's Bolero", which is featured on Beck's 1968 album, Truth. The recording session also included bassist-keyboardist John Paul Jones, who told Page that he would be interested in collaborating with him on future projects.
The Yardbirds played their final gig in July 1968. However, The Yardbirds were still committed to perform several concerts in Scandinavia, so McCarty and Relf authorised Page and bassist Chris Dreja to use the Yardbirds name to fulfill the band's obligations. Page and Dreja began putting a new line-up together. Page's first choice for lead singer, Terry Reid, declined the offer, but suggested Robert Plant, a Birmingham singer he knew. Plant eventually accepted the position, recommending a drummer, John Bonham from nearby Redditch. When Dreja opted out of the project to become a photographer — he would later take the photograph that appeared on the back of Led Zeppelin's debut album — Jones, by the suggestion of his wife, contacted Page about the empty position. Being familiar with Jones' credentials, Page agreed to bring in Jones as the final piece.
The group played together on record the first time on the final day of sessions for the P. J. Proby album, Three Week Hero. Proby recalled, "Come the last day we found we had some studio time, so I just asked the band to play while I just came up with the words. ... They weren't Led Zeppelin at the time, they were the New Yardbirds and they were going to be my band."
The band completed the Scandinavian tour as "The New Yardbirds". After some discussion, "Led Zeppelin" was chosen as a new name. There is some confusion around how this name was chosen. A popular version which has become almost legendary, comes from Keith Moon and John Entwistle, drummer and bassist respectively from The Who, suggesting that a possible supergroup containing themselves, Jimmy Page, and Jeff Beck would go down like a lead zeppelin, a term John Entwistle used to describe a bad gig. The group deliberately dropped the 'a' in Lead at the suggestion of their manager, Peter Grant, to prevent "thick Americans" from pronouncing it as "leed".
Grant also secured an advance deal of $200,000 from Atlantic Records in November 1968, (then the biggest deal of its kind for a new band). Atlantic was a label known for its catalogue of blues, soul and jazz artists, but in the late-1960s it began to take an interest in progressive British rock acts, and signed Led Zeppelin without having ever seen them, largely on the recommendation of singer Dusty Springfield. With their first album not yet released, Zeppelin made their live debut at the University of Surrey, Guildford on October 15, 1968.This was followed by a U.S. concert debut on December 26, 1968 (when promoter Barry Fey added them onto a bill in Denver, Colorado) before moving on to the west coast for dates in Los Angeles, San Francisco and other cities.
Led Zeppelin (the first album)
Shortly after their first tour, the group's self-titled first album was released on January 12, 1969. Its blend of blues, folk, and eastern influences with distorted amplification made it one of the pivotal records in the creation of heavy metal. Robert Plant has commented that it is unfair for people to think of the band as heavy metal, since about a third of their music was acoustic. In an interview for the Led Zeppelin Profiled radio promo CD (1990) Page said that the album took about 36 hours of studio time to create (including mixing), and stated that he knows this because of the amount charged on the studio bill. In Stephen Davis' biography of the band, Hammer of the Gods, it is documented that Peter Grant claimed the album cost £1,750 to produce (including artwork). By 1975, the album had grossed $7,000,000.
While the album received generally positive reviews, some derided it, most famously John Mendelsohn of Rolling Stone magazine, who savaged the band for stealing music, notably "Black Mountain Side" from Bert Jansch's "Black Water Side" and the riff from "Your Time Is Gonna Come" from Traffic's "Dear Mr. Fantasy". He also accused the band of mimicking black artists, and showing off. This marked the beginning of a long rift between the band and the magazine, with Led Zeppelin rejecting later requests for interviews and cover stories as their level of success escalated.
Led Zeppelin's album cover met an interesting protest when, at a February 28, 1970 gig in Copenhagen, the band was billed as "The Nobs" as the result of a threat of legal action from aristocrat Eva von Zeppelin (relative of the namesake creator of the Zeppelin aircraft), who, upon seeing the logo of the Hindenburg crashing in flames, threatened to have the show pulled off the air.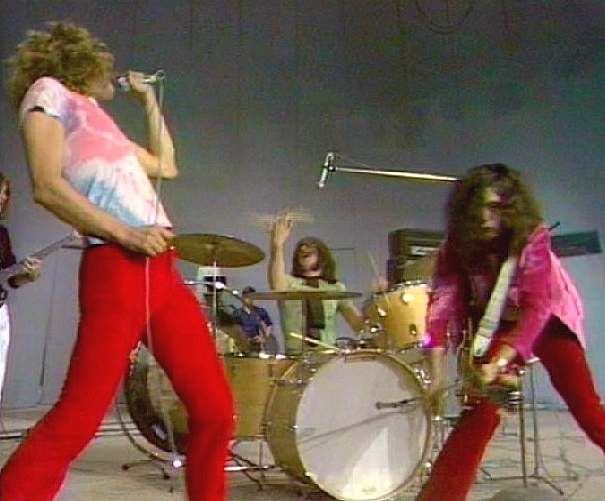 Led Zeppelin in Paris 1969
Led Zeppelin II
The immediate success of the first album kick-started the band's career, especially in the United States. In their first year of existence, Led Zeppelin managed to complete four US and four UK concert tours, as well as find time to release their second album, entitled Led Zeppelin II. Recorded almost entirely on the road at various North American recording studios, the second album was an even greater success than the first and reached the number one chart position in the US and the UK.
The album included songs which were strikingly similar to Willie Dixon's work, although Dixon was not credited. The prelude to "Bring It on Home" is a cover of Sonny Blake's "Bring it on Home" and drew comparisons with Dixon's "Bring It on Back". "Whole Lotta Love" was exceedingly similar to Dixon's "You Need Love/Woman You Need Love" (The lyrics and melody were almost identical to Muddy Water's version of the song, and the same riff, though less pronounced and played in compound time, runs through most of the song). In the 1970s, Arc Music, the publishing arm of Chess Records, brought a lawsuit against Led Zeppelin for copyright infringement over "Bring It on Home" and won an out-of-court settlement. Dixon himself did not benefit until he sued Arc Music to recover his royalties and copyrights. Years later, Dixon filed suit against Led Zeppelin over "Whole Lotta Love" and a generous out-of-court settlement was reached. Later pressings of Led Zeppelin II credit Dixon.
Page was once quoted in an interview as saying: "I've often thought that in the way the Stones tried to be the sons of Chuck Berry, we tried to be the sons of Howlin' Wolf." A version of Howlin' Wolf's song "Killing Floor" which was featured prominently in Led Zeppelin's early live performances, also found its way onto Led Zeppelin II in a different arrangement, entitled "The Lemon Song".
Following the album's release Led Zeppelin made several more tours of the United States. They played often, initially in clubs and ballrooms, then in larger auditoriums as their popularity grew. Led Zeppelin concerts could last more than three hours, with expanded, improvised live versions of their song repertoire. Many of these shows have been preserved as Led Zeppelin bootleg recordings.
Led Zeppelin III
For the composition of their third album, Led Zeppelin III, Jimmy Page and Robert Plant retired to Bron-Yr-Aur, a remote cottage in Wales, in 1970. This would result in a more acoustic sound than previously exhibited by the group (and a song, "Bron-Yr-Aur Stomp", misspelled as "Bron-Y-Aur Stomp" on the album cover, which was a complete remake of Bert Jansch's song "The Waggoners Lad"). Strongly influenced by folk and Celtic music, the album revealed a different side of the band's versatility.
The album's rich acoustic sound initially received mixed reactions, with many critics and fans surprised at the turn taken by the band away from the primarily electric compositions of the first two albums. Over time, however, its reputation has recovered and Led Zeppelin III is now generally praised.
The album's opening track, "Immigrant Song", was released in the November of 1970 by Atlantic Records released as a single against the band's wishes (Atlantic had earlier released an edited version of "Whole Lotta Love" which cut the 5:34 song to 3:10, removing the abstract middle movement). It included their only non-album b-side, "Hey Hey What Can I Do".
Led Zeppelin III has a unique album cover, as it features a wheel which, when rotated, displayed various images through cutouts in the main jacket sleeve.
"The biggest band in the world" (1971–1975)
The success of Led Zeppelin's early years would be dwarfed by this five year period in which the band would release their best selling albums and ascend to musical success in the 1970s. The band's image also changed as members began to wear elaborate, colourful clothing and jewelery similar to other popular performers of the era. If the band's popularity on stage was impressive, so too was its reputation for off-stage wildness and excess. Led Zeppelin began traveling in a private jet airliner (nicknamed The Starship ), rented out entire sections of hotels (most notably the Continental Hyatt House in Los Angeles, known colloquially as the "Riot House"), and became the subject of many of rock's most famous stories of debauchery. One escapade involved John Bonham throwing televisions out of the windows of the Riot House during a drunken rampage and then blaming the damage on Led Zeppelin groupies. Another example of Led Zeppelin excess was the infamous shark episode, or red snapper incident, which took place at the Edgewater Inn in Seattle, Washington, on July 28, 1969.
The fourth album
Led Zeppelin's fourth album was released on November 8, 1971. There was no indication of a title nor band name on the original cover, but on the LP label four symbols were printed. The reason for this was the band's disdain for the media which labeled them as hyped, so they put out the album with no indication of who they were to prove that the music could sell itself. The album is variously referred to as Four Symbols and The Fourth Album (both titles were used in the Atlantic Records catalogue), and also IV, Untitled, Zoso, Runes, Sticks, Man With Sticks, and Four. It is still officially untitled, and most commonly referred to as Led Zeppelin IV. In an interview with Rolling Stone magazine in 2005, Plant said that it is simply called The Fourth Album.
The 4th album further refined the band's unique formula of combining earthy, acoustic elements with heavy metal and blues emphases. The album included examples of hard rock, such as "Black Dog" (the title supposedly a tribute to a dog which loitered around the recording studio during the sessions) and an acoustic track, "Going to California" (a tribute to Joni Mitchell).
"Rock and Roll" is a tribute to the early rock music of the 1950s but with a heavy metal twist, featuring John Bonham's classic drum introduction and Jimmy Page's driving 12 bar riff. Recently (as of 2006), the song has been used prominently in Cadillac automobile commercials--one of the few instances of Led Zeppelin's surviving members licensing songs.
Folk and metal are fused together in the eight-minute, suite-like "Stairway to Heaven", which became a massive album-oriented rock FM radio hit despite never being released as a single. Stairway has been controversial due to unsubstantiated but repeated claims of "satanic" backmasked messages. In 2005, the magazine Guitar World held a poll of readers in which "Stairway to Heaven" was voted as having the greatest guitar solo of all time.
As of July 31, 2006, the 4th album has sold 23 million copies in the US, making it one of the top four best selling albums in the history of the US music industry. Worldwide, it ranks at number eleven in album sales.
Houses of the Holy
Led Zeppelin's next album, Houses of the Holy, was released in 1973. It featured further experimentation, with longer tracks and expanded use of synthesisers and mellotron orchestration. The song "Houses of the Holy" does not appear on its namesake album, even though it was recorded at the same time as other songs on the album; it eventually made its way onto the 1975 album Physical Graffiti.
The striking orange album cover of "Houses of the Holy" features images of nude children climbing up the Giant's Causeway (in County Antrim, Northern Ireland) to an unseen idol.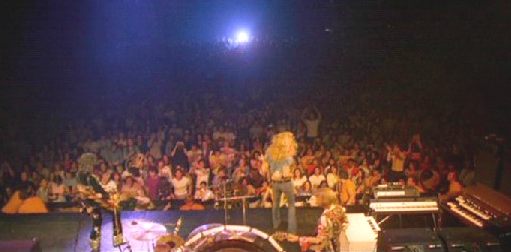 Led Zeppelin performing live at Madison Square Garden
on their 1973 Houses of the Holy tour
The album topped the charts, and Led Zeppelin's subsequent Houses of the Holy concert tour of the United States in 1973 broke records for attendance, as they consistently filled large auditoriums and stadiums. At Tampa Stadium, Florida, they played to 56,800 fans (breaking the record set by The Beatles at Shea Stadium in 1965), and grossed $309,000. Three sold-out shows at Madison Square Garden in New York were filmed for a motion picture, but the theatrical release of this project (The Song Remains the Same) would be delayed until 1976.
In 1974 Led Zeppelin took a break from touring and launched their own record label, Swan Song, named after one of only five Led Zeppelin songs which the band never released commercially (Page later re-worked the song with his band, The Firm, and it appears as "Midnight Moonlight" on their first album). The record label's logo, based on a drawing called Evening: Fall of Day (1869) by William Rimmer, features a picture of Apollo (although it is often misinterpreted as a picture of Icarus, Daedelus, Satan, or Lucifer). The logo can be found on much Led Zeppelin memorabilia, especially t-shirts. In addition to using Swan Song as a vehicle to promote their own albums, the band expanded the label's roster, signing artists such as Bad Company, Pretty Things, Maggie Bell, Detective, Dave Edmunds, Midnight Flyer, Sad Café and Wildlife. The label would be successful while Led Zeppelin existed, but folded less than three years after they disbanded.
Physical Graffiti
February 24, 1975 saw the release of Led Zeppelin's first double-album, Physical Graffiti, which was the first release on the Swan Song Records label. It consisted of fifteen songs, eight of which were recorded at Headley Grange in 1974, and the remainder being tracks recorded years previously but not released on earlier albums.
A review in Rolling Stone magazine referred to Physical Graffiti as Led Zeppelin's "bid for artistic respectability", adding that the only competition the band had for the title of 'World's Best Rock Band' were The Rolling Stones and The Who. The album was a massive fiscal and critical success. Shortly after the release of Physical Graffiti, all previous Led Zeppelin albums simultaneously re-entered the top-200 album chart, and the band embarked on another U.S. tour, again playing to record-breaking crowds. In May 1975, Led Zeppelin played five highly successful, sold-out nights at the Earls Court Exhibition Centre in London (footage from these concerts was released in 2003, on the Led Zeppelin DVD). This series of concerts could be considered as some of the best of the band's career.
The latter days (1976-1980)
By 1976, Led Zeppelin were becoming increasingly more famous, having outsold most bands of the time, including the Rolling Stones. Their live shows would increase even further in theatricality, featuring larger stage areas and complex lights shows. While there were still massive musical and commercial successes for the band during this period, problems such as the 1977 death of Robert Plant's son, Jimmy Page's heroin use, changing musical tastes, and John Bonham's 1980 death would finally bring an end to Led Zeppelin.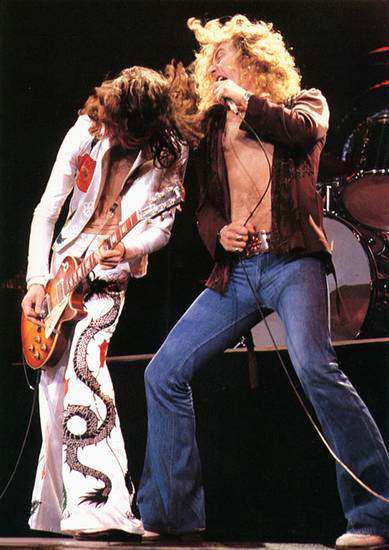 Led Zeppelin performing "Achilles Last Stand"
at the Pontiac Silverdome on the 1977 US tour
Presence
Following their triumphant Earls Court appearances, Led Zeppelin took an unplanned break from touring. In August 1975, Robert Plant and his wife Maureen were involved in a serious car crash whilst on holiday in Rhodes, Greece. Robert suffered a broken ankle and Maureen was very badly injured; a blood transfusion saved her life. Unable to tour, Plant headed to the channel island of Jersey to spend August and September recuperating, with Bonham and Page in tow. The band then reconvened in Malibu. It was during this forced hiatus that much of the material for their next album, Presence, was written.
Though the album was a platinum seller, it received mixed responses from critics and fans. While many appreciated the looser style, others dismissed it as "sloppy", and some critics speculated that the band members' legendary excesses might have finally caught up with them, resulting in a sub-standard album release. The recording of Presence coincided with the beginning of Page's heroin use, which may have interfered with Led Zeppelin's later live shows and studio recordings, although Page has denied this.
Despite the original criticisms, Jimmy Page has called Presence his favourite album, and "Achilles Last Stand" his favourite Led Zeppelin song. Robert Plant has also stated that he thinks Presence is the album that probably sounds the most "Led Zeppelin" of all their LPs.
The concert film (The Song Remains The Same)
Robert Plant's injuries prevented Led Zeppelin from touring in 1976. Instead, the band finally completed the concert film The Song Remains The Same, and the soundtrack album of the film. It would be the only official live document of the group available until the release of the BBC Sessions in 1997. The recording had taken place during three nights of concerts at Madison Square Garden in July 1973, during the Houses of the Holy concert tour. The film premiered in New York on October 20, 1976, but was not well received by critics or fans. The film was particularly unsuccessful in the UK, where, in the wake of the punk rock revolution, Led Zeppelin were, by now, regarded as the ultimate example of an out-dated "dinosaur" band by some people.
In 1977, Led Zeppelin embarked on another massive U.S. concert tour. Though profitable financially, the tour was beset with off-stage problems. On June 3, after a concert at Tampa Stadium was cut short because of a severe thunderstorm, a riot broke out amongst the audience, resulting in several arrests and injuries. Police ultimately resorted to tear gas to break up the crowd.
After a July 23 show at the "Days on the Green" festival at Oakland-Alameda County Coliseum in Oakland, California, John Bonham and members of the band's support staff (including manager Peter Grant and security co-ordinator John Bindon) were arrested after a member of promoter Bill Graham's staff was badly beaten during the performance. A member of the staff had allegedly slapped Grant's son when he was taking down a dressing room sign; when Grant heard about this, he went into the trailer, along with Bindon and John Bonham, and savagely assaulted the man.
In Through the Out Door
December 1978 saw the group recording again, this time at ABBA's Polar Studios in Stockholm, Sweden. The resultant album was In Through the Out Door. The album reached #1 in the UK and the US (where it became the first album by a rock band to debut at #1 on the Billboard album chart).
In August 1979, after two warm-up shows in Copenhagen, Led Zeppelin headlined at the Knebworth music festival.
However, Robert Plant was not eager to tour full-time again, and even considered leaving the band. He was persuaded to stay by Peter Grant. A brief, low-key European tour was undertaken in June and July 1980, featuring a stripped-down set without the usual lengthy jams and solos. At one show on June 27, in Nuremberg, Germany, the concert came to an abrupt end in the middle of the third song when John Bonham collapsed on stage and was rushed to a hospital. Press speculation arose that Bonham's problem was caused by too much alcohol and drugs, but the band claimed that he had simply overeaten, and they completed the European tour on July 7, at Berlin.
"A tragic end"
On September 24, 1980, John Bonham was picked up by Led Zeppelin assistant Rex King to attend rehearsals at Bray Studios for the upcoming tour of the United States, the band's first since 1977. During the journey Bonham had asked to stop for breakfast, where he downed four quadruple vodkas (roughly sixteen shots (2/3 pint(~8dl)) of vodka), with a ham roll. After taking a bite of the ham roll he said to his assistant, "Breakfast." He then continued to drink heavily when he arrived at the studio. A halt was called to the rehearsals late in the evening and the band retired to Page's house — The Old Mill House in Clewer, Windsor. After midnight, Bonham had fallen asleep and was taken to bed and placed on his side. Benji LeFevre (who had replaced Richard Cole as Led Zeppelin's tour manager) and John Paul Jones found him dead the next morning. Bonham was 32 years old.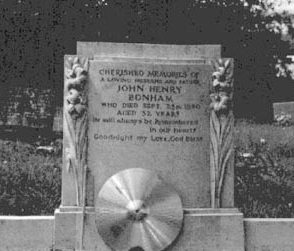 John Bonham's gravesite
The cause of death was asphyxiation from vomit. A subsequent autopsy found no other drugs in Bonham's body. The alcoholism that had plagued the drummer since his earliest days with the band, ultimately led to his death. John Bonham was cremated on October 10, 1980, at Rushock, Worcestershire parish church. His headstone reads:
Cherished memories of a loving husband and father, John Henry Bonham Who died Sept. 25th 1980. He will always be remembered in our hearts, Goodnight my Love, God Bless.
Despite media rumours that Cozy Powell, Carmine Appice, Barriemore Barlow, Simon Kirke, or Bev Bevan would join the group as his replacement, the remaining members decided to disband Led Zeppelin after Bonham's death. They issued a press statement on December 4 1980 confirming that the band would not continue without its irreplaceable drummer. "We wish it to be known that the loss of our dear friend and the deep sense of undivided harmony felt by ourselves and our manager, have led us to decide that we could not continue as we were."
Post Led Zeppelin
1980s
In 1982 the surviving members of the group released a collection of out-takes from various sessions during Led Zeppelin's career, entitled Coda. It included two tracks taken from the band's performance at the Royal Albert Hall in 1970, one each from the Led Zeppelin III and Houses of the Holy sessions, and three from the In Through the Out Door sessions. It also featured a 1976 John Bonham drum instrumental with electronic effects added by Jimmy Page, called "Bonzo's Montreux".
Jimmy Page stopped playing guitar regularly until 1983, when he embarked on a short charity tour with the A.R.M.S. (Action Research for Multiple Sclerosis) project. In 1984, Page teamed up with Paul Rodgers (of Bad Company and Free fame) to record two albums under the name The Firm.
On July 13, 1985 Page, Plant and John Paul Jones reunited at the Live Aid concert at JFK Stadium, Philadelphia, for a short set featuring drummers Tony Thompson and Phil Collins. Collins had played on Plant's first two solo albums. The performance, which included three songs ("Rock and Roll", "Whole Lotta Love" and "Stairway to Heaven"), was marred by bad broadcast sound, uneven drumming by Thompson and Collins, a sub-standard vocal performance from Plant, and Page's badly tuned Gibson Les Paul guitar. When Live Aid footage was released on a four-DVD set in late 2004, the group unanimously agreed not to allow footage from their performance to be used, agreeing that it was not up to their usual standards.
Led Zeppelin reunited again in May of 1988, for Atlantic Records' 40th Anniversary concert, with Bonham's son, Jason Bonham, on drums. This was screened live on cable television, but, as at Live Aid, this reunion widely seen as a disappointment, being marred by a poor TV feed and a sub-standard performance, although the surviving members unanimously praised Bonham's drum work.
1990s
Page and Plant reunited in 1994 for an MTV Unplugged performance (dubbed Unledded) which eventually led to a world tour with a Middle Eastern orchestra, and a live album entitled No Quarter. The bass player was Charlie Jones, who had been the bassist with Plant's own band for several years (and was now his son-in-law, having married Carmen Plant). Many see this as the beginning of discord with John Paul Jones, who was upset with Page and Plant for touring without asking him first. Tensions were further increased when Plant was asked at a press conference where Jones was, and he jokingly replied that Jones was parking the car.
On January 12, 1995, Led Zeppelin was inducted into the United States Rock and Roll Hall of Fame. They were inducted by Aerosmith's vocalist, Steven Tyler and guitarist Joe Perry. At the induction ceremony, the band's inner rift became apparent when Jones joked upon accepting his award, "Thank you, my friends, for finally remembering my phone number," causing consternation and awkward looks from Page and Plant.
On August 29, 1997, Atlantic released a single edit of "Whole Lotta Love" in the US, making it the only Led Zeppelin CD single. Additional tracks on this CD-single are "Baby Come on Home" and "Travelling Riverside Blues". The band have never released a single in the UK.
November 11, 1997 saw the release of Led Zeppelin BBC Sessions, the first Led Zeppelin album in more than fifteen years. The two-disc set included almost all of the band's recordings for the BBC.
2000s
In October 2002, the British press reported that Robert Plant and John Paul Jones had reconciled after a 20-year feud which had kept Led Zeppelin apart, and rumours surfaced of a reunion tour in 2003. This was later denied by Plant and Page's management company.
2003 saw a the release of a live album, How the West Was Won, and a video collection, Led Zeppelin DVD, both featuring material from the band's heyday. At the year's end, the DVD had sold more than 520,000 copies. Around Christmas 2004, "Stairway To Heaven" was voted the best rock song of all time by Planet Rock listeners in a poll conducted on the station's website. Two other Led Zeppelin songs were also featured in the top ten - "Whole Lotta Love" at number six and "Rock and Roll" at number eight.
In 2005, Led Zeppelin received a Grammy Lifetime Achievement Award, and readers of Guitar World magazine voted the guitar solo from "Stairway to Heaven" to be the best guitar solo of all time in rock history. In Rolling Stone magazine's tabulation of the 100 Greatest Guitarists of All Time, Jimmy Page was ranked number nine. Led Zeppelin ranked #14 on Rolling Stone's 2004 list of the 100 Greatest Artists of All Time. In November 2005, it was announced that Led Zeppelin and Russian conductor Valery Gergiev were the winners of the 2006 Polar Music Prize. The King of Sweden presented the prize to Plant, Page and Jones, along with John Bonham's daughter, in Stockholm in May, 2006.
In 2006 Led Zeppelin were inducted into the UK Music Hall of Fame.
Led Zeppelin have always been very protective of its catalogue of songs, and have seldom allowed them to be licensed for films or commercials. In recent years, this position has softened somewhat, and their songs can be heard in movies such as Fast Times at Ridgemont High, One Day in September, Almost Famous, Dogtown and Z-Boys, School of Rock, and Shrek the Third. One Tree Hill was the first television show to be licensed use of a Led Zeppelin song (using "Babe I'm Gonna Leave You" for the Season 3 finale). However Led Zeppelin have remained one of the few bands to not allow the sale of their music on the new innovation of Online music stores.
In 2007, rumours yet again surfaced of a possible reunion in which Q107, Toronto's classic rock radio station, reported that Led Zeppelin would jump on the "reunion bandwagon" following months of countless reunions from classic bands in 2007. John Paul Jones himself reportedly stated that the band is considering a reunion of some sorts on the radio broadcast but representatives from the radio station deny even speaking to Jones and claim the report to be false.
LINKS and REFERENCES
Led Zeppelin at MusicBrainz

RIAA. Top Selling Artists.

1-20 at vhi.com

MTV profile of Led Zeppelin

Led-Zeppelin.org. Led Zeppelin Assorted Info.

Stephen Davis (1995). Hammer of the Gods (LPC), 44, 64, 190, 225, 277 ISBN 033043859-X.

Billboard. Led Zeppelin Biography.

Digital Graffiti. Led Zeppelin FAQ.

Fred Dollar (2005). "Led Zep were my backing band": 83.

Keith Shadwick (2005). Led Zeppelin The Story of a Band and their Music 1968-1980, 36, ISBN 100879308710.

Welch, Chris (1994) Led Zeppelin, London: Orion Books. ISBN 0-85797-930-3, p. 31.

The History of Rock 'n' Roll: The 70s: Have a Nice Decade

Lewis, Dave and Pallett, Simon (1997) Led Zeppelin: The Concert File, London: Omnibus Press. ISBN 0-7119-5307-4, p. 111.

About.com/Experts

Rolling Stone Magazine Rolling Stone Magazine Review, Published May, 20 1976]

Mick Wall (2005). "No Way Out": 86.

Lewis, Dave and Pallett, Simon (1997) Led Zeppelin: The Concert File, London: Omnibus Press. ISBN 0-7119-5307-4, p. 140.

Lewis, Dave and Pallett, Simon (1997) Led Zeppelin: The Concert File, London: Omnibus Press. ISBN 0-7119-5307-4, p. 144.

100 Greatest Guitarists of All Time. Rolling Stone Issue 931. Rolling Stone.

The Immortals: The First Fifty. Rolling Stone Issue 946. Rolling Stone.
---
LINKS:
| | |
| --- | --- |
| LZ - Youtube | LZ - Youtube |
| LZ - Youtube | LZ - Youtube |
Solar Cola drinkers care about climate chaos ...
.. Thirst for Life
(330ml Earth can)