Key advantages for well designed SWATHs:
(1) The ability to provide big-ship platform stability and ride quality in a smaller vessel.
(2) The ability to maintain normal cruising speed in rough head seas.
The exceptional stability of a SWATH in high seas is accomplished by placing most of the ship's displacement below the level of the waves where all the kinetic energy of the sea surface is located. Conversely, ships with traditional hull designs have most of their displacement in the wave level of the sea, causing them to roll and pitch uncomfortably in the waves.
The dream of all marine architects, is a hull that does not pitch/roll but is also cheap to make and operate, with low fuel costs. That is a tall order. See SolarNavigator Mk6 for logical progression.
The spacing of the submerged hulls is an important consideration during the SWATH design process. There is a relationship between the area of strut waterplane and distance from the centre of roll, to maintain adequate transverse stability, hence to resist heeling moments due to wind or movement, or positioning of cargo or passengers, from one side of the ship to the other. A wider hull spacing results in greater structural mass for a given vessel length, hence, a waterplane area of insufficient volume to cope with roll could give an uncomfortable ride, whereas a greater area could result in a more expensive vessel.
It should also be remembered that the struts house much of the propulsion machinery, and that adequate access must be maintained and strength. Thinner struts decrease wavemaking resistance, but also increase the hull's wetted area, which results in increased frictional resistance. For all the above reasons research and development effort on SWATH vessels has focused on the correlation between waterplane area and sea-keeping performance.
Sufficient wave clearance to the underside of the deck structure is also important to allow any SWATH ship to ride above surface waves that are typical of the area the vessel will be operated. Naturally, a coastal vessel will need less clearance and a blue water cruiser, more.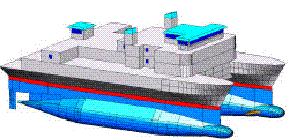 DISADVANTAGES
A SWATH hull must be kept parallel to the sea surface, or what should be skin friction becomes turbulent wave making. With reduced reserve buoyancy level running is usually achieved with complex computer controlled fins. It is common to see SWATH vessels (esp smaller craft) with their bows in the air, creating huge additional drag that outweighs all the advantages of the design concept. The need to constantly adjust trim is a major disadvantage.

The main disadvantage to the SWATH hull form are that they are more expensive to design and build than conventional catamarans and have a deeper draft than catamarans and mono-hulled ships. Due to the complexity, there is a higher maintenance costs, and SWATH vessels can use up to 80% more power than an equivalent catamaran, and are more limited in speed, being a pure displacement.


BUOYANCY

The technology used by the military and for deep-sea research ships has not been available in a private yacht for comfortable cruising. In a SWATH hull wave passes through the hulls, or the hulls pass through the waves which significantly reduces the vessel's vertical movement and totally eliminates quick jarring movements. The idea of SWATH was taken from the principle of submarines at periscope depth, which has been shown to have minimal or no motion, placing most of the ship's displacement under the waves. Submarines can also travel much faster submerged than surfaced.

The purpose of a SWATH ship design is not to compromise payload, speed capabilities at the expense of speed-power or payload capabilities. During the design process, if the total amount of strut waterplane area is decreased, the transverse spacing between the hulls must be increased to regain adequate transverse stability to resist heeling over moments as a result of wind or movement of all passengers to one side of the ship.

Adequate clearance to the underside of the connecting structure is also essential to allow the Small Waterplane Twin Hull ship to ride over surface waves that are typically present in coastal waters. This type of operating mode results in the smallest vertical motions and is called platforming. For rough seas, with wave heights exceeding the amount of cross-structure clearance, SWATH ships are designed to have a sufficiently short heave period to provide inherent contouring behavior at low speeds.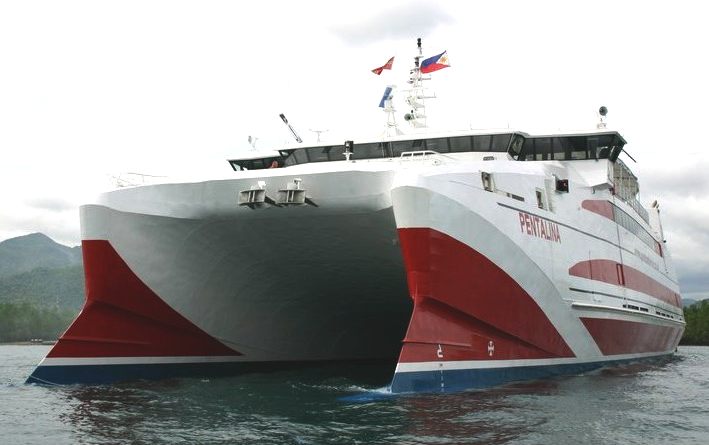 FUTURE - SWATH TRENDA

New Construction Project SWATH

The Dutch firm Loodswezen has decided to enhance their pilot ship capabilities by employing SWATH, to reduce downtime to just a few days a year, resulting from adverse weather conditions.

Their vessel, 26 meters in length, is extremely stable as a result of two floating bodies that form part of the hull. This construction makes it highly seaworthy. The small surface area on the water-line, means that waves have a minimal impact on the vessel. Moreover, stability fins in both the floating bodies, which are computer controlled, enhance the overall behaviour of the vessel when underway. The SWATH can also lowered in the water by pumping water to increase displacement (depth by around 80 centimeters in less than five minutes, enabling ships with a lower freeboard to be boarded by pilots more easily and safely. This SWATH and others like it will be employed in the coastal waters off Hoek van Holland, IJmuiden, and in the Schelde area.


CLOUD X - POTENTIAL MEGA-YACHT
Cloud X is a SWATH vessel with a beam of 59.3 ft., almost half its length (123.1 ft). The result in that deck utilization is better than conventional long narrow decks. Its beaminess requires less pier space than a conventional vessel of equivalent tonnage, which makes it a good choice for a Commercial day ferry from West Palm Beach, FL to Freeport on Grand Bahama Island. With such good seakeeping and over 4714 square feet of main deck, and 3370 square feet of upper deck, the Cloud X could be refitted as a sleek, luxory mega-yacht.
MV CLOUD X - OIL RIG CREW BOAT

Trico Marine Services have chosen a SWATH design to accommodate their need of a high-speed transport to and from offshore rigs and platforms in the rough waters of Campos Basin on the coast of Brazil. The cost of flying helicopters and the risk attached to such operation made Trico look closely at ship designs that could operate in sea conditions that would normally ground conventional supply ships, and still be economical to run. The M/V Cloud X seems the ideal crew boat. It is certified to carry 365 passengers, baggage and cargo. The vessel range is 200 nautical miles with clearance by United States Coast Guard to operate in seas up to 4.0 meters.

Cloud X Specifications
Construction: Aluminum
Length (feet): 123
Beam (feet): 60
Max speed: 27 knots


SUNCUZ VI
The Suncruz VI is one of the first ocean-going small passenger vessels. She is the first SWATH delivered for the Gaming business, and the largest passenger SWATH so far constructed in the U.S. She is also the first passenger SWATH to feature "variable draft".

Suncruz VI will operate on the East Coast where scheduled cancellations from bad weather and severe seasickness have plagued the industry. Monohulls around 160 feet in length range don't go out in seas higher than 5 feet because they found that in such conditions 40% or more of the passengers get seasick. By comparison SUNCRUZ VI traversed 7 foot seas with 400 passengers and only one person became seasick.

Suncruz meets USCG certification under Subchapter "K", Passenger Vessels of less than 100 Gross Tons. Her capacity is to be 600 passengers and 150 crew. She is a 3-deck vessel, with 600 gaming positions. The Casinos are very spacious due to the wide beam of the SWATH design.
Propulsion, electrical and other machinery are located below the water line. Propulsion is provided by Detroit Diesel 12V-149TI DDEC engines through ZF Marine gears. Electrical power is provided by 720kW Detroit Diesel 16V-92 TA's. A 400 hp Schottel bow thruster is powered by a Detroit Diesel 12V-71N.

According to Andy Lebet, Vice President of DeJong and Lebet, Inc. " SWATH is the future of the gaming industry. The passenger comfort in rough seas will be a primary selling point for the operation, as well as the increased reliability as far as keeping to the cruise schedule, in spite of bad weather".

Suncruz VI Specifications

Length: 160 ft.
Beam: 65 ft.
Depth: 23 ft.
Draft (Ballasted): 15 ft. (Unballasted): .9 ft.
Speed: 10 knots
Construction: Steel



PLANET TYPE 751

The Type 751 Planet of the German Navy is the most modern naval research ship within NATO. It is used for geophysics and naval technology trials and research. While technically not armed, it is equipped with torpedo launch capability. Other weapons systems can be installed for weapon trials.

Specifications
Displacement: 3,500 tonnes (3,445 long tons)
Length: 73 m (239 ft 6 in)
Beam: 27.2 m (89 ft 3 in)
Draft: 6.8 m (22 ft 4 in)
Speed: 15 knots (17 mph; 28 km/h)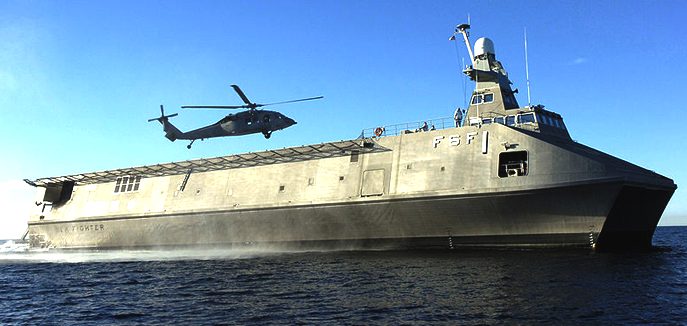 SEA FIGHTER

Sea Fighter (FSF-1) is an experimental combat ship under development by the United States Navy. Its SWATH hull is constructed from aluminum. The ship can operate in both blue and littoral waters. It can be easily reconfigured through the use of interchangeable mission modules. Helicopters can land and launch on its deck. Smaller water craft can be carried and launched from its stern.

The Sea Fighter has twin gas turbine engines, powering twin water jets. Her streamlined hull gives her speeds of 50 knots (90 km/h) and above. She is designed as a sea frame to carry interchangeable mission modules much like shipping containers. These modules may be reconfigured to meet a variety of mission requirements and stored on an inner deck.

Sea Fighter displaces 1,100 tons. She measuring 73 m long x 22 m wide. Power is provided by a CODOG arrangement comprising two MTU 595 diesel engines and two LM2500 gas turbines. The MTU's are used for cruising while the turbines provide power for high speed operation. The two gas turbines power the vessels twin water jets, drawing water from the bottom stern of each hull and powering it through large water turbines, which are responsible for the vessel's remarkable speed. Each water jet has thrust vectoring and thrust reverse buckets, making it possible for Sea Fighter to move sideways while docking, or even traveling in reverse. Thrust vectoring also makes it possible for Sea Fighter to make dramatic evasive maneuvers while traveling at high speed. This would prevent the craft from being forced to shore or into the path of enemy vessels.

The forward superstructure consists of a bridge on the lower deck, and a flight operations station on top. The bridge is relatively small, and generally manned by a crew of three. The bridge control stations incorporate glass displays using the latest in navigational aids to assist Sea Fighter in patrolling coastal areas while operating at high speed. Maneuvering Sea Fighter is more reminiscent of the operation of a Landing Craft, Air Cushioned (LCAC) than a conventional warship. The ship has a modern computer controls for its systems and for navigation. Steering and throttle control are by wire.

The Navy and Coast Guard are considering such vessels for patrolling U.S. coastal waters. With an effective range of 4,400 nautical miles (8,100 km), the type could also be deployed quickly overseas.

Specifications

Displacement: 950 tons
Length: 262 ft (79.9 m)
Beam: 72 ft (22 m)
Draft: 11.5 ft (3.5 m)
Propulsion: Combined diesel or gas turbine
Speed: 50 knots (90 km/h)
Range: 4,400 nautical miles (8,100 km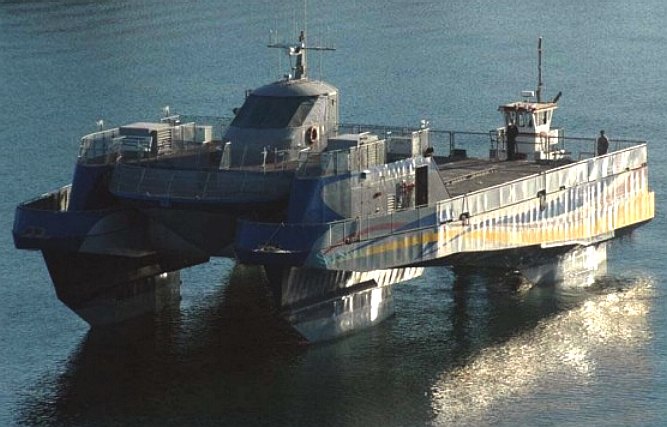 SLICE
SLICE is newly patented SWATH technology based on already tested quad pods. Slice ships uses four short foils at the waterplane and four corresponding teardrop-shaped submerged hulls. It is claimed that this allows speeds well beyond the 'hump' on the Froude resistance curve. Combining increased speed with stability in high seas, SLICE opens up new commercial and military markets to SWATH technology.

Lockheed Martin and the Office of Naval Research (ONR) are demonstrating the SLICE vessel. The SLICE [not an acronym] prototype, introduced in 1997, has four underwater pods with propellers on the forward pods. Lockheed Martin designed this Advanced Technology Demonstration (ATD) vessel, which was built by Nichols Brothers Shipyards and Pacific Marine & Supply Company, Ltd. A cooperative agreement with ONR to validate the SLICE technology provided the impetus for this effort.
This ADT vessel cost nearly $15 million in research and development. The SLICE ship has completed her seat trials and exceeded the performance goals, achieving 30 knots in wave heights up to 12 feet.

In 1992, Pacific Marine teamed up with Lockheed Martin to research, develop, and commercialize this fast SWATH variant. Patented by Lockheed, the fast variant was dubbed Slice, because it slices through the water without making waves. The innovation lies in the arrangement of the Slice's buoyancy -- while a standard SWATH has two Coke-bottle-shaped hulls running the full length of the ship, Slice has four shorter, teardrop-shaped pods, which produce less drag. This structure allows the Slice hull to reduce wave-making resistance at high speeds by up to 35% compared to a SWATH of the same displacement. Slice's short hulls are able to push through the wave "hump" much more quickly. Slice has the same stable ride as a SWATH, but can go faster with the same horsepower.

A SLICE vessel's hulls are one quarter the length of SWATH hulls. The correspondingly larger diameter of SLICE hulls provides the required displacement. For the same operational speed, this innovation doubles the Froude number.

The ship is controlled by a patented PC-based canard and stabilizer steering and motion control system. SLICE technology is predicted to yield speeds of 45 knots in Sea State 6 (13 to 20 ft. seas); however a larger ship with greater propulsion than the existing Sea SLICE vessel is required.

When Sea SLICE arrived in San Diego in mid-June 2002, it wasn't outfitted with any systems or modules. There was a bridge forward on the craft, and the after end looked like the empty bed of a pick-up truck. Once pier-side, technicians added on a mini crane, and two modules, along with off-the-shelf combat systems and weaponry. In the space of 30 days, the SLICE was outfitted and ready to perform as a surrogate LCS in FBE-J. During the course of the experiment, Lockheed-Martin turned a berthing module into the Combat Information Center. Then they outfitted the craft with a sled to launch and tow a mine countermeasure device known as a KLIEN, and a small crane to put a Rigid Hull Inflatable Boat (RHIB) so the crew could launch another mine countermeasure and antisubmarine warfare device, a Remote Environmental Monitoring Underwater System (REMUS).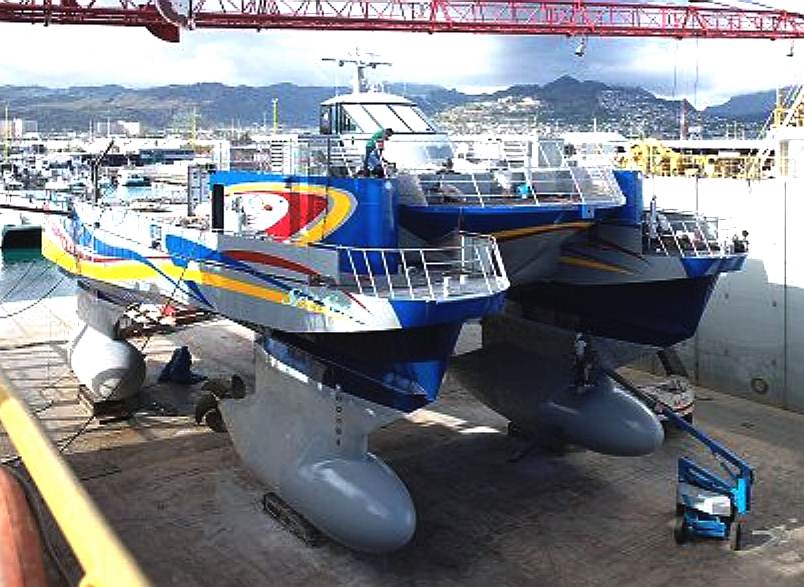 Fleet Battle Experiment-Juliet (FBE-J) began on 22 July 2002 and ended on August 6. During that time, the the Lockheed Martin technology demonstration vessel, Sea SLICE performed as a Littoral Combat Ship (LCS) surrogate and proved to the Navy that it is capable of rapid reconfiguration for disparate missions - a key ingredient of the eventual LCS platform. Specifically, the team engaged and was tested in the following warfare areas: Anti-Surface Warfare (ASuW), Time Critical Targeting, Self Defense, Mine Warfare (MIW) and Anti-Submarine Warfare (ASW).

The first several days of the experiment focused on Sea SLICE's ability to serve as an effective data collection node in mine countermeasure warfare. Also during the early days of the experiment, the Lockheed Martin team prepared for engagements, which would soon come from small swarm boats, as well as targets of opportunity that would be identified by the Navy experiment planners. Aiding the team was COMBATSST provided by Surface Systems, Time Critical Targeting technology made possible by Undersea Systems and Management & Data Systems, the Millennium Gun from Radar Systems, and the Silent Sentry passive radar system provided by Mission Systems.

Early in the second week of the experiment, Sea SLICE participated in a mock amphibious assault executed by the Marine Corps on the beaches of Camp Pendleton. As part of what is called a "Ship-To-Objective- Maneuver," a CH-46 helicopter lifted the NetFires launcher from the stern of Sea SLICE and transported it to the beach. Once on the beach, the launcher was fired remotely from Sea SLICE by simulating the launch of a real missile through the use of a CO-2 smoke cartridge. The Millennium Gun, made possible by the partnership of NE&SS-Radar Systems, Akron and Oerlikon Contraves, demonstrated its lethality against an array of targets.

The SLICE prototype design can be used in ships as large as 7,000 tons, which would cost a few hundred million dollars with all equipment installed on board. A 2,000-ton design would be appropriate for a larger Coast Guard cutter or oceanographic vessel and would cost between $30 million and $40 million to build. Lockheed Martin is planning a conceptual design for a 400-ton to 500-ton Slice design that could be used for a smaller Coast Guard cutter or inter-island ferry. SeaSlice [ONR recently changed the name] is the type of ship that the Coast Guard may consider in their Deepwater fleet modernization efforts.
Specifications:
Length: 105ft
Beam: 55ft
Displacement: 180 tons
SWATH RECAP
The SWATH ship is a twin-hull ship design that minimizes hull volume in the surface area of the sea. By minimizing hull volume in the sea's surface, where wave energy is located, the vessel becomes very stable, even in high seas and at high speeds. The bulk of the displacement necessary to keep the ship afloat is located beneath the waves, where it is less affected by wave action, as wave excitation drops exponentially with depth. The advantages are:
(1) the ability to deliver big-ship platform steadiness and ride quality in a smaller vessel and
(2) the ability to sustain a high proportion of its normal cruising speed in rough head seas.
SWATH ships typically have two submarine-like lower hulls completely submerged below the water surface. Above water, a SWATH resembles a catamaran.

However, the purpose for a balanced Small Waterplane Twin Hull ship design is NOT to minimize ship motions at the expense of speed-power or payload capabilities. During the design process, if the total amount of strut waterplane area is decreased, the transverse spacing between the hulls must be increased to regain adequate transverse stability to resist heeling over moments as a result of wind or movement of all passengers to one side of the ship - otherwise the ship will roll over completely.

Adequate clearance to the underside of the connecting structure is also essential to allow the Small Waterplane Twin Hull ship to ride over surface waves that are typically present in coastal waters. This type of operating mode results in the smallest vertical motions and is called platforming. For rough seas, with wave heights exceeding the amount of cross-structure clearance, SWATH ships are designed to have a sufficiently short heave period to provide inherent contouring behavior at low speeds.


DEVELOPMENT CHRONOLOGY

1938 - Frederick G. Creed, a Canadian, presents his idea for a small-waterplane-area twin-hull aircraft carrier to the British Admiralty. Several years later Creed is permitted to show it to the U.S. Navy, but they do not pursue the concept.

1946 - Frederick Creed is awarded a British patent.

1959 - U.S. Navy activity in moderately high speed "semi-submerged ships" begins with H. Boericke proposing the streamlined "shark form" monohull for which he was awarded a patent in 1962.

1965 - Alan McClure of Houston proposes the MOHOLE platform, with a configuration similar to Blair's, as a mobile drilling rig.

1967 - Dr. Reuven Leopold of Litton Industries presents to the U.S. Navy his moderately high speed TRISEC concept2, for which he was awarded a patent in June, 1969.

1968 - The 40m long, low speed small-waterplane-area twin-hull vessel Duplus3 is launched by the Boele Shipyard in the Netherlands. Designer of the 1200-ton Duplus is a Dutch naval constructor, J. J. Stenger, who based his design for a self-propelled oil exploration support vessel on the fact that submarines lying at periscope depth experience little wave-induced motion.

1968 - an M.I.T. student proposes a streamlined version of the MOHOLE platform for a class project and carries out model tests on the design, which he called a semi-submerged catamaran.

1968 - Dr. Tom Lang of the Naval Underseas Center (NUC) in San Diego begins intensive development of his concept for a "high speed ship with semi- submerged hulls", for which he was awarded a U.S. patent in 1971. A key element of the concept is the provision of movable horizontal fins located aft of the vessel's center of gravity to stabilize vessel trim and pitch motions at higher speeds.

1970 - Mitsui Engineering & Shipbuilding Co., in Tokyo, begins basic research on the "semi-submerged catamaran", or SSC.

1972 - Construction begins on the 190-ton SWATH workboat SSP KAIMALINO for NUC after 18 months of research by engineers at NUC and nearly 2.5 years of design and confirmatory model testing. Launching occurs in March, 1973.

1973 The acronym "SWATH" is coined by U. S. Navy technocrats who promote its use, rather than "semi-submerged" ship or catamaran, to distinguish this concept from conventional catamarans.

1979 - Mitsui Engineering & Shipbuilding completes the world's first commercial SWATH ferry, the 26.5 knot MESA 80 (aka, SEAGULL), with a capacity of 446 passengers.

1991 - The first of a class of 4 SWATH acoustic Surveillance ships designed by the U.S. Navy, the 71.5 m long victorious, is delivered to the Military Sealift Command.

1992 - Finnyards delivers the first SWATH cruiseliner, the 131 m long Radisson Diamond, to Diamond Cruise Ltd.

1993 - The existence of the world's first so-called "stealth" ship, the U.S. Navy's 50 m long Sea Shadow, an A-Frame SWATH ship built by Lockheed Missiles and Aerospace Co., is declassified and disclosed publicly, leading to a cover article in the July '93 issue of Popular Mechanics.
| | |
| --- | --- |
| SD Caws Storm Tender - Youtube | Wangeroog - Youtube |
| SKRUNDA - Youtube | Austra, LCS Coronade - Youtube |
SWATH LINKS:
CCGC Frederick G Creed, a Canadian Coast Guard survey ship.
USS Sea Shadow, a US Navy experimental stealth ship.
Radisson Diamond, a 350 person cruise ship.
R/V Kilo Moana, a University of Hawaii reasearch vessel.
Cloud X, a passenger ferry running between Florida and the Bahamas.
Nekton Rorqual/Swacat 80, an 80 foot cruise ship operated by Nekton Diving Cruises.
Cetus and Perseus, pilot vessels for the Netherlands Loodswezen.
Döse, Dunen, pilot vessels for the German Brotherhood of Elbe - Pilots.
Elbe, pilot station vessel for the German Brotherhood of Elbe - Pilots.