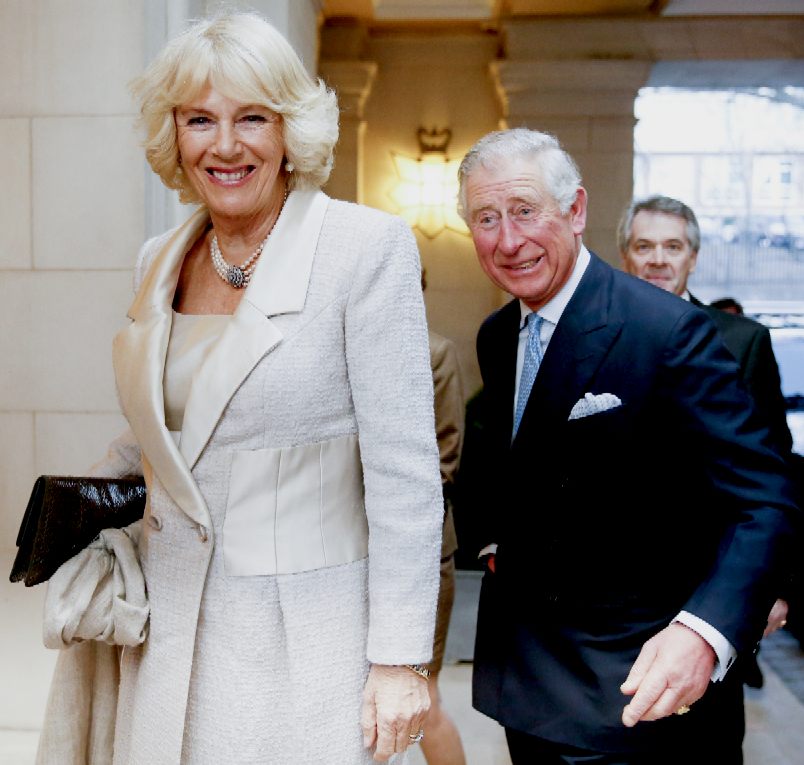 WASHINGTON, March 19 — A vociferous environmental campaigner, the Prince of Wales told government, corporate and non-profit leaders at a hotel in the US capital: "One issue that we absolutely cannot ignore is that of the increasing quantity of plastic waste in the marine environment.

Earlier, in lighter scenes, the royal couple mingled with gobsmacked young Americans as they hit some of Washington's top tourist attractions. Bright sunlight but chilly temperatures prevailed as they inspected the Lincoln Memorial and Martin Luther King monument. One young visitor from West Virgina was so excited to relay the news of the royal guests to her Twitter pals that she confused Camilla for mother-in-law Queen Elizabeth II, who turns 89 next month.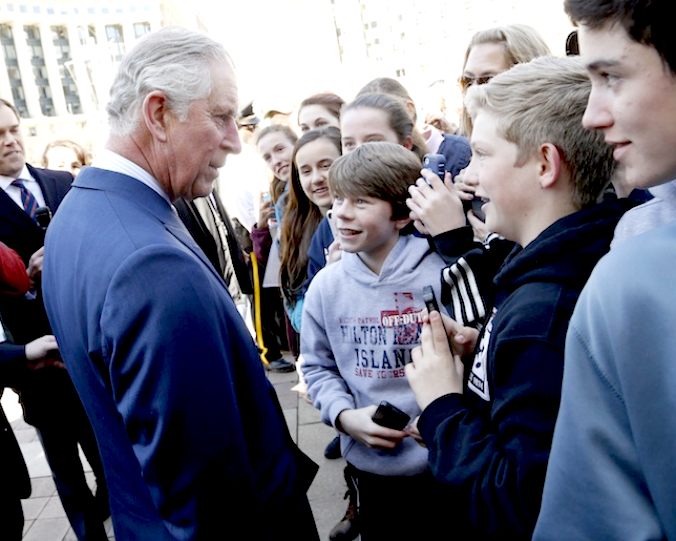 Perhaps not surprisingly in a republic besotted by royalty, cheers rang out when school groups spotted Charles and Camilla, 67, coming down the stairs. Prompted by a yell from an eighth-grade math teacher from North Carolina, they spent about five minutes chatting with youthful members of the crowd. "I was excited. He looks very important," Jasper Tahnk, 14, from Boston, told AFP after he was asked by the prince if he was on some kind of school break. Later they ventured out to Mount Vernon to look around George Washington's patrician home, which commands a grand view over the lower Potomac.

Prince Charles, 66, also took time to inspect the National Archives' copy of the Magna Carta, signed eight centuries ago this year by his predecessor, England's King John. It is the 20th official visit to the United States for Charles, who is assuming more and more of the duties once undertaken by his elderly mother. Charles and Camilla laid a wreath at the tomb of America's revolutionary war hero and first president and signed their names in a guest book—something Mount Vernon staff promptly shared via social media.
IN THE NEWS - TIME MAGAZINE 19 MARCH 2015

Britain's Prince Charles Urges Action to Clean Up the World's Oceans

The future monarch called ocean waste "one issue that we absolutely cannot ignore"

The U.K.'s Prince of Wales made an ardent speech on Wednesday in Washington, D.C., urging world governments to tackle the growing problem of oceanic pollution.

Prince Charles told the government officials, corporate executives and nonprofit leaders present that he was "horrified" to learn that up to 8 million tons of plastic enter the world's seas each year.

"One issue that we absolutely cannot ignore is that of the increasing quantity of plastic waste in the marine environment," he said on the first day of his 20th official visit to the U.S., reports Agence France-Presse.

The 66-year-old heir to the British throne then described a harrowing image of seabirds being killed after mistaking plastic for food.

Accompanied by his wife Camilla, he also paid a visit to the Lincoln Memorial and Martin Luther King Memorial.

On Thursday, the Prince will meet with President Barack Obama and Vice President Joe Biden in the Oval Office to discuss climate change, youth opportunities and other world affairs.
BBC NEWS - 19 MARCH 2015
The Prince of Wales and Duchess of Cornwall have visited monuments to Abraham Lincoln and Martin Luther King Jr as part of their trip to the US.
They were joined by figures from the American civil rights movement, Jesse Jackson and Congressman John Lewis.
Later, speaking at an environmental conference, the prince called on governments and businesses to end the dumping of plastics into the oceans.
The couple will meet President Barack Obama at the White House on Thursday.
The couple - who arrived in Washington DC for their three-day visit on Tuesday - were given a guided tour of the Lincoln Memorial sculpture, pausing at the spot where Dr King gave his famous "I have a dream" speech in 1963.
At Dr King's nearby memorial, they met Rev Jackson and Congressman Lewis, who helped organise the famous civil rights march in Selma, Alabama, in 1965 - dramatised in the recent movie Selma.
The prince and duchess were also given a tour of Mount Vernon - home of America's first president, George Washington.
The duchess also paid a visit to Washington's Shakespeare Theatre Company.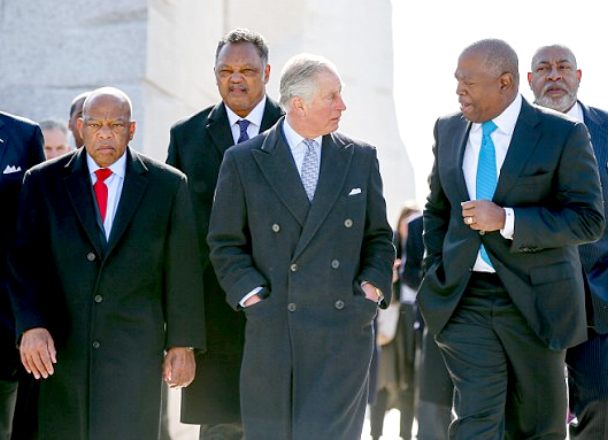 Visit: Prince Charles tours the Martin Luther King, Jr. Memorial with President and CEO of the Martin Luther King, Jr. Memorial Project Foundation Harry Johnson, Reverend Jesse Jackson.

At the National Archives, Charles looked delighted when he got not one, but two gifts that spoke to him personally. One was a patent issued in 1931 to his beloved great uncle, Lord Louis Mountbatten, for a new and improved polo stick. The other was a 1957 official cable from London to the US State Department, enquiring about "engine specifications" for a "midget car" that had been gifted to the prince, then eight years old. The prince laughed heartily at the cable.
HISTORIC MILESTONES
Prince Charles also visited the National Archives, where he viewed the United States' Charters of Freedom and the 1297 version of the Magna Carta.
He later told leading delegates to an environmental conference on marine waste of his concerns about the "increasing quantity of plastic waste" in oceans.
He said he had been "haunted" by images of seabirds found dead after mistakenly eating plastic, and called for better recycling and disposal of plastics.
The solution to problems caused by a "throw-away society" was to move towards a circular economy, where "materials are recovered, recycled and reused instead of created, used and then thrown away", he said.
ANALYSIS - Nicholas Witchell, BBC royal correspondent in Washington DC
Ask most Americans who they think of when they contemplate the British Royal Family and the chances are that Prince Charles would not be among the top three, and possibly, if we include Prince George, not even in the top five.
That's been something of a problem for him over the past decade or so. He's very often been squeezed out of the picture by his mother, his sons and his daughter-in-law.
Yet this is the man who will be Britain's next king and who, even now, is taking on more of his mother's role, most especially on overseas visits.
So a visit to Washington, to the UK's most important international ally, by Britain's king-in-waiting, has a particular resonance.
At the Lincoln memorial, on a cold spring morning, he and his wife Camilla received a warm welcome from groups of American schoolchildren on their half-term break.
A good many of these American youngsters knew who they were: they may have struggled with the precise details of his title ("Prince of England?") and her name (Camilla isn't as easy on either the memory or the tongue as Diana), but most of them appeared to realise that this was the guy who was one day going to be a king.
As for Charles, he's probably more at ease with himself and his immediate surroundings than he has been for decades.
Partly that's because he appears genuinely to enjoy visits such as this, accompanied as he is by Camilla, and with a programme that fulfils both the needs of the Foreign Office in terms of bolstering Britain's links with opinion formers and power brokers, and which also - importantly for Charles - gives him a chance to speak out on issues which matter to him, principally the environment and its protection.
King-in-waiting he may be, an appointment with President Obama at the White House he may have, but don't think for a moment that Charles is going to curb his commitment to issues which, as he puts it himself, he's been "banging on about" for decades.
They matter to him more than ever, and Washington gives him a platform to pursue them.
The US visit will see also the royals join in commemorating several important milestones.
These include the 150th anniversaries of the end of the American Civil War and the death of President Lincoln, and the 800th anniversary of Magna Carta.
Prince Charles is also expected to receive an award for exceptional leadership in conservation from the International Conservation Caucus Foundation.
The royal couple will also visit the home city of boxer Muhammad Ali, who was born in Louisville, Kentucky.
They will tour the city, which has a cultural centre dedicated to the life and achievements of the three-time world heavyweight boxing champion.
PRINCE OF WALES - HISTORY
The Prince Charles, Prince of Wales (Charles Philip Arthur George; born 14 November 1948), is the eldest son of Queen Elizabeth II and Prince Philip, Duke of Edinburgh. He has held the title of Prince of Wales since 1958, and is styled His Royal Highness The Prince of Wales, except in Scotland, where he is styled His Royal Highness The Prince Charles, Duke of Rothesay. The title Duke of Cornwall is often used for the Prince in relation to Cornwall.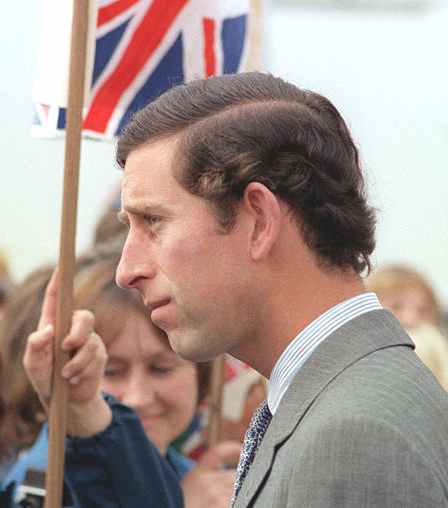 Prince Charles, Prince of Wales
Charles is Heir Apparent, equally and separately, to the thrones of sixteen sovereign states known as the Commonwealth Realms; he will most likely reside in and be directly involved with the United Kingdom. He will not, however, necessarily inherit the title Head of the Commonwealth. If Charles ascends to the throne, he will be the first British monarch to be descended from Queen Victoria through two lines: First, from his mother's side, through Edward VII, George V and George VI. And, second, through his paternal grandmother, Princess Alice of Battenberg who is the eldest daughter of Victoria, Marchioness of Milford Haven (formerly Princess Victoria of Hesse and by Rhine), who as a daughter of Princess Alice, Grand Duchess of Hesse and by Rhine is a female line grandchild of Queen Victoria. Though the Prince is first in line to the Thrones, in the United Kingdom order of precedence he is third, after his parents, and is not included in the other Realms' precedence orders at all, though typically he would be fourth or fifth, following his mother, the relevant vice-regal representatives and his father.
The Prince of Wales is well known for his extensive charity work, particularly for the Prince's Trust, the Prince's Regeneration Trust, and the Prince's Foundation for the Built Environment. He also carries out a full schedule of royal duties and, increasingly, is taking on more duties from his elderly parents as official representative of the Queen and deputy for his father. The Prince is also well known for his marriages to the late Diana, Princess of Wales and, subsequently, to Camilla, Duchess of Cornwall.
The Prince and Princess of Wales return from their 1981 wedding
at St. Paul's Cathedral
First marriage
On 29 July 1981, The Prince of Wales and Lady Diana Spencer were married at St Paul's Cathedral before 3,500 invited guests and an estimated worldwide television audience of 750 million people. All of Europe's crowned heads attended (except for Juan Carlos I of Spain, who was advised not to attend because the couple's honeymoon would involve a stop-over in the disputed territory of Gibraltar). So, too, did most of Europe's elected heads of state, with the notable exceptions of President of Greece Constantine Karamanlis, who declined to go because Greece's exiled King, Constantine II, a personal friend of the Prince, had been described in his invitation as "King of the Hellenes" and the President of Ireland, Patrick Hillery, who was advised by taoiseach Charles Haughey, not to attend because of the dispute over the status of Northern Ireland.
By marriage to the heir apparent, Lady Diana received both the title of the Princess of Wales and the style of "Her Royal Highness". She was popularly known as Princess Diana, although her correct title was, until the couple's divorce, Her Royal Highness The Princess of Wales. The couple made their home at Highgrove, near Tetbury in Gloucestershire and at Kensington Palace. Almost immediately, the Princess of Wales became a star attraction, chased by the paparazzi, her every move (including every change in hairstyle) closely followed by millions.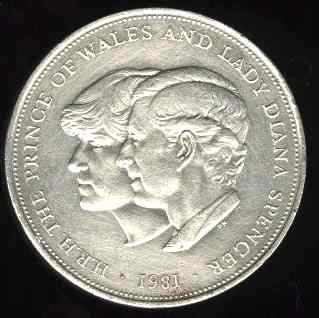 Charles and Diana's wedding commemorated
on a 1981 British twenty-five pence coin
However, the marriage soon became troubled. Critics of the Princess of Wales alleged that she was unstable and temperamental; one by one she sacked each of the Prince of Wales's longstanding staff members and fell out with numerous friends and members of her family -- her father, her mother, her brother, and The Duchess of York. Many of her own staff were reported to have left as well.
The Prince of Wales, too, was blamed for the marital troubles, continuing his adulterous affair with Camilla Parker-Bowles, even hosting evenings at Highgrove with her as hostess, and refusing to treat Diana as an equal. Within five years of the wedding the fairytale marriage was already on the brink of collapse. Ironically, the Prince and Princess of Wales were similar in some respects: both had had troubled childhoods, both took their public roles seriously and devoted much of their time to charity work, becoming highly regarded for it. (The Princess of Wales notably devoted much time to helping AIDS sufferers, while The Prince of Wales devoted much effort to marginalised groups in urban centres through The Prince's Trust charity and to victims of mines.)
Though they remained publicly a couple, they had effectively separated by the late 1980s, he living in Highgrove, she in Kensington Palace. The media noted their increasing periods apart and their obvious discomfort at being in each other's presence. Evidence and recriminations of infidelity aired in the news media. By 1992, it was obvious that the marriage was over in all but name. The couple formally separated, with media sources taking different sides in what became known as the War of the Waleses.
The marriage of The Prince and Princess of Wales formally ended in divorce on 28 August 1996. It had produced two sons, Prince William of Wales, and Prince Henry of Wales who is known as Harry.
Death of Diana, Princess of Wales
Diana, Princess of Wales, was killed in a car accident while being chased by paparazzi in Paris on August 31, 1997. The Prince of Wales was praised by some for his handling of the events and their aftermath, in particular his over-ruling of palace protocol experts (and indeed the Queen) who argued that as Diana, Princess of Wales, was no longer a member of the Royal Family, the responsibility for her funeral arrangements belonged to her blood relatives, the Spencers. The Prince of Wales, against advice, flew to Paris along with Diana's sisters to accompany his ex-wife's body home and insisted that she be given a formal royal funeral; a new category of formal funeral was especially created for her.
Relationship with Camilla Parker Bowles
During a 1994 television interview, Charles admitted that he had committed adultery "once it was clear the marriage had broken down." It was later confirmed that the third party was Camilla, ending years of speculation. In fact in 1993, the British tabloids got hold of tapes (still unexplained) of a 1989 mobile telephone conversation allegedly between Prince Charles and Mrs Parker Bowles, in which Prince Charles expressed regret for all the indignities she endured because of their relationship.
After his divorce from Diana, Princess of Wales, The Prince of Wales's relationship with Camilla Parker Bowles eventually became openly acknowledged, and she became his unofficial companion. With the death of Diana in 1997, Camilla's gradual emergence in the public eye came to a temporary halt. However, in 1999, after a party celebrating the 50th birthday of Camilla's sister Annabel Elliott, Charles and Camilla were photographed in public together. Many saw this as a sign that their relationship was now regarded as "official." In a further effort to gain acceptance of the relationship, in June 2000 Camilla met the Queen. Eventually in 2003, Camilla moved into Charles's homes at Highgrove and Clarence House, although Buckingham Palace points out that public funds were not used in the decoration of her suites.
Marriage remained elusive, with two main issues requiring resolution and acceptance. As future Supreme Governor of the Church of England, the prospect of his marrying Mrs Parker Bowles, with whom he had had a relationship while both were married, was seen as controversial by some. Both the Prince and Camilla had divorced their spouses, but as her former husband was still alive (although re-married to his long-time mistress), her remarriage was likely to be problematic. Over time, opinion—both public and within the Church—shifted somewhat to a point where a civil marriage would be acceptable.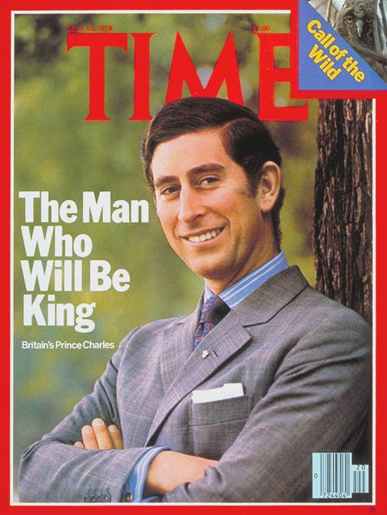 Prince Charles on Time Magazine
Second marriage
On 10 February 2005, it was announced by Clarence House that the Prince of Wales and Camilla Parker Bowles would marry on 8 April of that year, in a civil ceremony at Windsor Castle, with a subsequent religious blessing at the castle's St George's Chapel. Subsequently, the location was changed to the Guildhall in Windsor, possibly because of the discovery that Windsor Castle might have to become available for other people's weddings, should theirs be performed there. On Monday 4 April, it was announced that the wedding would be delayed for one day to 9 April to allow the Prince of Wales and some of the invited dignitaries to attend the funeral of Pope John Paul II.
It was announced by Royal authorities that after the marriage, as the wife of the Prince of Wales, Mrs. Parker Bowles would be styled Her Royal Highness The Duchess of Cornwall and that upon the Prince's accession to the throne, she would not be known as Queen Camilla but as Her Royal Highness The Princess Consort. This form of address is believed to be based on that used by Queen Victoria's husband Prince Albert, who was styled as Prince Consort. Some constitutional experts, however, believe that the wishes of Camilla and the Prince create a constitutional confusion. The British Department of Constitutional Affairs has stated that unless parliament passes legislation dictating her status, Camilla will become Queen Camilla upon her husband's succession. A spokesman for the Prince concedes that the government may have to formalise Camilla's status at the time of the succession.
The Prince of Wales and the Duchess of Cornwall spent their first wedding anniversary in Scotland. In Scotland they are styled the Duke and Duchess of Rothesay.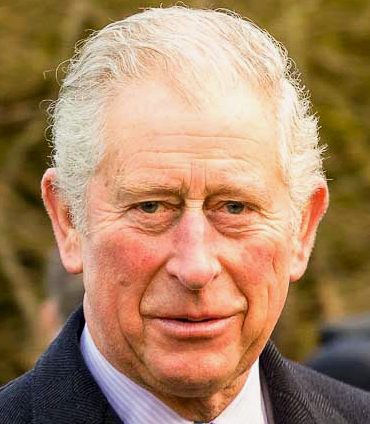 Charles Prince Wales
Personal interests
The Prince of Wales has a wide array of interests and activities, some of which have not been fully appreciated by the public. His popularity has fluctuated, but he is one of the most active Princes of Wales for centuries, and has devoted his time and effort to charity work and working with local communities.
The Prince is President of 18 charities, 16 of which he personally founded. Together these 18 not-for-profit organisations form a loose alliance called the Prince's Charities, which claim to raise over £110 million annually.
The Prince is also Patron of over 350 other charities. The Prince has ties with at least one associated charity - and sometimes several, in each of his main areas of interest described below.
This activity is not confined to the UK. For example, as heir to the Canadian Throne, he has aimed to use his tours of that country as a way to help draw attention to relevant issues, including youth, the disabled, the environment, the arts, medicine, the elderly, heritage conservation and education.
The Prince is regarded by some as an effective advocate for the United Kingdom. On a visit to the Republic of Ireland, for example, he delivered a personally researched and written speech on Anglo-Irish affairs that was warmly received by Irish politicians and the media.
Alternative medicine
The Prince has long been known to be interested in greater exploration of alternative medicine, drawing fire from the medical establishment and those who consider such "complementary therapies" to be pseudoscience at best and outright fraud at worst.
However, his charity The Prince's Foundation for Integrated Health has been closely involved in a government drive to improve regulation and quality standards in the sector.
Architecture
Charles has frequently shared his views about the built environment in public forums. In essence, these views might be thought of as being part of the intellectual tradition of English town planning that descends from Ebenezer Howard and Raymond Unwin. The Prince claims to "care deeply about issues such as the environment, architecture, inner-city renewal, and the quality of life" and is known for being an advocate of the neo-traditional ideas of architects such as Christopher Alexander and Leon Krier. In 1984, he delivered a blistering attack on the profession of architecture in a speech given to the Royal Institute of British Architects, describing the proposed extension to the National Gallery in London as a "monstrous carbuncle." Despite criticism from the professional architectural press, he has continued to put forward his views in numerous speeches and articles on traditional urbanism, the need for human scale, concern to restore historic buildings as an integrated element in new developments and green design. These ideas are furthered through two of the Prince's Charities in particular: The Prince's Regeneration Trust and The Prince's Foundation for the Built Environment. His Regeneration Through Heritage and Phoenix Trust merged in 2006 to form The Prince's Regeneration Trust, which develops his ideas about historic buildings and heritage-led regeneration by supporting and carrying out exemplar projects.
To put his ideas on architecture and urban planning into practice, the Prince of Wales is developing the village of Poundbury, in Dorset, which is built from a master plan by Krier. Prior to commencing work on Poundbury, Prince Charles published a book and produced a documentary entitled A Vision for Britain, both being critiques of modern architecture. In 1992, he also established The Prince of Wales's Institute of Architecture, and began the publication of a magazine dealing with architecture, but the latter has since ceased independent operation after being merged with another charity to create the Prince's Foundation for the Built Environment in 2001.
Prince Charles assisted with the establishment of a National Trust for the built environment in Canada, after lamenting the unbridled destruction of many of Canada's historic urban cores when in the country in 1996. He offered to help the Department of Canadian Heritage create a trust modelled after the British National Trust. With the passing of the 2007 federal budget by his mother's representative in Canada, a National Trust was finally fully implemented. Since 1999, Heritage Canada has awarded The Prince of Wales Prize for Municipal Heritage Leadership, given annually to a municipal government that has shown sustained commitment to the conservation of its historic places.
The Prince also has had a particular interest in the Romanian countryside since the 1980s, when, under the rule of the Communist dictator Nicolae Ceauşescu, Romanian villages were destroyed to move farmers to apartment buildings in cities. Since 1997 he has been visiting Romania regularly and has shown a great personal interest in Romania's Orthodox monasteries as well as in the fate of the Saxon villages of Transylvania where he purchased a house. He is patron to two built environment organisations that are active in Romania: the Mihai Eminescu Trust, which manages the restoration of Romanian architecture and INTBAU (the International Network for Traditional Building, Architecture, and Urbanism), an advocate of architecture that respects cultural tradition and identity.
In November, 2005, the Prince of Wales and the Duchess of Cornwall, visited the United States. Besides visiting Washington D.C. and President George W. Bush, the Prince and Duchess toured southern Mississippi and New Orleans to highlight the need for financial assistance in rebuilding these areas damaged by Hurricane Katrina. Prior to their visit to New Orleans, the Prince received National Building Museum's Vincent Scully Prize in Washington D.C. The Prince donated $25,000 (£14,000) of the Scully Prize to help restore communities damaged by Hurricane Katrina.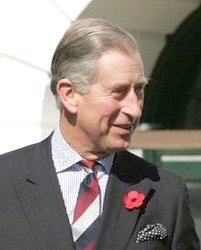 The Prince of Wales
Cars
The Prince is known to have a keen interest in cars, particularly the British marque Aston Martin. He has collected numerous Aston models over the years and has tight connections with the brand, so much so that special "Prince of Wales" Edition Aston Martins have been created over the years, sporting his favourite colour and trim combinations. He is a frequent visitor to the factory and its service department, and has been a guest of honour at most of the company's special launch events.
Canadian First Nations
As Prince of Wales, Prince Charles has paid seventeen visits to Canada, beginning in 1970. Five years later, while serving aboard HMS Hermes in Canadian waters, the prince spent a week in the Northwest Territories; the Canadian North remains an area that holds a special attraction for him. Reflecting the Prince's interest in aboriginal peoples, members of the First Nations community have conferred on him special titles: In Winnipeg, Cree and Ojibway students named the Prince "Leading Star" in 1996, and in 2001 he was named Pisimwa Kamiwohkitahpamikohk, or "the sun looks at him in a good way," during his first visit to the province of Saskatchewan in 2001. Charles also meets with aboriginal leaders; sometimes taking time to walk and meditate with tribal elders.
Environment
The Prince has taken a keen interest in environmental issues, and has taken a leadership role in promoting environmentally sensitive thinking, within business practice as well as urban planning and design. The latter ties in with his Prince's Foundation for the Built Environment.
In 2007, Charles received the 10th annual Global Environmental Citizen Award from Harvard Medical School's Centre for Health and the Global Environment, by former US Vice President Al Gore and actress Meryl Streep. Eric Chivian, director of the Centre, stated: "For decades The Prince of Wales has been a champion of the natural world... He has been a world leader in efforts to improve energy efficiency and in reducing the discharge of toxic substances on land, and into the air and the oceans." The Prince's travel to the United States via commercial airliner caused some controversy amongst environmental activists - with the Plane Stupid climate change action group's campaigner Joss Garman saying: ""It is frustrating and disappointing that someone who styles himself as a green leader and should be leading an example, behaves in such a manner when everyone else is doing their best to cut emissions."
In December, 2006, Charles announced plans to make his household's travel plans more eco-friendly. Later in 2007 he will also have published in his annual accounts the details of his own carbon footprint, as well as targets for reducing his household's carbon emissions.
Charles attended The British School - Al Khubairat's Environmental Exhibition hosted by a number of companies on February 27, 2007.
On Friday 23 March 2007, Prince Charles opened a climate change exhibition at The Peacocks shopping centre in Woking. The exhibition, a joint venture by Business in the Community and the British Council of Shopping Centres (BCSC) endorsed by the Climate Group, features displays with information on "issues of recycling, energy use, transport, waste reduction and locally sourced food."
Organic products
The Prince grows and promotes organic food, although he drew some ridicule when he joked about sometimes talking to his house plants.
In the early 1980s, the Prince moved to the Highgrove country estate in Gloucestershire, and became increasingly interested in organic farming - particularly in how to make it more economically viable. This culminated in 1992 in the launch of his own organic brand Duchy Originals - the name reflects his title as the Duke of Cornwall. The company sells a range of more than 200 organic and sustainably-produced products, from garden furniture to food. All the profits go to The Prince's Charities Foundation, raising £6 million so far. He is also patron of Garden Organic (the Henry Doubleday Research Association), a campaigning UK charity dedicated to promoting organic growing and living.
The Prince regularly meets with farmers to discuss their trade. In Saskatchewan in 2001 the foot-and-mouth epidemic in the UK prevented Charles from visiting farms, however organic farmers came specifically to meet him at the Assiniboia town hall.
He is co-author, with Charles Clover, environment editor of the Daily Telegraph (London), of Highgrove: An Experiment in Organic Gardening and Farming, published by Simon & Schuster in 1993.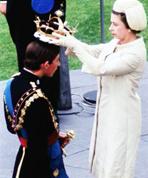 Prince Charles investiture
The Orthodox Church
Prince Charles is also interested in Eastern Orthodoxy. Each year he spends time in the Orthodox monasteries of Mount Athos in Greece and of Romania. With his father, Prince Philip, who was born and raised Greek Orthodox, he is a patron of the "The Friends of Mount Athos" organisation. Prince Charles was also the patron of the "21st International Congress of Byzantine Studies," a forum dedicated to the study of the history and art of the former Orthodox Roman Empire, also known as the Eastern Roman or Byzantine Empire.
Philosophy
Another of the Prince's greatest areas of interest continues to be philosophy, especially the philosophy of Asian and Middle Eastern nations, as well as so-called New Age theology. He had a friendship with author Sir Laurens van der Post, whom outsiders called the "guru to Prince Charles," starting in 1977 until van der Post's death in 1996; such was his friendship with van der Post that the author was named godfather to Prince William. In 2006, the Prince praised "that wonderful Kabbalistic diagram of the Tree of Life", as expounded by Warren Kenton, a teacher at the Temenos Academy.
Youth
The Prince's Trust, which he founded, is a charity that works mainly with young people, offering loans to groups, businesses and people (often in deprived areas) who had difficulty receiving outside support. Fundraising concerts are regularly held for the Prince's Trust, with leading pop, rock, and classical musicians taking part. Charles also supports the FARA Foundation, which runs Romanian orphanages.
During Charles's tour of Canada in 1998, with his two sons, he participated in the ceremonies marking the International Day for the Elimination of Racial Discrimination. Later, in 2001, he drew attention to youth and education while touring Saskatchewan, where he helped launch the Canadian Youth Business Foundation in Saskatchewan, and he visited Scott Collegiate, an inner-city school in Regina.
Personality and image
Prince Charles has been a prominent figure in the media since his youth, his public actions and comments attracting both praise and criticism, and sometime ridicule. The British tabloid media became particularly obsessed with Charles after his marriage to Lady Diana Spencer, casting him in a favourable light. Coverage continued through the couple's separation and divorce, with Charles often portrayed negatively. This press exposure affected the Prince's public image and popularity.
Prince Charles is also well known in the media as a keen environmentalist and gardener and has vociferously spoken on many green issues from the need to combat climate change[3] to his love of talking to his plants to help them grow[4].
During a visit to Canada in 2001 it was remarked by the Saskatchewan officer for protocol and the Prince's personal staff, that people were first beginning to see "the real Prince Charles."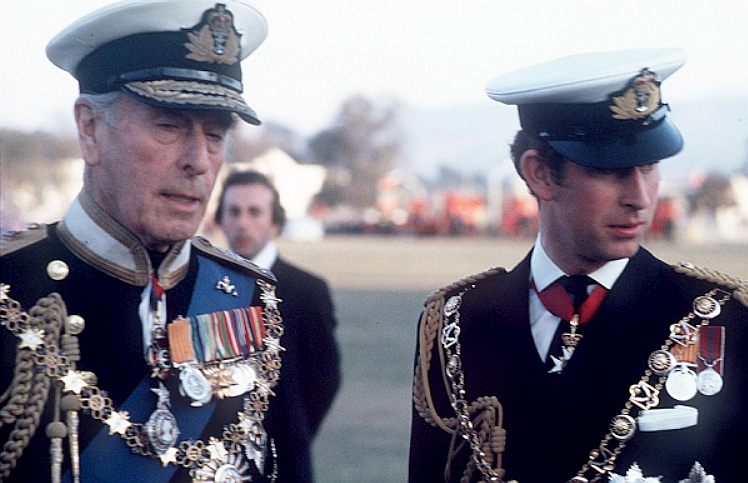 LORD MOUNTBATTEN and the PRINCE OF WALES - Admiral of the Fleet Louis Francis Albert Victor Nicholas Mountbatten, 1st Earl Mountbatten of Burma KG, GCB, OM, GCSI, GCIE, GCVO, DSO, PC, FRS (born Prince Louis of Battenberg; 25 June 1900 – 27 August 1979) – known informally as Lord Mountbatten – was a British statesman and naval officer, an uncle of Prince Philip, Duke of Edinburgh, and second cousin once removed to Elizabeth II. During the Second World War, he was Supreme Allied Commander South East Asia Command (1943–46). He was the last Viceroy of India (1947) and the first Governor-General of the independent Dominion of India (1947–48), from which the modern Republic of India was to emerge in 1950. From 1954 until 1959 he was First Sea Lord, a position that had been held by his father, Prince Louis of Battenberg, some forty years earlier. Thereafter he served as Chief of the Defence Staff until 1965, making him the longest serving professional head of the British Armed Forces to date. During this period Mountbatten also served as Chairman of the NATO Military Committee for a year.
Military career
On 8th March 1971, the Prince flew himself to Royal Air Force (RAF) Cranwell in Lincolnshire, to train as a jet pilot. At his own request, The Prince had received flying instruction from the RAF during his second year at Cambridge.
In September 1971 ,after the passing out parade at Cranwell, The Prince embarked on a naval career, following in the footsteps of his father, grandfather and both his great-grandfathers.
The six-week course at the Royal Naval College, Dartmouth, was followed by service on the guided missile destroyer HMS Norfolk and two frigates.
The Prince qualified as a helicopter pilot, in 1974, before joining 845 Naval Air Squadron, which operated from the Commando carrier HMS Hermes. On 9th February 1976, The Prince took command of the coastal minehunter HMS Bronington for his last nine months in the Navy.
With both qualification as a helicopter and fighter pilot, the Prince served in both the Royal Air Force and Royal Navy. He came to fly the following aircraft (the WWII vintage Spitfire arguably having more of a historical/symbolic value than practical importance):
Chipmunk basic pilot trainer

Harrier T Mk.4 V/STOL fighter

BAC Jet Provost jet pilot trainer

Nimrod maritime patrol aircraft

F-4 Phantom II fighter jet

Avro Vulcan jet bomber

Spitfire classic WWII fighter
Prince Charles served in the Royal Navy for five years:
1971–72: HMS Norfolk

1972–73: HMS Minerva

1974: HMS Jupiter

1974–75: Helicopter flying training at RNAS Yeovilton

1975: Pilot with 845 NAS on HMS Hermes

1976: Captain, HMS Bronington
The Prince's involvement as Colonel-in-Chief of Canadian Forces regiments permits him to be informed of their activities, and allows him opportunity to pay visits while in Canada or overseas. In 2001, Charles placed a specially-commissioned wreath, made from vegetation taken from French battlefields, at Canada's Tomb of the Unknown Soldier. The Prince also became patron of Canadian Warplane Heritage Museum in 1981. The Prince serves as Colonel-in-Chief, Air-Commodore-in-Chief, or Honorary Air Commodore of various regiments throughout the Commonwealth Realms.
In the United Kingdom, Prince Charles also holds the ranks of General (British Army), Admiral (Royal Navy) and Air Chief Marshal (Royal Air Force), having been promoted, to these ranks on his 58th birthday.
Official residence
The Prince of Wales's official London residence is Clarence House, former London residence of the late Queen Elizabeth the Queen Mother (the nineteenth century building has undergone major restoration and renovation to equip it for use by him, his wife, and their personal and office staffs). His previous official residence was an apartment in St. James's Palace. He also has a private estate, Highgrove in Gloucestershire and in Scotland he has use of the Birkhall estate near Balmoral Castle which was previously owned by Queen Elizabeth, the Queen Mother.
Some previous Princes of Wales resided in Marlborough House. It is no longer a royal residence. After its last royal resident, George V's widow Queen Mary, died in 1953, Queen Elizabeth II gave it to the Commonwealth Secretariat, which has used the building as its headquarters since 1965.[5]
In 2007, Charles bought a property in Carmarthenshire. Charles applied for permission to convert his newly-purchased farm, although according to their neighbours the application clearly flouted local planning regulations. The application is pending while a report is drafted on how the changes would affect the local bat population.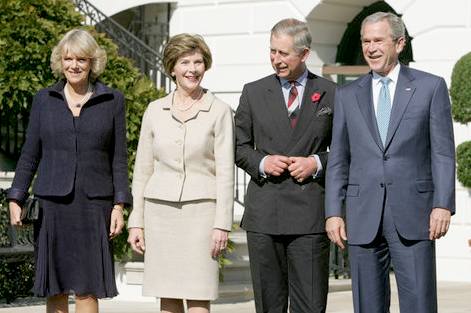 Camilla, Laura and George Bush and Prince Charles
Controversy
The prince has been involved in a number of controversial incidents through the years.
In 1999, the League Against Cruel Sports accused him of making a 'Political statement' after Charles took Princes William and Harry with him on the Beaufort Hunt at a time when the government were trying to ban fox hunting with hounds.
In 2004, doctors were widely reported speaking out against the Prince's backing of coffee enemas as a treatment for cancer. His defence of controversial therapies, London's The Guardian reported more recently on 23 May 2007, had prompted Edzard Ernst, professor of complementary medicine at Exeter's Peninsula Medical School to say: "It has been wholly inappropriate because it is not his role as Prince of Wales to mingle in health politics."[6]
An open microphone on 31 March 2005 caught him muttering to his sons about the media during an officially-arranged press photo-call: "I hate doing this...These bloody people." About the BBC's royal reporter Nicholas Witchell in particular, he confided: "I can't bear that man. I mean, he's so awful, he really is."
Even the Prince's organic farming efforts have attracted media criticism. According to London's The Independent daily in October, 2006 '... the story of Duchy Originals has involved compromises and ethical blips, wedded to a determined merchandising programme'.
February 2007 saw Duchy products themselves under attack, with the tabloid Daily Mail claiming that Prince Charles' own brand food was "unhealthier than Big Macs".
LINKS and REFERENCE
Daily Mail Charles-horrified plastic dumped sea Prince Wales plea solve issue sake future generations
BBC News Prince Charles on plastic waste
Asian Buzz 2015 Prince Charles makes impassioned speech about oceans
Pittsburgh CBS 2015/03/19/ Prince Charles speaks on dangers of plastic waste in oceans
http://pittsburgh.cbslocal.com/2015/03/19/prince-charles-speaks-on-dangers-of-plastic-waste-in-oceans/
http://asianbuzz.tk/2015/03/prince-charles-makes-impassioned-speech-about-oceans/
http://www.bbc.co.uk/news/uk-31936509
http://time.com/3750375/environment-prince-charles-oceans/
Official website of HRH The Prince of Wales
Monarchy Wales - leading campaign organisation
Family Ties to the Royal Wedding April 9 2005
Official website of 'The Prince's Trust'
View an image of an official portrait of Prince Charles by David Griffiths
The Prince's Official Canadian Visit (2001)
"Saskatchewan Honours Future King" (2001)
Significance of Treaties Reaffirmed Through Historic Royal Visit (2001)
View clip from Prince Charles interview by David Frost in 1969
Sympathetic appraisal of the Prince's contributions to architecture
Text of the Prince's 1984 speech criticizing Modern architecture
Charles, Prince of Wales at the Internet Movie Database
Further information about the Royal Family can be found in the Official Guidebook.
Andrew - Anne - Catherine - Charles - Dianna - Edward
Elizabeth - Harry - Philip - William - Zara