The Independent is a British national morning newspaper published in London by Independent Print Limited, owned by Alexander Lebedev since 2010. Nicknamed the Indy, it was launched in 1986 and is one of the youngest UK national daily newspapers. The daily edition was named National Newspaper of the Year at the 2004 British Press Awards. The paper's current Editor, Chris Blackhurst, was appointed in 2011, and its Deputy Editor, Archie Bland, in 2012. At only 28 years old, Bland is one of the youngest people to have been appointed to a senior managerial post in the British newspaper industry.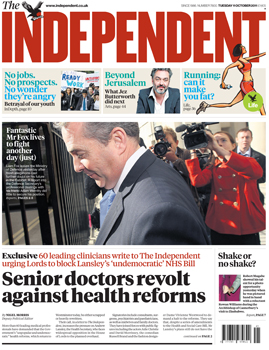 Originally a broadsheet newspaper, since 2003 the newspaper has been published in a tabloid or "compact" format. The Independent is regarded as leaning to the left politically, but tends to take a classical liberal, pro-market, stance on economic issues. It has not affiliated itself with any political party and features a range of views given on its editorial and comment pages. The paper originally described itself as "free from party political bias, free from proprietorial influence"—a banner it carried on the front page of its daily edition. This banner was dropped in September 2011.

In July 2012, it had an average daily circulation of 83,619, and the Sunday edition had a circulation at 118,759.
HISTORY
The Independent was first published on 7 October 1986 as a broadsheet. It was produced by Newspaper Publishing plc and created by Andreas Whittam Smith, Stephen Glover and Brett Straub. All three were former journalists at The Daily Telegraph who had left the paper towards the end of Lord Hartwell's ownership. Marcus Sieff was the first chairman of Newspaper Publishing and Whittam Smith took control of the paper.

The paper was created at a time of tension in British journalism. Rupert Murdoch was challenging long-accepted practices and fighting with the print unions. In this atmosphere the new paper attracted staff from Murdoch broadsheets who preferred not to move to Wapping. Launched with the advertising slogan "It is. Are you?", and challenging The Guardian for centre-left readers, and The Times as a newspaper of record, it reached a circulation of over 400,000 in 1989. Competing in a moribund market, The Independent sparked a general freshening of newspaper design as well as a price war. The market was tight and when The Independent launched The Independent on Sunday in 1990, sales were less than anticipated (partly due to the launch of the ill-fated Sunday Correspondent some months earlier). Some aspects of production merged with the main paper, although with a largely distinct editorial staff.

In the 1990s, The Independent started an advertising campaign accusing The Times and The Daily Telegraph of reflecting the views of their proprietors, Rupert Murdoch and Conrad Black. It featured spoofs of their mastheads with the words 'THE RUPERT MURDOCH', 'The Conrad Black', and below, 'THE INDEPENDENT'.

1990–present

By the 1990s, Newspaper Publishing had financial problems. Several other newspapers launched in the 1980s, including the Sunday Correspondent, had collapsed without winning enough readers to be profitable, and The Independent was experiencing similar problems. Two European media groups took small stakes. A number of other media companies were interested in the paper. Tony O'Reilly's media group and Mirror Group Newspapers had bought substantial stakes by mid-1994. In March 1995 Newspaper Publishing was restructured with a rights issue, splitting the shareholding into Independent News & Media (43%), MGN (43%), and Prisa (El País, 12%). In the same month, Whittam Smith left the paper.

In April 1996 there was another refinancing and in March 1998 O'Reilly bought the other 54% of the company for £30 million, and assumed the company's debt. Brendan Hopkins headed Independent News while Andrew Marr was appointed editor of The Independent and Rosie Boycott of The Independent on Sunday. Marr introduced a dramatic if short-lived redesign which won critical favour but was a commercial failure, partly as a result of a limited promotional budget. Marr admitted his changes had been a mistake in his book My Trade.

Boycott left in April 1998 to The Daily Express and Marr in May 1998, later to join the BBC as political editor. Simon Kelner was made editor. By this time the circulation had fallen below 200,000. Independent News spent heavily to improve circulation, and the paper had a number of redesigns. While circulation improved, it did not approach 1989 levels or restore profitability; job cuts and financial controls took their toll on the journalists and their morale. Ivan Fallon, on the board since 1995 and once a key figure at the Sunday Times, replaced Hopkins as head of Independent News & Media in July 2002. By mid 2004, the newspaper was losing £5million a year. A gradual improvement meant that by 2006, circulation was at a nine-year high.

In November 2008, following staff cuts, a move of production was announced to Northcliffe House, headquarters of Associated Newspapers. The two newspaper groups' editorial, management and commercial operations remained separate, but they shared services including security, IT, switchboard and payroll.

On 25 March 2010, Independent News & Media sold the newspaper to Alexander Lebedev for a £1 fee and £9.25m over the next 10 months, since closing the Independent and its Sunday title would have cost £28m and £40m respectively, due to long-term contracts. In 2009, Lebedev had bought a controlling stake in the London Evening Standard. Two weeks later, editor Roger Alton stood down
News A to Z directory, please click on the links below to find your favourite news or to contact the media to tell your story:
| | | |
| --- | --- | --- |
| DAY/MONTH/YEAR | PUBLICATION | DESCRIPTION |
| - | - | - |
| | Washington Post | Launch, Ambassador Woody Johnson 16 September 2021 |
| | Daily Mail | Mayflower readies for voyage across Atlantic |
| | C-NET | IBM powered Mayflower sets sail across Atlantic |
| | BBC News | AI driven robot Mayflower begins Atlantic voyage |
| | Independent | AI powered Mayflower returns to England beset by glitch |
| | Washington Post | Difficulty of attempt to cross Atlantic unmanned |
| | AI News | Green light to set sail |
| | Auto Evolution | AI powered trimaran suffers glitch on unmanned Atlantic crossing |
| | Ocean Crew | Unmanned vessel Mayflower sets off on transatlantic voyage |
| | BBC News | AI driven robot Mayflower sails back after fault develops |
| - | - | - |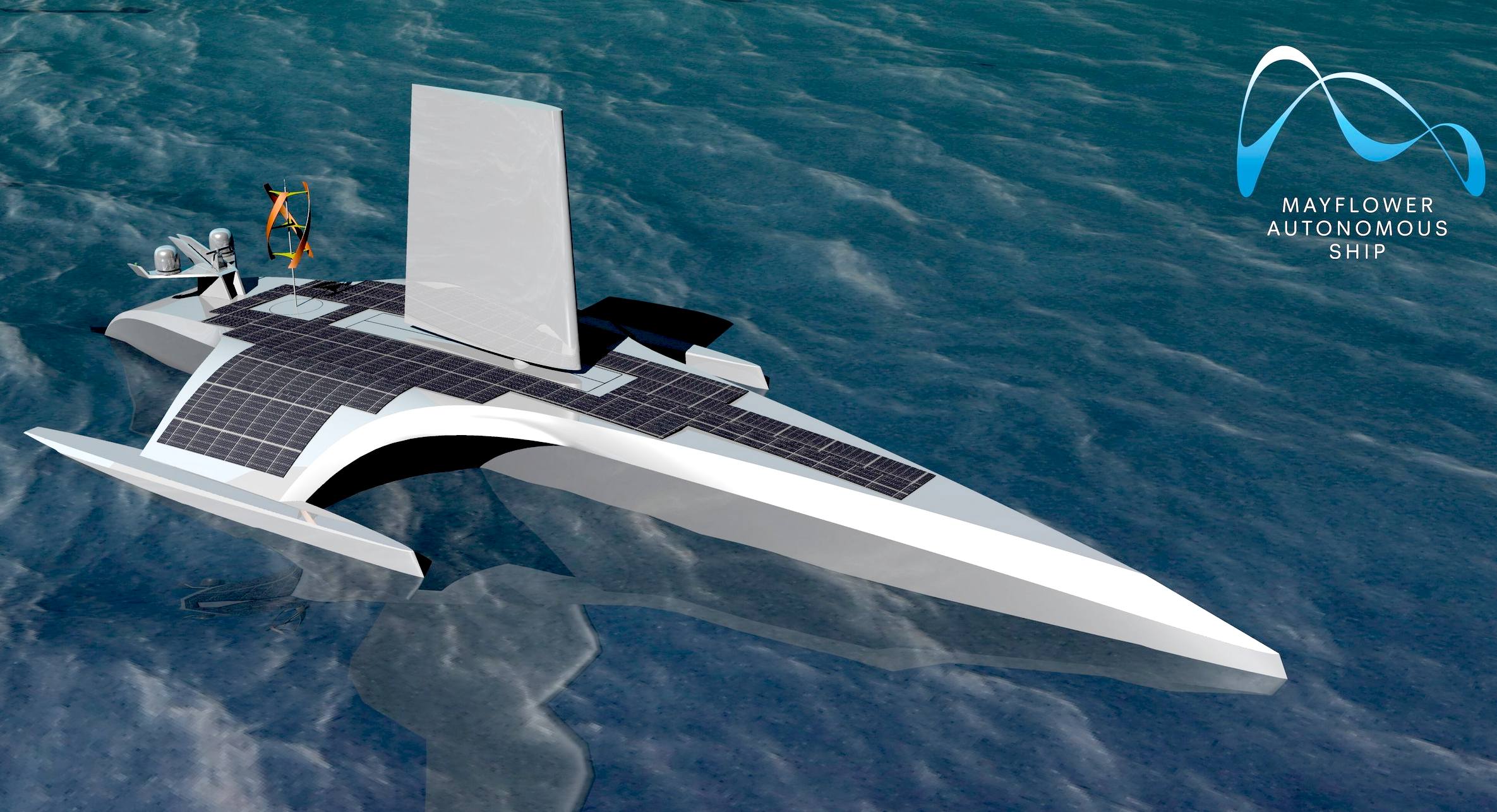 MAYFLOWER ATLANTIC VOYAGE 2021 - The Mayflower's is a corporate attempt to travel across the pond, unlike the Scout and Voyager autonomous Atlantic student attempts. The vessel is shown above as first envisaged in 2016 @100 feet, with wing-sail, wind turbine and solar panels. The IBM powered vessel launched in 2020, is 50 feet long and does not have wind harvesting equipment, though the same trimaran hull form. A British patent filed in January 2013 (granted in 2019) describes a COLREGs compliant navigation system on a trimaran hull, also including wind and solar energy harvesting apparatus. The IP rights vest in the Cleaner Ocean Foundation, to allow development of their Elizabeth Swann, zero emission yacht - that is considerably faster and larger than any solar vessel so far conceived.