Note that the following sites may contain content of an adult nature, including nudity, for which you must be over 18 to view.
Playboy is an American adult entertainment magazine, founded in 1953 by Hugh Hefner and his associates, which has grown into Playboy Enterprises, Inc., reaching into every form of media. Playboy is one of the world's best known brands. In addition to the flagship magazine in the United States, special nation-specific versions of Playboy are published worldwide. Playboy also delivers hardcore pornography through its television entity, Spice Digital Networks.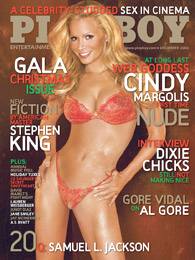 Cover of Playboy 2006
The magazine is published monthly and features photographs of nude women, along with various articles on fashion, sports, consumer goods, and public figures. It also has short fiction by top literary writers, such as Arthur C. Clarke, Ian Fleming, Vladmir Nabokov, and Margaret Atwood. The magazine has been known to express liberal opinions on most major political issues. Playboy's use of "tasteful" nude photos is often classified as "softcore" in contrast to the more "hardcore" pornographic magazines that started to appear in the 1970s in response to the success of Playboy's more explicit rival, Penthouse. Today, Playboy is actually one of the nation's largest producers of hardcore pornography via its 2006 acquisition of ClubJenna Inc, the company founded by porn star Jenna Jameson
History
Playboy's original title was to be "Stag Party," but an unrelated outdoor magazine, Stag, contacted Hefner and informed him that they would legally protect their trademark if he were to launch his magazine with that name. Hefner and co-founder and executive vice president Eldon Sellers met to discuss the problem and to seek a new name. Sellers, whose mother had worked for the short-lived Playboy Automobile Company in Chicago, suggested the name "Playboy".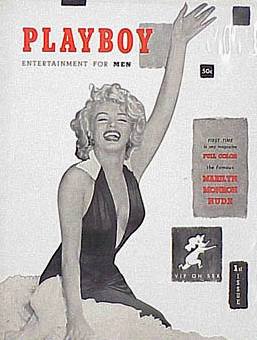 The first issue of Playboy 1953
The first issue, published in December 1953, did not carry a date, as Hefner was unsure whether there would be a second issue. It was produced in Hefner's Hyde Park kitchen. The first centerfold was Marilyn Monroe, although the picture used had originally been taken for a calendar, rather than for Playboy. The first issue was an immediate sensation; it sold out within a matter of weeks. Known circulation was 53,991 (Source: Playboy Collector's Association Playboy Magazine Price Guide). The cover price was 50˘. Copies of the first issue in Mint to Near Mint condition sold for over $5,000 in 2002.
The famous logo, depicting the stylized profile of a rabbit wearing a tuxedo bow tie, was designed by art designer Art Paul for the magazine's second issue and has appeared on every issue since. A running joke in the magazine involves hiding the logo somewhere in the cover art or photograph. Hefner said that he chose the rabbit as a mascot for its "humorous sexual connotation", and because the image was "frisky and playful".
An urban legend started about Hefner and the Playmate of the Month because of markings on the front covers of the magazine. From 1955 to 1979 (except for a six month gap in 1976), the "P" in Playboy had a number of stars printed in or around the letter. The legend stated that this was either a rating that Hefner gave to the Playmate according to how attractive she was, the number of times that Hefner had slept with her, or how good she was in bed. The stars, which ranged in number between zero and twelve, actually indicated the domestic or international advertising region for that particular printing.
Since reaching its peak in the 1970s, Playboy has seen a decline in circulation and cultural relevance because of increased competition in the field it founded — first from Penthouse, Oui, and Gallery in the 1970s; later from pornographic videos; and more recently from lad mags such as Maxim, FHM, and Stuff. In response Playboy has attempted to re-assert its hold on the 18–35 male demographic it once controlled through slight changes to its content and focusing on issues and personalities more appropriate to its audience—such as hip-hop artists being featured in the Playboy Interview.
Christie Hefner, a daughter of Hugh Hefner, became the CEO of Playboy in 1988 and is now also the Chairman of the Board.
The magazine celebrated its 50th Anniversary with the January 2004 issue. Celebrations were held at Las Vegas, Los Angeles, New York, and Moscow during the year to commemorate this event.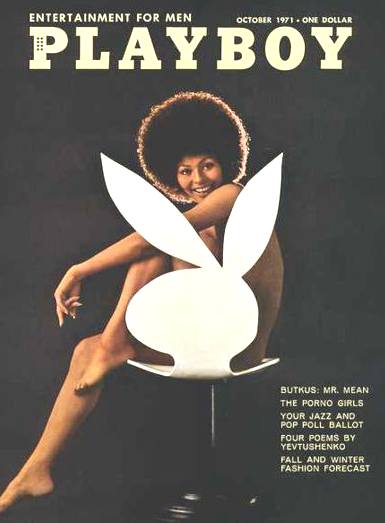 Playboy cover 1971 $1
Circulation
The best-selling Playboy edition was the November 1972 edition, which sold 7,161,561 copies. One-quarter (1/4) of all American college men were buying the magazine every month. [1]
Perhaps coincidentally, a cropped image of the issue's centerfold (which featured Lena Soderberg) became a de facto standard image for testing image processing algorithms. It is known simply as the "Lenna" (also "Lena") image in that field.[2]
Today, Playboy is still the largest selling men's magazine selling about three million copies a month in the U.S.[3]
Bans on the sale of Playboy
In many parts of Asia, including China, Myanmar, Malaysia, Thailand, Taiwan, Singapore, and Brunei, the sale and distribution of Playboy is banned. In addition, its sale and distribution is banned in almost all Muslim countries in Asia and Africa, such as Saudi Arabia and Pakistan. However, it is sold in Hong Kong. In Japan, where the genitals of models cannot be shown, a separate edition of Playboy is published under license by Shueisha.
An Indonesian edition of Playboy launched in April 2006, but the controversy started before the first issue was published. Even the publisher said that the content of the Indonesian edition will be different from the original edition, but the government was trying hard to ban it by using anti-pornography rules, since the Indonesian government cannot ban any medium. A local Muslim organization, the Islamic Defenders Front (IDF), is also opposed to Playboy being published on the grounds that it is pornography. On April 12 a group of about 150 IDF members clashed with police and stoned the editorial offices of the magazine. Despite this controversy, the edition quickly sold out.
In 1986, the American convenience store chain 7-Eleven removed the magazine from its stores. The store returned Playboy to its shelves in late 2003. Curiously, 7-Eleven stores had also been selling "Penthouse" and other more extreme magazines before the ban.
In bookstores throughout the world, it is common for Playboy, as well as other adult publications, to be put on a higher shelf than other magazines, thus keeping them out of the reach of most children. They are also often wrapped in opaque plastic bags as to not reveal the cover.
Playboy was not sold in the State of Queensland, Australia during 2004 and 2005 but has returned as of 2006. Furthermore, due to declining sales, the last edition of the Australian edition of "Playboy" published was the January 2000 issue.
Litigation
On the January 14, 2004, the Ninth Circuit U.S. Court of Appeals ruled that Playboy Enterprises Inc.'s (PEI) trademark terms "Playboy" and "Playmate" should be protected even in Internet searches that prompt pop-up advertisements. The suit originally started on April 15, 1999, when Playboy sued Excite Inc. and Netscape for trademark infringement.
Photographers
Many notable photographers have contributed work to Playboy, including Stephen Wayda, Arny Freytag, Ron Harris, David Mecey, Bunny Yeager, Russ Meyer, Pompeo Posar, and Richard Fegley.
Modeling payouts
| Year | Amount |
| --- | --- |
| 1959–1960 | $500 |
| 1961–1965 | $1,000 |
| 1966–1967 | $2,500 |
| 1968–1969 | $3,000 |
| 1970–1977 | $5,000 |
| 1978–1983 | $10,000 |
| 1984–1989 | $15,000 |
| 1990–1999 | $20,000 |
| 2000-2006 | $65,000 |
Playmate of the Year Modelling Payouts
Year
Amount
1960–1963
$500 plus $250 bonus
1982–today
$140,000, an automobile, and a motorbike.
During the 1960s and 1970s all PMOY's received pink automobiles, the hue of pink used was known as "Playmate Pink", the same shade as awarded to Mary Kay's independent sales force, a frequent source of confusion.
Photo editing
There is some controversy over airbrushing (or, in recent times, Photoshopping) that is done on the photos featured in the magazine. Some readers say that this kind of photo-editing takes away from authenticity and makes photographs look unnatural.
One example was the case of Pamela Anderson and the "disappearing labia". In Pamela's original Playboy appearance in the issue of February 1990, there was a rear-view photo with her legs slightly apart and her labia minora plainly visible. In reprints in later "Newsstand Specials" as well as a poster-sized print, Pamela had been "defeminized," this area having been painted over in the color of the object in front of which she was standing.
Similarly, in Rena Mero's ("Sable") first Playboy shoot, one photo of Mero lying on her back was edited to add extra pubic hair over her genitalia. However, in the 50th Anniversary issue, this picture was printed in its original, unedited state.
Rival adult magazine Hustler and owner Larry Flynt has often been critical of Playboy and their airbrushing. This has often led Hustler to promote the fact (and to make fun) that their nude pictorials are never airbrushed and are completely natural.
LINKS
WE ACCEPT NO RESPONSIBILITY FOR THE ACCURACY OF ANY FEATURED LINKS, nor do we endorse any article. This article is for research and review purposes only.
Note that the following sites may contain content of an adult nature, including nudity, for which you must be over 18 to view.
Official
Regional
Other
News A to Z directory, please click on the links below to find your favourite news or to contact the media to tell your story: