New Scientist is a weekly international science magazine and website covering recent developments in science and technology for a general English-speaking audience. Founded in 1956, it is published by Reed Business Information Ltd, a subsidiary of Reed Elsevier. New Scientist has maintained a website since 1996, publishing daily news. As well as covering current events and news from the scientific community, the magazine often features speculative articles, ranging from the technical to the philosophical.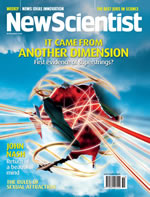 New Scientist magazine 2004
It is not a peer-reviewed scientific journal, but it is widely read by both nonscientists and scientists as a way of keeping track of developments outside their own fields of study or areas of interest. Many science articles in the general press are based on its contents; and it is a popular method for artists who are interested in art-science links to get information about scientific innovations, material about how the brain works, and perception. The magazine also regularly includes features, news and commentary on environmental issues, such as climate change.
Based in London, New Scientist has U.S. and Australian editions as well as a British edition.
Magazine layout
As of January, 2006, the magazine is laid out as follows:
News
Editorial - often offering a perspective on scientific topics which are current political issues.

Upfront - a summary of major news placed in a scientific perspective.

This Week - short articles on reports or results presented this week.

In Brief - a summary of research news and discovery.
Technology
Recent advances and developments in technology.

Trends - showing how new technology is altering the way we live our lives.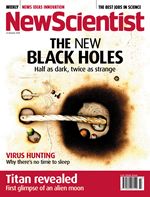 New Scientist cover - 22 January 2005
Regulars
Comment and Analysis - Offering a personal commentary on a contemporary topic.

Letters

Essay or Interview - often with a pioneer of a scientific development or an influential political or business leader.

Perspectives/Second Sight - An alternative point of view on a pertinent piece of information.

Politics - Westminster or Washington diary, describing how science is done in the capital.

The Word - A short article, usually about a new scienitific idea.

Enigma - a mathematical puzzle

Histories - how our knowledge of a topic came to be.

The Insider - careers/courses section for professional scientists

Bookends - reviews.

Feedback - short commentaries on amusing topics; in the past this has featured "nominative determinism" (whereby someone has a name particularly appropriate for their job), product warning labels, and unusual units of measurements (such as the size of countries being measured in 'Frances', and iceberg sizes in 'Belgiums').

The last word - write-in questions and answers about scientific phenomena.
Features
Commissioned in-depth articles on scientific topics. For example in the 2005-04-16 issue this section featured articles on Superatoms, the allergy epidemic, cloud seeding and oil exploration in Alaska.

There are also occasionally special pull-out sections on an important topic - eg. in January 2006 there was a feature on avian flu.
Typical Enigma
'More haste less seed' was set by Susan Denham in the 27 May 2006 edition. It can be paraphrased as follows:
A garden features a circular pond inside a triangular fence. The pond is as large as possible. Two of the sides of the fence are equal in length. Decreasing the other side to 3/4 of its initial length does not change the area inside the triangle and increases the radius of the pond by one unit. What are the lengths of the sides of the decreased triangle ?
Website
Daily news articles are available on their official website as well as extracts from longer articles, with a subscription service required to view full content. There are also special reports on topics from nanotechnology to cancer. New Scientist has also started a free podcast, SciPod, which can be downloaded directly from their site or through iTunes.
In late 2004 NewScientist.com added a subdomain called "nomoresocks" (No More Socks) where visitors could search for, rate, and discuss innovative gifts. Usage of the site dropped considerably by June 2005, and the section has since been retired.
In mid-2006, New Scientist content was also made available to users of Newsvine, a community-driven social news web site.
According to Technorati, NewScientist.com is the 14th in the list of most-linked-to news organisations and the only science and technology specialist in the top 100.
Website layout
NewScientist.com is organized into several sub-sections. The main site includes a list of news stories and features, and below this reside the technology site, environment site and space site. The site also includes several blogs, on a range of topics from inventions to short sharp science.
Criticism
In September 2006, New Scientist drew criticism from the writer Greg Egan, who distributed a public letter stating that "a sensationalist bent and a lack of basic knowledge by its writers" was making the magazine's coverage sufficiently unreliable "to constitute a real threat to the public understanding of science". In particular, Egan found himself "gobsmacked by the level of scientific illiteracy" in the magazine's coverage of Roger Shawyer's "electromagnetic drive", where New Scientist allowed the publication of "meaningless double-talk" designed to bypass a fatal objection to Shawyer's proposed space drive, namely that it violates the conservation of momentum. Egan urged those reading his letter to write to New Scientist and pressure the magazine to raise its standards, instead of "squandering the opportunity that the magazine's circulation and prestige provides" for genuine science education. The letter was endorsed by mathematical physicist John C. Baez and posted on his blog. [1]
The New Scientist editor replied defending the article, saying New Scientist is "an ideas magazine - that means writing about hypotheses as well as theories" [2].
Spin-offs
New Scientist has compiled four books of selected questions and answers from the Last Word section of the magazine. In 1998 the book The Last Word (ISBN 978-0192861993) was published and was followed in 2000 by The Last Word 2' (ISBN 978-0192862044). In 2005 and 2006 respectively, the books Does Anything Eat Wasps? And 101 Other Questions (ISBN 978-1861979735) and Why Don't Penguins' Feet Freeze? And 114 Other Questions (ISBN 978-1861978769) were published.
LINKS and REFERENCE
News A to Z directory, please click on the links below to find your favourite news or to contact the media to tell your story: