The Daily Express is a conservative, middle-market British tabloid newspaper. It is the flagship title of Express Newspapers and is currently owned by Richard Desmond. As of February 2007, it has a circulation of 761,637. Circulation figures according to the Audited Bureau of Circulations, in October 2007 show gross sales of its long standing rival the Daily Mail are at 2,400,143, compared with 789,867 for the Daily Express. This is an increase of almost a third over the sales figures for the Daily Mail 25 years ago, when it sold 1.87 million copies a day. By comparison, the Daily Express was selling over 2 million copies a day, so its sales have reduced by 60% over the same period.

Express Newspapers publishes the Daily Express, Sunday Express (launched in 1918), Daily Star and Daily Star Sunday.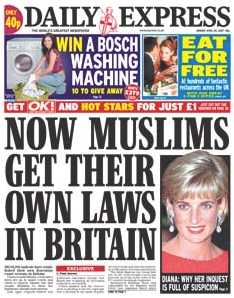 History

The Daily Express was founded in 1900 by Cyril Arthur Pearson, publisher of Pearson's Own and other titles. Pearson sold the title after losing his sight and it was bought in 1916 by the future Lord Beaverbrook. It was one of the first papers to carry gossip, sports, and women's features, and the first newspaper in Britain to have a crossword. It moved in 1931 to 133 Fleet Street, a specially-commissioned art deco building. Under Beaverbrook the newspaper achieved a phenomenally high circulation, setting records for newspaper sales several times throughout the 1930s. Its success was partly due to an aggressive marketing campaign and a vigorous circulation war with other populist newspapers. Beaverbrook also discovered and encouraged a gifted editor named Arthur Christiansen, who showed an uncommon gift for staying in touch with the interests of the reading public. The paper also featured Alfred Bestall's Rupert Bear cartoon and satirical cartoons by Carl Giles. An infamous front page headline of these years was "Judea Declares War on Germany", published on March 24, 1933.

The arrival of television and the public's changing interests took their toll on circulation, and following Beaverbrook's death in 1964, the paper's circulation declined for several years.

The Daily Express switched from broadsheet to tabloid in 1977 and was bought by the construction company Trafalgar House in the same year. Its publishing company, Beaverbrook Newspapers, was renamed Express Newspapers. In 1982 Trafalgar House spun off its publishing interests into a new company, Fleet Holdings, but this succumbed to a hostile takeover by United Newspapers in 1985. Under United's ownership, the Express titles moved from Fleet Street to Blackfriars Road in 1989. As part of a marketing campaign designed to increase circulation, the paper was renamed The Express in 1996 (with the Sunday Express becoming "The Express on Sunday").

Express Newspapers was sold to publisher Richard Desmond in 2000, by which time the names had reverted to Daily Express and Sunday Express. In 2004 the newspaper moved to its present location on Lower Thames Street in the City of London.

On October 31, 2005 UK Media Group Entertainment Rights secured majority interest from the Daily Express on Rupert Bear. They paid £6 million for a 66.6% control of the character. The Express Newspaper retains minority interest in Rupert Bear of 33.33% plus the right to publish Rupert Bear stories in certain Express publications.


Desmond era

In 2000, it was bought by Richard Desmond, publisher of a range of magazines including the celebrity magazine OK!. Controversy surrounded the acquisition because, at the time, Desmond also owned a selection of pornographic magazines such as Big Ones and Asian Babes (which led to him being nicknamed "Dirty Des" by Private Eye). He is still the owner of the most popular pornographic television channel in the UK, Television X. Desmond's purchase of the paper led to the departure of many staff including the then editor, Rosie Boycott, and columnist Peter Hitchens moved to The Mail on Sunday, stating that he could not morally work for a newspaper owned by a pornographer. Boycott, despite her different politics, had an unlikely respect for Hitchens. Stars of old Fleet Street, like the showbiz interviewer and feature writer Paul Callan, were brought in to restore some of the journalistic weight enjoyed by the paper in its peak years.


Sunday Express

The Sunday Express was launched in 1918. It is currently edited by Martin Townsend.


The Daily Express and the Daily Mail

The Daily Express has for many years been a rival of the Daily Mail, and each frequently attacks the other's journalistic integrity. In the late 1990s, as Tony Blair's New Labour government was at its most popular, the Express attempted to reinvent itself somewhat: it developed a less stridently right wing political stance than the Mail and, under editor Rosie Boycott, presented an agenda to the left of the Mail's, referring to itself as "the voice of New Britain". Since its acquisition by Richard Desmond, the paper has moved back considerably to the right. It is known for its frequent headlines about immigration. It also focuses frequently on Muslims, in cases such as Aishah Azmi, a teacher who wore a burka, and the establishment of Shariah courts. In the 2001 general election it supported the Labour Party, in 2004 switched its support to the Conservative Party.

The Daily Express has a banner on its front page saying "The World's Greatest Newspaper". Circulation figures to July 2007 show gross sales of 794,252 for the Daily Express, compared with 2,400,143 for the Daily Mail, twenty five years ago the Daily Express was selling over 2 million copies a day, the Mail was selling 1.87 million copies a day.


Controversial themes

"Diana Express"

The Daily Express has a reputation for consistently printing conspiracy theories based on the death of Princess Diana as front page news, earning it the nickname, the Daily Ex-Princess; this is often satirised in Private Eye, the newspaper being labelled the Diana Express or the Di'ly Express, possibly due to Desmond's close friendship with regular Eye target Mohamed Fayed. Even on July 7, 2006, the anniversary of the London bombings (used by most other newspapers to publish commemorations) the front page was given over to Diana. This tendency was also mocked on Have I Got News for You when on 6 November 2006, the day other papers reported the death sentence given to Saddam Hussein on their front pages, the Express led with "SPIES COVER UP DIANA 'MURDER'". According to The Independent "The Diana stories appear on Mondays because Sunday is often a quiet day." For the week beginning August 27, 2006, the paper printed the "Diana Dossier" in which it claimed to ask all the questions related to the death. Diana was on the front page every day (except Sunday) that week.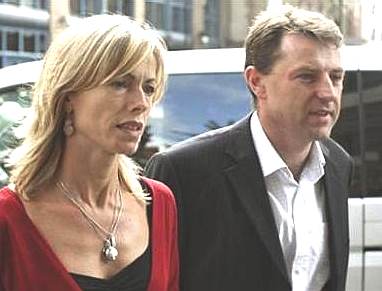 Victims of press attention - Kate and Gerry McCann

"Madeleine Express"

In the second half of 2007 the Daily Express, like most media outlets, gave a large amount of coverage to the missing toddler Madeleine McCann. From August 3, 2007, the Express dedicated at least part of the next 100 front pages to Madeleine in a run that lasted until November 10, 2007. Of the 100, 82 of these were the main headline (often stylised by "MADELEINE" in red block capitals, plus an inevitable picture of the child).

Though the family initially said that some journalists may have "overstepped their mark" they acknowledged the benefits in keeping the case in the public eye, but argued that the coverage needed to be toned down as daily headlines are not necessarily helpful. However, in March 2008, the McCanns launched a libel suit against the Daily Express and its sister newspaper, the Daily Star, as well as their Sunday equivalents, following the newspapers' coverage of the case. The action concerned more than 100 stories across the four newspapers, which accused the McCanns of involvement in their daughter's disappearance. One immediate consequence of the action was that Express Newspapers pulled all references to Madeleine from its websites.

In a settlement reached at the High Court of Justice, the newspapers agreed to run a front-page apology to the McCanns on 19 March 2008, publish another apology on the front pages of the Sunday editions of 23 March and make a statement of apology at the High Court. These apologies were described by media commentator Roy Greenslade as "unprecedented". The newspapers also agreed to pay costs and substantial damages, which the McCanns promised to use in the search for their daughter. In its apology, the Express stated that "a number of articles in the newspaper have suggested that the couple caused the death of their missing daughter Madeleine and then covered it up. We acknowledge that there is no evidence whatsoever to support this theory and that Kate and Gerry are completely innocent of any involvement in their daughter's disappearance."


Editors

Arthur Pearson (April 1900 - 1901)
Fletcher Robinson (1901 - 1909)
R. D. Blumenfeld (1909 - 1929)
Beverley Baxter (1929 - October 1933)
Arthur Christiansen (1933 - August 1957)
Edward Pickering (1957 - 1961)
Robert Edwards (acting) (November 1961 - February 1962)
Roger Wood (1962 - May 1963)
Robert Edwards (1963 - July 1965)
Derek Marks (1965 - April 1971)
Ian McColl (1971 - October 1974)
Alastair Burnet (1974 - March 1976)
Roy Wright (1976 - August 1977)
Derek Jameson (1977 - June 1980))
Arthur Firth (1980 - October 1981)
Christopher Ward (1981 - April 1983)
Sir Larry Lamb (1983 - April 1986)
Sir Nicholas Lloyd (1986 - November 1995)
Richard Addis (November 1995 - May 1998)
Rosie Boycott (May 1998 - January 2001)
Chris Williams (January 2001 - December 2003)
Peter Hill (December 2003 - )


Columnists

Present columnists:

Vanessa Feltz
Ann Widdecombe
Frederick Forsyth
Leo McKinstry
Richard and Judy

Past columnists:

Peter Hitchens
Andrew Marr
Carol Sarler
Jenni Murray
ABC Circulation Figures. Audit Bureau of Circulation.

Peter Hitchens "Everything you write is complete ****," she says, "but I like you", New Statesman, 18 December 2000.

McKinstry, Leo We Cannot Sit Back And Let Sharia Law Take Root In Britain, Daily Express

For instance in the "Hackwatch" column of Private Eye #1174

"Mailwatch".

"From Victims to Villains", ABC News

"I don't think necessarily having newspaper headlines with the image of Madeleine being thrust on to people every single day helps. Clearly we have seen irresponsible reporting.", Sunday Herald

"Damages due over McCann stories", BBC News Online

Leigh Holmwood. "Express titles cut back McCann coverage",

"Kate and Gerry McCann: Sorry", Daily Express
CURRENT AFFAIRS:
EQUINOX | CUTTING EDGE | FILE ON FOUR | MAN ALIVE | NEWSNIGHT | NEWSWATCH | PANORAMA
QUESTION TIME | THE MONEY PROGRAMME | THIS WEEK
News A to Z directory, please click on the links below to find your favourite news or to contact the media to tell your story:
Send a press release: Sending a release to PA PR Services
Contact The Press Association news desk on: T: +44 (0) 20 7963 7000 E: information@pa.press.net

To send a potential news story for consideration by PA editors, e-mail copy@pa.press.net.
Please note that all attachments will be ripped out as these e-mails are directed into PA's news system. Any press release copy needs to be copied and pasted into the e-mail itself. Content sent to copy@pa.press.net will be considered by the newsdesk and may be passed to a reporter to be followed up.
PA does, however, distribute full-text press releases directly to newsrooms on their PA Mediapoint service. To include a press release on this service, please contact PA's partners direct :
PR Newswire
Business Wire
Medialink
na europe
The Press Association 292 Vauxhall Bridge Road, London, SW1V 1AE
More information is available on this site, or by contacting Martin Huckett: T: +44 (0) 20 7963 7849 E:mailto:martinhu@pa.press.net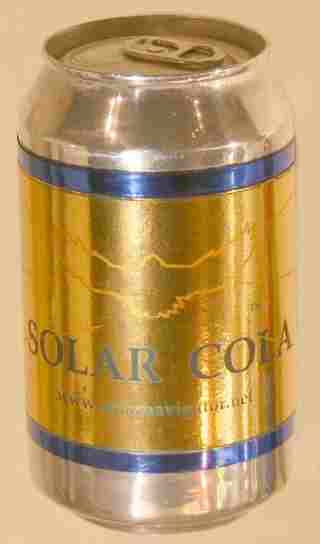 Solar Cola - the healthier alternative.
WE ACCEPT NO RESPONSIBILITY FOR THE ACCURACY OF ANY FEATURED LINKS