Sky News is a 24-hour British domestic and international television news channel that started broadcasting on 16 February 1989 as part of the then four-channel Sky Television service. It was modelled on the US CNN channel and soon gained a reputation for immediacy and innovation that reflected well on BSkyB. The station can now be viewed in the UK, and around Europe and the world. Sky News also provides news for UK local radio stations.
The usual rolling news schedule is supplemented with a number of landmark programmes and news specials. It has a distinctive look and sound and has won many awards over the years. The channel has seven UK and eight foreign offices, and it can call on worldwide News Corp resources.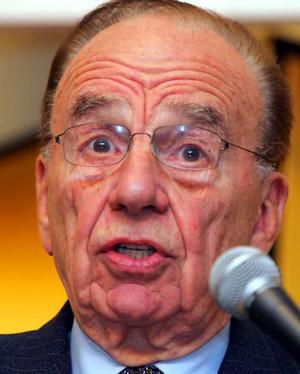 Rupert Murdoch speaking in Tokyo
Overview
Sky News is owned by Rupert Murdoch's News Corporation via his holding in British Sky Broadcasting. Murdoch said of it in March 1992, when he was the full owner:
"Taking nothing away from CNN, which has done an outstanding job, I would point out that Sky News, the Fox [his US television network] news service and the News Corporation's combined reach - which have together over three thousand journalists spread over every continent and every country - leave us with an army of news gatherers second to none both with regard to their access to news and ability to bring news from anywhere into people's homes"
The station's headquarters are in Osterley, West London, employing well over 50 on-screen staff (anchors, weather forecasters, correspondents and reporters) and over 600 behind-the-scenes staff. The station has eight of its own bureaus outside the United Kingdom and shares many more with other News Corporation stations.
Sky also produces Sky News Radio news bulletins for commercial stations, a website (Sky News Online); and a Library Sales division, and bulletins for Five News.
History
On 8 June 1988, Rupert Murdoch announced to the British Academy of Film and Television Arts that he would provide a new television news service with the words We are seeing the dawn of a new age of freedom for the viewer. Sky News started broadcasting at 6pm on 5 February 1989.
"Visually Sky News looked very neat, with slick and classy presentation and John O'Loan's original vocation as an architect showing in the studio set. Sky had gone for the same format as the 9 O'Clock News on the BBC which had recently been redesigned to give the impression of activity and immediacy by placing the newsreader against a backdrop of the working newsroom. Sky News, it was universally agreed as staff nodded in vigorous approval, had succeeded rather better at the same thing. The critics were mildly taken aback. Contrary to some of the horror scenarios bandied about by the chattering classes there seemed to be little to grumble about. And as its slogan of 'We're there when you need us,' emphasised, it was always on."
In the early days the channel operated on a £40 million budget (plus £10 million share of overheads), which led Sam Chishom to propose to Murdoch the station be closed, but Rupert was pleased with its achievements ... there were overriding reasons of prestige and politics for keeping it ... the final hurdle of the Broadcasting Bill had still to be overcome and the case for the acceptability of Sky would collapse if suddenly there was no news channel. - former deputy Prime Minister Viscount Whitelaw said to the House of Lords in 1990 that Sky News had a very high reputation ... I admire it, as do many other people, it will certainly waken up both the BBC and ITN and ensure that they compete with that is a very important news service. The channel has never been run for a profit, and has considered using ITN to supplement the service.
By March 1992 Sky turned from loss to profit, when Murdoch would say Sky News, has quietly, if expensively, become the first building block of what we envision will become the premier world-wide electronic news-gathering network anywhere. Ask anyone in Europe, and particularly the BBC and you will be told that Sky News has added a new and better dimension to television journalism.
Sky News was the only UK 24 hour news channel (aside from CNN international on Astra, BBC World Service Television started in 1991 but has never been broadcast in the UK) until November 1997 when BBC News 24 launched. In September 1999 the European Commission ruled against a complaint by Sky News which argued that the publicly funded BBC News 24 was unfair and illegal under EU law. The EC ruled that the television licence fee should be considered state aid (within the meaning of Article 87) and that it was justified due to the public service remit of the BBC and that it did not exceed actual costs of the channel.
In March 2000 Sky News Active was launched, a 24-hour interactive service providing headlines (and other services which ranged from weather, the top story of the day and showbiz) on demand.
In March 2004 it was announced that Sky News had won a 5-year contract to supply news bulletins to Five, taking over from ITN in January 2005
On 24 October 2005, Sky News moved to a new studio with revised music and on screen graphics all in Widescreen (16:9) format and a new schedule. James Rubin joined to present an evening show, and Eamonn Holmes to present Sunrise. This relaunch was disastrous for the channel, and, since October 2005 BBC News 24 has overtaken Sky News in the ratings (although News 24 is carried on more platforms). The changes were reversed in July 2006 and on 25 February 2007 the channel changed its graphics scheme that displays breaking news in yellow.
Reception
Sky News is free-to-air on the Astra 2 satellites carrying Sky Digital. It is also available on Freeview and analogue and digital cable, though not currently via the UK's biggest cable operator, Virgin Media, due to a dispute. In 2007 BSKyB announced its intention to cease broadcasting Sky News as well as other BSkyB channels over Freeview pending Ofcom approval.
Sky News is also shown internationally, and can often be seen in hotels as well as being offered by some cable providers as part of their English-language line-up.
The international version is shown as free-to-air on Astra 1KR at 19.2E. It is also carried encrypted on a number of satellites for international reception - including but not limited to Hot Bird, Nilesat, Amos 1 and Intelsat 10-02. It is also usually carried on cable systems in Europe, particularly (but not only) in Northern Europe.
Regional variations
Most of Europe, the Middle East and Asia receive the same version of Sky News as people in the UK, though with localised advertising. These feeds are sometimes known collectively as "Sky News International".
Sky News Australia and Sky News New Zealand are different channels that carry a lot of Sky News UK programming, and share it's style, but also have local programming and advertising. In Australia, a Sky News UK feed is also available at all times, albeit a tiny quarter screen version. From 2004 to 2006 Sky News Ireland similarly carried local programming. This was then discontinued, the Irish feed reverting to a local advertising only service.
Virgin Media dispute
On 1 March 2007, the contract for Virgin Media to provide Sky's basic channels (including Sky News) on their cable TV service expired after a dispute between Virgin Media and BSkyB. At Midnight, Sky News was removed, the electronic programming guide changed to "SKY SNOOZE TRY BBC" until Richard Branson demanded the message be removed saying I have asked them to take it down. We do not mean any disrespect to Sky News. I think it is a very good news channel.
Sky News Radio
Sky News Radio is a provider of news bulletins for radio stations in the United Kingdom.
In March, BSkyB and Chrysalis Group announced a joint partnership to launch a dedicated Sky News Radio station on the proposed bid by Channel 4's 4 Digital Group for the second DAB multiplex in the United Kingdom.
Programming
When elections, either national, or international take place, Sky edits its schedule to focus on them. Recent examples have been the UK General Elections of 2005, the Israeli Elections of 2006, and the US Mid-Term Elections of 2006. Sky also often shows long interviews. Recent examples of these have been Adam Boulton's exclusive half-hour interview with Al Gore. At the end of each year, in December and January of the new year, a series of special 'Year in Review' shows are shown which look back at memorable news stories from the past year.
In-Depth Series
Recently the channel has focused on week long series of programming which focus individual areas of society and current affairs and allow for a greater level of depth. In the past examples of these series have included Inside Iraq, Green Britain and Crime Uncovered.
Crime Uncovered - the most recent example of these series - was shown throughout the week beginning Monday 4th June. The Sky News Press Office wrote;
"Sky News presents a week of special reports focusing on how crime affects life in Britain today. Includes debates, unique access to a police station, court and prison, and interviews with officials, celebrities and members of the public."
Identification and stings
Bruce Hammal is heard at the top of each hour introducing the channel, for example saying "Sky News, with presenter/s.", after October 2005 he said "Live from the Sky News Centre, this is Programme name with presenters." or "This is programme name with presenter/s". After the merger he said "This is Sky News a part of the British Sky Broadcasting Network", in 1993 the introduction was "From the Sky satellite network this is Sky News", and by 1995 "This is Sky News, part of the Sky Television Network" - or just "This is Sky News".
Perception and awards
Sky News operates under the requirements of United Kingdom broadcasting regulations that require neutrality.
In early 1994 Kelvin MacKenzie, former editor of The Sun newspaper, was appointed Managing Director of BSkyB. MacKenzie's proposed changes to Sky News lead to clashes with CEO Sam Chisholm and the head of Sky News, Ian Frykberg, who protested what they saw as an attempt to take its news values down market. The most ferocious battle occurred when Mackenzie wanted Sky News to run an interview with Lady Bienvenida Buck. Frykberg refused to air the interview and resigned shortly afterwards - the interview was put on Sky One. MacKenzie announced his resignation in August 1994, but not until Sky News had transmitted live pictures of the freeway chase of OJ Simpson white bronco on 17 June 1994 bringing US 'helicopter journalism to the UK
Sky News covered the trial in Boston US trial of Louise Woodward with live coverage. When Sky returned to a regular schedule, viewers demanded the trial coverage. From Woodward's home in Elton, Cheshire Sky broadcast locals reactions, but this brought criticism of maintaining a pro-Louise Woodward stance, as she was found guilty.
From 2000 onwards, Sky News began expanded the international coverage opening bureaus in Africa, Europe, and the far East. It won awards from the Royal Television Society
Sky News has had BAFTA awards for coverage of the September 11, 2001 attacks and in 2003 for the Soham Murders
Coverage of the 7 July 2005 London bombings won the 2006 International Emmy Breaking News award commending the "fast and accurate" reporting.
In June 2007 Sky News was named the "Best News Channel" at the Broadcast Digital Channel Awards. It beat several other national and international broadcasters including Aljazeera English and the BBC
In November 2005 the then head of BBC News, Peter Horrocks acknowledged that Sky News remained the first choice for 'key opinion formers'. However, in recent years, Sky News has increasingly started to fall behind BBC News 24 in the ratings.
---
Rupert Murdoch - AKA Keith Rupert Murdoch
Born: 11-Mar-1931
Birthplace: Melbourne, Australia

Born in Australia, raised in England, now an American citizen, Rupert Murdoch is the founder of News Corporation, named after his first newspaper, Australia's Adelaide News.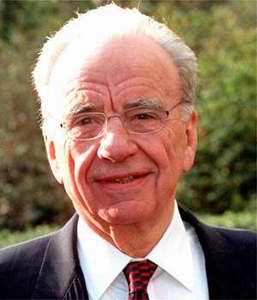 Rupert Murdoch
His father, Keith Murdoch, had been an old-fashioned journalist who started as a political correspondent for Australia's Melbourne Age newspaper, and delivered reports on Gallipoli that famously exposed scandal on the battle front. The elder Murdoch co-founded the Australian Journalists Association, became editor of the Sydney Morning Herald, was knighted in 1933, and later managed Australia's Herald & Weekly Times newspaper group.
Murdoch and his father were distant and often at odds, and when the younger Murdoch returned to Australia after his father's death in 1952, he expected to inherit substantial wealth. Instead he received little beyond control of a single newspaper, the Adelaide News. Almost immediately, the 22-year-old Murdoch installed a feisty attitude at the paper, and as circulation increased he began buying smaller newspapers from outlying areas. Within a few years Murdoch purchased Sydney's Daily Mail, and in 1964 he launched Australia's first national paper, The Australian. By the mid-1970s Murdoch papers were a dominant force in Australia, and he began using his editorials to push conservative political issues.
With subsequent expansion to Europe and America, Murdoch's News Corp is now the parent company of an interlocking media empire that includes television, movies, cable networks, book publishing, satellite TV, magazines and newspapers operating in the United States, Australia, Europe, Latin America, Asia and the Pacific Basin. Beyond his hundreds of newspapers, Murdoch's best known brand names include 20th Century Fox, Fox Television, DirecTV, Harper Collins Publishers, and MySpace.com.
Murdoch bought the New York Post in 1976, making that paper famous for its salacious coverage of grisly crime. Murdoch decided to move into television, but US law mandated that only Americans could own US television stations; thus he was naturalized in 1985, and in 1986 purchased John Kluge's Metromedia, using it to start America's fourth television network, Fox Broadcasting. In 1996 he started the Fox News Channel, delivering a staunchly conservative perspective on the news, as overseen by former Republican campaign wizard Roger Ailes. Murdoch's British papers solidly backed Margaret Thatcher, John Major, and Tony Blair, and his American mouthpieces have vocally backed Republicans since Ronald Reagan. During the 2002 and 2003 build-up to the invasion of Iraq, all of Murdoch's 175 newspapers editorialized for war.
His companies' labor relations have sometimes been brutal, especially in England, where he led the industry in modernizing the printing process, laying off thousands of workers in the process. In 1999, The Economist reported that despite billions in profits, News Corporation had paid no corporate taxes for more than a decade, thanks to its complex international structure and the extensive use of offshore tax havens. In 2004, Murdoch purchased a penthouse condominium in New York City for $44-million. His net worth is estimated at about $7-billion.
His second wife, Anna Torv, worked for Murdoch as a reporter before marrying him, and divorced him after more than thirty years when she discovered he had been having an affair with a junior executive at Star TV, a News Corp subsidiary. Torv reportedly won the largest divorce award in history, about $1.7 billion in assets and $110 million in cash. Murdoch and his mistress, Wendi Deng, were married seventeen days after his divorce from Torv was finalized.
Don Henley has said that his pop hit "Dirty Laundry" is based on Murdoch's style of journalism. Murdoch was reportedly the inspiration for Elliot Carver, the multimedia megalomaniac played by Jonathan Pryce who tried to start World War III in the James Bond film Tomorrow Never Dies.
Gender: Male
Religion: Christian
Race or Ethnicity: White
Sexual orientation: Straight
Occupation: Business
Nationality: United States
Executive summary: Founder and CEO of News Corp
News A to Z directory, please click on the links below to find your favourite news or to contact the media to tell your story:
LINKS and REFERENCE