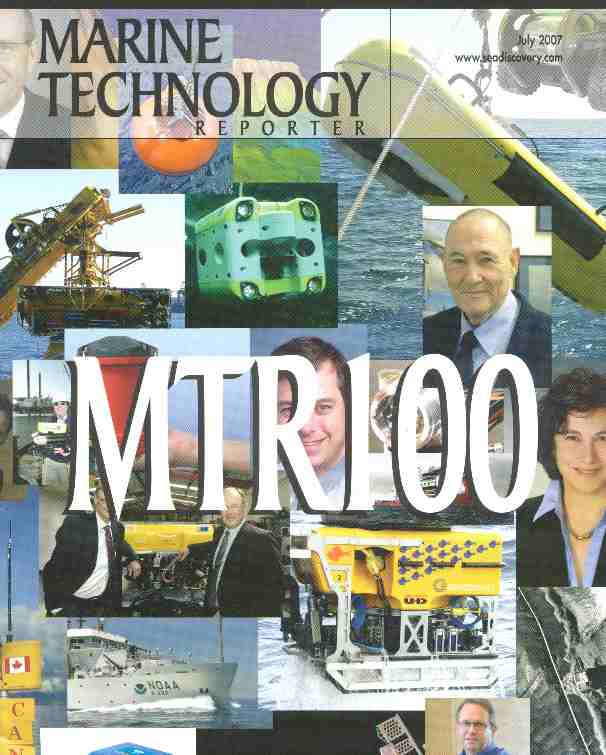 Marine Technology Reporter

New York
118 E. 25th St
New York, NY 10010
Tel: (212) 477-6700
Fax: (212) 254-6271
Florida
215 NW 3rd St
Boynton Beach, FL 33435
Tel: (561) 732-1659
Fax: (561) 732-6984
United Kingdom
Tony Stein
Tel: +44 (0) 1506 822240
Fax: +44 (0) 1506 828085
12, Braehead, Bo'ness
West Lothian EH51 OBZ
Scotland, U.K.
Rob Howard - Vice President, Sales and Marketing
howard@marinelink.com
Tel: (561) 732-4368
Fax: (561) 732-6984
Lucia M. Annunziata - Advertising Sales Manager
annunziata@marinelink.com
Tel: (212) 477-6700
Fax: (212) 254-6271
Marine equipment makes waves at three-day Ocean TechExpo - 09/05/2007
James Rall, of Hydroacustics Inc., of New York, explains uses for the Proteus ROV roaming ocean vehicle, used for exploration with cameras and lights. The ROV is controlled by a joystick. The Providence Journal / Steve Szydlowski
SEA CORP Wins $47.9m Navy Deal - 08/29/2007
SEA CORP was awarded an $47.9 Million contract to support the Navyís Undersea Sensors and Sonar Systems programs at the Naval Undersea Warfare Center Division Newport. The work is directed at facilities design assessment and maintenance and resolution of fleet hardware, software.
Mark Your Calendar for September 5! - 08/28/2007
In conjunction with the first OceanTech Expo, scheduled for September 5-7, 2007 at the Rhode Island Convention Center in Providence, RI, are a number of high-profile conferences and presentations, including: Emerging Markets for Ocean Technology: Preview for November 1 Forum Wednesday, September.
USCG Seizes Drug "Sub" - 08/28/2007
The U.S. Coast Guard reportedly seized a submarine-like boat loaded with $352m of cocaine off the coast of Guatemala and arrested four suspected smugglers, according to a report on Bloomberg. The operation yielded 11 bales of cocaine weighing 1,210 pounds
Offshore Hydrocarbon Mapping, Rock Solid Images Join Forces - 08/28/2007
Offshore Hydrocarbon Mapping (OHM) has completed the acquisition of Houston-based Rock Solid Images (RSI). RSI is a industry leader in the integration of fundamental rock physics with well data and surface seismic in order to interpret geophysical signatures in terms of reservoir properties
Triton Group Acquires UKPS and Subco - 08/28/2007
Triton Group has acquired the Lowestoft, UK-based company UK Project Support Limited (UKPS) and its sister company Subco for an undisclosed sum, according to a report on www.oilpubs.com. UKPS is a specialist personnel service company, and Subco is a specialist in the rental of ROV equipment UKPS
Aker Kvaerner, Statoil Sign Agreement - 08/28/2007
Aker Kvaerner signed a letter of intent with Statoil ASA to enter a five-year frame agreement for the delivery of subsea production systems and related operational services. The agreement will make Aker Kvaerner's subsea division a preferred supplier to deliver complete subsea solutions
Triton V7.1.5 Software Suite Launched - 08/28/2007
Triton Imaging, Inc. released of Version 7.1.5 of the Triton Software Suite. New features in this release span the entire Triton product line for sidescan, multibeam, and seismic sonars. A new interface to the Benthos 1625 in this release provides a single program for the concurrent acquisition
Divers Work to Salvage Sunken Russian Sub Museum - 08/28/2007
Two dozen U.S. Army and Navy divers have been sent as part of a Department of Defense training project to help raise a sunken Russian submarine that had was once used as a Finnish bar and a Harrison Ford movie set before being turned into a floating museum
L-3 Klein Wins Finnish Navy Contract - 08/28/2007
L-3 Klein Associates won a contract for the Finnish Navy which will include three Klein System 5000 high resolution, dynamically focused, multi-beam side scan sonars. The sonars will be part of a suite of sensors that will be installed on the Finnish Navy MCMV 2010 Program
India Starts Subsea Archeological Search - 08/28/2007
The Archaeological Survey of India and navy have joined hands for expeditions at deep sea and ancient port sites to reconstruct the history of ancient civilizations, according to a report on www.livemint.com. The marine archaeological expeditions have been carried out in waters off Dwarka (Gujarat)
MSI Receives ONR SBIR Contract - 08/28/2007
Materials Systems Inc. (MSI), a supplier of transducers for sonar and industrial ultrasound, won a Small Business Innovative Research (SBIR) contract from the Office of Naval Research (ONR) to develop a novel Common Acoustic Communications Module (CACM) for Unmanned Undersea Vehicles (UUVís)
JOI Awards $97.7m Contract - 08/28/2007
The Joint Oceanographic Institutions (JOI) has awarded a $97.7m contract to an academic partnership led by the Woods Hole Oceanographic Institution (WHOI), to support the development, installation and initial operation of the coastal and global components of the National Science Foundationís Ocean
Deck Machinery, Ropes, Cables and Connectors
Communication Equipment and Services Guide
Communication Equipment & Services
Electronic Charting & Vessel Management
Oceanology International 2006 Exhibitorís Guide
Environmental Monitoring & Remote Sensing
Communications, Telemetry & Data Processing
Deck Machinery, Ropes, Cables & Connectors
Environmental Monitoring & Remote Sensing
Communications, Telemetry & Data Processing
Electronic Charting & Vessel Management
News A to Z directory, please click on the links below to find your favourite news or to contact the media to tell your story:
(500ml PET bottle and 250ml can)