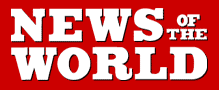 FA CUP: Milan's £28m swoop on hero Drogba BENITEZ: Liverpool plan for place in history books LAMPARD: My love affair with Chelsea ALLARDYCE: Toon joy helps with bung probe hell EXPOSED: The stories they don't want you to know
Get up to the minute football results
Win signed Lampard Chelsea shirt
Win a luxury shopping and spa break
Fully booked Now TV music videos
Fully booked Now TV music videos
Castaway Celebrity Big Brother
The News of the World is a British tabloid newspaper published every Sunday. It is published by News Group Newspapers of News International, itself a subsidiary of Rupert Murdoch's News Corporation, and can be considered the Sunday equivalent of The Sun. The newspaper tends to concentrate on celebrity-based scoops and populist news. But its tone has been raised after the recent change of regime at the paper. Its fondness for sex scandals gained it the nicknames "Sex 'n' Scandal weekly", "News of the Screws" and "Screws of the World". It is Britain's biggest selling newspaper, selling an average of 3,445,459 copies per week in October 2006. It is also the biggest selling English newspaper in the world. Former editor Andy Coulson resigned on the 26 January 2007 over the royal phone tapping scandal.[2] He has been replaced with Colin Myler, the former editor of the Sunday Mirror who has latterly been working at the New York Post. Previous editors of the paper include Piers Morgan and Rebekah Wade who replaced Phil Hall in 2000.
History
The newspaper was first published on October 1, 1843, in London by John Browne Bell. Priced at just three pence, even before the repeal of the Stamp Act (1855) or paper duty (1861), it was the cheapest newspaper of its time and was aimed directly at the newly literate working classes. It quickly established itself as a purveyor of titillation, shock and criminal news. Despite being dismissed as a "scandal sheet" it soon established itself as the most widely read Sunday paper. Initial sales were around 12,000 copies a week. This success encouraged other similar newspapers, of which the Sunday People, the Daily Mail, the Daily Express and the Daily Mirror are still being published.
Its motto was "All human life is there".
Murdoch purchase
The newspaper passed into the hands of Rupert Murdoch's News Ltd. in 1969, snatching the paper from Robert Maxwell's Pergamon Press after an acrimonious year-long struggle. It was Murdoch's first "Fleet Street" acquisition. Maxwell had been supported by the Jackson family (25% shareholders), but Murdoch had gained the support of the Carr family (30%) and then-chairman William Carr. Maxwell accused Murdoch of employing "the laws of the jungle" to acquire the paper and said he had "made a fair and bona fide offer... which has been frustrated and defeated after three months of [cynical] manoeuvring." Murdoch denied this, arguing the shareholders of the News of the World Group had "judged [his] record in Australia."
The newspaper has often had to defend itself from libel charges and complaints to the Press Complaints Commission as a result of certain news-gathering techniques, such as entrapment, and contentious campaigns. Some of the best-known cases have been the "Bob and Sue" case with reporter Neville Thurlbeck, and various cases involving journalist Mahzer Mahmood.
News A to Z directory, please click on the links below to find your favourite news or to contact the media to tell your story: