Awake! (ISSN 0005-237X) is a general-interest magazine published by the Jehovah's Witnesses. The title comes from Mark 13:33 and Luke 12:36. It is considered a companion magazine to The Watchtower which focuses mostly on Bible study and doctrine. Awake! has a wider scope than the Watchtower, publishing articles on science, nature and geography, usually with a religious slant.
The magazine's predecessor, first published in 1919 by International Bible Students Association (an earlier name of Jehovah's Witnesses), was entitled The Golden Age. From 1937 it was called Consolation. In some countries it was also known as New World, for a while. In 1946 the present magazine called by the name Awake! was released.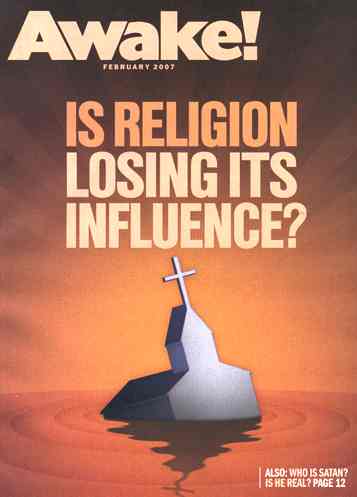 Awake! magazine cover February 2007
Features
The magazine has included Bible crosswords and quizzes, and a number of regular columns: "The Bible's Viewpoint," a column which applies the Bible to current issues; "Young People Ask," giving Bible-based advice aimed at teens and young-adults; "Watching the World," a selection of single-paragraph news items from a variety of sources; "From Our Readers," a selection of letters commenting on previous Awake! articles; and "How Would You Answer?," a compilation of Biblical trivia. There are also sections for historic Biblical dates, questions from the current issue's articles, and a section where kids can search for pictures throughout the magazine.
Articles relating to medical conditions are commonly featured in Awake!. These include dementia, transcient cerebral ischemia, infectious diseases, bipolar disorder, and postpartum depression to cite just a few examples.
Autobiographical articles by individual members regarding their experiences and circumstances also appear periodically, and are notable as the only regularly credited writings in any Society publication.
Publishing
Until December 2005, Awake! was published semi-monthly. However, since January 2006 Awake! was published in a monthly edition. It is currently published once a month in most of its available languages. The magazine has 32 pages and is printed in full color. As of the start of 2007, it is available in 81 different languages (55 monthly, 26 quarterly), including English, German, Swedish, Spanish, Russian, Chinese, Arabic, Indonesian and Zulu with a total worldwide circulation of 34,267,000. It is also available, in selected languages, in audio cassette and compact disc (audio and MP3) formats.
In the past, Awake!"' and its companion The Watchtower were sold for a small charge, varying over time and from country to country.
However, on January 17, 1990, the Supreme Court of the United States ruled that sales of religious literature were subject to taxation, which would have required the Watchtower Society to pay tax on the price of the magazines. The Watchtower Society filed an amicus curiae ("friend of the court") brief arguing that the sale of religious literature should be exempt from taxation.
From March 1, 1990, the journals were made available at no cost, on a freewill donation basis in the United States. This has helped to simplify their Bible educational work and to separate themselves from those who commercialize religion. The article "Use Our Literature Wisely" which appeared in the May 1990 Our Kingdom Ministry stated, that "there are growing pressures against all religious elements" and it went on to say that their main concern was to move ahead in the worldwide Kingdom preaching work, "without hindrance."
The sale of the literature around the world was gradually eliminated soon thereafter. It continued until the early 1990s, and in some places until early 2000. Awake! is now distributed free of charge worldwide, its printing being funded by voluntary donations.
Revenue
Awake magazines, and all Jehovah's Witnesses' literature, were sold at cost around the world until the early 1990s. The Awake is now distributed for free, though donations may be solicited. The Watchtower Bible & Tract Society of NY, Inc., not-for-profit publisher of The Watchtower, was as of 2001 one of the 40 largest revenue-generating companies in New York City, reporting an annual revenue of about US$951 million. The corporation is now legally headquartered in Patterson, New York. Its yearly report is different from a Wall Street company as the company's employees are volunteers who live and work in the Brooklyn complex.
Current Topics
Chat Rooms—How Can I Avoid the Dangers?
Learn how chat rooms are organized, the dangers they pose, and how their dangers can be avoided.

What kind of education should I obtain in order to make my life a success?

The Drinking Trap—Are You at Risk?
How can you avoid the trap of alcohol misuse?

When Jesus Christ was on earth, he gave his listeners a lesson in observing signs and acting accordingly.

Chat Rooms—What Should I Know About Them?
Chat rooms are particularly appealing to youthful Internet users. But are there dangers you should be aware of?

Should You Pray to the Virgin Mary?
Millions pray to Mary. Is this practice based on the Bible?

Above is a selection of articles that have appeared in the Watchtower and Awake! magazines. The Watchtower is published in 183 languages and Awake! in 81 languages. These can be obtained from Jehovah's Witnesses locally or by contacting one of their branch offices.
LINKS and REFERENCE
News A to Z directory, please click on the links below to find your favourite news or to contact the media to tell your story:
BRANCHES
| | |
| --- | --- |
| ALASKA 99507 | 2552 East 48th Ave., Anchorage. |
| ALBANIA | Kutia postare 118,Tiranë. |
| ANGOLA | Caixa Postal 6877, Luanda Sul. |
| ANTIGUA | Box 119, St. Johns. |
| ARGENTINA | Casilla de Correo 83 (Suc. 27B), 1427 Buenos Aires. |
| ARMENIA | ul. Mirakian 51, 375031 Yerevan. |
| AUSTRALIA | Box 280, Ingleburn, NSW 1890. |
| AUSTRIA | Postfach 67, A-1134 Vienna. |
| BAHAMAS | Box N-1247, Nassau, N.P. |
| BARBADOS, W.I. | Crusher Site Road, Prospect, St. James. |
| BELGIUM | rue d'Argile-Potaardestraat 60, B-1950 Kraainem. |
| BENIN, REP. OF | 06 B.P. 1131, Akpakpa pk3, Cotonou. |
| BOLIVIA | Casilla 6397, Santa Cruz. |
| BRAZIL | Caixa Postal 92, 18270-970 Tatuí, SP. |
| BRITAIN | The Ridgeway, London NW7 1RN. |
| CAMEROON | B.P. 889, Douala. |
| CANADA | Box 4100, Halton Hills (Georgetown), Ontario L7G 4Y4. |
| CENTRAL AFRICAN REPUBLIC | B.P. 662, Bangui. |
| CHILE | Casilla 267, Puente Alto. |
| COLOMBIA | Apartado Postal 85058, Bogotá 8, D.C. |
| CONGO, DEMOCRATIC REPUBLIC OF | B.P. 634, Limete, Kinshasa. |
| COSTA RICA | Apartado 187-3006, Barreal, Heredia. |
| CÔTE D'IVOIRE (IVORY COAST), WEST AFRICA | 06 B P 393, Abidjan 06. |
| CROATIA | p.p. 58, HR-10090 Zagreb-Susedgrad. |
| CURAÇAO, NETHERLANDS ANTILLES | P.O. Box 4708, Willemstad. |
| CYPRUS | P.O. Box 11033, CY-2550 Dali. |
| CZECH REPUBLIC | P.O. Box 90, 198 21 Prague 9. |
| DENMARK | Stenhusvej 28, DK-4300 Holbæk. |
| DOMINICAN REPUBLIC | Apartado 1742, Santo Domingo. |
| ECUADOR | Casilla 09-01-1334, Guayaquil. |
| EL SALVADOR | Apartado Postal 401, San Salvador. |
| ESTONIA | Postbox 1075, 10302 Tallinn. |
| ETHIOPIA | P.O. Box 5522, Addis Ababa. |
| FIJI | Box 23, Suva. |
| FINLAND | Postbox 68, FI-01301 Vantaa. |
| FRANCE | B.P. 625, F-27406 Louviers cedex. |
| GERMANY | Niederselters, Am Steinfels, D-65618 Selters. |
| GHANA | P. O. Box GP 760, Accra. |
| GREECE | 77 Kifisias Ave., GR-151 24, Marousi, Athens. |
| GUADELOUPE | Monmain, 97180 Sainte Anne. |
| GUAM 96913 | 143 Jehovah St., Barrigada. |
| GUATEMALA | Apartado postal 711, 01901 Guatemala. |
| GUYANA | 352-360 Tyrell St., Republic Park Phase 2 EBD. |
| GUYANE FRANÇAISE (FRENCH GUIANA) | 328 CD2, Route du Tigre, 97300 Cayenne. |
| HAITI | Post Box 185, Port-au-Prince. |
| HAWAII 96819 | 2055 Kam IV Rd., Honolulu. |
| HONDURAS | Apartado 147, Tegucigalpa. |
| HONG KONG | 4 Kent Road, Kowloon Tong. |
| HUNGARY | H-1631 Budapest, Pf. 20. |
| INDIA | Post Box 6440, Yelahanka, Bangalore 560 064, KAR. |
| INDONESIA | Jl. Danau Maninjau A-31, Jakarta Pusat 10210. |
| IRELAND | Newcastle, Greystones, Co. Wicklow. |
| ISRAEL | P.O. Box 29345, Tel Aviv 61293. |
| ITALY | Via della Bufalotta 1281, I-00138 Rome RM. |
| JAMAICA | P. O. Box 103, Old Harbour, St. Catherine. |
| JAPAN | 1271 Nakashinden, Ebina City, Kanagawa Pref., 243-0496. |
| KENYA | P. O. Box 47788, GPO Nairobi 00100. |
| KOREA, REPUBLIC OF | Box 33 Pyungtaek P. O., Kyunggido, 450-600. |
| KYRGYZSTAN | Post Box 80, Bishkek 720080. |
| LIBERIA | P. O. Box 10-0380, 1000 Monrovia 10. |
| LUXEMBOURG | B. P. 2186, L-1021 Luxembourg, G. D. |
| MADAGASCAR | B.P. 116, 105 Ivato. |
| MALAWI | Box 30749, Lilongwe 3. |
| MALAYSIA | Peti Surat No. 580, 75760 Melaka. |
| MARTINIQUE | 20, rue de la Cour Campêche, 97200 Fort de France. |
| MAURITIUS | Rue Baissac, Petit Verger, Pointe aux Sables. |
| MEXICO | Apartado Postal 896, 06002 Mexico, D. F. |
| MOZAMBIQUE | Caixa Postal 2600, Maputo. |
| MYANMAR | P.O. Box 62, Yangon. |
| NETHERLANDS | Noordbargerstraat 77, NL-7812 AA Emmen. |
| NEW CALEDONIA | BP 1741, 98874 Mont Dore. |
| NEW ZEALAND | P O Box 75-142, Manurewa. |
| NICARAGUA | Apartado 3587, Managua. |
| NIGERIA | P.M.B. 1090, Benin City 300001, Edo State. |
| NORWAY | Gaupeveien 24, N-1914 Ytre Enebakk. |
| PANAMA | Apartado 0819-07567, El Dorado. |
| PAPUA NEW GUINEA | P. O. Box 636, Boroko, NCD 111. |
| PARAGUAY | Casilla de Correo 482, 1209 Asunción. |
| PERU | Apartado 18-1055, Lima 18. |
| PHILIPPINES, REPUBLIC OF | P. O. Box 2044, 1060 Manila. |
| POLAND | ul. Warszawska 14, PL-05-830 Nadarzyn. |
| PORTUGAL | Apartado 91, P-2766-955 Estoril. |
| PUERTO RICO 00970 | P.O. Box 3980, Guaynabo. |
| ROMANIA | Căsuţa Poştală nr. 132, Oficiul Poştal nr. 39, Bucureşti. |
| RUSSIA | P.O. Box 182, 190000 St. Petersburg. |
| RWANDA | B.P. 529, Kigali. |
| SLOVAKIA | P. O. Box 2, 830 04 Bratislava 34. |
| SLOVENIA | Groharjeva ulica 22, p.p. 22, SI-1241 Kamnik. |
| SOLOMON ISLANDS | P.O. Box 166, Honiara. |
| SOUTH AFRICA | Private Bag X2067, Krugersdorp, 1740. |
| SPAIN | Apartado 132, 28850 Torrejón de Ardoz (Madrid). |
| SRI LANKA, REP. OF | 711 Station Road, Wattala 11300. |
| SURINAME | P.O. Box 2914, Paramaribo. |
| SWEDEN | Box 5, SE-732 21 Arboga. |
| SWITZERLAND | P.O. Box 225, CH-3602 Thun. |
| TAHITI | B.P. 7715, 98719 Taravao. |
| TAIWAN 32746 | 3-12 Shetze Village, Hsinwu. |
| TANZANIA | Box 7992, Dar es Salaam. |
| THAILAND | 69/1 Soi Phasuk, Sukhumwit Rd., Soi 2, Bangkok 10110. |
| TOGO, WEST AFRICA | B.P. 2983, Lomé. |
| TRINIDAD AND TOBAGO, REP. OF | Lower Rapsey Street & Laxmi Lane, Curepe. |
| UKRAINE | P.O. Box 246, 79000 Lviv. |
| UNITED STATES OF AMERICA | 25 Columbia Heights, Brooklyn, NY 11201-2483. |
| URUGUAY | Casilla 17030, 12500 Montevideo. |
| VENEZUELA | Apartado 20.364, Caracas, DC 1020A. |
| ZAMBIA | Box 33459, Lusaka 10101. |
| ZIMBABWE | Private Bag WG-5001, Westgate. |