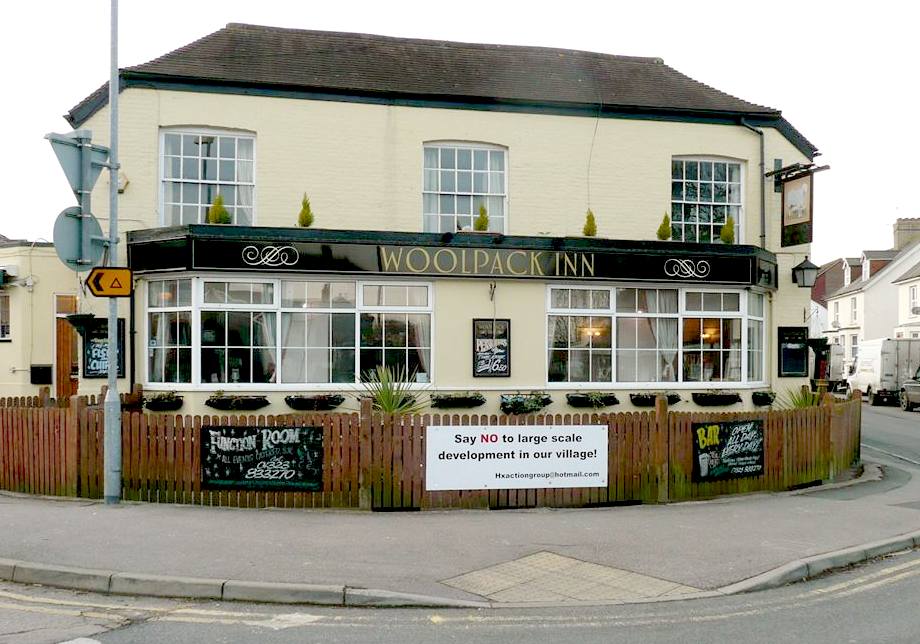 Strong feelings, with over 300 letters of objection, how can a Parish Council vote against the clear message that Herstmonceux village was sending. The picture above is of The Woolpack Inn, Gardner Street, Herstmonceux, East Sussex BN27 4LJ Tel 01323 833270 Fax: 0115 914 2235, Fax: 0870 050 9635 Website: Facebook. This local Inn is famously pictured in several historic paintings and black & white photographs. the name stems from the practice of herding sheep through the village high street. A thirsty farmer would often call into the local public house for a bit of refreshment. It has changed a bit, but you are welcome to sample the hospitality and share in the stories of inappropriate decisions by local officials.
https://www.facebook.com/pages/The-Woolpack-Inn-Herstmonceux/104482524842
LETTER TO THE EDITOR 23 FEB 2015 - NOT JUST 70 NEW HOMES FOR HERSTMONCEUX BUT 140

Regarding construction at Lime Cross, in your interview, the developer refers to the Wealden quota of 70 houses in their attempt to justify this proposal.

Wealden have indeed stated the parish needs to accommodate 70 houses.

However, Barton Wilmore are disingenuous in their statement, knowing full well that a parish meeting last year affirmed that the 70 houses they plan to construct at Lime Cross are not actually being taken into account against the quota, and therefore, if this plan goes ahead Herstmonceux will find itself not with 70 houses, but at least 140 houses. Add to this the possible approval of Lime Roughs and we are looking at close to 200 additional homes. This would constitute a 15 percent increase in households across the entire parish – 1,225 at last census – all burdened on one village.

If any of the 300+ objection letters relating to this proposal have been read by either BW, Wealden or the council, they would appreciate that the local housing need for the parish will be more than satisfied by a handful of homes, and any 'economic benefit' will be limited to the developers and the land-owner.

It is curious that this application is being recommended by the parish council against the clear will of the parishioners whose interests they are charged with.

Mr A M Krag

Herstmonceux
http://www.sussexexpress.co.uk/news/letters/not-just-70-new-homes-for-herstmonceux-but-140-1-6592479
LOCAL NEWSPAPERS CONTACTED
Sussex Express - sussex.express@jpress.co.uk
amie.morrell@jpress.co.uk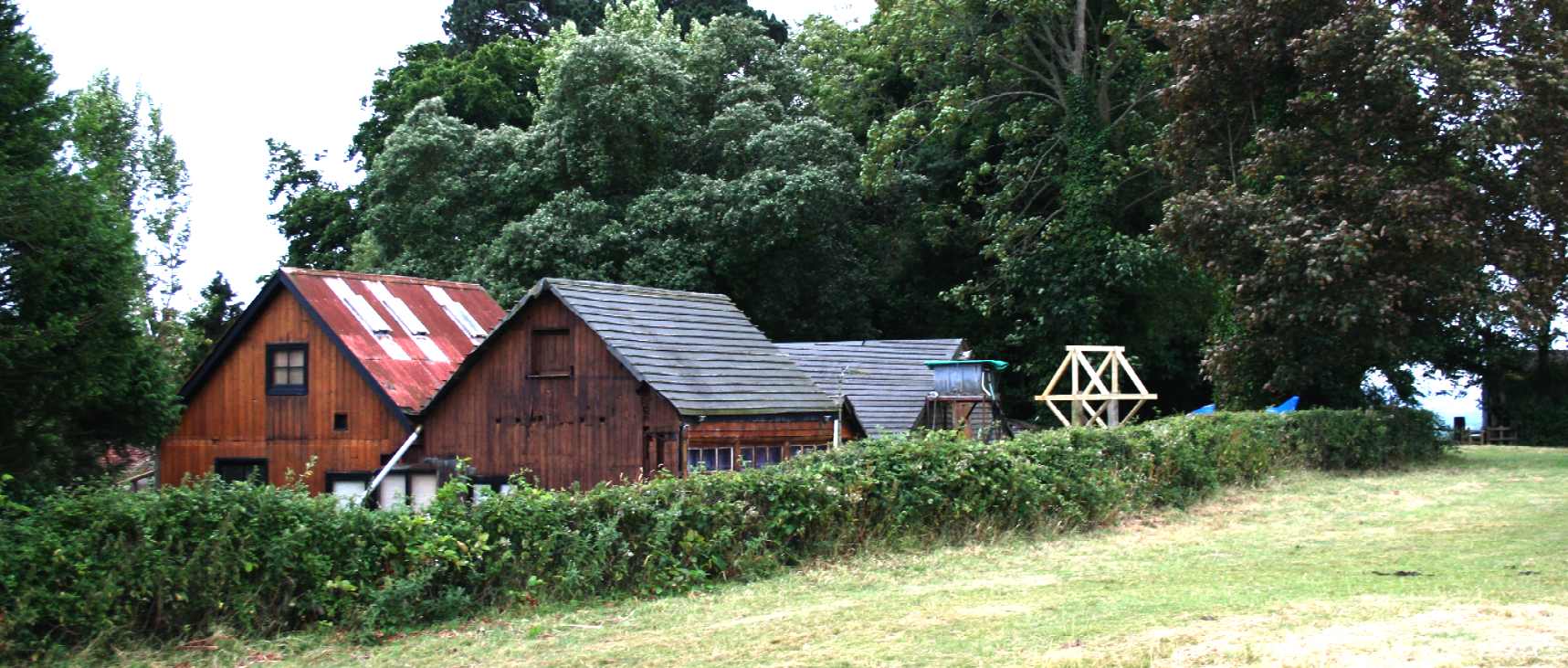 RURAL UNDERSTATEMENT - One of the very few old industrial timber buildings in the UK in its natural setting, clearly visible from Lime Cross and a rare treat for tourists who want to see rural development, leading to industrialization. The generating works at Herstmonceux is a unique find that could just as easily become buried under a housing estate if Barton Willmore succeed in bamboozling Wealden's planning committee (see members list below). If we are going to allow the building of houses on green belt, would it not be better to allocate fields that don't have a history and superb views to ruin. There are thousands of acres of flat farmland in this vicinity that would not spoil an interesting tourist attraction. What is so special about this building is that it generated electricity for the bakery in the village. This is more than likely the only recorded case where bread was baked by electricity between 1909 to 1913. The windmill just along the road, ground the flour. Both buildings are visible from Lime Cross field. It would be a national tragedy to lose this historic view for the sake of a quick buck for the developer.
The visual appraisal carried out by the applicants agents, Barton Willmore LLP, of Soho Square, London, does not take into account the loss of tourism that may occur in the future, as this rare building is recognised for what it is. The view currently enjoyed by hundreds of people every week will be lost. Barton Willmore's incredibly long report (109 pages), fails to mention any of this, nor does it mention that shrouded by houses and alleys, that this building could become the target of youthful vandalism, if 210 new households are created, with 70 in the field opposite a wooden Monument at Risk. See English Heritage for more on their MARs program.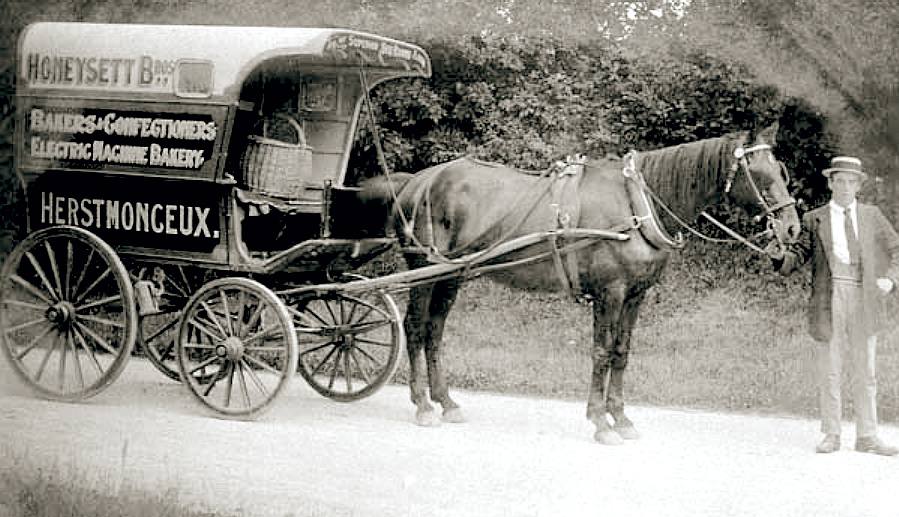 MORE LOCAL HISTORY - Robert Honeysett (1884-1912), were bakers and confectioners using the latest electric baking machinery as is clear from the sign writing on the side of this horse drawn wagon. Herstmonceux Bakery was one of the few in England at the time that could boast such innovation - all due to the Baron de Romer and his generating buildings in Lime Park. This photograph is from an old postcard courtesy of Mick Hall. In 1982 one villager told the Museum's curator that he would stand at the top of Lime Cross hill and look down to the village, where he could see the lights in the Bakery growing bright then dim in time with the sound of the generating engines in Lime Park. This picture is evidence that that conversation was more then likely factual. We do not know the name of the gentleman telling that tale. We are just pleased to be able to relay it to you.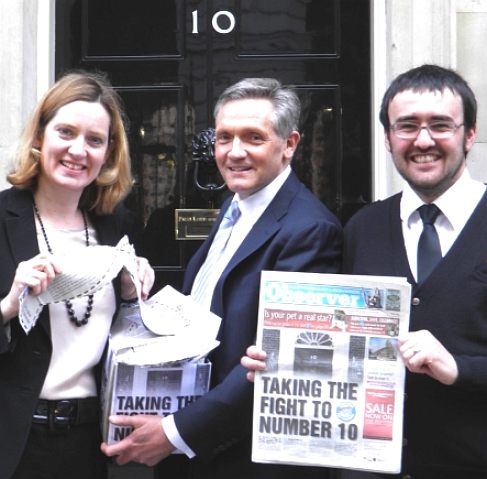 Beckett Group Newspapers editor, Keith Ridley petitioning the Prime Minister over fishing rights
News A to Z directory, please click on the links below to find your favourite news or to contact the media to tell your story: