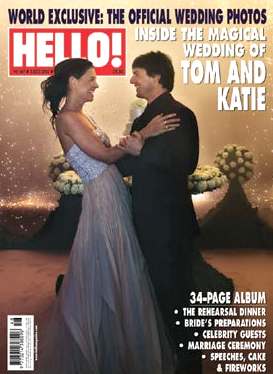 Tom Cruise and Katie Holmes wedding front cover
MEDIA LINKS
News A to Z directory, please click on the links below to find your favourite news or to contact the media to tell your story:
Nikki Sanderson
Despite being hired, at the age of 15, for just five episodes of the iconic soap Coronations Street, Nikki was such a hit with audiences she became a regular cast member, growing up in front of the nation. The Lancashire lass, who quit Corrie in 2005, is also a gifted singer - she won Celebrity Stars In Their Eyes in 2002. She placed her vocal talents on the back burner, however, to concentrate on guest appearances as Sammy Dean in BBC courtroom drama New Street Law.
Hello! is a weekly magazine specialising in celebrity news and gossip, published in Britain. Hello! sells in Britain, UAE, Spain, Turkey, Russia, Thailand and Greece.
History
Owned by Spanish publisher Eduardo Sanchez Junco, and edited by Ronnie Whelan, Hello! was first published in 1988 and is a spin-off of the Spanish magazine ¡Hola!. Between 1998 and 2004 there was also a French version, Ohla !.
Although upmarket and away from the real-life formats of the traditional weekly and supermarket checkout ladies magazine, media critics laughed at Hello!'s fawning interviews with minor European royals and celebrities. But the highly targeted format quickly built a readership of 2 million copies per issue
However, the average Hello! reader is not seen as the type of person who appears between its covers. Monica Horten of the British Interactive Media Association has taken a gleeful jab at Hello! with her view that "Hello! is the sort of magazine that is read by the same audience that watches soap operas on television, and by the rest of us strictly only at the hairdressers or in the dentist's waiting room."
Content
The weekly content of Hello! is fairly fixed, but the focus shifts as the Celebdaq-style rating of the various celebrities rises and falls:
"Diary of the Week" - photographic coverage of high society and celebrity events

"Panorama" - an image-based review of current world events

"Inside Story" - provides an insight into * "Cookery and Travel" sections - focused expansions of the "Fashion and Lifestyle" section
Competition
OK! magazine launched in 1990, and went weekly in 1996. Very similar to Hello! even down to its use of an exclamation mark, it focused in traditional Richard Desmond entry mode by going slightly more down market than Hello! It now outsells Hello! by five to three per edition.
Not long after OK! went weekly, the first of a new raft of celebrity magazines aimed at more mass-market readership than both Hello! and OK!, hit the newsstands. Now was launched in 1997, joined by Heat in 1999 and then Closer in 2002.
Today, Hello! and rival OK! often try to out-scoop each other, by buying up exclusive rights to celebrity weddings and interviews - driving up the price of such events to allow certain celebtrities to do little else but live their lives through this celebrity-driven media.
Curse Of Hello!
Hello! pays large sums of money for exclusive coverage of celebrity weddings. It has been noticed by the press that a large proportion of such weddings break up extremely quickly, an effect known jokingly, as "the curse of Hello!" / "Hello! Goodbye!".
Litigation
2003 - Catherine Zeta Jones and Michael Douglas sued Hello! for publishing unauthorised photographs of their wedding. Rival magazine OK! had an exclusive contract for pictures of the wedding, and also sued Hello! In November 2003, OK! was awarded £1,033,156 in damages, and Jones and Douglas received £14,600.
2006 - Hello!, which secured the British rights to the first images of Brad Pitt and Angelina Jolie's newborn daughter, launched legal action with People against two websites that printed a leaked exclusive shot of the couple with their new baby daughter. The leaked photo, which contains Hello! magazine's logo, shows a headline which reads: "The biggest exclusive of the year. Angelina and Brad with their new Baby Shiloh Nouvel." People magazine reportedly paying more than $4 million USD to secure the American rights.
Reader trivia
Hello! provides specific and extra-ordinary details about its readership, including:
82% are women

Hello! readers are 71% more likely than the average female to choose a car mainly on looks

Hello! readers spent £64 million on microwave ovens in 2004

91% of Hello! readers enjoy an alcoholic drink..

Hello! readers spend nearly £93 million on food every week.
References