Bodiam Castle is located in East Sussex, England. It was built in 1385 by Sir Edward Dallingridge, a former knight of Edward III, supposedly at the request of Richard II in order to defend the surrounding area from French invasion. However, recent research suggests that the castle was built more for show than as an effective defence.
It is a perfect example of a late medieval moated castle:-
One of Britain's most famous and evocative castles

Sussex Family Attraction of the Year

Medieval battlements, ramparts and moat to explore

Try on armour (ring ahead to check)

Wonderful views across an archaeology-rich landscape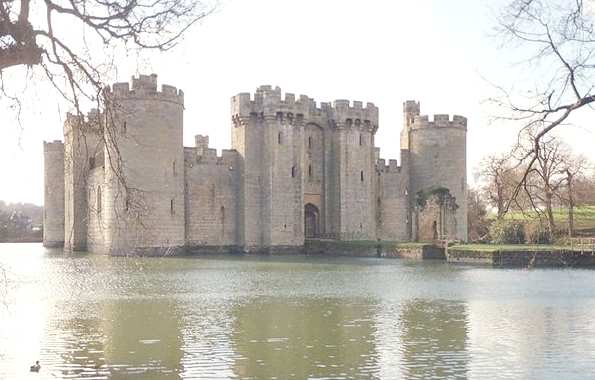 Bodiam Castle looking south
The castle is completely surrounded by a moat. The south side has a central tower called a postern tower. To the right of the postern tower is the castle's great hall. The turret at the left houses the well. Most of the castle interior was destroyed during the English Civil War. The north side of the castle has the gatehouse and bridge. The turret on the left contains the chapel.
The castle was willed to the National Trust in 1926.
The impressive towers and broad moat of Bodiam Castle are like a scene from a fantasy as you gaze at them for the very first time. At a quick glance it appears to be the very epitome of a medieval castle, until closer inspection is given. One soon discovers that it was built at an evolutionary stage when the nobility were looking for more comfortable, agreeable places to live that offered them security, but also represented an outward show of their wealth and rank.
Comparatively few of its type were built and it should be more accurately described as a Courtyard Castle. The castles built in this period were the last true castles to be built in England, they provided security and also separate suites of rooms for the Lord, his domestic staff, guests and garrison.
When Edward III signed the treaty of Bretigny in 1360 he renounced his claim to the Crown of France whilst retaining Aquitaine, Calais and other important provinces. He was unable, and perhaps not too bothered, about evacuating his forces from the remainder of France and these men soon banded together. This was the time of the 'Free Companies' or 'Routiers', private mercenary armies who would normally be under the control of the king but who now sold their services to the highest bidder. They were basically medieval mercenaries, who indulged in looting and destruction on an appalling scale, with many of the men involved gaining great wealth and notoriety from such expeditions.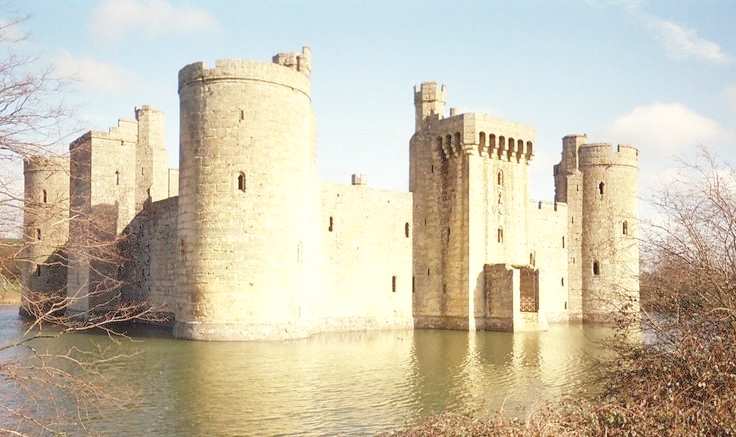 Bodiam Castle looking north
In Roman times, Bodiam was a main crossing point for the road leading from Beauport near Battle to the North Kent coast. It was also used as a port from which to ship the Iron Ingots produced in nearby Sedlescombe , Staplecross and Stonegate .

Bodiams main claim to fame is its great medieval military fortress, the last to have been built in England. This moated fairytale castle was built by Sir Edward Dalyngrigge between 1385 and 1390 as a protection to the Rother valley from the French.

The castle was only attacked twice, once in 1484 by Richard III who captured it, and in 1645 by the Roundheads led by Sir William Waller, who left it in a partially ruined state.

From 1754 until the early 1800's, guns and cannons manufactured at Robertsbridge were shipped from Bodiam to Woolwich Arsenal, and other destinations.

In 1828 it was purchased by John Fuller " Mad Jack " of Brightling from a firm of Hastings Builders, who were demolishing it to use as building materials.

Mad Jack spent a lot of time and money repairing the building, and replacing the main gates.

In 1917 it was acquired by Lord Curzon, who carried out further restoration and repairs. On his death in 1925 the castle was bequeathed to the National Trust, and can be visited, and explored to the present day.
VISITOR INFORMATION
The Castle has excellent car parking facilities and can be also reached by a No 349 Bus from Hastings Station. Nearest Railway station is Robertsbridge (5miles).
The Castle entrance is 1/4 mile walk from the Car park but special arrangements for people with disabilities can take them to the entrance. There is wheelchair access to the Castle but not the Towers. Dogs are permitted on the site but not allowed in the Castle. Picnics are welcome to be taken in the grounds but not in the castle.
Bodiam Castle is one of the most famous and evocative in Britain and is probably the most ideal for a visit with children. An excellent Guidebook is available on the castle and its history along with many gifts and books for children in a well-stocked shop. There is also has a very reasonable restaurant alongside although these are only open from February until the end of October. Special mention should be given to the entrance front to the castle. The must present to the visitor one of the finest facades of battlements and towers of any surviving castle today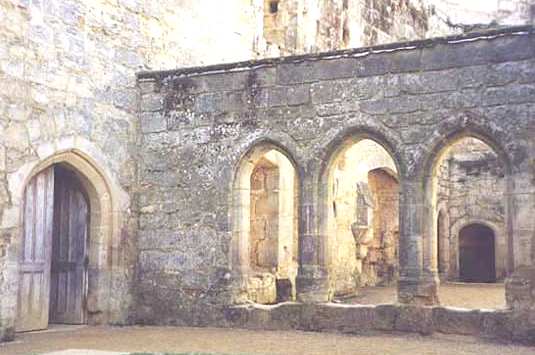 Bodiam Castle - the great hall
The castle and grounds can get very busy during the school holidays and summer months, but a visit with entry just before 5 O'clock on a summers evening, as they lock the gates, is well worth it. It ensures you are locked in with a closing time to be out at 6. (A castle to yourself for an hour). Winter is not so busy and a visit on a fine, crisp winters day can be a very rewarding.
Although the exterior is in excellent condition some folk may find the interior a little disappointing, for these people, I leave you with the words of Lord Curzon:
Opening arrangements:

Castle

11 Feb–31 Oct '06

10:30–6

Mo

Tu

We

Th

Fr

Sa

Su

4 Nov–23 Dec '06

10:30–4

Sa

Su

6 Jan–9 Feb '07

10:30–4

Sa

Su

10 Feb–28 Feb '07

10:30–6

Mo

Tu

We

Th

Fr

Sa

Su

Shop/tea-room

11 Feb–31 Oct '06

10:30–5

Mo

Tu

We

Th

Fr

Sa

Su

1 Nov–23 Dec '06

10:30–4

We

Th

Fr

Sa

Su

6 Jan–9 Feb '07

10:30–4

Sa

Su

10 Feb–28 Feb '07

10:30–5

Mo

Tu

We

Th

Fr

Sa

Su

KEY: Dark blue=open

Last admission 1hr before closing. Castle closes dusk if earlier than stated. Closed 24 Dec-5 Jan
National Trust Contact numbers:

01580 830436
01580 830212 (Shop)
01580 830074 (Tea-room)

Fax:
01580 830398
Telephone - 01892 - 891001. Bodiam site office.
Os Map 199: ref TQ 782256.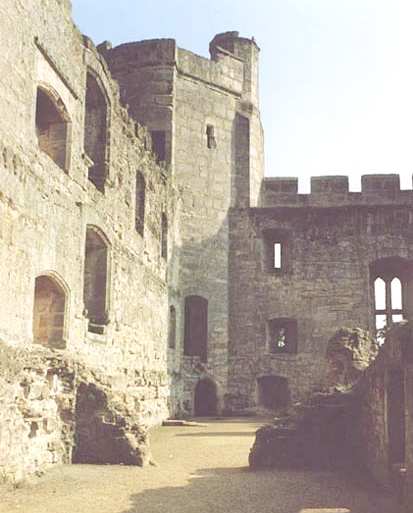 Bodiam Castle looking SE corner
---
SUSSEX INDEX A - Z
BEACHY HEAD - BELL TOOT (BELLE TOUT) LIGHTHOUSE
CHIDDINGLY - HORSE SHOW and GYMKHANA
CUCKMERE VALLEY - EXCEAT
EAST SUSSEX
EASTBOURNE - EASTBOURNE PIER
TWISSELLS MILL, OLD HEATHFIELD
---
A taste for adventure capitalists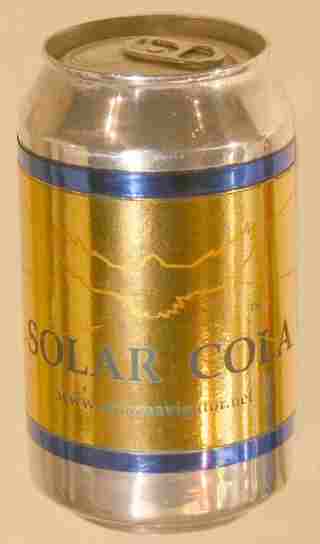 Solar Cola - a healthier alternative