SEVEN ARRESTS OVER BURNT GYPSY EFFIGY - 12 November 2003
Police have arrested seven people on suspicion of inciting racial hatred after a bonfire society torched an effigy of a caravan with a gypsy family painted on the side.
The tableau, which was burnt at Firle Bonfire Society's celebrations in East Sussex, caused outrage because of the controversial display.
The society denied any claims the caravan, which had P1 KEY written on the side along with a message which said "Do you as you likey Driveways Ltd - guaranteed to rip you off", was designed to be racist.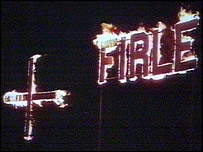 Firle bonfire party has been criticised
Four people were arrested by Sussex Police on Monday and then released on bail. A further three people were arrested on Tuesday and also released on bail until mid January.
A police spokesman said a total of 12 arrests were expected to be made by the end of this week. Those who were detained were questioned on suspicion of inciting racial hatred.
A police spokesman said a full file would be sent to the Crown Prosecution Service and then forwarded to the director of Public Prosecutions for considerations. It was an offence to stir up racial hatred through words or behaviour under the Public Order Act, the spokesman said.
Superintendent Grenville Wilson said: "We recognise the concerns being made across communities in East Sussex about events which happened at Firle.
"A full, open and thorough investigations is in the process of being carried out, which will uncover all the issues in the case."
The bonfire society said the effigy was chosen after the village experienced difficulties with travellers over the summer. It has issued an unreserved apology to anyone who was offended by the effigy. Since the controversy the society has withdrawn from all other events in the Sussex bonfire calendar.
The Commission for Racial Equality has called for those involved in the effigy burning to be pursued and "punished".
---
POLICE INVESTIGATE BURNING OF EFFIGIES 29 October 2003
An investigation has begun after a caravan with effigies of Gypsies was burnt at a village bonfire party, Sussex police have said.
BBC South East Today revealed on Tuesday how residents were left shocked when the caravan was wheeled through a street in Firle, East Sussex, before being torched.
Trevor Phillips, chairman of the Commission for Racial Equality, called for those responsible to be prosecuted for incitement to racial hatred - an offence which can lead to a jail term of seven years.
On Wednesday, a Sussex Police spokesman said: "Police received no complaints about the nature of the tableaux paraded and burned at the celebrations, but in the light of the news item broadcast by the BBC an investigation has begun."
He added: "There is a tradition of bonfire celebration across East Sussex, organised by local bonfire celebrations.
"The nationally famous celebration at Lewes, on 5 November is the largest such event. Other smaller societies tend to hold their celebrations on weekends around that date to avoid clashing with Lewes.
"As part of their celebrations, some bonfire societies have traditionally produced tableaux based on a topical theme, which may be local or national. These tableaux are paraded by the societies before being burned at their bonfire sites.
"In order not to prejudice this investigation, it would be inappropriate to make any further comment at this stage."
BBC LINKS:
---
APOLOGY FOR BURNING GYPSY EFFIGY - 28 October 2003
The bonfire society which burned an effigy of a gypsy caravan has apologised for its actions.
Firle Bonfire Society issued a statement after the torching of the tableau sparked controversy and claims of racism. The statement said: "Firle Bonfire Society wish to apologise unreservedly to anyone who has been caused any distress by what has happened. "It was emphatically not a racist comment."
The chairman of the society was being questioned by Sussex Police on Monday.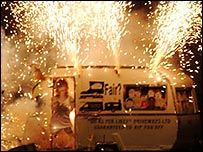 Caravan tableau led to a number

of complaints of racism

PUBLIC ORDER ACT

Richard Gravett met officers who are investigating the display and was questioned about whether any of the actions on the night breached race hate legislation. Sussex Police said they received a number of complaints after the caravan with Gypsies painted on it and the number plate P1KEY was towed through the town and then torched.

The bonfire society has denied racism and said that during the summer travellers had moved onto privately owned land and the effigy was a symbolic reminder of the events.

Other figures such as President Bush and Osama Bin Laden had also been burned in the past, the society said. But the gypsy effigy has been condemned by the Commission for Racial Equality.

Chief superintendent Paul Pearce, said: "Sussex Police is overtly hostile to those who discriminate on the grounds of race, religion, skin colour, sexual orientation, disability, gender, social class or any other inappropriate factor. "

Firle Bonfire Society was re-formed in 1981 to encourage and promote traditional bonfire festivities in the village. Local records show bonfire activities going back to the 1870s.

Each October the Society hold an annual Bonfire Night with torch-lit processions and fireworks display in commemoration of the discovery of the Gunpowder Plot in 1605. The group also visit other Sussex Bonfire Celebrations as well as attending Lewes Bonfire Night on 5th November.
---
SOCIETY APPEALS FOR CASH - 28 October 2004
FIRLE Bonfire Society is appealing for cash to help pay for legal expenses incurred as a result of the police investigation that followed the village's Bonfire Night last year.
Twelve members of the society faced prosecution for racism after an effigy of a gipsy caravan was blown up.

The members fought to prove their innocence until July this year when the Crown Prosecution Service said it would not go ahead with prosecutions.

Said a Firle Bonfire spokesman: 'For nine months the lives of the Firle 12 were put on hold as they awaited the decision of the CPS, and finally common sense prevailed in July when it was announced that no charges would be brought.

'Life can now move on, both for the Firle 12 and the bonfire society who received fantastic support from Firle village, surrounding villages, nationally and beyond.

'However, in order to prove their innocence it was essential that the Firle 12 had legal advice and, although some elements of their case were covered by legal aid, the majority of this advice had to be paid for.
'The length of time the case took to conclude also meant that a great deal of legal support was required.

'As a result, the bonfire society is now faced with a substantial bill for legal fees and this is why we have launched an appeal.'

The sum owed by the society is believed to be between £1,000 and £2,000.
Anyone can make a donation to the Firle 12 Legal Fees Fund by paying into the society's bank account – Firle Bonfire Society Ltd, Sort Code: 72-00-00, Account No 313804508 – or by paying at the Ram Inn, Firle, or Firle Post Office and Store.

l Rory Love, Tory parliamentary canidate for Lewes, was at Firle Bonfire on Saturday. Afterwards he said: 'Last year's Firle Bonfire hit the headlines, quite undeservedly, for all the wrong reasons.

'Saturday's event was a great evening, and I wanted to demonstrate my support for the Firle 12 who have had a cloud hanging over them for much of the year.'
---
SUSSEX BONFIRE SOCIETIES
The Bonfire Societies of the south east of England fulfill many functions apart from celebrating Guy Fawkes with bonfires and fireworks. Other occasions are celebrated, often with Guy very much taking a back seat. These are occasions raising many thousands of pounds are for charities and other worthy causes, where the which the whole family can enjoy.
Hastings Borough Bonfire Society Links The Official HBBS.
Rye & District Bonfire Society News of the event from Rye tourism
Eastbourne Bonfire Society - After 35 years Eastbourne rejoins Sussex bonfires
Fletching Bonfire Society - Homepages of Fletching Bonfire Society

Barcombe Bonfire Society - Information about their history, events and activities. BBS is 'the closest to Lewes a non-Lewes Society gets'.

Crowborough Bonfire & Carnival Society

Neville Juvenile Bonfire Society
Founded in 1967,Neville Junior celebrate with a torchlit parade and fireworks.
"Firle upholds and promotes all that's excellent about traditional Sussex Bonfire and holds a Bonfire Night with torchlit processions and fireworks each October".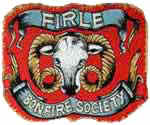 Hundreds of images and loads of info of our bonfire celebrations, Guy Fawkes day, gunpowder plot and 5th November.
The Lewes Bonfire Council co-ordinates the activities of the town's six Bonfire Societies - Cliffe, Commercial Square, Lewes Borough, Nevill Juvenile, South Street and Waterloo.
Cliffe Bonfire Society - official site - Homepages from Cliffe Bonfire Society in Lewes
Cliffe Bonfire Society - Recordings of the proceedings of Cliffe Bonfire Society, Lewes. listen to the bonfire chants and fireworks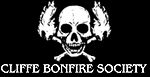 Waterloo Bonfire Society - Unofficial pages of this Lewes society
Borough Bonfire Society - Littlehampton

Waterloo Bonfire Society - Unofficial pages of this Lewes society
The Merrie Harriers Bonfire Society - Over the years the Bonfire Society has distributed more than £23,000 to local good causes.
Firesite - Pages relating to Lewes Bonfire, information and pictures.
---
Firle is one of the civil parishes in the Lewes District of East Sussex, England.

The name originates from the Anglo-Saxon word meaning oak woodland. The main settlement in the parish is West Firle; in the 13th century there was an East Firle, in which was the manor of Heighton St Clere, which is now long defunct. Firle Place is situated in the parish. Firle received mention in the Domesday Book.
It has a lovely location in the South Downs, great for going on walks in, and buildings in the village include The Ram Inn and Firle School. The church is pleasant to visit, and there is a WWII Memorial.
Every year shortly after 5th November it holds the Firle Bonfire Society (FBS), which got in trouble two years ago for blowing up an effigy gypsy caravan made of cardboard.
LINKS:
SUSSEX INDEX A - Z
BEACHY HEAD - BELL TOOT (BELLE TOUT) LIGHTHOUSE
CHIDDINGLY - HORSE SHOW and GYMKHANA
CUCKMERE VALLEY - EXCEAT
EAST SUSSEX
EASTBOURNE - EASTBOURNE PIER
TWISSELLS MILL, OLD HEATHFIELD
---
A taste for adventure capitalists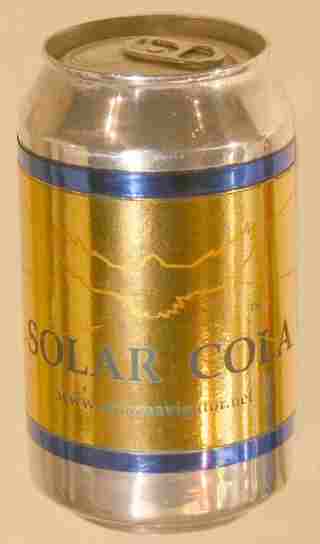 Solar Cola - a healthier alternative